Rainout could mean Shields on mound for Game 4
Yost: 'There's a chance' Royals may opt for staff ace on regular rest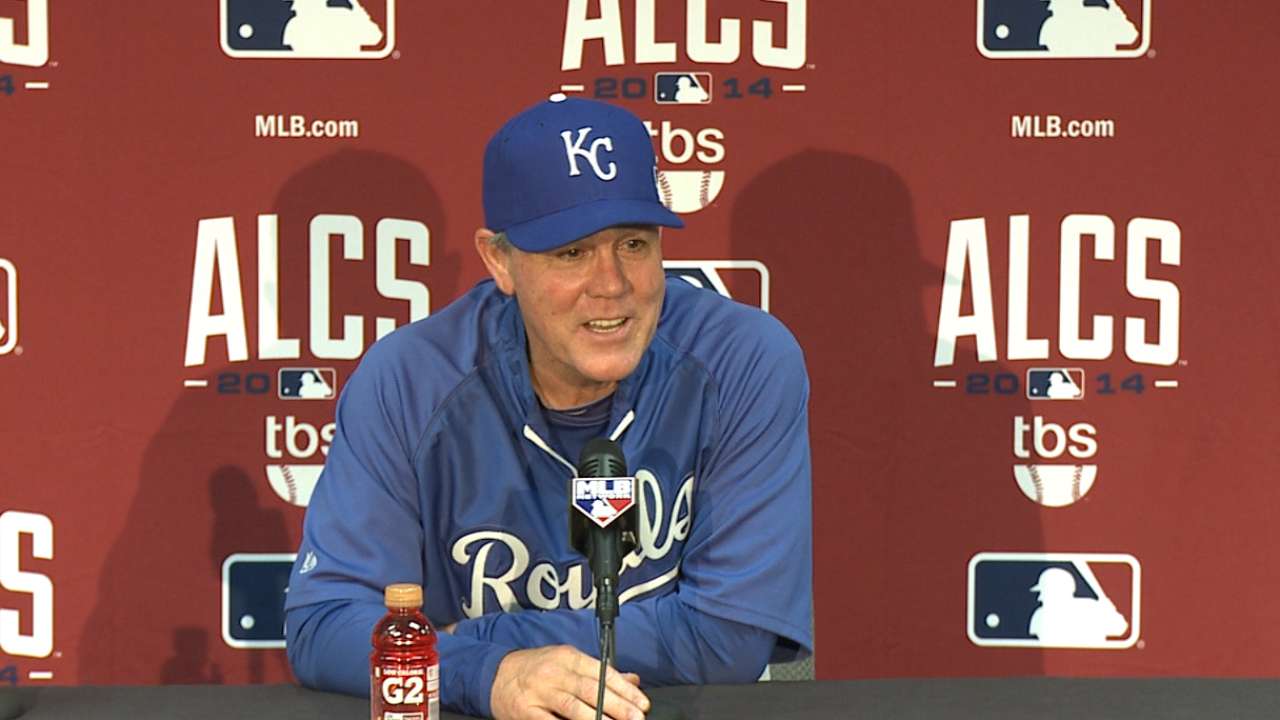 KANSAS CITY -- One of the most interesting effects of Monday night's rainout for the Royals will be when staff leader James Shields pitches again.
With Game 3 of the American League Championship Series delayed until Tuesday night because of rain, Shields could start Game 4 on Wednesday afternoon on a normal four days of rest instead of scheduled starter Jason Vargas.
If the Royals were to win Game 3, that would put Shields in a position to finish off the Orioles in the best-of-seven ALCS and put the Royals into the World Series.
If the Royals lose Game 3, a Game 4 victory by Shields could put them in a position to end the ALCS on their home turf in Thursday's Game 5.
And, should Shields go in Game 4 and the series take a turn and go to a Game 7, Shields would have two days of rest heading into the deciding game and potentially be available out of the bullpen.
The speculation began after Monday's continuing showers prompted a postponement to be announced at mid-afternoon. Game 3 was moved to 7:07 p.m. CT on Tuesday (TBS).
MLB policy during the postseason is to use the game ticket marked with the number of the game actually being played at a given ballpark. Thus, ALCS Game 3 tickets can now be redeemed on Tuesday, which will have an 8 p.m. ET/7 p.m. CT start. Game 4 tickets can be used on Wednesday (4 p.m. ET/3 p.m. CT), while Game 5 tickets can be redeemed on Thursday. First pitch of Thursday's Game 5, if necessary, has been set for 4 p.m. ET/3 p.m. CT.
Manager Ned Yost confirmed that Jeremy Guthrie would start Game 3 as scheduled but wasn't saying much on Shields starting Game 4.
"There's a chance, but, again, we'll look at it tomorrow," Yost said Monday.
Shields started the ALCS opener on Friday night at Baltimore and worked five tough innings, giving up 10 hits and four runs in what became a 10-inning, 8-6 win. By starting on Wednesday, Shields would be pitching on his usual fifth day after his regular four days off.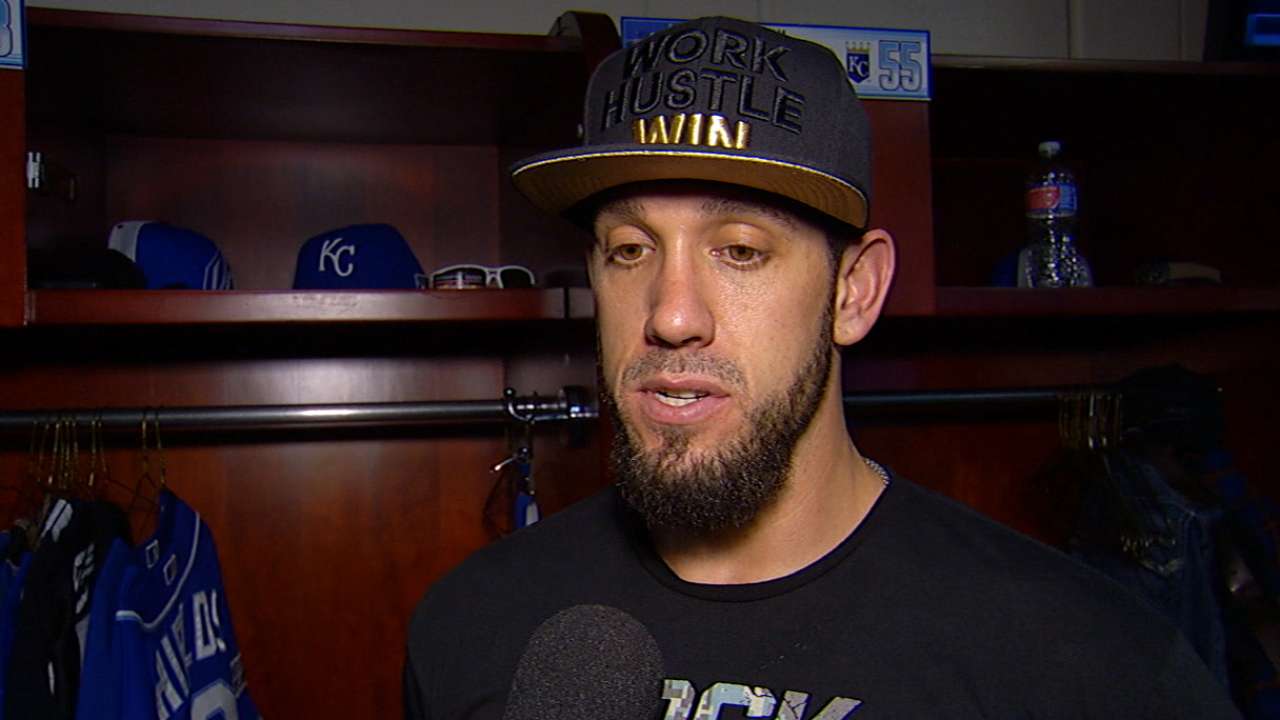 "Shields can come back on five or if we feel we want to give him an extra day, we can do that, too," Yost said.
Another factor: If Shields does pitch Wednesday and the Royals advance to the World Series, that would give him an extra day of rest (five days off in all) before the opener of the Fall Classic on Oct. 21 in Kansas City.
The Royals also might avoid starting hard-worked rookie Yordano Ventura again in this series. Ventura exited Game 2 after 5 2/3 innings with a stiff right shoulder and probably could use extra rest if the World Series beckons. Ventura seems healthy now.
"He's feeling good," Yost said. "He's a funny kid. A lot of guys will call you 'Skip,' but ever since I've known him he's called me 'Ned Yo.' I said, 'How you feeling today?' And he said, 'Ned Yo, I'm feeling great.'"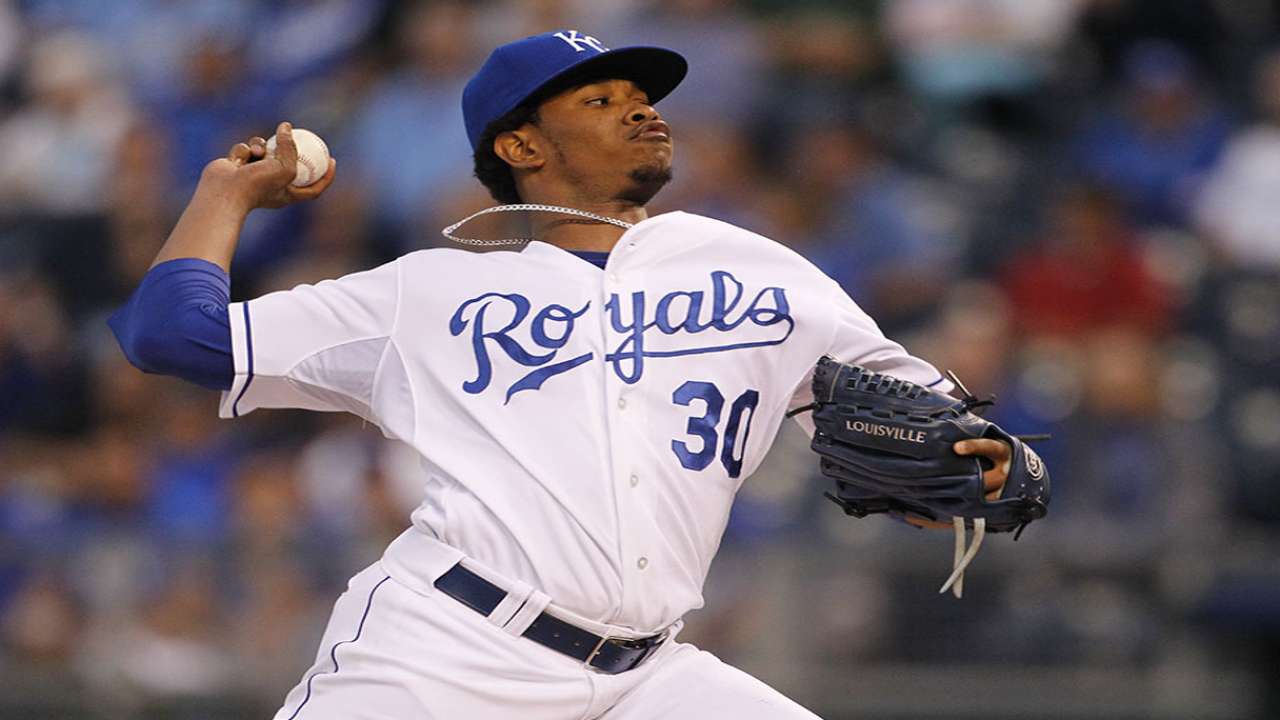 The rainout also means that if Games 6 and 7 are necessary at Baltimore they would be played as scheduled on Friday and Saturday, eliminating any more off-days in the ALCS.
The upside is that the two days off gives his heavily used trio of Kelvin Herrera, Wade Davis and Greg Holland a much-needed breather. The downside is that with the potential for five games in five days, Yost can't count on any extra downtime for his relievers. That could alter the way he uses his bullpen.
Yost noted that setup men Herrera and Davis generally weren't used until the Royals were tied or ahead.
"That's apt to change," he said. "We'll still pitch them if we're down one, maybe down two. With our offense swinging the bats pretty good, that still gives us a chance to hold the score and get us back in it."
In addition, Yost often was careful about using Herrera, Davis or Holland too many days in succession. That's changing, too, in the postseason.
"We pushed them a number of times late in the season to two and three days in a row, and they responded fine," Yost said. "If we can score some runs and get a little bit of a lead, it's easier. You can get around using those guys, but generally our games are so tight that it's hard not to use them."
The Royals have charged to six straight postseason victories, so there might be concern that two idle days -- Sunday's off-day and Monday's rainout -- might somehow slow their momentum. Of course, there's always some debate if there really is momentum from game to game in baseball.
"There's momentum, there's definitely momentum," first baseman Eric Hosmer said. "We've been playing good baseball and you feed off that. Especially if a team gets down, you have that confidence you're going to get back in a game and you're going to make it close. So I would definitely say there is momentum, if there is such a thing."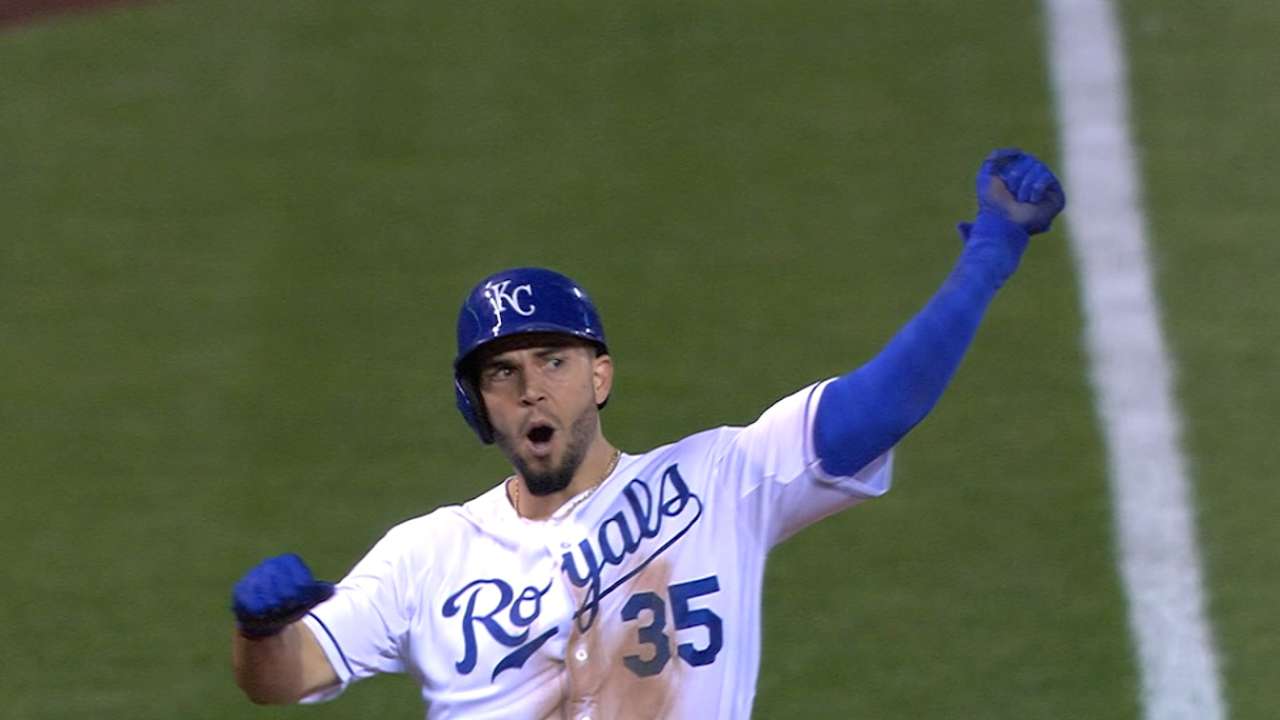 Well, if there is, could this idle time slow it down?
"We'll honestly never know, we have no idea," Hosmer said. "But it's just a rainout, you treat it just like another day. That's how we've been trying to treat the whole postseason, just like another day."
Holland agreed with him.
"We're a confident bunch and we're playing well right now and one extra day isn't going to make or break anything," Holland said.
Dick Kaegel is a reporter for MLB.com. This story was not subject to the approval of Major League Baseball or its clubs.