MLB.com Columnist
Mike Bauman
Cardinals remain confident despite Yadi's injury
Matheny expects club to respond as it did in regular season without star catcher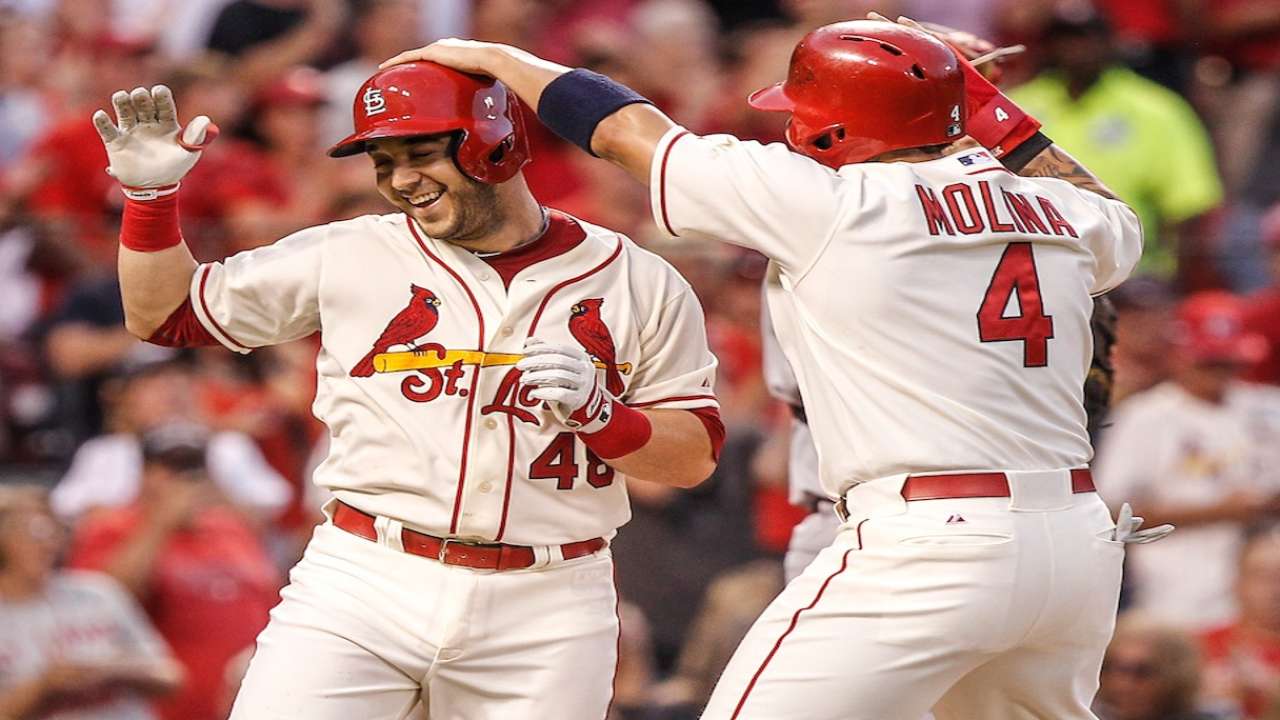 SAN FRANCISCO -- This is one of the reasons why the St. Louis Cardinals are winners:
They could have one of baseball's best excuses for not succeeding. And they will not take it.
Catcher Yadier Molina, the Cardinals' most valuable player and one of the most valuable players in all of baseball, is "day to day" with a strained left oblique.
The outlook on Molina's actual availability against the San Francisco Giants in the NL Championship Series is varied. Molina said he felt a knife-like pain in his side in his first at-bat against in Game 2 on Sunday. This is why he put down a sacrifice bunt in his second at-bat. After his third at-bat, he could not continue.
But, Molina said on Monday: "This morning when I woke up it was better," as the Cardinals worked out at AT&T Park. Molina played catch without pain. He did not attempt to swing a bat. He was to try that on Tuesday before Game 3. He was not in the starting lineup for the game, replaced by veteran A.J. Pierzynski.
This is a tough individual. The strained oblique can be an extremely painful injury, which often requires weeks of recovery time. Here was Molina, less than 24 hours removed from his injury, talking about returning to the field.
"If I get the chance to play again, I won't think about my side," Molina said.
But what if Molina's remarkable recuperative powers do not take hold, and he cannot play immediately, or for some days, what then? For Game 3, the Cardinals will go to A.J. Pierzynski behind the plate. He is familiar with John Lackey from their time earlier this year with the Red Sox, and he has good numbers against Giants Game 3 starter Tim Hudson.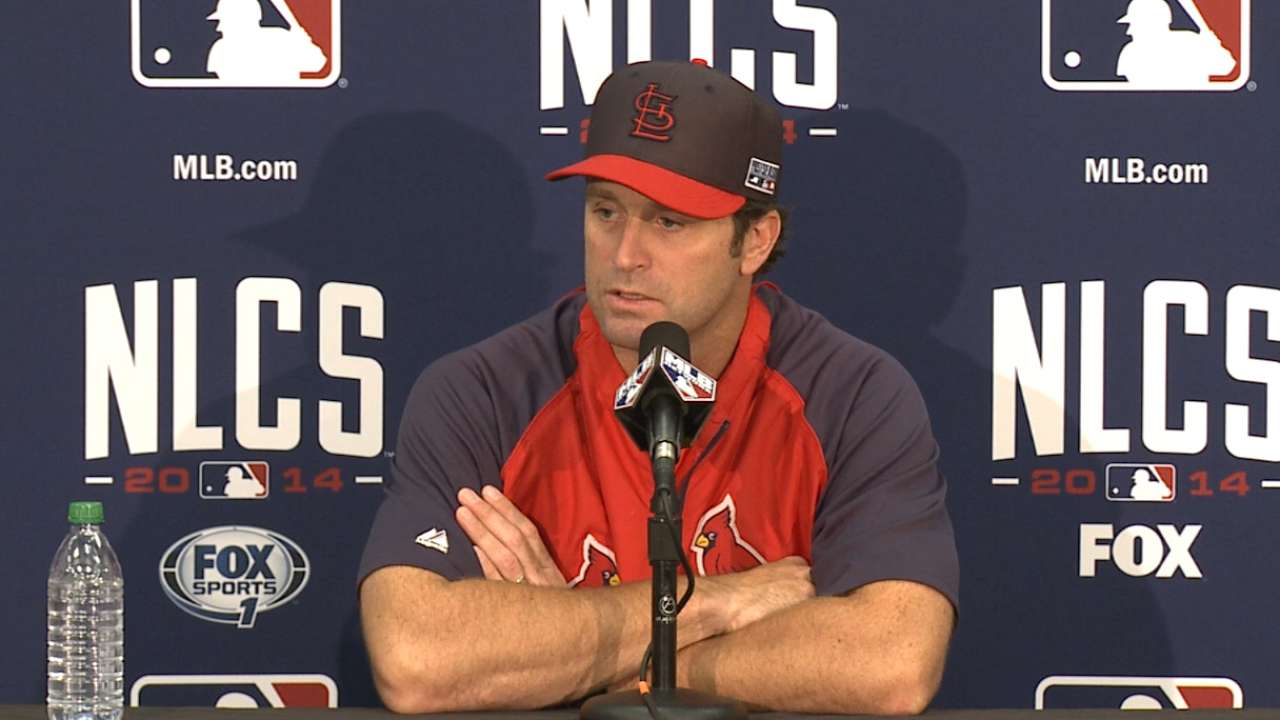 But how do you replace a talent, a presence, like that of Yadier Molina? The short answer is, you can't. But the Cardinals were without Molina for an extended period of time mid-season after he sustained a thumb injury. The Cards did not fall off the face of the planet. They could not be as good without him, but in his absence, they still had a winning record and they gained ground on the Brewers, at the time the first-place club in the NL Central.
St. Louis manager Mike Matheny was asked on Monday if his club had responded as well as it could to that situation. He responded in the affirmative, but then he put a Cardinal point of view around the entire issue.
"We are not going to make any kind of false statement that he is not a key component to our club," Matheny said.
"But any team that loses that piece, you never know how they are going to respond, and I was real proud of the guys. First, they are like: 'Wow, that hurts.' I think it's hard for them not to hear what's being said nationally about, this is one guy that our club can't do without. I think that actually gave a little spur, because that insults the rest of the guys in that room to say that they are not good enough to do it.
"It's a great compliment to Yadi, as everybody knows how valuable he is and how much we appreciate what he does. But we do believe the fact that the other guys can step in and pick up the slack, especially you're talking the short period of time here that we just need to figure out how to get it done. It's happened before, and I think the fact that they have been in that position is helpful now that we go forward."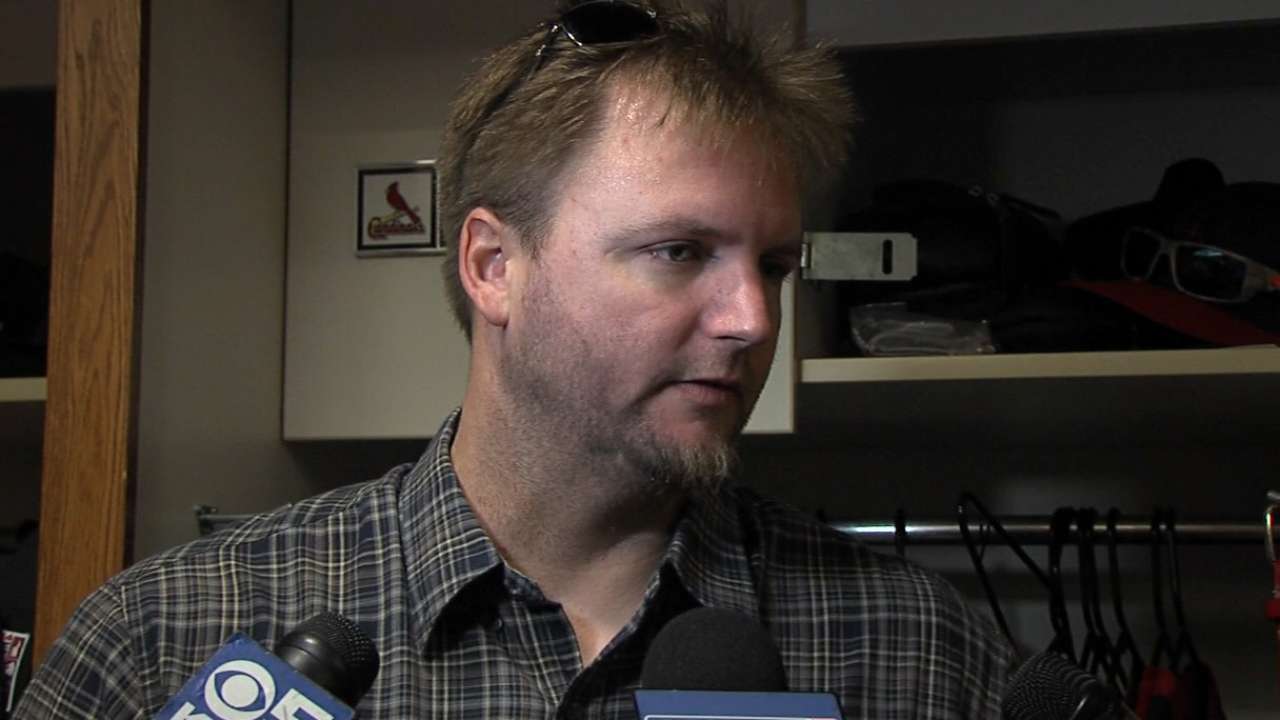 There is everything the Cardinals need in that statement. There is sincere appreciation for the multitude of contributions from Molina. There is confidence in his possible replacements, Pierzynski and Tony Cruz, who have genuine value of their own. And there is a belief that the entire team will, in adverse circumstances, rally rather than fold.
What there isn't a hint of an excuse, even a touch of woe-is-us. This is what it means to be a Cardinal, when bad news is a reason to bring out the potential best in people.
So contemplating how Molina looked like he was done for the calendar year on Sunday night, and then was throwing without pain the next day, became sort of a bonus.
"Yeah, I didn't think there was any possibility, having that injury myself, knowing how hard it was just to throw," Matheny said. "But he was throwing the ball with some velocity, and once again, it was encouraging to see.
"That's a step in the right direction. I know it's just great having him with us in any capacity."
Maybe Molina can have a miracle recovery. Or maybe for the moment, he can be that rare commodity, the late-inning defensive replacement at catcher. But even if he can't do much at all, these Cardinals will not be rolling over, playing dead or grabbing for the easiest excuse in the world.
Mike Bauman is a national columnist for MLB.com. This story was not subject to the approval of Major League Baseball or its clubs.