Matheny reiterates confidence in Rosenthal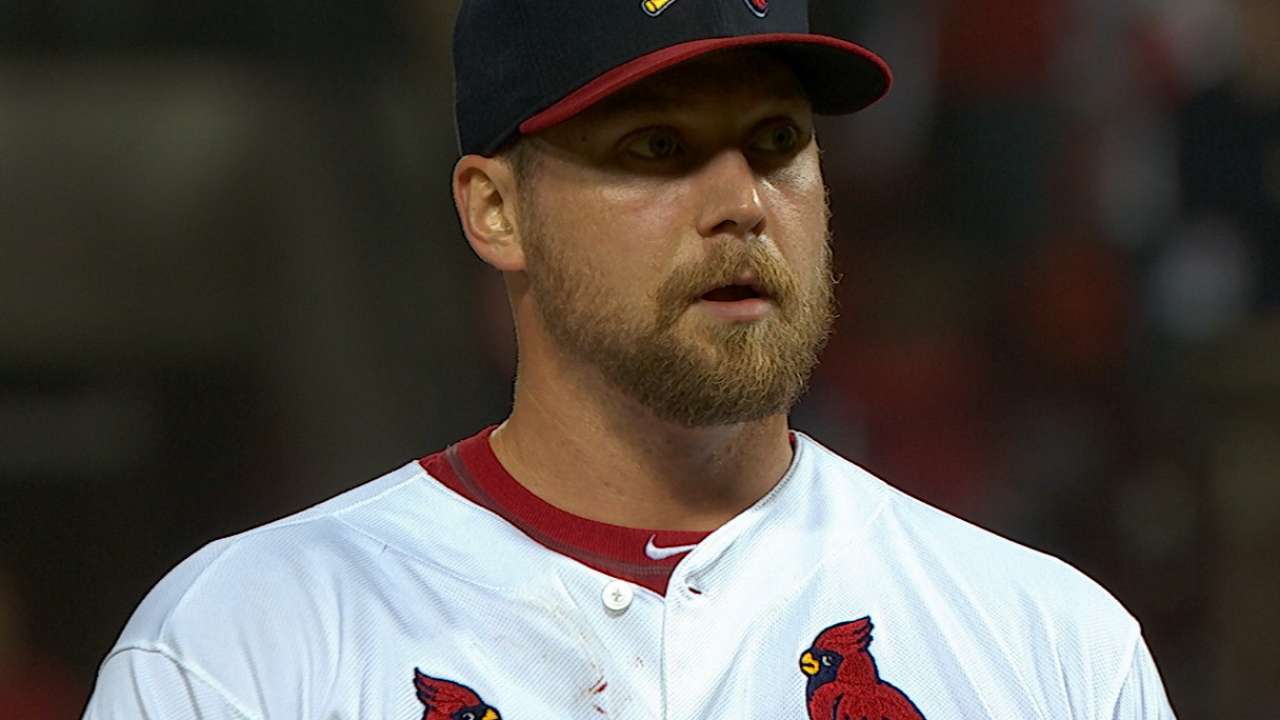 SAN FRANCISCO -- Cardinals manager Mike Matheny was asked Monday to revisit Trevor Rosenthal's blown save in Game 2 of the National League Championship Series, and whether there were concerns that were significant enough that St. Louis might reassess its options for the ninth inning. Matheny went right to the climax.
"I'll start with the back end of that -- yes, he's still our closer, and hopefully we have a lead late in the game where we can watch him go again," Matheny said definitively.
Rosenthal has pitched four times in this postseason and allowed a baserunner each time, though Sunday marked his first blown save. Those high-stress outings follow a regular season in which the right-hander ranked second in the NL with 45 saves and converted all but six of his opportunities, but saw a rise in walk rate (from 2.4 walks per nine innings in 2013, when Rosenthal didn't emerge as the Cardinals' closer until the very end, to 5.4 in 2014) that accompanied a drop in strikeouts. After allowing only 24 percent of inherited runners to score in 2013, 40 percent scored against him this season.
Yet Matheny and the Cardinals have been consistent in their public confidence for the 24-year-old, who played a critical role in the team's run to the 2013 World Series. In 11 2/3 innings during October 2013, Rosenthal allowed no runs on four hits, with three walks and 18 strikeouts.
"I mean, I know the type of pitcher I am," Rosenthal said. "I know I have good stuff. I know I have the stuff to go in and get three outs in the ninth inning, or any inning. I'm going to go in there and keep that confidence level. Keep battling."
Rosenthal expressed appreciation for his manager's public support.
"It's the team as a whole -- the coaching staff, players -- everybody's got each other's back, and I think that shows in the type of ball that we play," Rosenthal said. "We're all fighting for each other, and there's no question that if someone starts going down, we're going to try to pick him up. I think that's what we saw the whole [Game 2]."
Inheriting a 4-3 lead after Matt Adams' eighth-inning homer, Rosenthal surrendered a pair of one-out singles to Giants pinch-hitters before uncorking a wild pitch on a two-out, full-count pitch that bounced far enough away from Cardinals backup catcher Tony Cruz to allow pinch-runner Matt Duffy to score the tying run all the way from second base.
When Rosenthal walked the next batter to load the bases, his night was over. Seth Maness saved the Cardinals by recording the final out, and Kolten Wong won the game with a home run moments later.
"The people that have watched our club closely this season, they realize that last night was not that uncommon to what we've seen this year," Matheny said. "And still, Trevor was right at top of the list of closers in the league, and he finds a way to get it done. Last night, what I saw was his spikes were clogged up and he slid on that pitch and he bounced it about 52 feet and made it near impossible for Tony Cruz to do anything with."
"I haven't seen a guy score from second on a passed ball all year, and go figure, it happens right there with two outs in the ninth," said Cardinals setup man Pat Neshek, whose success in the eighth inning positions him as a Plan B should the Cardinals change their stance on Rosenthal.
Of Rosenthal's penchant for drama, Neshek said, "He's kind of done that all year. You really don't worry if he has bases loaded, no outs, because you know he's going to find a way to strike a guy out or get a double play. We've seen it numerous outings. I don't even get worried. That's kind of his game."
Rosenthal downplayed the effect of those muddy spikes, saying it did not affect the decisive pitch. He said he did impede his ability to get to home plate in order to field a throw from Cruz.
"He's not a guy that's going to throw excuses out there, but that's just evaluating what happened," Matheny said. "And once again, it's not that uncommon to what we've seen, where he's had tough innings but he figures out how to get it done. And he also bounces back pretty quick, when something goes back like it did [Sunday] night. He's anxious to get back out there."
Rosenthal confirmed as much, saying he was eager to experience more October drama.
"It's been the story of the season, the story of this postseason," he said. "Those games in L.A. [in the NL Division Series], it was the same way, battling back and forth against a good team. That's what we're doing right now, so I'm not taking any pitch for granted right now. I'm trying to win one pitch at a time."
Adam McCalvy is a reporter for MLB.com. Read his blog, Brew Beat, and follow him on Twitter at @AdamMcCalvy. This story was not subject to the approval of Major League Baseball or its clubs.