After long journey, Neshek finds home with Cardinals
Right-hander makes most of opportunity as St. Louis' crafty setup man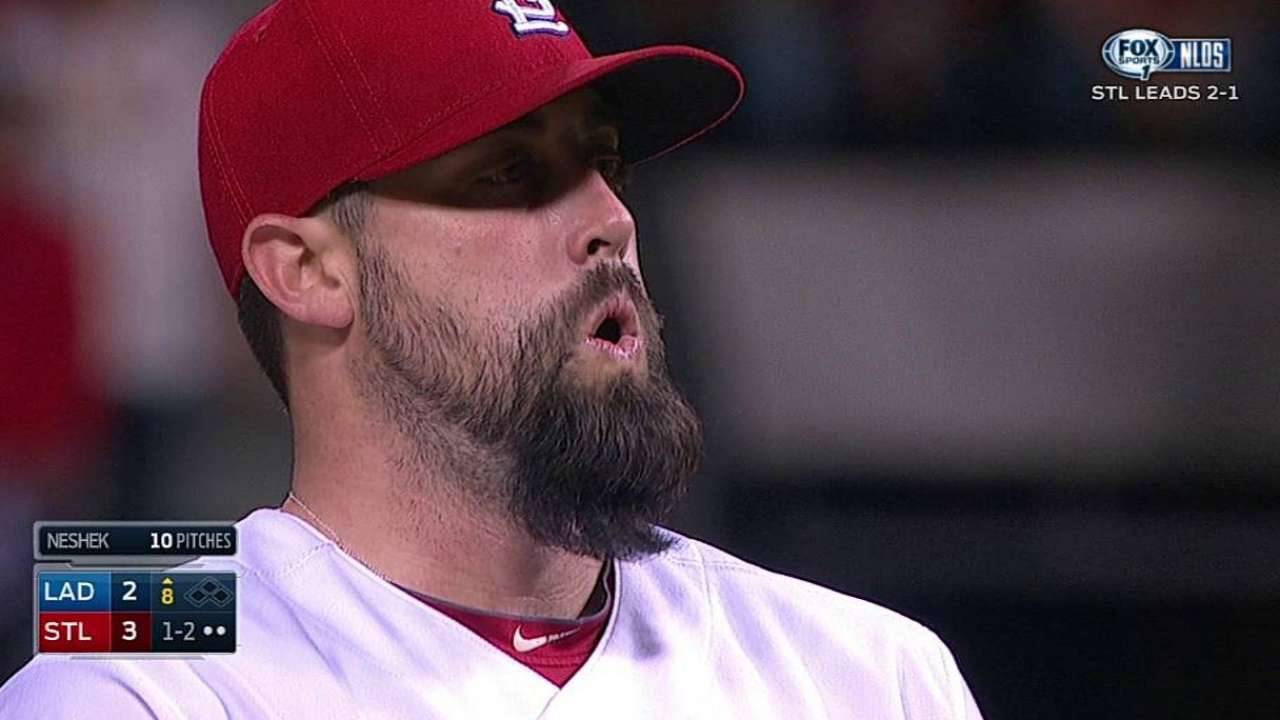 SAN FRANCISCO -- Pat Neshek was, of all places, at his grandmother's funeral when the call came through from his agent last January. Finally, there was a club showing some interest, his agent told him. And then he informed Neshek which club that was.
Neshek's immediate reaction wasn't exactly what one would expect of a journeyman reliever trying to resurrect his career after a year that ended with him making a three-day drive from Oakland to his offseason home in Florida while the A's were playing in the postseason. They had told him he wasn't needed.
Now there was interest, Neshek's agent said, coming from the Cardinals.
"More bad news," Neshek recalled thinking. "They have [Trevor] Rosenthal throwing 100 [mph], [Carlos] Martinez throwing 100. Maybe in June I might get up there."
Neshek was so concerned about where he'd fit (or if he would at all) into the Cardinals' bullpen that it took him several weeks to respond to the offer. But with limited other options -- the Mets told him he didn't throw hard enough, the Brewers finally relented on a Spring Training invite, but guaranteed only four innings -- Neshek took the Minor League deal with St. Louis.
Long identified as that guy with a funky delivery, an obsession with baseball card collecting and the heartbreaking story of losing his son on the day his team clinched a division title in 2012, Neshek has emerged a recognized name in the game this year because of his on-field results.
And in the place he feared would not have a spot for him in a bullpen of young power arms, he has never felt more at home.
"I feel like I'm back to where I was when I was doing really well," Neshek said, referencing his early years in Minnesota before arm surgery cost him the 2009 season. "You never know if that's going to come back. It's just so fulfilling to me. Whenever I'm done with baseball, I will feel at peace with what I've done. It's kind of come full circle for me."
For the Cardinals, he was an imperative piece in a 90-win season and remains in a crucial setup role as the team's designated eighth-inning reliever this postseason. It was hardly the trajectory general manager John Mozeliak envisioned when he reached out to Neshek's representative in January.
At the time, the Cardinals viewed the side-arm-throwing right-hander as insurance in case Jason Motte's Tommy John recovery trickled into the season -- which it later did. Of the four relievers Mozeliak identified as possible fits, he thought Neshek would be the best.
"The real reason we liked him over the other three was because he was just so different from what we had," Mozeliak said. "He was someone who threw from down low, whereas most of our relievers were higher up that had a lot of velocity. We just thought it would be a different look and a nice complement to what we had."
There was still, however, concern. In a seven-man bullpen that already featured a left-on-left specialist (Randy Choate), the Cardinals were unsure whether they could keep a righty specialist, too. Many believed that was Neshek's only viable role.
"I thought we had a right-handed Choate," manager Mike Matheny acknowledged. "I was trying to figure out how we don't kill the rest of the bullpen having two guys that we can only use for one hitter. Yeah, I was concerned."
Knowing Neshek's track record of success against right-handed batters (a career .180 opponents batting average), Matheny intentionally had him face a gaggle of left-handed hitters in March exhibition play. What they saw surprised everyone. Neshek starting throwing a changeup again, and when he returned to throwing out of the windup, he discovered fastball velocity that hadn't registered since his pre-surgery days.
The guy who had been pigeonholed into throwing a slider (84 percent of the time in 2012; 73 percent of the time in 2013) while with Oakland suddenly had a repertoire of pitches to mix up.
"When the season got over last year, I was like, 'Why are my strikeouts not up?'" said Neshek, who struck out 29 in 40 1/3 innings in 2013. "I talked to my dad about it and he said, 'I watch your games and I know they're not making good contact, but they're not really getting fooled too much either because they're sitting on that slider.'
"When your job depends on it, I'm going to try to be the best pitcher I want to be. I needed to get my fastball back."
This regular season, Neshek struck out 68 in 67 1/3 innings, the biggest workload he's carried since '07.
His ascension from Minor League spring invite to setup man was rapid, as the Cardinals' April bullpen struggles necessitated that Matheny find other late-inning options. Neshek carved himself a place in the eighth inning fairly easily as he went from April 11 to July 25 (a span of 41 appearances) while allowing one run.
During that stretch, he also earned his first All-Star Game invite, which just so happened to coincide with the Midsummer Classic's return to Minneapolis, Neshek's boyhood home. It was there that he first fell in love with the game, watching the Twins win a pair of World Series and catching glimpses of Kirby Puckett around the Brooklyn Park neighborhood in which both of them lived.
One of his childhood highlights was getting the Pucketts to buy candy bars as part of Neshek's hockey fundraising effort. While the transaction was being completed, Neshek was briefly invited to the Puckett home.
"So awesome," is how he describes that memory now.
Neshek's Major League career also blossomed in Minnesota, as did his obsession with baseball cards and memorabilia. When he's not collecting Holds for the Cardinals, he's busy trying to complete a signed set of 1970 Topps cards. He already did so with a 1985 set.
For years, he has added to his overwhelming card collection by offering to trade his own signed card to anyone who will send him another.
"You can just see he loves talking about it," Choate said. "He loves to tell you what he's got. He's so proud of it. It's just like anyone who collects anything who collects cars or something else. Baseball cards just happen to be his, and he just happens to be our setup guy."
He was one of the best in baseball, in fact. Neshek's 7.56 strikeout-to-walk ratio was tops among National League relief pitchers. He ranked second in WHIP (0.77) and seventh in ERA (1.87), which was that high only because he allowed four earned runs over his final two regular-season appearances.
After making his first 254 career appearances without a save, Neshek collected six this season as a fill-in when Rosenthal was unavailable.
And since shouldering the Game 2 loss in the NL Division Series, Neshek has retired all nine batters faced, four on strikeouts this postseason.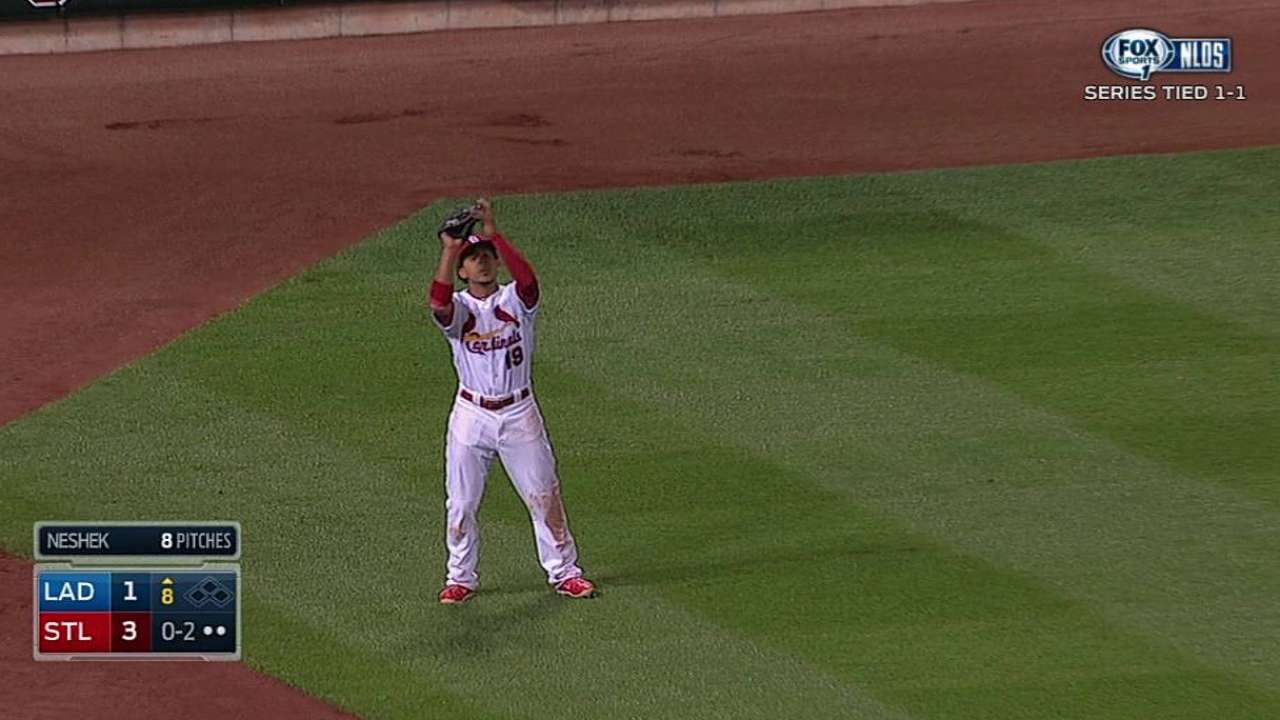 • Neshek retires Dodgers 1-2-3
"He's got a great story, and I just love to see a great finish to his story," Matheny said. "It means there's a great finish to ours. A start of a new life for him in the game, because he's been as good as anybody."
Jenifer Langosch is a reporter for MLB.com. Read her blog, By Gosh, It's Langosch, and follow her on Twitter @LangoschMLB. This story was not subject to the approval of Major League Baseball or its clubs.