MLB.com Columnist
Barry M. Bloom
Posey still postseason guiding force for Giants
All-Star catcher has helped club win two World Series titles in five-year career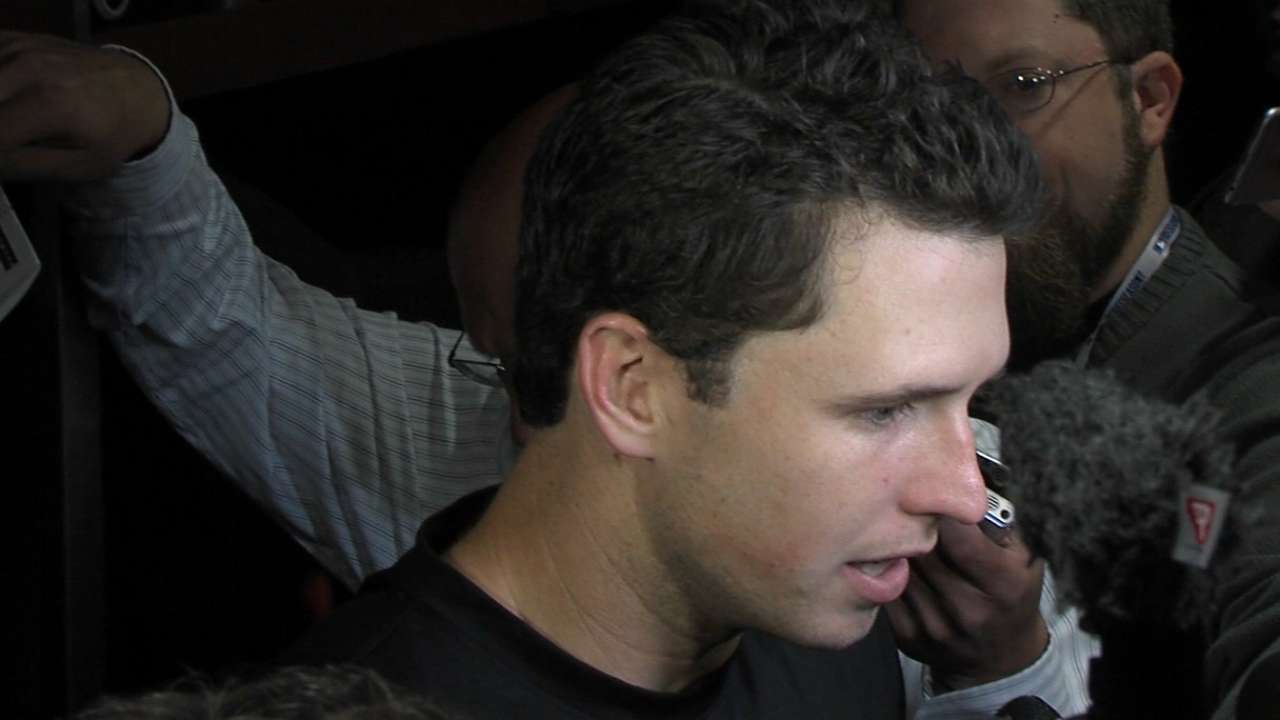 SAN FRANCISCO -- Buster Posey is not officially the captain of the San Francisco Giants, but he might as well be. Just like captain Derek Jeter until he retired this year from the Yankees, Posey's the glue. A two-time All-Star catcher, Posey is the core player on a team that has been to the National League Championship Series three times in his five-year career and won the World Series twice.
Game 3 of this year's NLCS between the Giants and Cardinals is slated for Tuesday at AT&T Park (1 p.m. PT on FOX Sports 1) with the best-of-seven series tied at one game apiece. And as always, Posey is sure to be a factor.
"We're very fortunate that we have him and we know it," manager Bruce Bochy said. "And we saw what life was like without him in 2011, and it wasn't a lot of fun."
That's the year Posey had his left ankle broken during a horrible collision at home plate, missed 117 games and the Giants finished eight games out of first place in the NL West. The very next season, Posey won the NL batting title with a .336 average and he was voted league MVP. Jeter never attained either of those accolades in his 20-year career.
Like Jeter, Posey won a Rookie of the Year Award. Posey did it in 2010 after his callup for good in June. In both of those banner years for Posey, the Giants won the World Series. And he's only 27.
"Buster is the constant. He's Mr. Steady, Mr. Giant," said Jake Peavy, who joined the team after a June 26 trade with Boston and has become a big Posey fan. "This guy is the standard and that's why this organization, this team is what it is. You have a rock that's been a part of all these championships."
Actually, Posey is the only starting position player left from the 2010 team that defeated Texas in five games to win the franchise's first World Series title since 1954.
"I didn't realize that," Posey said. "How about Pablo?"
Pablo Sandoval was on the team, but he didn't start at third base that postseason. Juan Uribe did. Even Giants fans might be surprised to recall the starting lineup of position players that defeated the Braves, Phillies and Rangers in that postseason.
Around the horn: Aubrey Huff at first, Freddy Sanchez at second, Edgar Renteria at short, Uribe at third, Pat Burrell in left, Andres Torres in center, Cody Ross in right, and the rookie Posey behind the plate. That has given way now to the homegrown infield of Brandon Belt, Joe Panik, Brandon Crawford and Sandoval, and, of course, Posey.
"I feel blessed to be [back in the postseason], definitely," the unassuming Posey said. "That's a product of playing on some really good teams and playing with some great teammates. We've all been fortunate to be in these situations.
"I realized standing in the on-deck circle before that last at bat [in Game 2], I was excited. Not many people get to be in that moment in the ninth inning with two out and the opportunity to put your team up. That's the stuff you work for -- to be in spots like that."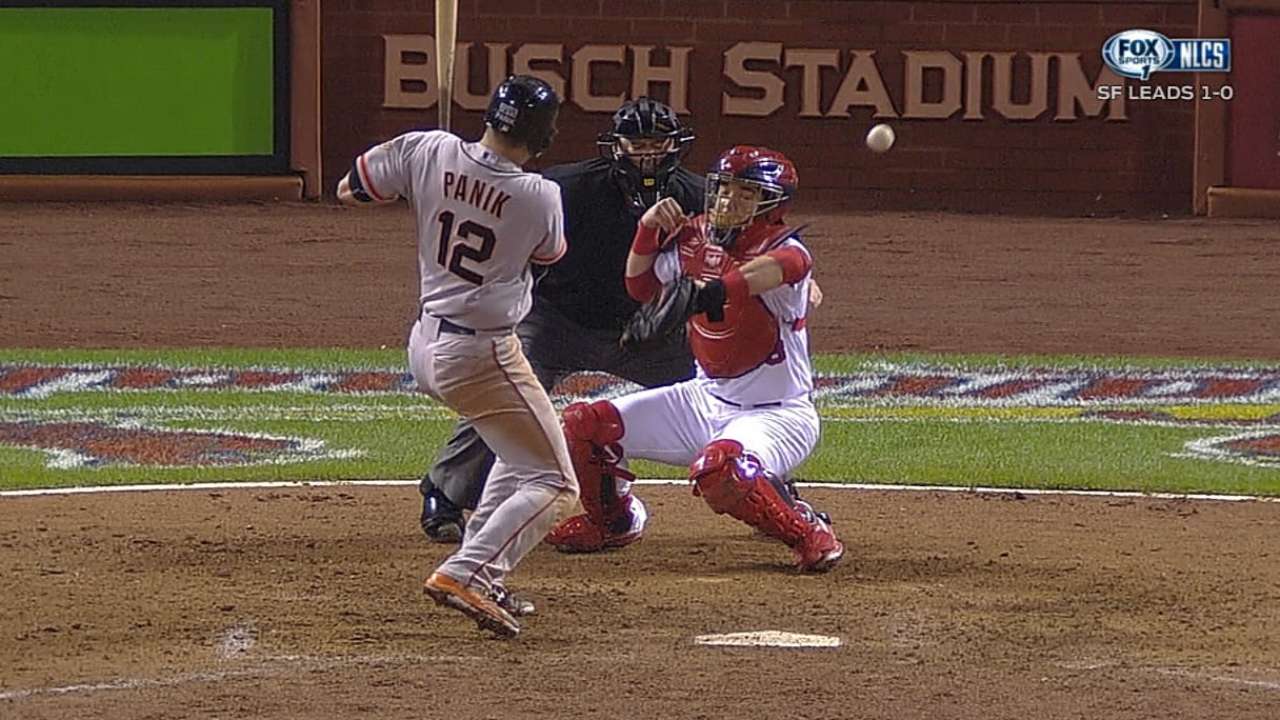 After the Giants tied the game on a two-base wild pitch, Posey walked to load the bases and Sandoval grounded out. The Giants lost that Sunday night game, 5-4, in the bottom of the inning when Kolten Wong hit a walk-off homer against reliever Sergio Romo. These are the type of games the Giants have been playing throughout the Posey era.
"I'd have to look back at the other [postseasons], but it seems like every one of them is a nail bitter for us," Posey said. "It's what you expect. This team has played a lot of close games."
Like the Yankees fans all those years watching the captain and the Core Four rack up five World Series titles and seven American League pennants, the Giants know that they possess a rare player: a catcher that can handle a pitching staff, shine defensively and also produce prodigiously on offense. He was a .311 hitter with 22 homers and 89 RBIs again this season.
Peavy has only made 14 starts since coming to the Giants, 12 during the regular season and two thus far in the playoffs including the first four innings to no avail on Sunday night, but he quickly perceived the value of Posey.
"He's smart, very intelligent," Peavy said. "One of the best catchers I've ever worked with. You put together a game plan and he's right on top of it. He's about as involved in that part of the game as anybody I've ever played with. It's no wonder that he hits about 100 points higher when he plays first base, that's how involved he is with the entire game when he's behind the plate."
In reality, Posey hit .305 in 110 games catching this season, .347 in 33 games at first base. But you get the point.
"He's an MVP of the league. He's a batting champion. He gives everybody around him confidence just by being on his team," Peavy added. "Buster is a game changer. He really is. And we're just fortunate to have him."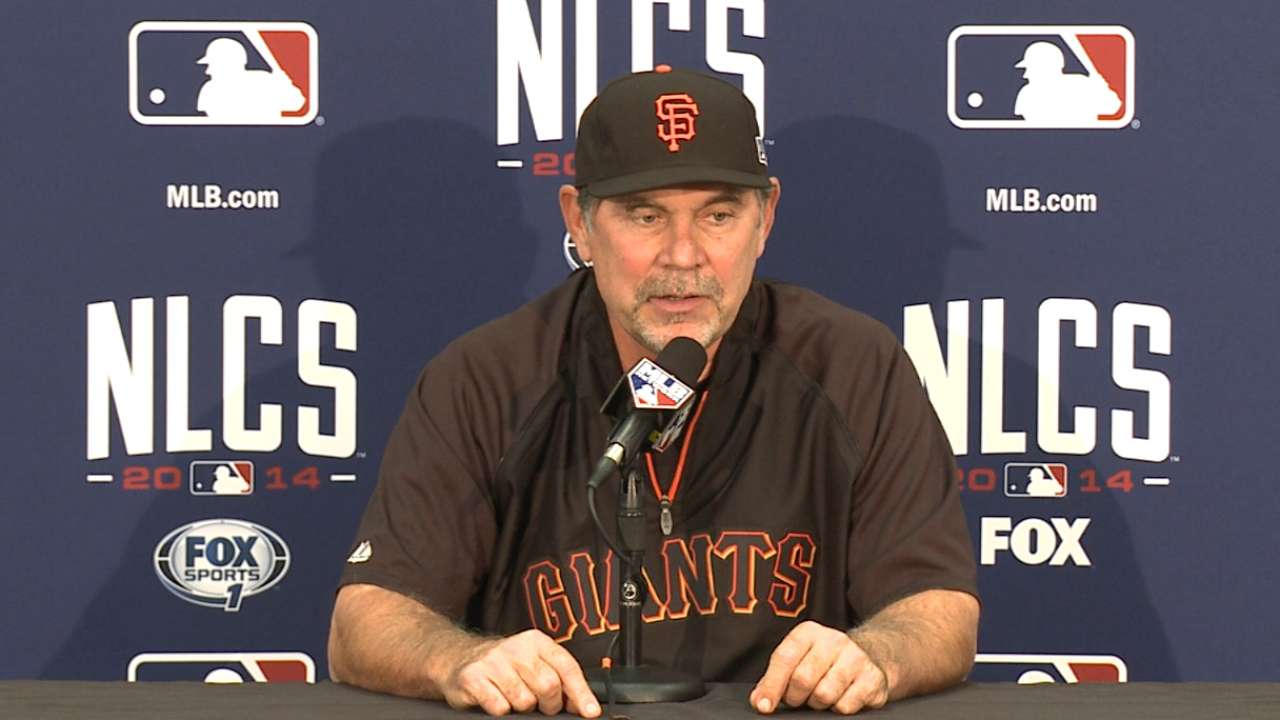 Bochy said there's really no way to quantify how valuable Posey is to the Giants. Like Jeter, Posey doesn't say much. He doesn't have to. He leads by example.
"I guess the best way I could quantify that is I don't know where we would be without Buster, going back to 2010," Bochy said. "And I've said this: the good teams -- your really good teams, your great teams -- you look behind the plate, there's probably a really good or great catcher. Look at St. Louis, and their success. You have to give [Yadier] Molina a lot of credit for that.
"And we say the same thing about our guy, Buster, because there's so much responsibility that goes with that guy behind the plate. He's the one handling the staff, calling the game. He's the leader on the field."
Captain Buster. Has a nice ring to it.
Barry M. Bloom is a national reporter for MLB.com and writes an MLBlog, Boomskie on Baseball. This story was not subject to the approval of Major League Baseball or its clubs.