Molina not in Game 3 lineup, still on roster
Pierzynski in at catcher for Cardinals, who hold spot for All-Star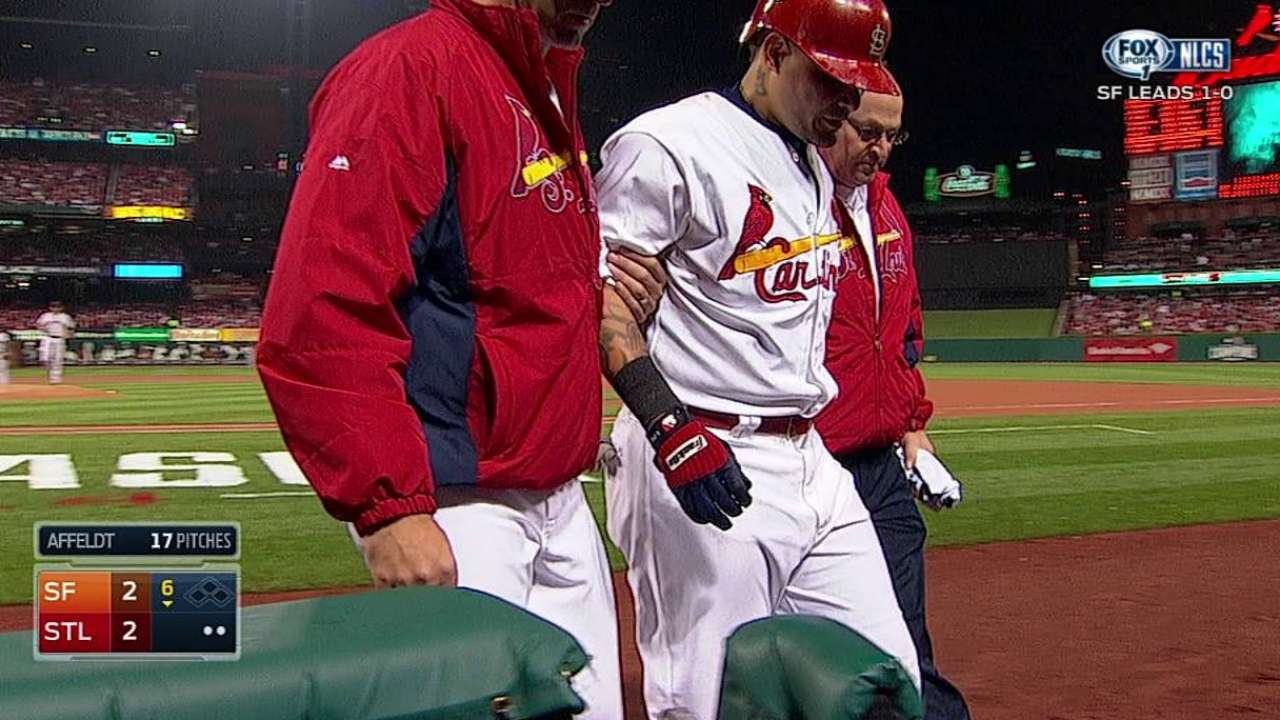 SAN FRANCISCO -- Yadier Molina was not in the starting lineup for Game 3, scheduled for today at 3 p.m. CT on FOX Sports 1. A.J. Pierzynski was in his place, batting seventh.
A day after sustaining a left oblique injury that he described as the "worst pain I have ever felt in my career," the Cardinals backstop played catch on the AT&T Park outfield grass and spoke adamantly afterward that his season is not over.
The Cardinals have characterized Molina's condition as day to day, and manager Mike Matheny confirmed on Monday that the club will keep Molina on its active postseason roster. Not only does that keep Molina as an option for this best-of-seven National League Championship Series against the Giants, but it would also allow him the chance to play if the Cardinals advance to the World Series.
Major League Baseball requires that any player taken off the active roster in the postseason also sit in the subsequent round. That means a move now would effectively end Molina's year.
"That's a tough rule with having to lose him not just the rest of this [series], but if we were fortunate enough to move on, we wouldn't have him, as well," Matheny said. "Right now it's just looking at what he could bring to the table and he could bring the ability to come into a game and help us out defensively, and hopefully improve to the point where we could use him offensively, as well. We don't know. It's just to make a knee jerk reaction right now, I don't think is the best decision for our club."
Molina did not swing a bat on Monday, but he did play catch and reported feeling much looser than expected when he woke up this morning. The Cardinals delayed their charter flight out of St. Louis after Game 2 so that Molina, who had left the ballpark to be examined, could join them on the trip.
"I woke up moving a little better," Molina said. "I feel good enough to catch."
Pierzynski caught Game 3 starter John Lackey 18 games in Boston this season, and twice more in St. Louis in August after the Cardinals acquired each of them.
Molina said he first felt discomfort on his left side when he singled in his first at-bat on Sunday. That sensation is what led Molina to lay down a sacrifice bunt his next time up. In his third at-bat, Molina never budged from the batter's box as the Giants turned a double play.
Asked to describe how he felt at that moment, Molina said, "It's like someone is nailing you with a knife. It's a tough pain."
That's why both player and team were pleasantly surprised at how much improved Molina was the day after. Molina didn't rule out returning to the field as early as Tuesday, though being included in the starting lineup would require he first test his oblique with some swings.
He received several forms of treatment on Monday, including massage therapy, STEM therapy and ice. He is also taking oral medication to try and expedite the recovery process. Molina said concerns about aggravating his side will not keep him off the field.
"Right now, you can't think about it," Molina said. "Right now, you have to go out and give everything you have, even if it's 50 percent. Go for your team and for yourself and try to win games. You can't think about anything else.
"If I get the chance to play again, I won't think about my side. I'm going to think about winning the game. I'll take care of my side here in the clubhouse, but when I'm out there, I won't think about it."
Even if Molina isn't cleared to resume swinging, Matheny said he wouldn't rule out using the veteran backstop as a defensive replacement while the recovery process is ongoing.
"If we have a small lead, there's no reason why we couldn't do that, from what I saw [of him catching on Monday]," Matheny said. "We needed to see Yadi move around a little bit today and see him throw. He answered questions that. Quite honestly, I didn't think we would be able to answer the way that we are right now. That's encouraging for us and encouraging for our club.
"Once again we'll take him in any capacity, even if it's a cheerleader on the bench. But to have him active and as a weapon to be able to brought in late in the game, that is very valuable to us."
Jenifer Langosch is a reporter for MLB.com. Read her blog, By Gosh, It's Langosch, and follow her on Twitter @LangoschMLB. This story was not subject to the approval of Major League Baseball or its clubs.