Showalter keeping options open for Game 4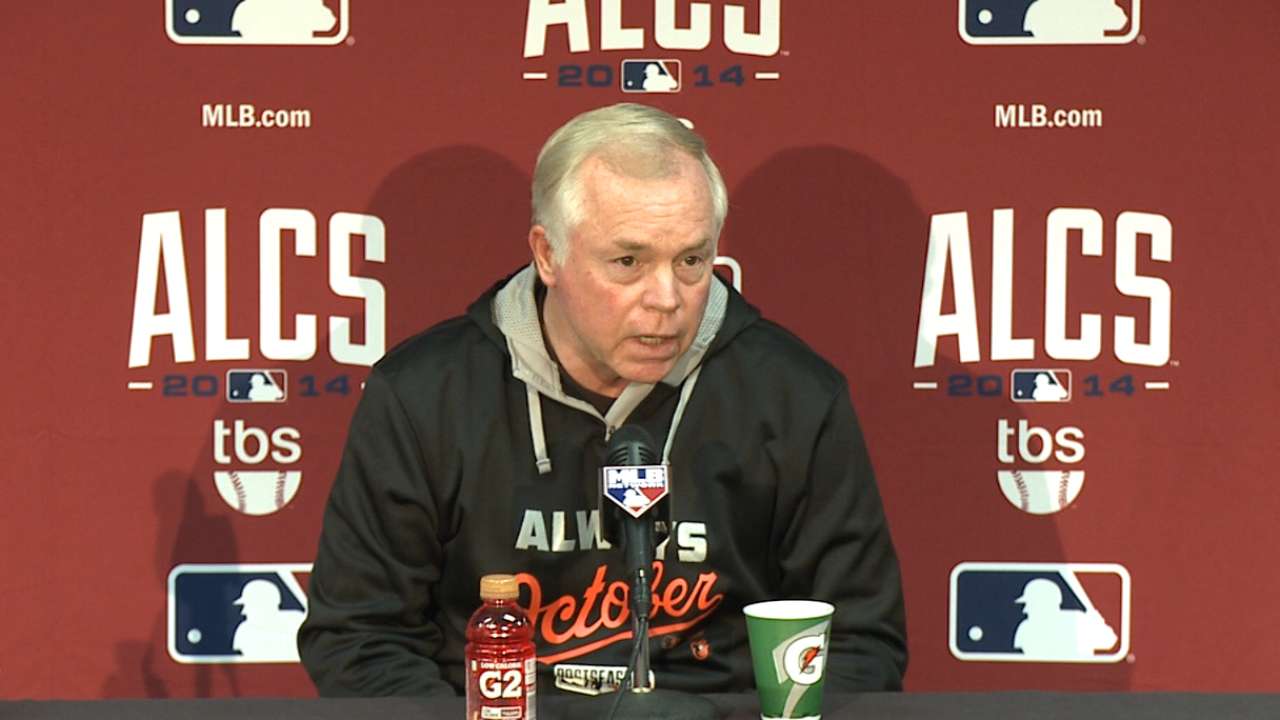 KANSAS CITY -- The Orioles and Royals will have to wait one more day to play Game 3 of the American League Championship Series, with Monday night's game postponed until Tuesday due to heavy rainfall in the area.
Both teams will send their originally scheduled Game 3 starters -- O's lefty Wei-Yin Chen and Royals righty Jeremy Guthrie -- to the mound for the rescheduled game, which will begin at 8 p.m. ET. Game 4, which will now be played on Wednesday, is where things get more interesting, with both teams leaving open the possibility of bringing back their Game 1 starters, Chris Tillman and James Shields.
MLB's policy during the postseason is to use the game ticket marked with the number of the game actually being played at a given ballpark. Thus, Game 3 tickets can now be redeemed on Tuesday. Game 4 tickets can be used on Wednesday at 4 p.m., and Game 5 tickets can be redeemed on Thursday. The first pitch of Game 5, if necessary, has been set for 4 p.m. All games will air on TBS.
The Orioles, down 2-0, will have to win one of the next two to force a Game 5, and manager Buck Showalter isn't expected to name his Game 4 starter until he sees what happens on Tuesday night.
Miguel Gonzalez
was originally expected to get the Game 4 start.
"I wouldn't commit to anything right now other than Chen tomorrow," Showalter said on Monday after news of the rainout was announced. "See where we are."
Tillman would be pitching on regular rest, as he last threw on Friday in the Game 1 loss. Gonzalez hasn't started since Sept. 28, though he threw a bullpen on Sunday and is preparing as though he's still in line.
"I felt pretty good. I threw the sim game [last week at Camden Yards], I threw two bullpens before that," said Gonzalez, who was one of the team's best starters down the stretch, with a 2.19 ERA in his final 11 starts. "I'm ready, I'm excited."
Still, if the Orioles lose Game 3, Showalter could go with Tillman in a do-or-die scenario. The Opening Day starter and Game 1 starter in both playoff series, Tillman undoubtedly would like to make up for going just 4 1/3 innings in his previous outing against the Royals. But should the Orioles win Game 3, Showalter will have to find a way to take three of the next four games, and he could hold Tillman until later in the series.
"I haven't heard it yet," Tillman said of possibly starting Game 4. "It's probably a possibility. I just threw a bullpen. All I'm doing is preparing myself like it's another start."
The Orioles have not gotten a start longer than 4 1/3 innings in the first two games of the series, so one could argue that Gonzalez -- 1-2 with a 4.82 ERA in three games against the Royals -- deserves a chance, as does righty Kevin Gausman, though Gausman been valuable out of the bullpen. Showalter will be tasked not just with winning one game, but with setting up his pitching in a manner that keeps his club alive for a chance to take four of the next five games and advance to the World Series.
"I've got 96 reasons to be confident in our guys," Showalter said, referring to his team's regular-season win total. "Once again, that's why it's so fascinating. You've got these two teams, four teams meeting this time of year, and you can create a lot of positive feelings about it, because you've been through so many battles with them. You've seen them respond so many times."
Will the rainout, which gives the teams back-to-back days of rest, help the Orioles gain an edge over the red-hot Royals?
"We'd like for them to cool down a little bit," said first baseman Steve Pearce. "Hopefully, this helps."
But surely the Royals, who have won six consecutive postseason games, would have liked to keep this thing going?
"We'll see," Showalter said. "I hate to skirt the [question]. But this time of year, guys don't really lose their mentality, and that bodes well for both teams. So I don't think our guys were hoping for a rainout. Nobody does this time of year, especially with the fans, and travel plans get all messed up. I don't even know if we still got the hotel [another day]."
Brittany Ghiroli is a reporter for MLB.com. Read her blog, Britt's Bird Watch, and follow her on Facebook and Twitter @britt_ghiroli. This story was not subject to the approval of Major League Baseball or its clubs.