Cardinals up for challenge of solving road woes
St. Louis must win at least one game in San Francisco to bring NLCS back home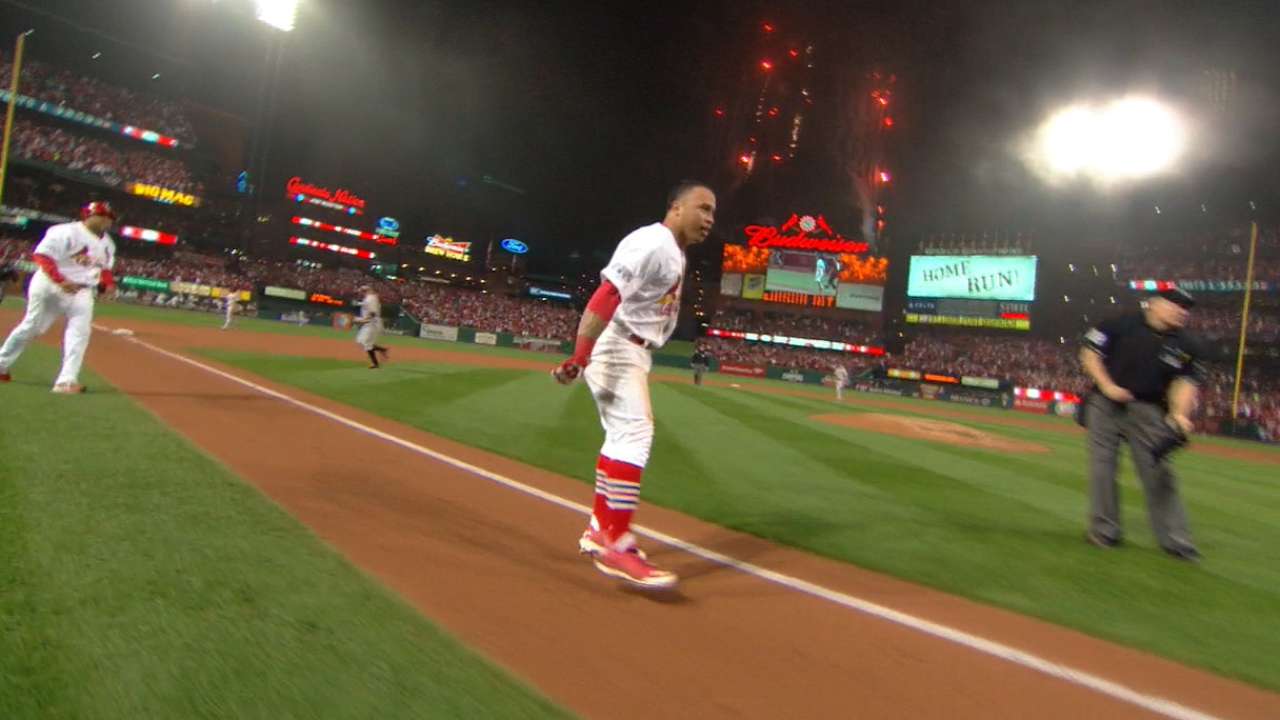 SAN FRANCISCO -- Of the four teams still alive in baseball's postseason tournament, only the Cardinals had a losing road record during the regular season, a factor that made their walk-off thriller of a win in Game 2 of the National League Championship Series at Busch Stadium all the more impactful.
Still, to get to where they want to go next -- a second straight trip to the World Series -- St. Louis must buck its second-half road woes to win at least one game at AT&T Park this week. Game 3 is Tuesday afternoon at 3 p.m. CT on FOX Sports 1.
"To find a way to tie this series, and to do it the way we did," said Cardinals third baseman Matt Carpenter, who hit one of four St. Louis home runs in Game 2, "there can be some momentum on that."
Momentum was hard to come by for the Cardinals away from Busch Stadium down the stretch. After taking two of three games at Wrigley Field in their first road series out of the All-Star break, the Cardinals lost seven of their final nine series away from home, the only victories coming in Milwaukee in early September and in Arizona to end the regular season.
In all, the Cardinals were 39-42 away from Busch Stadium heading into October, despite a 3.60 ERA that ranked fifth of the 30 Major League teams.
The problem was offense. The Cardinals scored baseball's fourth-fewest road runs (3.4), while at home, they were in the top half of MLB teams with 4.1 runs per game, good for 13th overall.
"We love the life in [Busch] Stadium and obviously having the fans respond when something positive happens for us, but when it gets to the playoffs, there's life in every stadium," Cardinals manager Mike Matheny said. "It's hard as a player or a coach not to get caught up in that, and rightfully so. It's something that the guys are due after a long season to be in this atmosphere. It just doesn't get any better in the game of baseball."
The Cardinals did win their regular-season series at AT&T Park, taking the final two games of a three-game set in June after being shut out by Tim Lincecum and Jean Machi in the opener. The finale was a 7-2 Cards win over Madison Bumgarner, who found himself facing a 5-1 deficit after four innings.
The Giants wound up with relatively even results at home (45-36) and on the road (43-38).
When asked what makes a good road baseball team, Matheny shrugged and said, "It's the same boring thing, you just play the games."
Veteran catcher A.J. Pierzynski had a theory.
"Teams with good pitching, that's kind of where it starts," he said. "Especially in the postseason, I think, you have to have good pitching to win on the road, because everyone expects to win the home games. And you saw [in Game 1, when] Bumgarner pitched a good game and there wasn't much we could do about it.
"I expect us to be fine. I expect us to go in and play well. You never know what's going to happen, but I truly expect for us to go in and play well and hopefully win more than one game there."
Adam McCalvy is a reporter for MLB.com. Read his blog, Brew Beat, and follow him on Twitter at @AdamMcCalvy. This story was not subject to the approval of Major League Baseball or its clubs.