Oct. 13 Tim Hudson workout day interview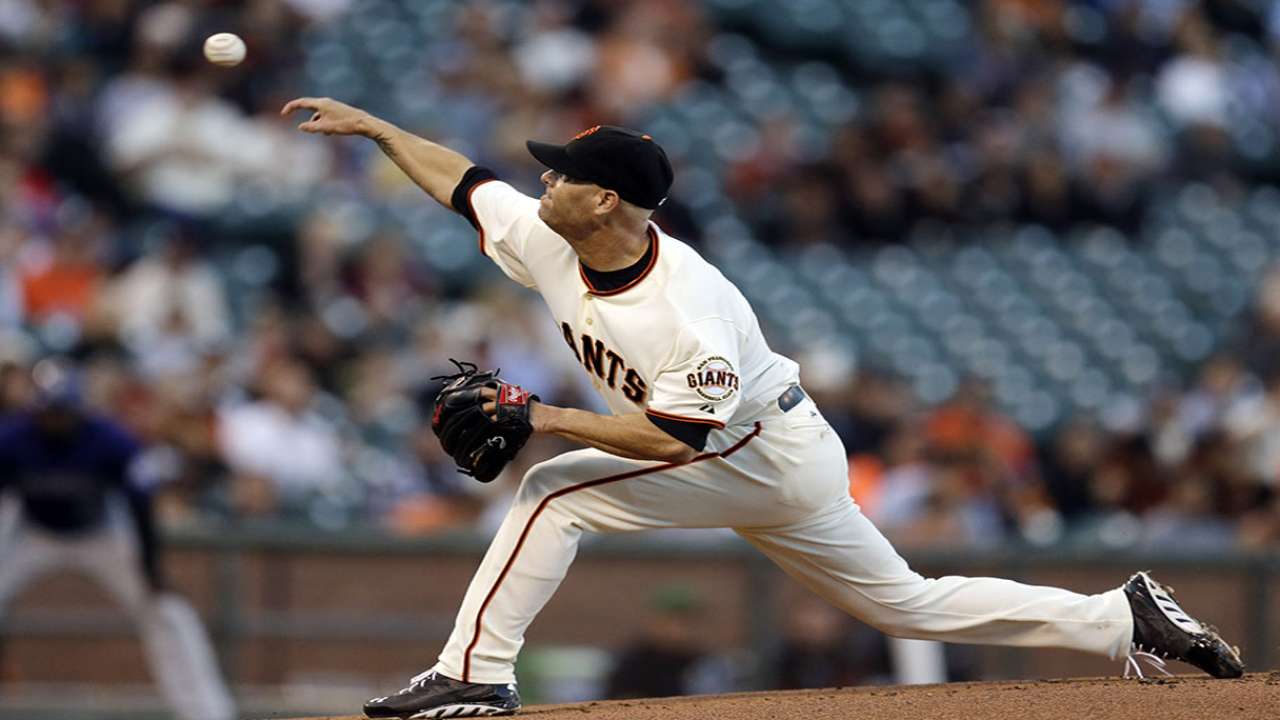 Q. Your first LCS, what's your mind‑set, how are you feeling going into it?
TIM HUDSON: Well, it's exciting. Obviously it's the first time I've been here in the NLCS. So, yeah, I'm thrilled for the opportunity to come out here and give us a good chance to win.
You know, it's what you work all year for, what you work so hard during the off‑season for to get ready to pitch in the playoffs. I feel good where I am physically, and you know, coming off a confidence‑building start against the Nationals was something that I was really looking for.
So you know, I feel good where I am. I feel like we have a really good game plan coming into this series, and it's all about going out and executing the pitches now.
Q. Cardinals have all these left‑handed hitters and have been hitting a ton; what have you seen from those hitters? Is it the location of the pitches mostly yesterday?
TIM HUDSON: Obviously they have a great lineup over there and they have some left‑handers that can hurt you if you make s. I think it's one of those things where they have got s and they haven't missed them.
Hopefully you can go out there and make some better pitches, stay down in the zone and try to keep them off balance and just pitch my game. That's essentially what I'm looking for and try to keep the ball on the ground.
You know, they are dangerous. They do have a dangerous lineup and some guys that can really hurt you with the home run ball. They didn't show it too much during the regular season but they seem to be, you know, not missing those s here in the post‑season and capitalizing on it. So it's my job to go out there and keep that from happening.
Q. When you're pitching, how much do you notice what's going on in the stadium?
TIM HUDSON: It's exciting. Obviously coming from St. Louis, they have a great fan base there and a lot of excitement going on in the stadium as we do here.
So this point in my career, it's something that, you know, I enjoy. I enjoy that atmosphere. I enjoy the excitement that the fans bring to the stadium.
For younger players, it can probably be maybe a little overwhelming sometimes, but I mean, this point in my career, it's almost like a shot of coffee (chuckling).
Q. How much of a difference in terms of their dynamic does it make not having Molina in there?
TIM HUDSON: Well, he's a great player. He's one of the best, if not the best catcher going right now, and offensively he can do a lot of things that can help you score some runs.
You know, obviously that would be a pretty big blow for them, not only from an offensive standpoint but from a defensive standpoint how he handles those pitchers.
I can't say I wouldn't be disappointed if he is not in the lineup, there's no question about that. But obviously you never wish any ill will on anybody. But wouldn't hurt my feelings if he's not in the lineup for a few days, there's no question about that.
But they have some backups that are very capable of coming in and taking over. Probably you can't fill his shoes by any means, but they have got some guys that can come in and get the job done for them. It would be tough for any team to deal with when you lose a guy of his calibre for sure.
Q. John Lackey a few minutes ago was asked about pitching against these guys in the 2002 World Series and walking Barry Bonds four times. He talked about this lineup he's facing tomorrow, so different, but can you speak to the group that you guys have and just how steady and different guys can beat you on any given night?
TIM HUDSON: Well, you know, we have some guys up‑and‑down our lineup that just seem to get it done. All year, it's one of those things that there's nothing that may jump out at you from on the stat sheet but we always have guys who can go out there and battle you and put together good at‑bats and do whatever it takes to try to get those runs across.
Throughout the post‑season, it hasn't been pretty but we have been able to do whatever we need to do to get some runs across the board to give us a chance to win.
But you know, it's unbelievable, this group of guys come post‑season time, it's almost like there's just a different kind of confidence and a different kind of swagger whenever they go up to the plate. Sandoval is a guy that shows up post‑season time. Hunter Pence, he's a game ‑‑ Buster Posey, Buster Posey is the best thing going. He's one of the best players I've played with.
Just up‑and‑down our lineup, we have guys that can go out there and set tables and get guys into position to be successful and score some runs for us.
Q. You just were talking about the Molina injury, and the Giants also have to overcome a lot of injuries this year, Pagan, Morse; can you talk about the importance of having the backups for these moments, especially when Cain came down?
TIM HUDSON: Obviously that's key for any club. We obviously have had our share of injuries this year. We've dealt with them all year. Obviously Angel, losing Angel early on in the year was really tough for us. He's such a dynamic player for us both offensively and defensively, and obviously losing him kind of set us on a little bit of a tailspin for a little bit. Was able to right the ship there towards the end. Ultimately he had to be gone for the year with back surgery.
But we have some guys been able to step in. Blanco has been able to come in and step in, and probably in the fill Pagan's shoes, but he's one of those players that those shoes are really tough to fill but Blanco has come in and done a nice job. Obviously losing Matt Cain was a big blow for us. He's one of our top‑of‑the‑rotation guys.
Any time you lose a top of the rotation guy, it's going to hurt you. Brought in Peavy in his place. He's been a guy that's been everything that we were looking for and a lot more, and obviously Michael Morse, you know, he's a guy that came in and had an All‑Star calibre first half for us but he had that oblique strain there in Colorado that set him back a little bit, but you know, we got him back now and he got his first base hit last night for us, first time back in action.
For any club, you have to have guys that are on the bench that are able to come in and not be overwhelmed with the opportunity to help your team be successful. I think we have some guys that are ready to do that. I think maybe being challenged with that early on in the year has helped us with these guys being ready to play this post‑season now.
Q. Going back a long ways, A.J. Pierzynski might wind up being in the lineup, but you have a little bit of a rivalry going back in the day when he was with the Twins. What's your recollection of that? I think you had a little bit of a war of words?
TIM HUDSON: Gosh, that was so long ago. What was that, back in 2002, 2003, something like that? A.J. is a competitor. He goes out there and he loves competing and he's been on some teams that have had a lot of success.
I think to have ‑‑ I don't think it's no coincidence that he's been on teams that have been successful. He's a good baseball player and he's a good catcher. He's just one of those guys that he goes out there and he competes and does it in a way that makes you really want to beat him. I think we're no different than anybody in baseball.
Q. Looking backwards a little bit, you had some unbelievable success very early in your career and getting back to this idea of being back in the NLCS 15 years later, can you talk about that arc? Did you think it would take this long? You came back from injury. This is quite a journey you've been on.
TIM HUDSON: Yeah, obviously early on in my career, I obviously didn't think it would take this long for me to get to my first NLCS. Early on in your career, you think that when you're on teams that are really good and you have success, you think it's going to be an every‑year thing, getting to the playoffs and having an opportunity to win the World Series.
You realize, it's not that easy. We had some success in Oakland and we had some success in Atlanta but was never really able to get over the hump. I just think, you know, I just try to talk to some of the young guys about, don't take these opportunities for granted because next thing you know, you'll blink your eyes and you'll be 16 years in the League and never got past the first round.
It's exciting for me to finally be here. I know a lot of the guys in the locker room, my teammates, have tasted that champagne and had that success and that's something I'm still looking for. I'm real eager for this series to get going and for me to pitch tomorrow and hopefully get on to that next step, which is that goal of winning a World Series.
Q. You said earlier about you need to just pitch your game. How is your game now different than it was when you came up in '99?
TIM HUDSON: Oh, man, you know, it's much different obviously. I think for any pitcher to be able to sustain a long career in this game, you have to be willing to be able to change with the game and obviously, you know, change your style of pitching; as your body changes, as your velocity may dip a little bit as things change physically with you, you have to be willing and able to reinvent yourself so to speak.
When I first came up, I was a sinker/split guy and an occasional breaking ball. Now, there's been times where I've tried to make up pitches before to try to get guys out. But you know what, it's just one of those things where you have to throw your ego aside. You might not have that 94 or 95 in the tank any more but at this point in my career I feel like I'm a much smarter pitcher and I understand my body and I understand my mechanics much better now than I did when I was younger.
Yeah, I still wish I had that 95 sinker, but I don't. But I'm okay with my 90, 91 sinker and locating it better and mixing in some other changeups and cutters and curveballs behind it.
I think there's a much ‑‑ there's more pitches for hitters to worry about nowadays with me. Might not be nearly as much power as there was back in '99, but I feel like I have much better game plans nowadays.
Q. Have you been around Lincecum much the last few weeks? He has not pitched in a while. Do you sense he's ready to go?
TIM HUDSON: Timmy, he's going to be ready whenever we call on him. I know that he's eager and he's hungry to get back out there and pitch and help us win. Obviously he has not been out there in a while. But I know that when he's ‑‑ he's going to be ready whenever Boch calls his number. He's going to pitch some important innings at some point for us in the post‑season.
I'm excited for him to get out there and get the job done. I know the fans here love him and he's one of our favorite guys in the locker room and I know everybody is pulling for him to go out there and do what he does.
Q. Would you talk about the uniqueness of the environment here being packed every night and the impact it has on you guys?
TIM HUDSON: It's awesome. The fans here have been great from the beginning and that's one of the reasons why I came here to play in San Francisco. It's so much fun to see these fans get into it. Beautiful ballpark, I think that goes without saying, but it does help us. When you see our guys, you look around the stadium and you see all the panda hats and all the orange, it's a lot of fun for us.
It helps us get over that hump and especially come playoff time, when I was with Atlanta, we came here and played these guys in 2010 and it was an electric atmosphere and something that you could tell they fed off it, and I'm looking forward for this tomorrow night.