Wong settling into role as postseason hero
After miscue in 2013 World Series, second baseman makes amends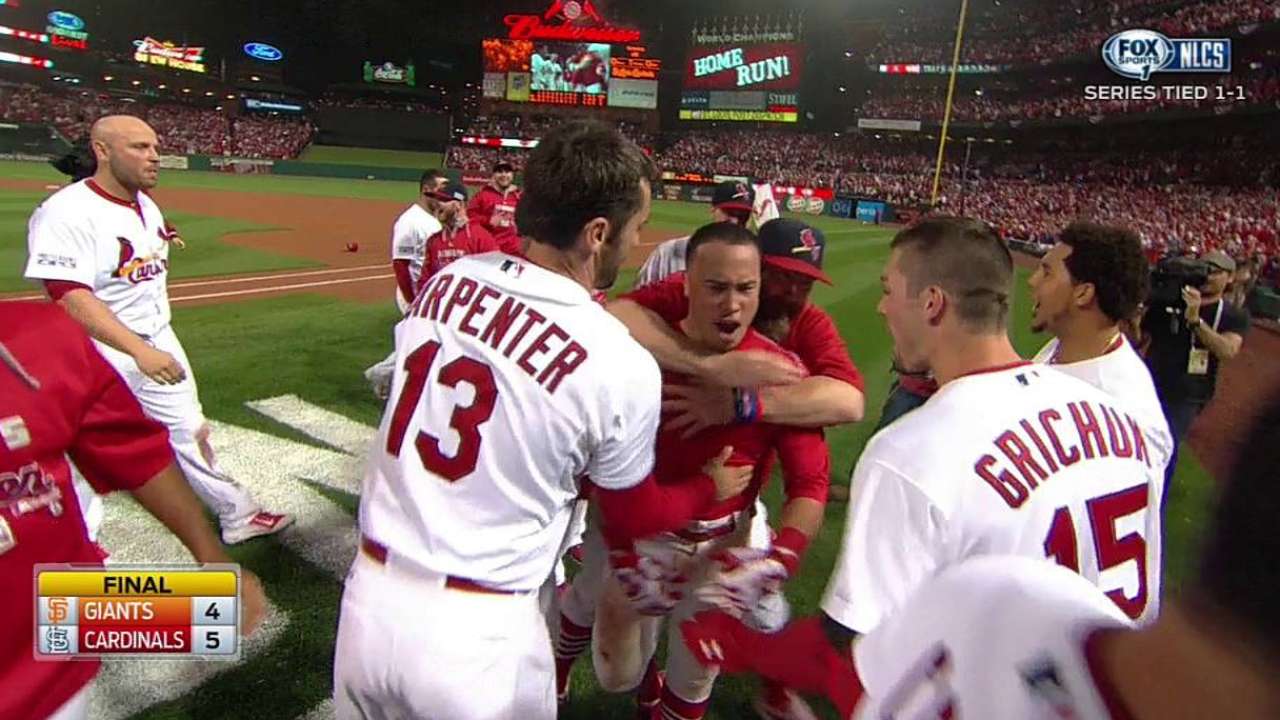 SAN FRANCISCO -- It's taken nearly a full year, but Cardinals second baseman Kolten Wong has finally embraced a new outlook in regards to baseball's second season.
"I think the postseason brings out the best in everyone," Wong said Sunday, minutes after his walk-off home run ended a wild Game 2 of the National League Championship Series against the Giants.
A year ago, Wong's position on the postseason rated as grim at best, especially after the then-rookie was picked off first base as pinch-runner to end Game 4 of the World Series against the Red Sox.
The Red Sox won that game, 4-2, and then went on to win the final two games to capture the World Series. Wong, then 23, was left to wonder what might have been.
This fall, Wong is having a postseason devoid of regret and one instead mostly filled with success -- a roll of good fortune he hopes continues on Tuesday when the series resumes (3 p.m. CT on FOX Sports 1) for Game 3 at AT&T Park with the series knotted up at one game apiece.
It will be hard to top the walk-off home run that clinched Sunday's 5-4 victory over the Giants, when he ambushed a Sergio Romo changeup. That was actually his second home run of the postseason.
The other had a flair for the dramatic as well, as his two-run home run in the seventh inning of Game 3 of the NLDS gave the Cardinals a 3-1 victory over the Dodgers.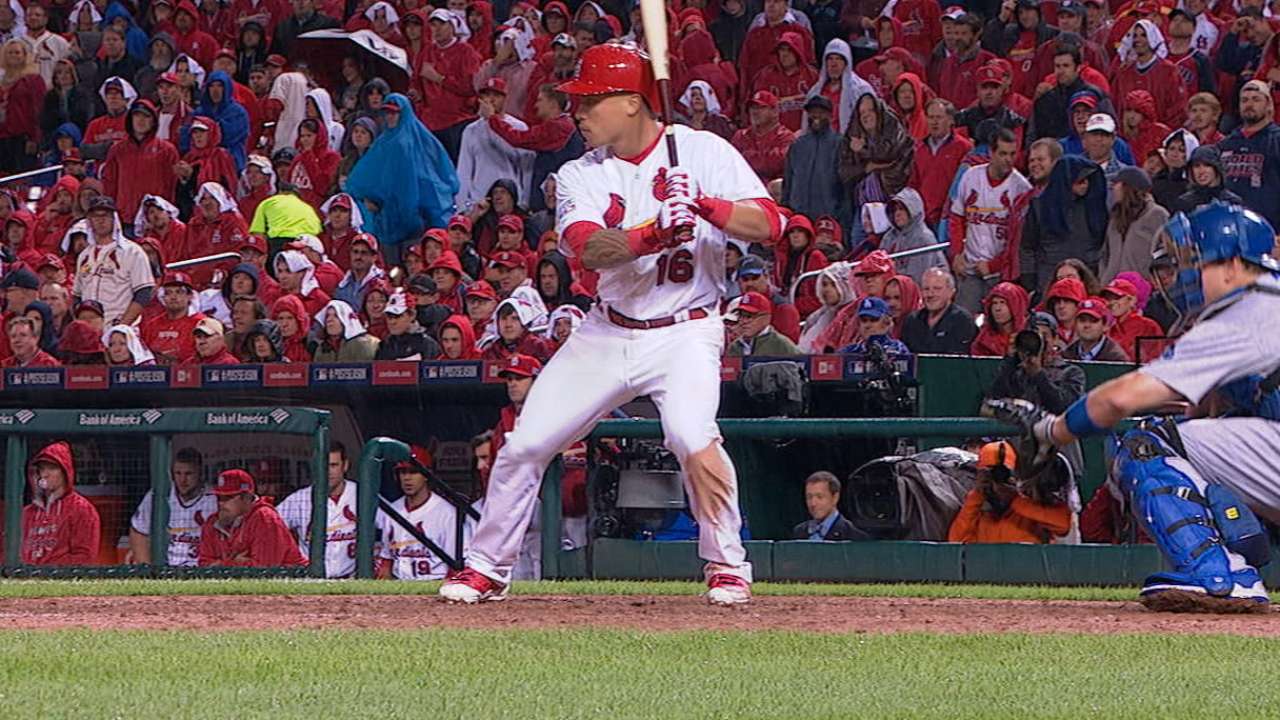 • Wong hammers go-ahead two-run homer
"Kolten has great bat speed," said Cardinals manager Mike Matheny.
Like the man said, maybe the postseason does bring out the best in everyone. Maybe it just took him a little longer to arrive.
"I'm definitely excited, [especially] considering what happened last year," Wong said. "… I knew I wanted to try and change what happened."
He has certainly done that and more with two momentous swings this month, though Wong will be the first to tell you he's not a power hitter -- or, at the very least, he shouldn't be trying to hit home runs.
"That's the thing that gets me into trouble ... I will hit one and I'll feel like I can hit them every time," said Wong, who hit 12 in 113 games during the regular season. "When I stay short and compact, not only do I hit home runs, but I don't strike out as much."
That was the approach Sunday against Romo, keeping a short, compact swing with a direct path to the ball. He wasn't trying to generate power or loft with his swing. He was just trying to get on base.
Which is exactly what veteran catcher A.J. Pierzynski preached to him when he pulled Wong aside just before that at-bat in the ninth inning.
"I know in that situation as a hitter, especially at home, the first thought in your mind is to go up there and hit a home run," Pierzynski said. "I told him, 'Hey, forget the home run. Just get on base.'"
Wong did him one better and then, amidst the melee afterwards, sought out Pierzynski. The two shared an embrace and a laugh.
"I told him, 'Is that good enough for you,'" Wong said, smiling ear to ear.
Such a smile might have been hard to muster a year ago after the sting of the loss to the Red Sox in the World Series, one punctuated when Wong was picked off. He had the entire winter to think about that.
His struggles, really, are no different than many young players trying to find their way in the big leagues, trying to stick. His mistakes were played out on the biggest stage possible. And then when he hit .221 in April, he was optioned to Triple-A Memphis.
It wasn't his time then, either.
But he returned for good in July and has continued to make the progress the Cardinals thought he would make, with the understanding that there will be bumps in the road.
"The confidence I now have … I believe I belong here," Wong said. "That's the thing that can make me be the player I want to be. And to do it on this stage is unbelievable."
Corey Brock is a reporter for MLB.com. Keep track of @FollowThePadres on Twitter. This story was not subject to the approval of Major League Baseball or its clubs.