De Aza plays role of unexpected hero for Orioles
Outfielder is 4-for-10 with three runs, RBI in ALCS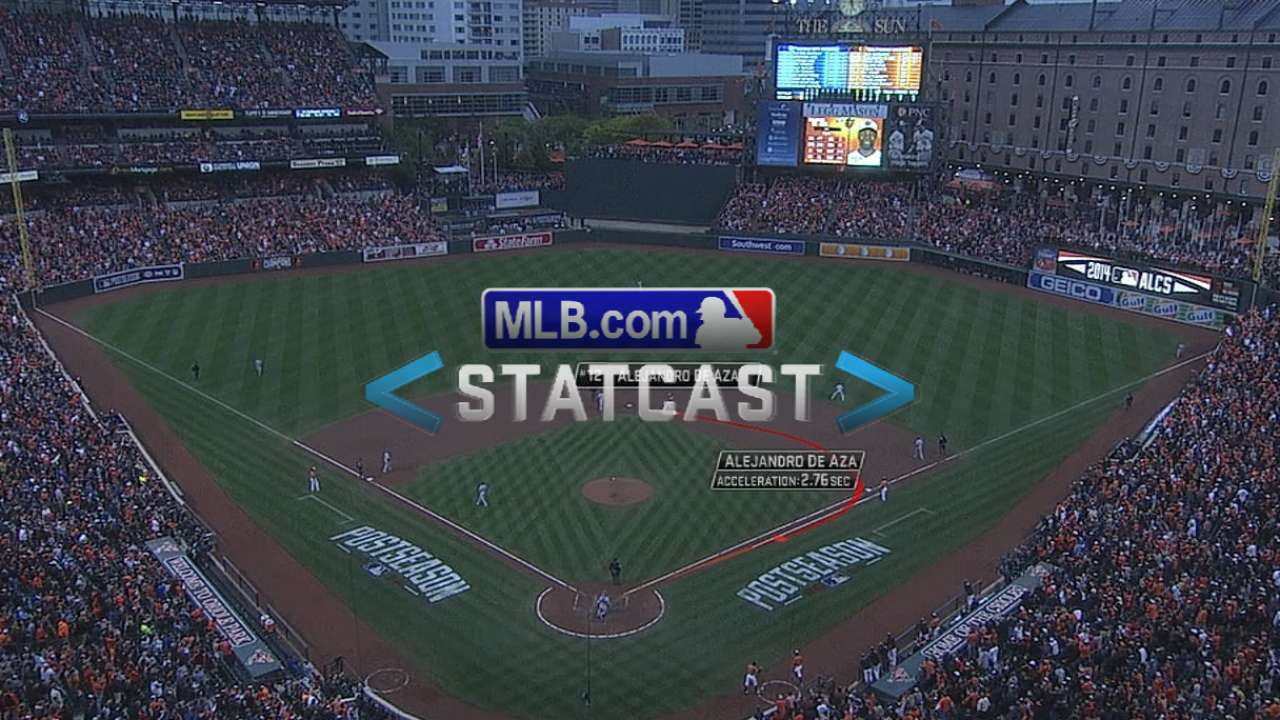 KANSAS CITY -- On the eve of the American League Championship Series, Brady Anderson, Orioles vice president of baseball operations, said the postseason is "the time you get unexpected heroes." He might as well have been talking about outfielder Alejandro De Aza.
De Aza sparked the Orioles in their first postseason game, delivering a pair of doubles in an eight-run eighth inning to beat the Tigers in Game 1 of the American League Division Series. In two ALCS games against the Royals, he's 4-for-10 with three runs scored and an RBI.
De Aza just keeps rising to the occasion in his first crack at October baseball after seven seasons in the Major Leagues. And it's just what the Orioles need heading into Game 3 at Kauffman Stadium.
"He's hungry," said Dan Duquette, executive vice president of baseball operations. "He's never been in the playoffs before. So he's making the most of his opportunity. He's doing great."
De Aza has done nothing but produce since coming over from the White Sox in a trade for two prospects on Aug. 30. He had a hit in his first at-bat and opened his O's career with an eight-game hitting streak, the franchise's longest such streak since 2005, when Eric Byrnes hit in 11 straight games after joining the Birds.
Just as important, De Aza was an upgrade in left field down the stretch, and the O's went 14-6 in games in which he played. That went a long way toward helping Baltimore win its first AL East crown since 1997.
"He's been great since Day 1," said Orioles slugger Nelson Cruz. "He's capitalized. He's gotten a lot of clutch hits when we've needed them the most. He's been huge for us since the trade."
Duquette made several trades to bolster the roster this season. The deal to get De Aza might have been lost in the shuffle, but not anymore.
"He's done a good job," Duquette said. "He's got a little speed, he's got some power and he's a good, solid, professional player."
Postseason experience is a big talking point each October. But not every player falls into that box, Anderson says. De Aza is the latest example.
"I always like looking at numbers and statistics, I have my whole life, and there's a lot of talk about playoff experience ... I never found that playoff experience means much," Anderson said last week at Camden Yards. "When you look through the numbers, there's some veterans that struggle year in and year out in the playoffs and you'd think the team would be able to rely on them. And I think the playoffs are the time you get unexpected heroes.
"But I remember hearing about a lot of playoff experience when I was about to go into my first playoffs. I didn't know, so I couldn't comment, but it was not really that big a transition for me. I was swinging well when the season ended. I went into the playoffs swinging well."
De Aza has done the same.
Austin Laymance is a reporter for MLB.com. Follow him on Twitter at @jalaymance. This story was not subject to the approval of Major League Baseball or its clubs.