Twins' Buxton gets bat going in Fall League action
Baseball's top prospect hits RBI double, scores run in win for Salt River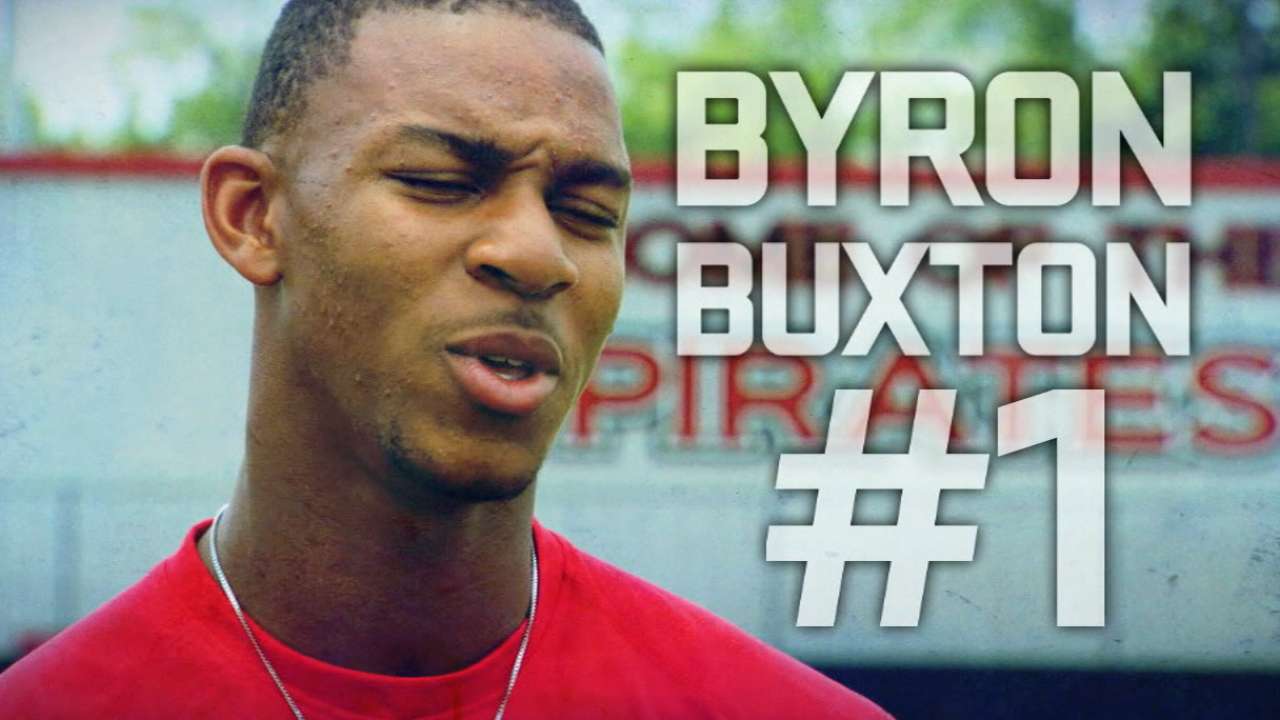 Byron Buxton played only 30 games for Advanced A Fort Myers and one game for Double-A New Britain as he was hampered early in the year with a wrist injury. So there's a reason he's MLB.com's top rated prospect.
Buxton, an outfielder in the Twins organization, put his entire arsenal of tools on display Monday as he led the Salt River Rafters to a 7-4 victory over the host Surprise Saguaros in Arizona Fall League action.
Buxton, the second overall pick of the 2012 Draft, went 2-for-4 with an RBI double, a walk and a run scored.
The Twins prospect reached base in three consecutive at-bats in the middle of the game, but his RBI double in the seventh jumpstarted a six run inning.
"I wasn't trying to do too much, was just trying to keep it to the right side of the field to drive the runner over to third," Buxton said. "[Tayron Guerrero] threw a pitch inside, I put a good swing on it and it took off."
Buxton played only 31 games this season as he was hampered early in the year with a wrist injury, so the outfielder is using the Arizona Fall League as a chance to get some more at-bats and compete against other top prospects.
"I'm not trying to do too much, just trying to play my game, help us win and win a ring here," Buxton said. "Really just here meeting new people, new faces and meeting new teammates."
While Buxton's bat was impressive, his offense is not the only reason for the Twins to be excited about the prospect.
In the bottom of the fourth, with a runner on third and one out, Surprise DH and Red Sox prospect Deven Marrero hit a fly ball to center that Buxton positioned himself under. When Buxton caught the ball, the runner started to tag up, but Buxton fired a perfect strike to the plate and kept the runner on base.
The Rafters used the big seventh inning to mount their comeback, but prior to that Mariners prospect Taijuan Walker held their bats in check.
Walker allowed one earned run on two hits while striking out six over five innings of work.
"He was just spotting up real well, mixing up his pitches," Buxton said. "We were just being a little patient, hadn't seen him before. I just went up there not trying to do too much and he kept us off balance throughout the game."
The Rafters are not alone, as Walker has made a habit of keeping hitters off-balance early in the Fall League.
From the third through the six innings Walker retired 12 of 14 batters faced and has now impressed in each of his Fall League starts -- allowing two runs over a combined nine innings.
William Boor is a reporter for MLB.com. Follow him on Twitter at @wboor. This story was not subject to the approval of Major League Baseball or its clubs.