Miller showcasing dominant repertoire for Orioles
Lefty missed out on postseason in 2013, a free agent this winter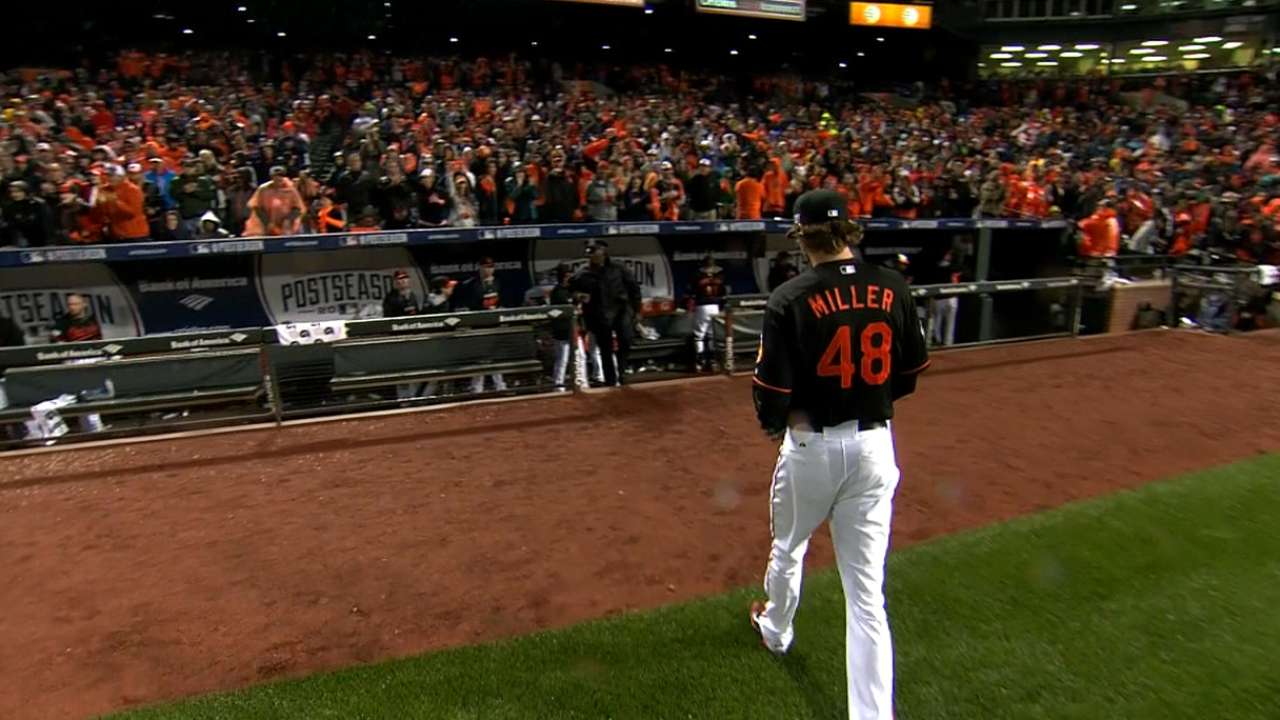 KANSAS CITY -- The Red Sox were on their way to the World Series last year, and Andrew Miller was recovering from a broken left foot. The big lefty was so desperate to contribute that he tried to convince the team he could get himself healthy enough to pitch after a three-month layoff.
Miller was thanked for showing such initiative, but told to go back to being a supportive teammate. So as one of the tallest cheerleaders in baseball history, Miller took it all in from the dugout as the Red Sox dispatched of the Cardinals in six games.
As gratifying as all that was, particularly the World Series ring he collected a few months later, the best days of Andrew Miller's career are happening right now. The trade that sent Miller to the Orioles on July 31 set him up to get all the coveted October opportunities he missed a year ago.
And Miller isn't just pitching in big games for Baltimore, but he's turned into an almost unhittable beast.
Though the Orioles lost the first two games to the Royals in the American League Championship Series, Miller came up big in both of them. His slider has been a lethal weapon, sending hitters back to the dugout with nothing to do but mutter.
"It's been a ton of fun," said Miller. "I know the last two games haven't really gone our way, but it's quite the experience. I never really knew what to expect, but it's been as much fun as I've ever had pitching in these games. I feel like, just what's on the line and the excitement and the buzz around the stadiums is just really incredible. It just makes me thirsty for more I guess."
For the final two months of the regular season, Miller posted a 1.35 ERA for the O's, punching out 34 batters in just 20 innings.
"Huge," slugger Nelson Cruz said of the addition of Miller. "He's been unbelievable. He's one of the reasons why we won the division by a large amount of games. Once he came over from Boston, it was almost a sure thing every time he came to the mound that it would be 1-2-3, and he could get out of any jam, no matter the situation."
Of the five games Baltimore has played in this postseason, Miller has pitched in four of them. Over 6 1/3 innings, he allowed one hit and one walk while striking out seven.
The satisfaction Miller feels these days reminds him of how tough it was to watch last year.
"You get pretty fed up," said Miller. "You guys saw me on my scooter and the boot, and whatnot. It gets pretty tough when you can't help and contribute. I love baseball, but watching it from the sidelines isn't the best thing in the world."
At the age of 29, Miller is finally tasting the success that was forecasted for him many years ago, when the Tigers made him the sixth overall pick in the First-Year Player Draft.
In December of 2007, Miller was shipped to the Marlins in the deal that sent megastar Miguel Cabrera to Detroit.
By the end of 2010, the Marlins flat-out gave up on Miller and traded him to the Red Sox for Dustin Richardson, a lefty who never threw another pitch in the Majors after that deal.
After some more maddening inconsistency in his first year in Boston, Miller became a reliever in 2012. That move turned out to change his pitching life.
"I feel I've improved every time out as a reliever," Miller said. "I feel like I've started to get better and better at this role, which was new to me only a couple of years ago. I feel like I'm improving and getting better. But certainly no complaints on how I'm throwing the ball right now."
Miller also won't complain about the long road it took him to get to this point.
"I think the people that have the smooth rises to success in the Major Leagues are the outliers," said Miller. "I'm just happy that I've started to find my way. ... I hoped I was going to win 500 games and be a starting pitcher and make all the money in the world, but the fact that as I've gotten older and wiser, that I can contribute to good teams is all I ask for.
"I feel like I'm starting to accomplish that. It's a lot of fun to pitch well in this game. It's not a lot of fun to pitch poorly. To have to grind it out and stick it through to get to this point is certainly rewarding and hope it can get better."
This offseason, Miller will become a free agent and will make significant money, whether he continues as a setup man or some team tabs him to be a closer.
"I'm trying to ignore the whole free agency right now," said Miller. "Unfortunately, it keeps popping up. Well, it's fortunate I guess. But for me right now, I'm focused on the Royals. Ultimately, I have enough on my plate."
Ian Browne is a reporter for MLB.com. Read his blog, Brownie Points, and follow him on Twitter @IanMBrowne. This story was not subject to the approval of Major League Baseball or its clubs.