ALCS Game 3 postponed to tonight, 8 ET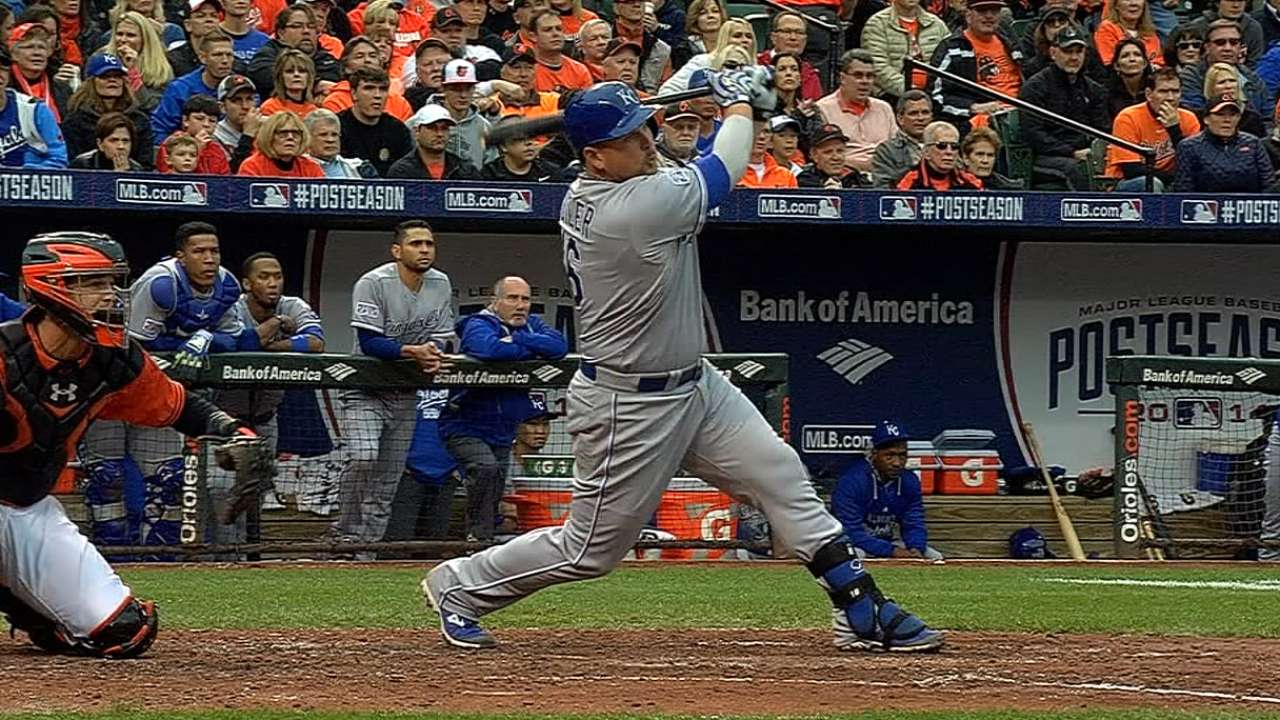 KANSAS CITY -- It has been 29 years since Kauffman Stadium last hosted an American League Championship Series game, and that wait will extend for one more day. ALCS Game 3 between the Orioles and Royals was postponed due to inclement weather and rescheduled for tonight at 8 ET (TBS).
Peter Woodfork, Major League Baseball's senior vice president of baseball operations, made the announcement on Monday. Woodfork cited poor field conditions as a result of heavy afternoon rainfall, as well as a threatening forecast for the evening ahead.
"I know it's disappointing, but in this scenario, we want a game we know we can get through nine innings, hopefully play dry baseball and not risk player safety or uncomfortable fans," Woodfork said. "It's a big day for Kansas City, a big day for Major League Baseball, but we'll have to delay it until tomorrow."
The Orioles' Wei-Yin Chen and the Royals' Jeremy Guthrie will start as scheduled in Game 3. Kansas City holds a 2-0 advantage in the best-of-seven series.
"You're definitely bummed. You want to play the game," the Royals' Eric Hosmer said. "How could you not? All these games, including the game last night on the National League side, are exciting. It's what October baseball is all about."
MLB policy during the postseason is to use the game ticket marked with the number of the game actually being played at a given ballpark. Thus, ALCS Game 3 tickets can now be redeemed tonight, which will have an 8 ET start.
Game 4 tickets can be used on Wednesday at 4 p.m. ET, while Game 5 tickets can be redeemed on Thursday. First pitch of Thursday's Game 5, if necessary, has been set for 4 ET. All games will air on TBS.
"I think, if anything, it's great for the restaurant business in Kansas City," Orioles manager Buck Showalter said. "Room service is expensive."
The National Weather Service said that drier conditions are expected for Tuesday, with a chance of morning rain expected to give way to partly cloudy skies through the rest of the night. Sunny skies are in the forecast for Wednesday and Thursday.
Should the series return to Baltimore, the forecast is also favorable. Woodfork said that the scheduled times for Games 6 and 7 at Camden Yards, if necessary, would not be affected by Monday's rainout.
"One of the reasons why we do have two off-days built into the schedule, it's obviously for weather or other things that can delay a game," Woodfork said. "Our teams are used to playing consecutive days in a row. Hopefully it will not have a negative impact on either club."
Any decisions regarding game postponements during the postseason are in the hands of Major League Baseball, which remains in contact with the Royals, Orioles, the umpiring crew and several weather services.
Ultimately, a decision on whether to play is in the domain of Joe Torre, MLB's executive vice president of baseball operations, with Commissioner Bud Selig and Commissioner-elect Rob Manfred staying informed of any updates.
"None of the players in the locker room can control the weather, so you deal with it," Royals manager Ned Yost said. "You take situations as they come and you adjust to them and you move forward."
Monday's rainout marked the sixth game in the last 19 ALCS contests that has been influenced by inclement weather. Game 3 of the 2013 ALCS between the Red Sox and the Tigers was delayed by rain, Game 4 of the '12 ALCS between the Yankees and Tigers was postponed due to rain, Game 2 of the '11 ALCS between the Rangers and the Tigers was postponed by rain and Games 1 and 4 of the '11 ALCS were also delayed by rain.
Since the advent of the Wild Card in 1995, seven ALCS games have been postponed due to weather. A total of 17 postseason games have been postponed during that time, with the seven ALCS contests the most postponements during any postseason series.
Bryan Hoch is a reporter for MLB.com. Follow him on Twitter @bryanhoch and read his MLBlog, Bombers Beat. This story was not subject to the approval of Major League Baseball or its clubs.