Alexei a proven vet, but Sox have shortstop options
Chicago boasts infield depth in system, including Anderson, Rondon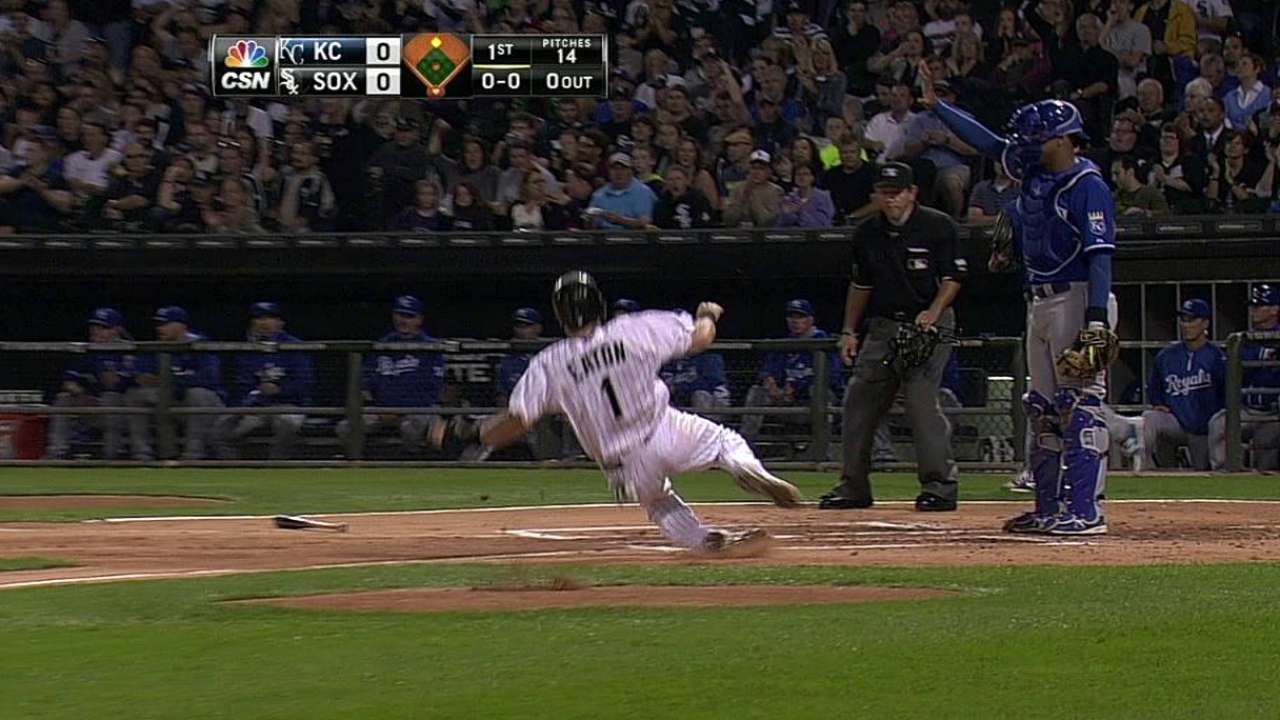 GLENDALE, Ariz. -- For the upcoming offseason, you now are White Sox general manager Rick Hahn. And one major question to be dealt with centers on what should be done with shortstop Alexei Ramirez.
The answer appears to be simple. Ramirez is one of the White Sox most seasoned veterans and most accomplished players in the mix for the 2015 roster. His '14 performance put him in contention for the American League Silver Slugger and Gold Glove Awards.
But here's an interesting counterpoint to that Ramirez excellence. With his contract calling for $10 million next season and a $10 million team option for 2016, the All-Star emerges as one of the team's most valuable trade chips.
That thought gets squelched, though, when plans arise for the White Sox becoming a postseason contender as soon as next season. There seems to be no real reason to send away a 33-year-old entering his eighth year, especially when said player works out to a 162-game .277 average, 29 doubles, 15 homers, 73 RBIs and 18 stolen bases, as well as a career 21.2 bWAR. And with 158 games played in each of the last four seasons and 156 played in '10, make no mistake that Ramirez arrives ready to play every day.
Another point of concern with a Ramirez departure is the replacement for a potential middle-infield void. Whereas the White Sox have Micah Johnson, Marcus Semien and Carlos Sanchez ready to assume the position once held by Gordon Beckham at second, the same isn't necessarily true at shortstop. That assumption might not be completely accurate, as the following bit of information shows.
If not Ramirez, then who plays shortstop? The answer might be surprising, in that Tyler Saladino sort of fell off the prospect map for a bit and had his '14 season prematurely ended by Tommy John surgery. Saladino, 25, also hit .310 with nine homers, 43 RBIs and an .850 OPS over 82 games for Triple-A Charlotte, of which 50 were at shortstop.
"We moved him around, but shortstop might be his best position," said White Sox director of player development Nick Capra of Saladino. "He had a heckuva year."
This right-handed hitting, seventh-round pick from the 2010 First-Year Player Draft is expected to be healthy by the start of Spring Training.
"He could have been in the picture without that injury at the end of the year," Capra said. "He really blossomed this year for me. Unfortunately, he did get hurt."
How close is Tim Anderson? After missing time due to a right wrist fracture, the athletic No. 2 White Sox prospect per MLB.com is getting important at-bats and playing time with Glendale in the Arizona Fall League. Anderson hit .301 with nine homers, seven triples, 40 RBIs and 10 stolen bases over three '14 stops, including Double-A Birmingham.
His 34 errors committed in 2014 and 53 through 144 professional games at shortstop haven't given the White Sox cause to consider a position change for Anderson.
"Tim has to play his way out of shortstop," said Capra, pointing out that 2014 was Anderson's first full year and that he's getting better with the more he plays. "A lot of his errors are just silly mistakes, a lot of throwing errors where he's just not setting his feet. Hopefully he catches on and catches on quickly."
"Yeah, this is my spot," said Anderson of shortstop. "It's going to be my spot. It's just how I feel. I still had a pretty good year, but I still have a lot of work to do."
Anderson also had 82 strikeouts and nine walks over 362 plate appearances in '14. But again, the White Sox are hoping that his strike zone gets better with repetition.
Could Semien handle the role? Semien's versatility, which had him playing 31 games at third and 26 at second for the White Sox, included just three games at shortstop in 2014. That number becomes understandable playing behind Ramirez, but Semien actually played 42 games at shortstop for Charlotte with a 4.33 range factor per game according to baseball-reference.com.
"I'm not sure if it's an everyday position he can play. I think he can fill in for a week, 10 days," said Capra of Semien at shortstop. "I'm not sure long term.
"At the lower levels, we moved [Semien] around like a superutility guy. It's a bonus to have. He's a manager's delight."
Who is Cleuluis Rondon? Aside from having an interesting first name to spell and pronounce, Rondon is the best defensive shortstop in the entire organization behind Ramirez. Rondon hit .238 with 16 stolen bases between stops at Class A Winston-Salem and Class A Kannapolis, and his offense basically dictates how high he can climb.
"I think he's the best shortstop I've seen in my life," said White Sox Minor League hurler Frank Montas, who was acquired with Rondon from Boston as part of the 2013 Jake Peavy deal. "Great hands, a great player."
"Based on his defensive ability alone, he'll have a big league career," said Hahn of the 20-year-old Rondon. "It's a question of how far will the bat take him in terms of an everyday role. Another young kid with a plus-plus defensive tool and plus baseball awareness."
So Ramirez stays or goes? Much-needed middle infield depth now exists in the system, including 24-year-old Olympic-speed-skater-turned-shortstop-prospect Eddy Alvarez. But even with very few White Sox players deemed as untouchable, the asking price would be extremely high for a key cog such as Ramirez.
Scott Merkin is a reporter for MLB.com. Read his blog, Merk's Works, and follow him on Twitter @scottmerkin. This story was not subject to the approval of Major League Baseball or its clubs.