Yanks huddle up to draw offseason game plan
Infield, starting pitching need to be addressed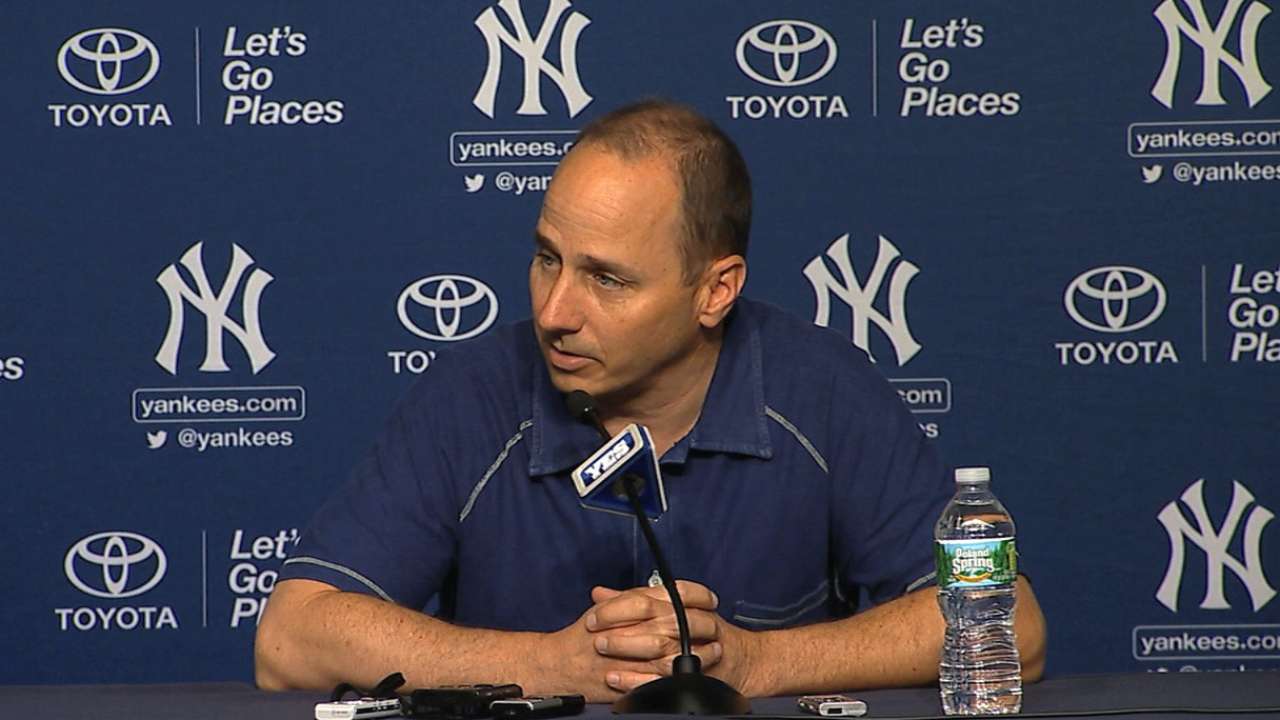 The Yankees started meetings with their professional scouts on Monday in New York, with general manager Brian Cashman's staff entering the beginning stages of outlining what must be done to get the team back to the postseason in 2015.
Joined by the team's scouts and other executives, Cashman is beginning the process of identifying possible free-agent signings and trades to upgrade a Yankees roster that posted 84 wins this past season, good for second place in the American League East but not good enough to qualify for a playoff berth.
"I'm going to see how our pro scouting meetings go," Cashman said. "They're going to start Monday and they'll go all week, and then we'll also see what presents themselves; acquisition costs, whether it's money or trade acquisitions, and then try to factor that all in."
The Yankees are in the market for a starting shortstop to replace the retired Derek Jeter, and their options dwindled by one last week when J.J. Hardy signed a three-year, $40 million extension with the Orioles.
Re-signing Stephen Drew is a possibility, but the Yankees intend to give a look to free agents Hanley Ramirez, Asdrubal Cabrera and Jed Lowrie. They could also consider trades for the Blue Jays' Jose Reyes, the Phillies' Jimmy Rollins or the White Sox's Alexei Ramirez.
"Right now off the current roster, excluding the free agents that will be electing free agency, we will be looking at Brendan Ryan," Cashman said. "Are there obtainable shortstops above Ryan? And work from there."
Cashman said last week that the Yankees need to develop contingency plans in the event that Alex Rodriguez is not capable of playing third base regularly. Martin Prado is one in-house candidate to play there, and the Yankees might also consider re-signing corner infielder Chase Headley, who has said that he will be looking for an opportunity to play every day.
The Yankees are unsure of what they can expect from Rodriguez, who will turn 40 in July and missed all of this past season to his performance-enhancing drug suspension. It is possible that Rodriguez could see most of his time as a designated hitter while being asked to help out at first base.
"It just depends how things shake out, our total budgetary side of things, how our pro scouting meetings run, and how the acquisition costs play in," Cashman said. "But to assume what Alex can or can't do right now would be foolish."
Managing general partner Hal Steinbrenner has said that the team needs a starting pitcher, and the organization is thought to be open to the idea of retaining right-hander Brandon McCarthy, who was 7-5 with a 2.89 ERA in 14 starts for New York after being acquired from the D-backs in July.
McCarthy said in September that he would like to return. The Yankees will also consider the situation of right-hander Hiroki Kuroda, who has inked one-year deals in each of the past three seasons but is expected to give serious thought to retirement.
A decision is also looming in regard to closer David Robertson, who is eligible for free agency and might be a good candidate to receive a qualifying offer, valued at $15.3 million for one year.
The Yankees opted not to engage Robertson in talks about an extension during the season, and though Robertson seems open to returning, he is expected to test the free-agent waters. Robertson posted a 3.08 ERA in 63 appearances, converting 39 of 44 save opportunities in his first full season as Mariano Rivera's successor.
"What happens as we move forward with him and the qualifying offer is yet to be determined, but we thank David and we're proud of what he's done here and how he's handled himself here," Cashman said. "The final decision that has to be made here, first and foremost, is yet to be made."
Cashman's first action after signing a three-year contract extension last week was to dismiss hitting coach Kevin Long and infield/first-base coach Mick Kelleher. The Yankees will soon begin interviewing candidates to fill those vacancies.
One possibility to rejoin the coaching staff is Mike Harkey, who was recently let go by the D-backs after one season as their pitching coach.
Harkey could reclaim the Yankees' bullpen-coach position, with Gary Tuck shifting to bench coach, a role he filled under manager Joe Girardi with the Marlins in 2006. Tony Pena could then be the first-base coach, replacing Kelleher.
"There are some more things that I want to add to the staff with Joe Girardi," Cashman said. "And in my dialogue with Joe, we look forward to interviewing some personnel that can bring those things to the table."
Bryan Hoch is a reporter for MLB.com. Follow him on Twitter @bryanhoch and read his MLBlog, Bombers Beat. This story was not subject to the approval of Major League Baseball or its clubs.