Dyson not shy about stating Royals' odds of advancing
Outfielder likes KC's chances if it wins Game 3, but Orioles confident of comeback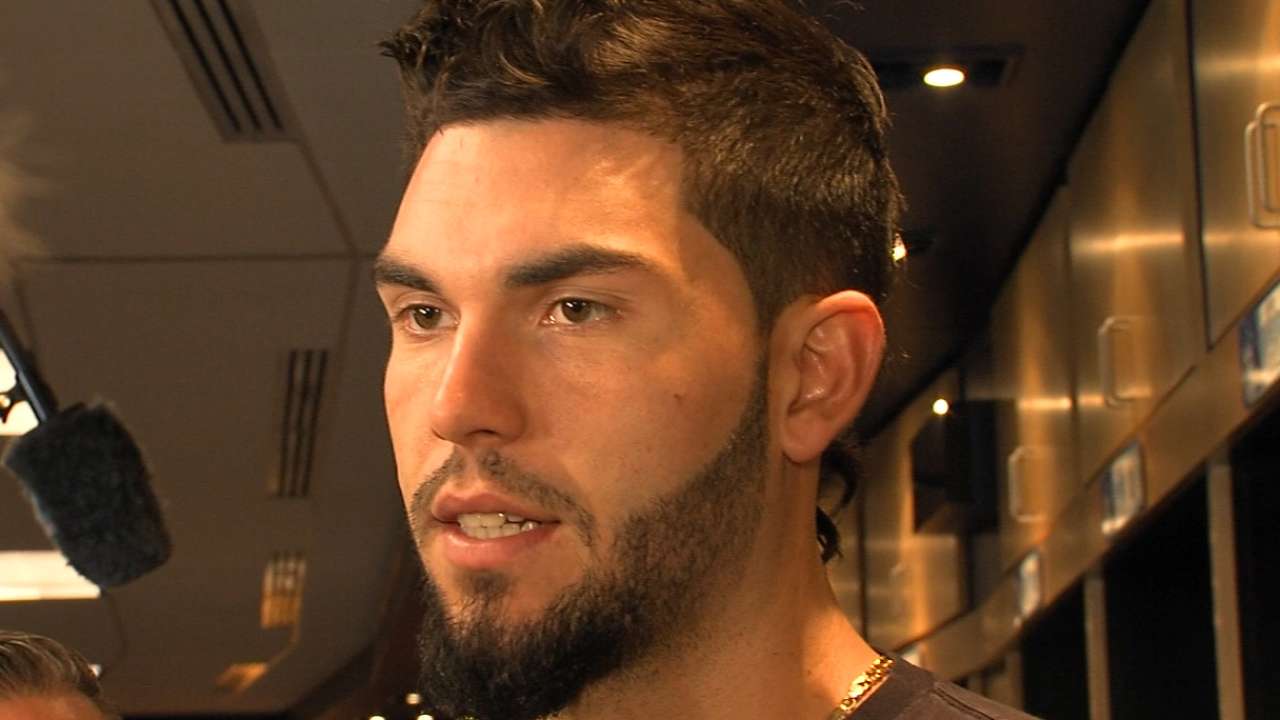 As far as Royals outfielder Jarrod Dyson is concerned, Game 3 of the American League Championship Series counts nearly as much as Game 7 would.
Speaking during Sunday's workout day at Kauffman Stadium, the Royals outfielder was brazen and confident in his team's chances to advance to the World Series should they take care of business in Game 3.
"If we win Game 3, it's going to be hard for them to look themselves in the mirror and say, 'We can win the next four,'" Dyson said of the Orioles. "[The Royals] came in as an underdog. … I just don't think they expected us to come in there [to Camden Yards] and win two. I just really don't. I could tell the way [Orioles manager] Buck [Showalter] was making his moves, he wanted to win bad. He was taking his starters out in the fourth, both starters, and it was just matchup after matchup after that. That's how you play the game. You're trying to get that win at home. At least one. And if you don't get that win, it's pretty frustrating."
The two teams -- Kansas City has a 2-0 ALCS lead after taking both games in Baltimore -- are scheduled to take the field at 7 p.m. CT on Tuesday at Kauffman Stadium, after inclement weather postponed the game on Monday. The Orioles are aware they'll be facing a confident Kansas City club, which made its way into the playoffs via the Wild Card and has not lost since.
"He doesn't speak for this clubhouse," Orioles center fielder Adam Jones said of Dyson's remarks. "I could say a lot of things about that. It's not the time nor place. Hey, we've got a deficit to overcome. Obviously they're up, 2-0. They should have all the confidence in the world. That's just how that process is going to take care of itself."
No team has lost the first two games at home and come back to win a best-of-seven League Championship Series. The 1996 Yankees and the '86 Mets did rally after losing the first two games at home to win a World Series. Still, the Orioles are equally confident.
"I trust my teammates, and I trust what we have here," Nelson Cruz said Sunday afternoon. "I believe if one team can come back and win the series, it's us."
Joey Nowak is a reporter for MLB.com. Follow him on Twitter at @joeynowak. This story was not subject to the approval of Major League Baseball or its clubs.