MLB.com Columnist
Jonathan Mayo
Howard hones starting skills in Arizona Fall League
Reds' 2014 first-round pick works on transition from college closer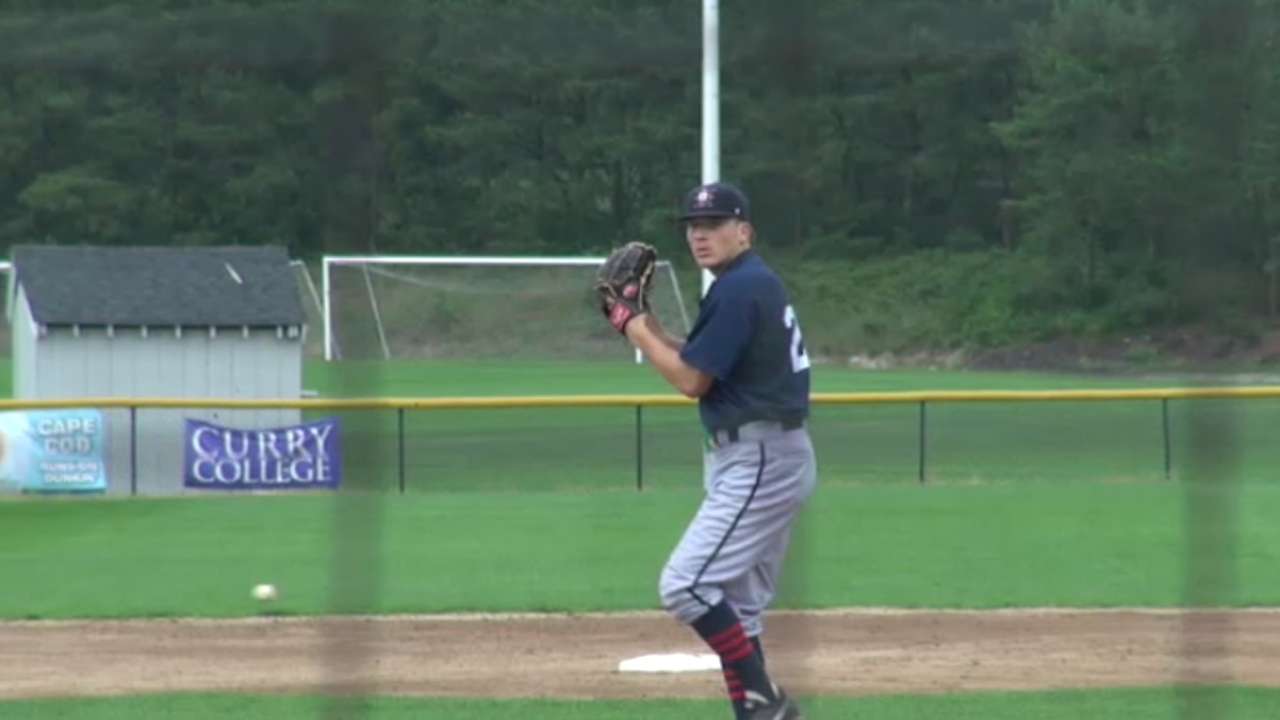 MESA, Ariz. -- Nick Howard made his first appearance on the mound in 2014 back on Feb. 16. Little did he know, he'd still be pitching eight months later under very different circumstances.
In between, Howard has had a whirlwind of a year. He spent his junior year as the closer for the University of Virginia, one of the best college programs in the country. A year that saw him save 20 games, post a 1.91 ERA and .177 opponents' batting average was good enough for the Reds to take him No. 19 overall in the First-Year Player Draft this June. He then helped Virginia make it to the College World Series finals, though he was tagged with the loss that gave Vanderbilt the title.
Howard made his pro debut a month later with Dayton in the full-season Midwest League. Eleven appearances there led to instructs, which led to the Arizona Fall League.
"I had the chance to go home for a week," Howard said. "It was good to see my family and let everything sink in for a while.
"This whole year has been a dream come true. If someone had told me I would've been in Omaha and now I'm playing in the AFL, I'd say, 'Wake up from your dream.' It's been a lot of fun and it's been a crazy year."
There's little question that Howard could be a quick-to-the-big-leagues short reliever with a power fastball and outstanding slider. But the Reds believe the big right-hander has the stuff to start and will let him work on that, thinking it's a lot more difficult to develop a guy who can throw 200 innings than one who can pitch out of the bullpen.
"We see no reason he can't start," Reds scouting director Chris Buckley said. "He was one of Virginia's weekend starters as a sophomore, and he did start in the Cape Cod League.
"If we wanted to, we could've gone the route Kansas City did with Brandon Finnegan. We know he can pitch late in the game with power stuff. But let's see if he can do it. We think he can do it. If not, he's a late-inning 'pen guy."
Buckley points to Howard's intelligence, feel for pitching and athleticism -- he was a position player at Virginia as well -- as reasons why the Reds think he can stick in a rotation. While he relied mostly on his fastball-slider combination as a closer, he'd shown signs of a curve, and his work since joining the organization, particularly in instructs, has enabled him to vastly improve his changeup.
"The first couple of times out there, especially in Dayton, I was relieving, so I was used to that," said Howard, who went 2-1 with a 3.74 ERA in 33 2/3 innings with Dayton over 11 outings, five of them starts. "The first couple of starts was a little trial and error, seeing what works, little things like seeing how much time it takes to warm up before the game, things like that. There is a little adjusting. I know I've done it before. Once I'm out there, it's just pitching."
Howard made his AFL debut last Friday, going three innings and allowing two runs on four hits while striking out three. The results are almost secondary at this point, with Howard just thrilled to get the chance to throw against a higher level of competition than he's ever faced.
"It was pretty easy to get the adrenaline going," Howard said. "I was very excited to get the opportunity to start out here. When you're going against guys like this, you have to bring your 'A' game, at least mentally if you don't have it physically."
This model of development isn't foreign to the Reds. In 2013, they took Michael Lorenzen, then a closer at Cal State Fullerton, in the sandwich round. Lorenzen had no starting on his resume -- he was a toolsy outfielder/reliever only -- but he went to the AFL a year ago as a springboard to spending all of the 2014 season as a starter in the Double-A Southern League. That worked out pretty well, as Lorenzen finished third in the league with a 3.13 ERA. Howard is more than happy to walk the same path.
"It's definitely comforting knowing the organization feels that highly about me," Howard said. "A guy like Lorenzen went out and proved himself in Double-A. It definitely gives me a lot of confidence knowing the organization has confidence in me to go out and do the same thing that he's on track to do."
Jonathan Mayo is a reporter for MLBPipeline.com and writes a blog, B3. Follow @JonathanMayoB3 on Twitter. This story was not subject to the approval of Major League Baseball or its clubs.