Padres prospects get chance to sharpen skills
Instructional League brings opportunity for 44 players to improve game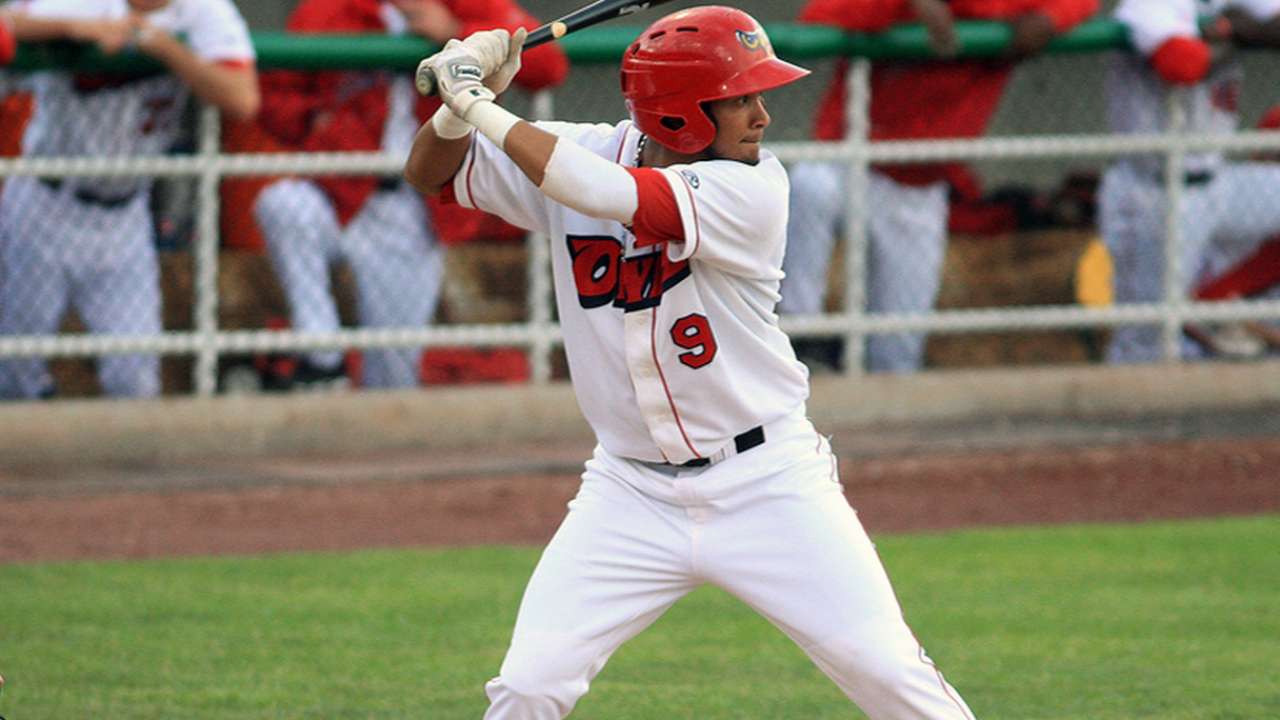 SAN DIEGO -- The Padres recently concluded their annual Instructional League in Arizona, a three-week program aimed at individual improvement for some of the top prospects in the Minor League system.
Padres vice president of player development Randy Smith presided over the program that not only had 44 players but a handful of Minor League coaches, roving instructors and coordinators.
"The biggest thing is the student-to-teacher ratio we have. You can focus on one or two things you want to clean up before heading into the offseason," Smith said. "For pitchers, that might mean working on a changeup, a breaking ball. For the hitters, it might be working on a better two-strike approach or guys trying to get the bunt base hit as part of their arsenal."
The players reported on Sept. 11 and the last game was played Oct. 3. Most of the work was done on the practice fields at the team's Spring Training facility in Peoria, but there were eight games scheduled against other teams that offered similar programs for their Minor League prospects.
"We played games every other day, which gave guys that chance to carry the things they worked on to the games," Smith said. "It breaks up the teaching and gives everyone a chance to go out and perform. Everyone likes to play the games. It's worked well for us."
The Padres handed out several awards at the conclusion of their Instructional League. Most Improved Player went to OF Yale Rosen; Most Improved Pitcher, RHP Mayky Perez; Most Dedicated Pitcher, LHP Elvin Liriano; Most Dedicated Position Player, SS Ruddy Giron.
Smith cited the overall play of shortstop Jose Rondon, who was obtained in July from the Angels in the deal that send All-Star closer Huston Street up I-5. Rondon, 20, hit .301 with a .371 on-base percentage with Class A Advanced Lake Elsinore in 37 games following the trade. He is ranked ninth among Padres prospects by MLB.com.
"He played especially well and drove the ball well," Smith said. "The more I see of him, the more I like."
Smith said he doesn't anticipate any significant position changes in the works for any of the team's top prospects, though catcher Dane Phillips, who hit .285 with 12 home runs and 76 RBIs between Class A Fort Wayne and Lake Elsinore in 2014, worked exclusively at first base in Instructional League.
"But we still see him as a catcher," Smith said.
The Padres are still trying to decide what to do with right-handed pitcher Ryan Butler, a seventh-rounder a year ago out of UNC Charlotte. Butler had a 2.76 ERA in 29 1/3 innings with 36 strikeouts and finished the season at Fort Wayne pitching exclusively in relief. The team is debating having him start, which he did during his college career.
Butler could probably move faster as a reliever, but the Padres like his power arm and makeup.
Corey Brock is a reporter for MLB.com. Keep track of @FollowThePadres on Twitter. This story was not subject to the approval of Major League Baseball or its clubs.