Marlins eye in-house left-handers for rotation
Heaney, Hand among young arms who could step up in 2015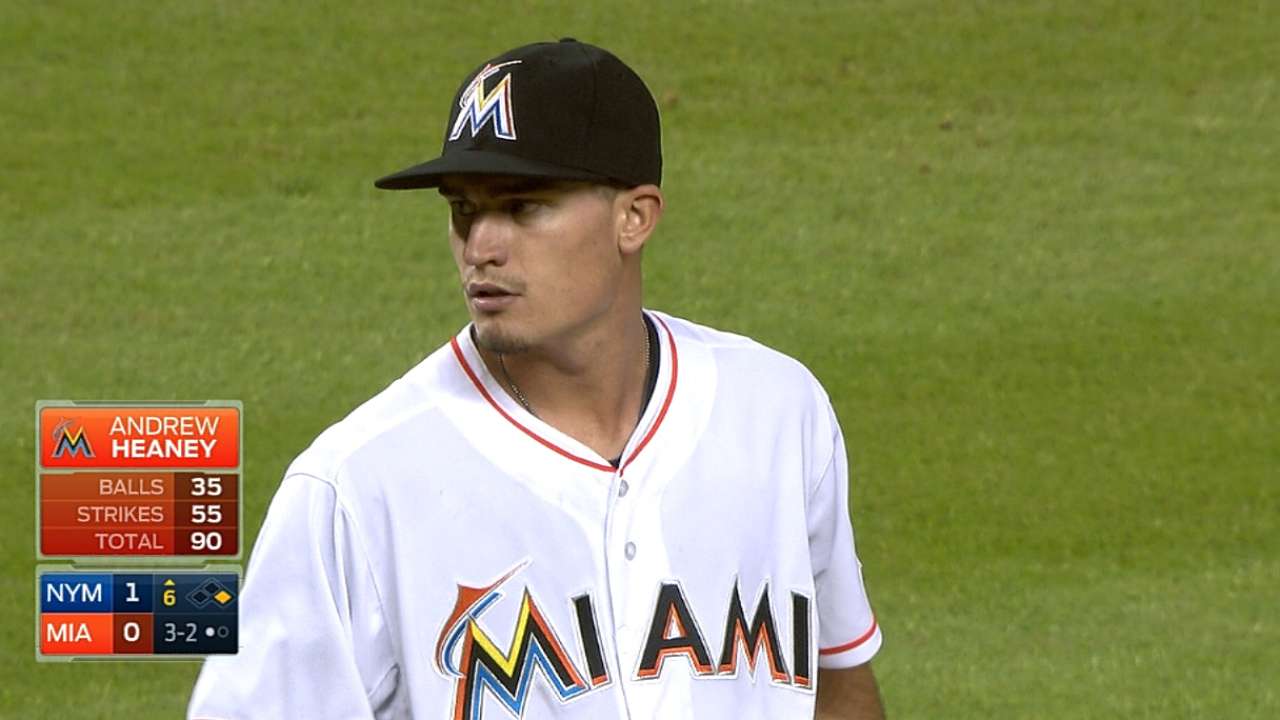 MIAMI -- Atop the Marlins' offseason shopping list is a starting pitcher. The market will determine their options, but an ideal candidate would be a left-hander to offset a predominantly right-handed unit.
A lack of lefties has been an issue for years, dating back to when Dontrelle Willis was traded to Detroit eight years ago. In 2012, Mark Buehrle was dependable, but no southpaw has solidified a spot since then. This season, Miami had just 26 total starts by lefties, with Brad Hand's 16 being the most.
Willis is the franchise's all-time best lefty starter. In 2005, he set the club record by any pitcher with 22 wins, posting 236 1/3 innings.
Buehrle went 13-13 in 2012, and he logged 202 1/3 innings. Willis, Buehrle and Scott Olsen (201 2/3 in '08) are the only lefties in club history to top the 200-inning plateau for a season.
As starters, Hand threw 89 1/3 innings this year, while Andrew Heaney added 24 2/3 and Brian Flynn four. All three also pitched in relief. Randy Wolf made four starts and threw 20 2/3 innings before he was designated for assignment in June.
Having one or two southpaws in the rotation would give manager Mike Redmond and pitching coach Chuck Hernandez more options to mix and match against opposing lineups.
Internally, the organization has some lefty options who promise to battle for rotation spots in Spring Training. Five internal southpaw candidates are:
1. Hand: The 24-year-old made great strides, and he showed stretches of why the organization thinks he has tremendous upside. The key is command. An example is reflected by his four-start stretch from July 20 to Aug. 5 when he had a 2.28 ERA over 27 2/3 innings. Out of options, Hand has to perform to remain in the rotation. The quality of his stuff, plus his 94-mph fastball, has the organization hopeful he wins a job.
2. Heaney: Chalk up 2014 as a learning experience for Miami's No. 1 prospect, according to MLB.com. The 23-year-old opened the season at Double-A Jacksonville, and as expected, he was dominant -- 4-2 with a 2.35 ERA in nine appearances with eight starts. Rather than make the leap directly to the big leagues, the lefty was promoted to Triple-A New Orleans, where he was tested. He was 5-4 with a 3.87 ERA in 83 2/3 innings. On June 19, he made his MLB debut, and he had his struggles in the big leagues, going 0-3 with a 5.83 ERA.
Commanding both sides of the plate and improving his secondary pitches will determine whether he makes the Opening Day roster. If not, he likely will start off at New Orleans.
3. Justin Nicolino: The Organizational Pitcher of the Year, Nicolino was 14-4 with a 2.85 ERA at Jacksonville. He saved his best for last, going 8-1 (2.19) in his last 10 starts. Nicolino was the ace on a team that won the Southern League championship. Ranked as Miami's No. 4 prospect, Nicolino may have moved ahead of Heaney in terms of being big league ready now. He turns 23 near the end of November, and he will get a chance to win a spot in the spring. Nicolino struck out just 81 in 170 1/3 innings, which raises concerns as to if he will miss enough bats, but he walked just 20.
4. Flynn: Flynn remains a bit of a mystery. He's had a couple of chances in the big leagues the past two years, but the results were shaky. Still, like Hand, Flynn is just 24, and he also shows promise. He stands 6-foot-7 and has quality stuff. He hasn't thrown enough consistent quality pitches. At New Orleans, Flynn threw 139 2/3 innings. If he can put it together, he would give the organization something to think about in Spring Training.
5. Adam Conley: A triceps strain to his left elbow mired Conley's season, as he didn't throw in a Minor League game after July 20. The club expects he will be ready for Spring Training. Starting off at New Orleans again is likely, but he is an interesting option. His velocity approaches 100 mph. Command was a problem, as he walked 28 and struck out 50 in his 65 1/3 innings.
Joe Frisaro is a reporter for MLB.com. He writes a blog, called The Fish Pond. Follow him on Twitter @JoeFrisaro. This story was not subject to the approval of Major League Baseball or its clubs.