Prince, Choo among players poised to rebound in '15
Guys coming off down years could be smart buying opportunity for fantasy owners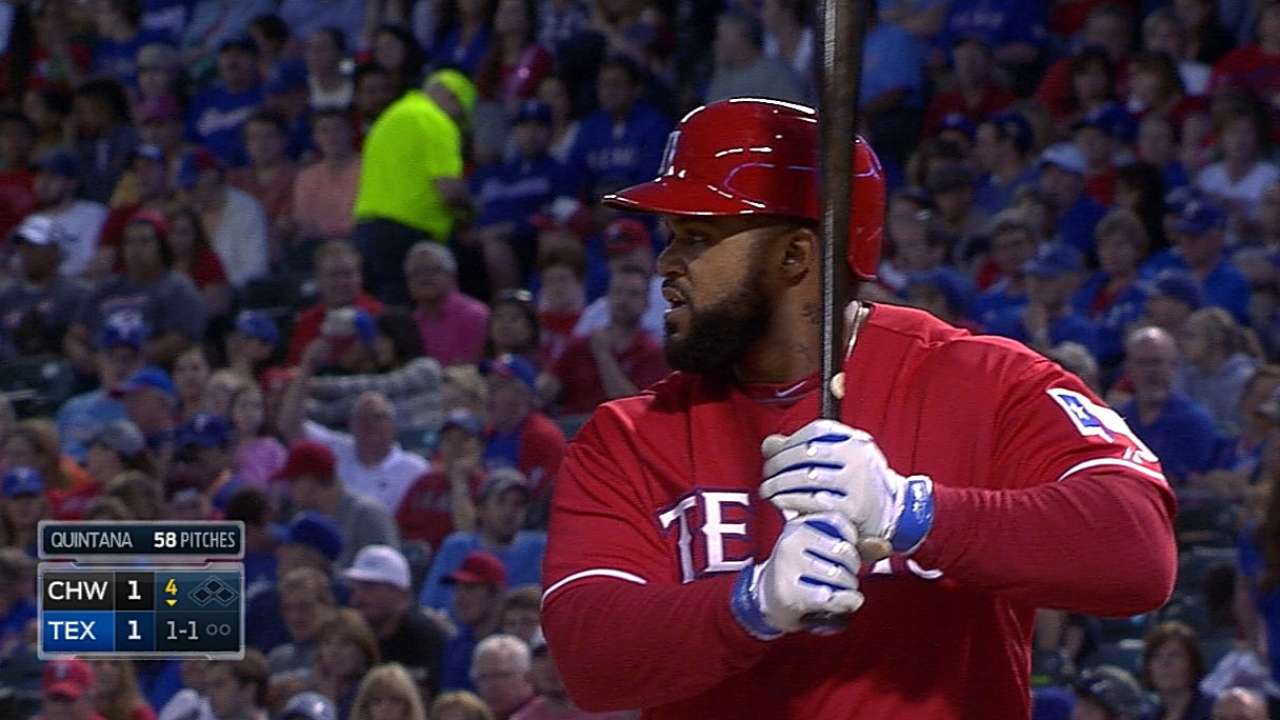 Each Major League season produces plenty of disappointing performances, and 2014 was no exception. However, a down year from a talented player can create an enticing buying opportunity for smart fantasy owners in the following season. Here are some of the most likely candidates to bounce back from a tough campaign and post strong numbers in 2015.
Prince Fielder (Rangers): Fielder was perhaps the most disappointing fantasy asset of 2014. He demanded a Top-20 pick in most drafts, and then he registered 150 unproductive at-bats before heading to the disabled list in May with a neck injury that eventually required surgery. Barring any setbacks, Fielder is expected to be at full health for the start of Spring Training. Good health had previously been Fielder's calling card, as he played in at least 157 games in eight consecutive seasons prior to 2014. The lefty slugger will turn 31 next season, and he has not posted a 35-homer campaign since 2011, so fantasy owners should not expect first-round totals in 2015. However, Fielder should be good to play in 150 games, hit 25 homers and drive in 95 runs.
Shane Victorino (Red Sox): An assortment of core injuries led to multiple DL stints for Victorino, and he eventually ended his season in August due to back surgery. Like Fielder, Victorino is expected to be ready for Spring Training. Unlike Fielder, Victorino did not enter 2014 with a reputation for durability, as the nearly-34-year-old has not reached 520 at-bats in three of the past four seasons. The Red Sox have a crowded outfield picture for 2015, with Yoenis Cespedes, Mookie Betts, Rusney Castillo and Allen Craig all competing for playing time. There are enough negatives surrounding Victorino to push him way down in 2015 drafts, which could create a nice buying opportunity. A healthy Victorino should be good for 25 steals, double-digit homers and a respectable batting average.
Shin-Soo Choo (Rangers): Choo was yet another usually-durable player who had his season derailed by injury. After logging at least 550 at-bats in four of the previous five seasons, the 32-year-old posted just 455 at-bats in 2014, and his injuries affected him even more than his at-bat total indicates. An ankle injury robbed Choo of his basestealing abilities, and it likely affected him at the dish as well. He had swiped at least 20 bases in four of the previous five seasons, and the Rangers were surely hoping for another 20-steal campaign when they put Choo in their leadoff spot. Instead, they got three thefts in seven tries. After looking like himself during April and May, he hit .179 in June, .219 in July and .238 in August. A healthy Choo is good for a 20-20 season with one of the best on-base percentages in baseball. Fantasy owners may not want to set their sights quite that high for 2015, but they can expect a 15-15 campaign with hopes for more.
Jay Bruce (Reds): Bruce is different than the other players on the list, in that injuries did not seem to be a big cause of his 2014 struggles. After averaging over 30 homers and 100 RBIs in the previous three seasons, the 27-year-old slumped to 18 dingers and 66 RBIs in 493 at-bats this time around. The lack of power helped to sink Bruce's batting average, which was over 30 points below his career mark. A closer look at his numbers reveals that his strikeout and walk rates are relatively unchanged from previous seasons. Because of Bruce's age and lack of a serious injury history, fantasy owners can be optimistic that he can have a complete rebound in 2015. There are not many hitters who consistently provide over 30 homers and 95 RBIs, which means that Bruce would be very valuable if he can bounce back. He is worth the risk once the top sluggers are off the board.
Eric Hosmer (Royals): If it were not for his postseason heroics, Hosmer would be the perfect rebound candidate for 2015. His final stat line of nine homers, four steals and a .270 batting average in 503 at-bats makes him look like waiver-wire material, considering the depth of talent at first base. However, his monthly splits show that Hosmer sagged in May, bottomed out in June and then got back on track in July before losing August to injury. He picked up where he left off by hitting .290 with three homers in September. Hosmer will turn 25 later this month, and fantasy owners should anticipate something like 18 homers, 75 RBIs, 10 steals and a helpful batting average next season. Those numbers will not make worth him an early-round pick in mixed leagues, but he should be a solid lineup member for a low-cost investment.
Fred Zinkie is a fantasy baseball writer for MLB.com. This story was not subject to the approval of Major League Baseball or its clubs.