MLB.com Columnist
Bernie Pleskoff
Lobstein a solid choice for rotation or 'pen
After contributing down the stretch, lefty could fit in variety of roles for Tigers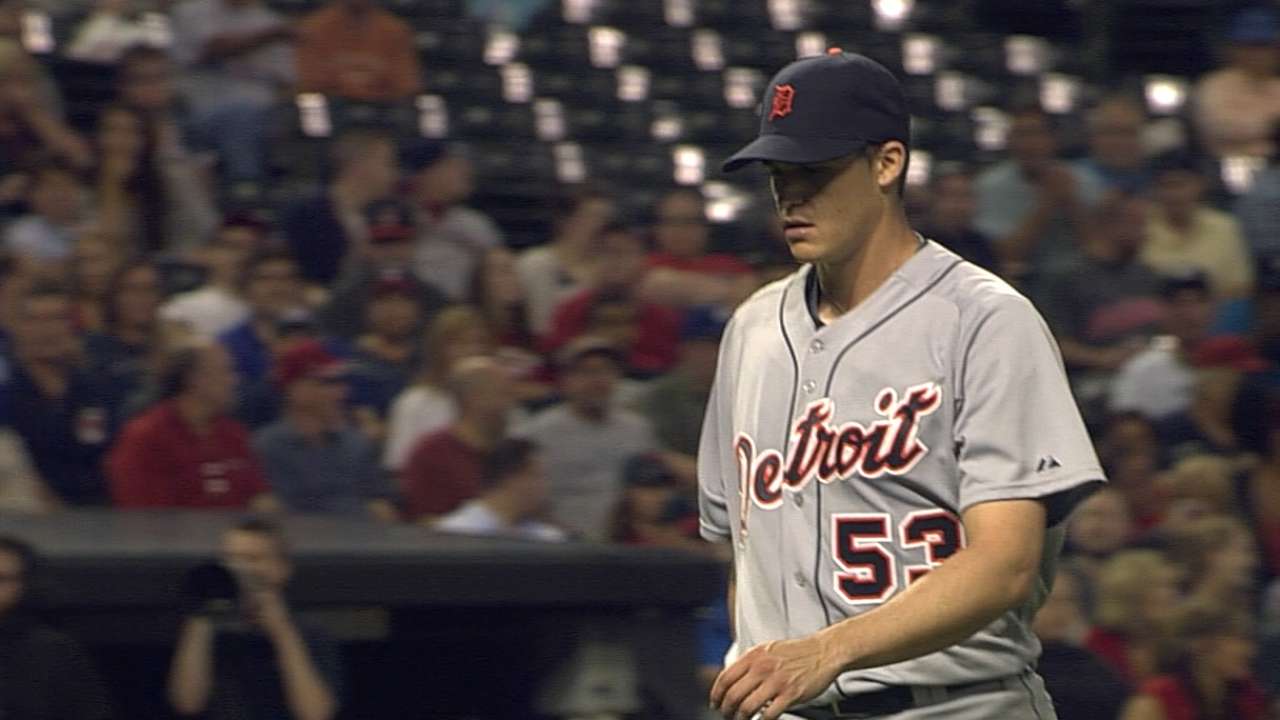 It would be difficult to know for sure that the Detroit Tigers had counted on lefty Kyle Lobstein offering starting pitching support this season. It would be easy to understand if Detroit planned on using left-handed starter Robbie Ray if rotation help was needed. The Tigers traded quality right-handed starter Doug Fister to the Washington Nationals for the promising Ray in the offseason.
As things sometimes happen in baseball, not all plans come to fruition. Ray scuffled some in his trials with Detroit. When an injury to Anibal Sanchez required help in the rotation, Lobstein stepped up and gave his team a lift.
At the age of 25, the lanky 6-foot-3, 200-pound Lobstein made his debut for the Tigers on Aug. 23. He pitched in some important games for the club during its successful drive for the American League Central title.
Lobstein was selected by the Tampa Bay Rays from Coconino High School in Flagstaff, Ariz., in the second round of the 2008 First-Year Player Draft. He played parts of four seasons for the Rays before being left unprotected prior to the December 2012 Rule 5 Draft. The Mets selected Lobstein at the Winter Meetings and immediately traded him to the Tigers for cash considerations. In order to keep Lobstein, the Tigers traded catcher Curt Casali to the Rays to retain his rights.
Prior to being summoned by the Tigers this season, Lobstein had an average Minor League career, accumulating a 52-48 record, starting 144 of 146 games in which he pitched. He threw 811 1/3 innings, with a 3.77 ERA and a 1.33 WHIP.
Lobstein is not a strikeout pitcher. He pitches to contact and doesn't overpower hitters. His velocity has not really increased since being selected by the Rays. He remains more a finesse-type lefty as opposed to being a power pitcher. He throws both a two-seam and four-seam fastball and generally sits at 89 mph with both of those pitches. His four-seam fastball and 84-mph slider is a combination of pitches he uses with frequency. He also throws a changeup and curveball to round out a complete repertoire designed to offer movement on his pitches and changes in balance as opposed to velocity differential. His secondary pitches are good enough for him to use at any count.
Lobstein has good mechanics and has the ability to repeat his delivery from pitch to pitch. He has a high three-quarter delivery and uses the entire strike zone as his targets. His good control and solid command of all his pitches are true assets. Throughout his career he has yielded three walks a game. He is fairly hittable when he gets too much of the plate. That results in him being in the stretch position quite often. But he does have the ability to pitch himself out of trouble, making a good pitch at the right time with men on base.
Basically, what we see of Lobstein at this point is generally what we will get in the future -- not much upside remains. There is little risk in giving him the ball in any role on the pitching staff. In fact, there are some scouts and front office personnel who feel Lobstein profiles best pitching out of the bullpen. Following his acquisition from the Rays, there was some thought the Tigers would use him in that manner, adding another lefty in the bullpen to go along with pitchers like Phil Coke and Ian Krol. Lobstein is tough against left-handed hitters, as big league lefties hovered around a .200 batting average against him this season. Right-handed hitters didn't knock the cover off the ball, either, as they hit in the range of .240. He was mature and consistent.
Lobstein made a contribution pitching in the team's rotation, but I can see him pitching either in the rotation or in a relief role. Being durable, Lobstein has the ability to eat innings and give his team a chance to win and make himself a viable pitching option.
Bernie Pleskoff has served as a professional scout for the Houston Astros and Seattle Mariners. Follow @BerniePleskoff on Twitter. This story was not subject to the approval of Major League Baseball or its clubs.