Rosenthal remains resilient after latest rough outing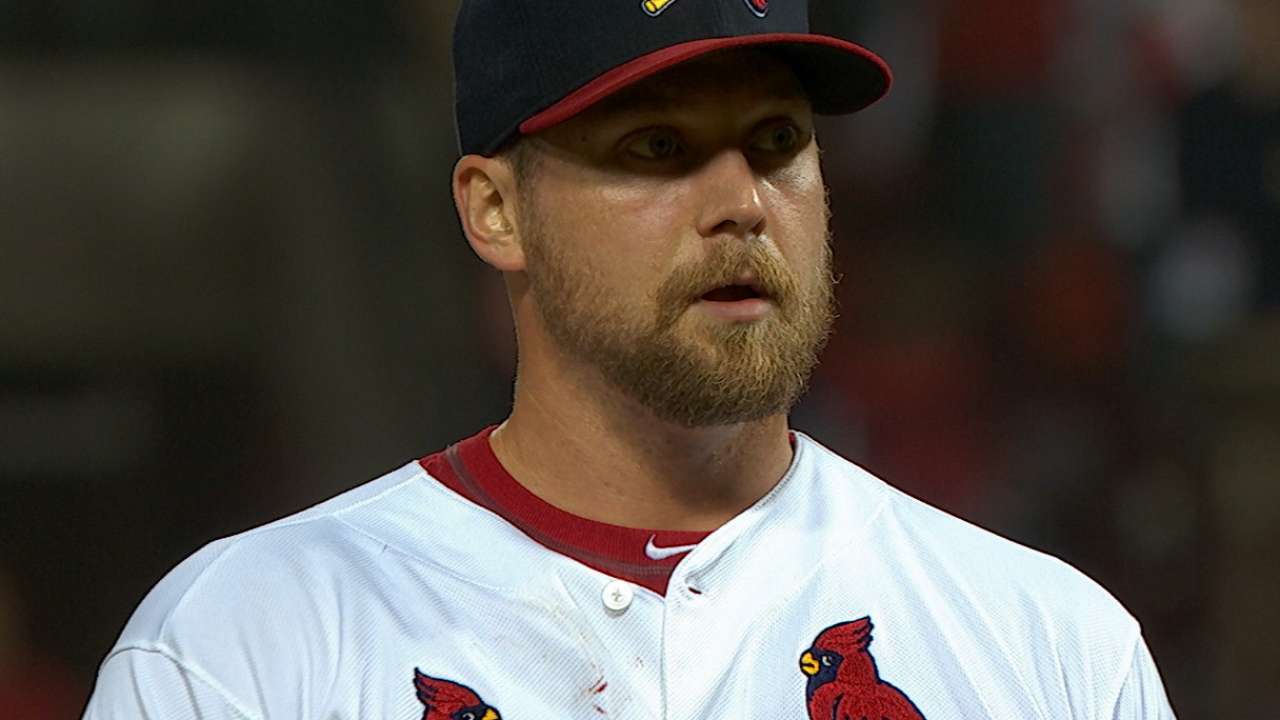 ST. LOUIS -- The smile he wore while answering tough questions on Sunday said Trevor Rosenthal's latest bout of ninth-inning drama did not shake the second-year closer's confidence.
"I had my best stuff," Rosenthal said after the Cardinals rallied for a 5-4 win over the Giants in Game 2 of the National League Championship Series. "I mean, I know the type of pitcher I am. I know I have good stuff. I know I have the stuff to go in and get three outs in the ninth inning or any inning. I'm going to go in there and keep that confidence level, keep battling."
If there were voices at Busch Stadium calling for the Cardinals to consider a change at closer, they were temporarily silenced in the bottom of the inning when
Kolten Wong
delivered a winning home run. It bailed out Rosenthal for a blown save in the top of the frame that was built with a pair of Giants pinch-hits and punctuated with a run-scoring wild pitch.
The outing continued a shaky postseason for Rosenthal, who has allowed a baserunner in each of his four outings this month. In those 3 2/3 innings, he's been charged with two earned runs on seven hits, with three walks versus five strikeouts.
In last year's postseason, Rosenthal worked 20 1/3 innings and allowed no runs on six hits, with a stellar ratio of 33 strikeouts to five walks.
"Obviously, walks are an issue," Rosenthal said. "Guys getting on base, free bases. But I feel like I'm making good pitches and guys are just putting good at-bats together. It's not all hard-hit balls, but that's part of the game. Once the ball leaves my hand, I don't have much control."
That was precisely the problem on Sunday, when Rosenthal took the mound with a 4-3 lead, moments after Matt Adams had homered for a St. Louis lead. Rosenthal struck out Brandon Crawford to open the inning, but then surrendered successive singles to pinch-hitters Andrew Susac and Juan Perez.
After pinch-runner Matt Duffy replaced Susac, Rosenthal got a Gregor Blanco lineout to shortstop to move to within one out of an escape. Rosenthal moved to within one strike of an escape when he worked ahead of Joe Panik, 0-2, but the closer missed with three straight fastballs to run that count full.
Those misses were critical, because it put the runners in motion when Rosenthal delivered the full-count pitch, another fastball that bounced short of the plate and skipped away from catcher Tony Cruz. Yadier Molina had left the game after suffering a strained left oblique three innings earlier.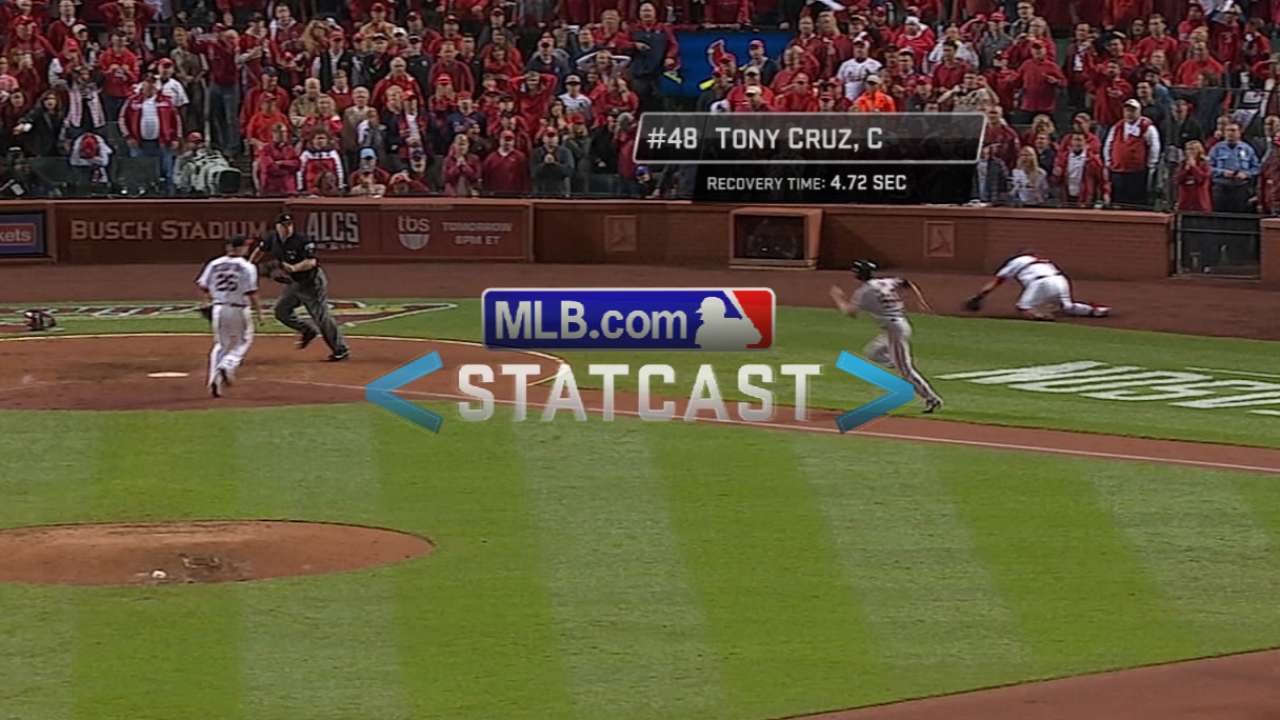 • Video: Duffy scores on wild pitch
Duffy never broke stride, and he scored the tying run all the way from second base.
"My first instinct was to go," Duffy said, "and [Giants third-base coach Tim Flannery] was waving me, too. Just kind of instinct."
Said Pat Neshek, who would be an option to close if the Cardinals consider a change: "I haven't seen a guy score from second on a passed ball all year, and go figure, it happens right there with two outs in the ninth. The main thing is we won the game. If we lose, that's pretty bad, but I think everybody in here will sleep a little better tonight."
When Rosenthal walked the next batter as well (Buster Posey), Cardinals manager Mike Matheny made a change. With the bases loaded, Seth Maness prevented further disaster by inducing a Pablo Sandoval comebacker to end the inning.
Moments later, Wong won the game with his home run.
"It's not all about me; it's about this team," Rosenthal said. "So walking off the mound, I felt like we had a good chance. With our lineup, guys are going to battle and try to win that game. It's not all about how it happened in the top of the ninth right there. It was fun."
Adam McCalvy is a reporter for MLB.com. Read his blog, Brew Beat, and follow him on Twitter at @AdamMcCalvy. This story was not subject to the approval of Major League Baseball or its clubs.