Cardinals confident Cruz can pitch in with Molina out
Backup has rocky Game 2 after replacing injured catcher, but he's ready to step up going forward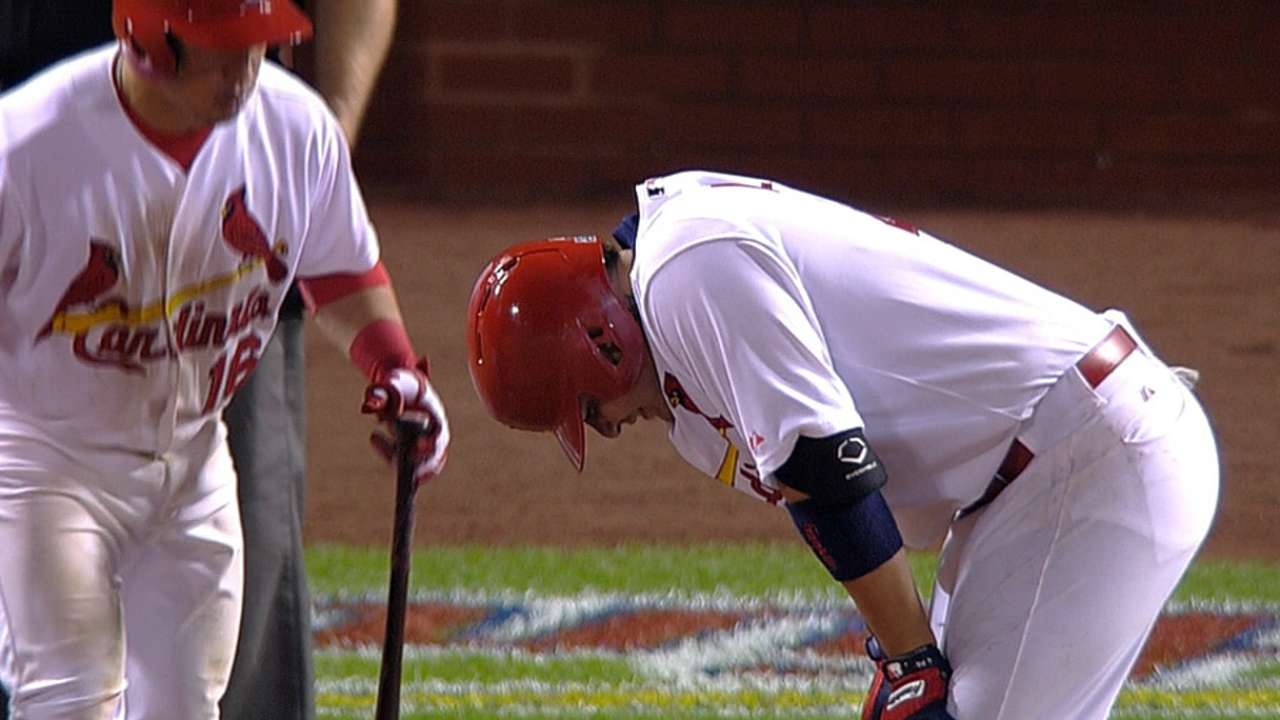 ST. LOUIS -- It was shaping up to be an otherwise quiet Sunday for Cardinals backup catcher Tony Cruz, as he was warming pitchers and taking a few swings inside the batting cage when Yadier Molina went down with a strained left oblique muscle.
Cruz hardly melded into the background once he got into the game as Molina's replacement. He was charged with a passed ball that set up a Giants run in the seventh inning and then he couldn't corral Trevor Rosenthal's wild pitch in the ninth inning that allowed the tying run to score.
"I was doing everything I could to keep it in front of me," Cruz said.
But the night ended a whole lot better than it began for Cruz, as the Cardinals hit four home runs, the last a walk-off job by Kolten Wong in ninth inning, for a 5-4 victory that knotted the series at one game apiece.
The series now shifts to AT&T Park in San Francisco for Game 3 on Tuesday, with Cruz expected to start behind the plate with Molina likely sidelined for the foreseeable future.
The Cardinals, to a man, feel strongly with Cruz behind the plate. For starters, he filled in admirably for Molina when he missed 40 games this summer after needing surgery for his right thumb.
Cruz knows the pitching staff, and while he's not on Molina's level, he rates as a good defensive catcher.
"Cruz is a guy that's, day in and day out, learning as much as he can for the last three years," said Cardinals pitcher Lance Lynn. "He knows what he's doing. He knows what kind of player he can be. We've got all the confidence in the world in him."
It just didn't always show on Sunday.
Shortly after entering Game 2, the Giants got a leadoff walk by Brandon Crawford to start the seventh inning in a 2-2 game. Cruz then had trouble grabbing an inside pitch by Carlos Martinez, as the ball skipped off his glove for a passed ball and Crawford raced to second base.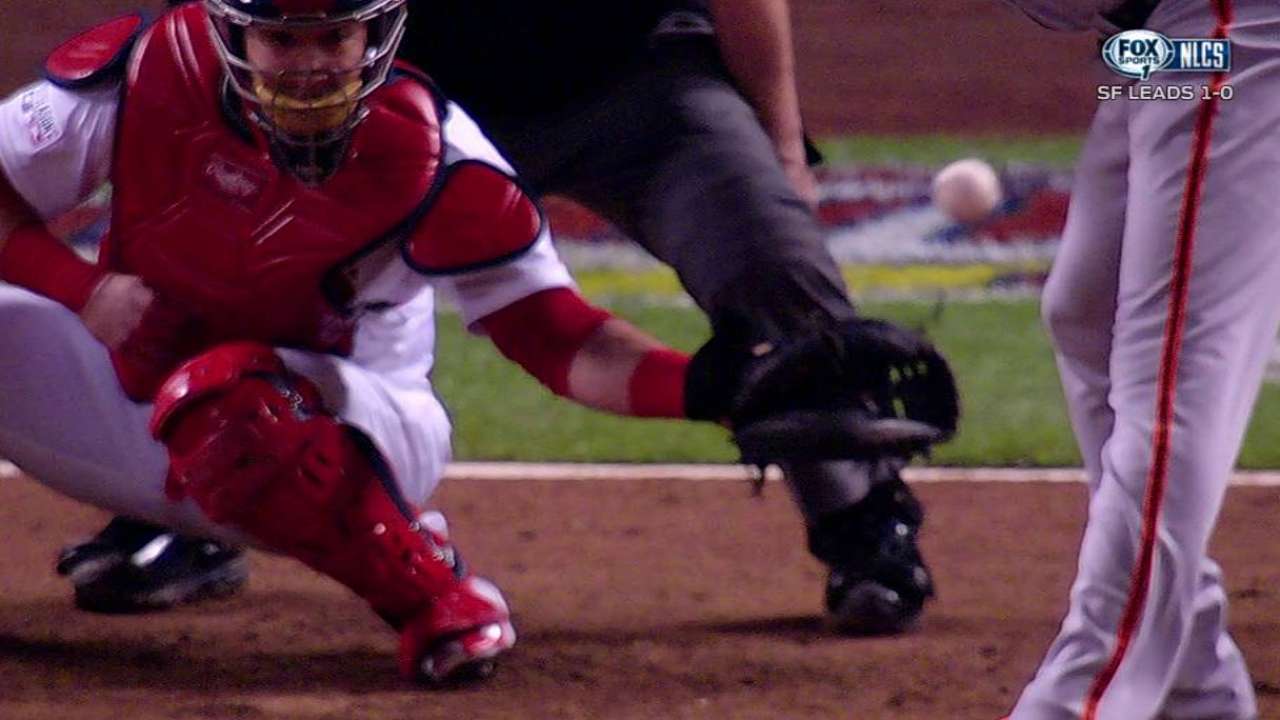 Two batters later, Crawford scored the tying run on a Gregor Blanco single through a drawn-in infield to tie the game.
In the ninth inning, with the Cardinals clinging to a 4-3 lead and runners on first and second base, Rosenthal spiked a 99-mph fastball that traveled about 57 feet. The ball kicked away from Cruz, who couldn't locate it immediately. Pinch-runner Matt Duffy, running on the play, kept on running, and he scored the tying run.
"Trevor throws hard and the ball bounced pretty far out there," Cruz said.
The Cardinals got out of the inning, setting the stage for the last of their four home runs -- a solo blast by Wong that was the game-winner.
Rosenthal said he has the same level of trust in Cruz that he has in Molina, and he wouldn't have handled his pitch sequence in that fitful ninth inning any differently had Molina been out there.
"I've thrown with Cruz plenty, and he does a great job of coming in," Rosenthal said. "He follows Yadi around so much, and has followed him around for so many years, that he's pretty much the same person, minus the amount of playing time. We have a lot of confidence in him coming in and filling any role.
"[Molina], he's the leader. His experience and what he's done in this game speaks for itself. I can say countless times that he's one of the best at what he does, but we have the type of team, that if a guy goes down, guys are going to step up."
The Cardinals are now looking smart for carrying three catchers on the roster during the NLCS, with A.J. Pierzynski being the other. He signed with the team in late July after Molina landed on the DL, and the veteran appeared in 23 games with the team.
Corey Brock is a reporter for MLB.com. Keep track of @FollowThePadres on Twitter. This story was not subject to the approval of Major League Baseball or its clubs.