Wong caps off Cardinals' four-homer power surge
Second baseman delivers fourth walk-off blast in club's postseason history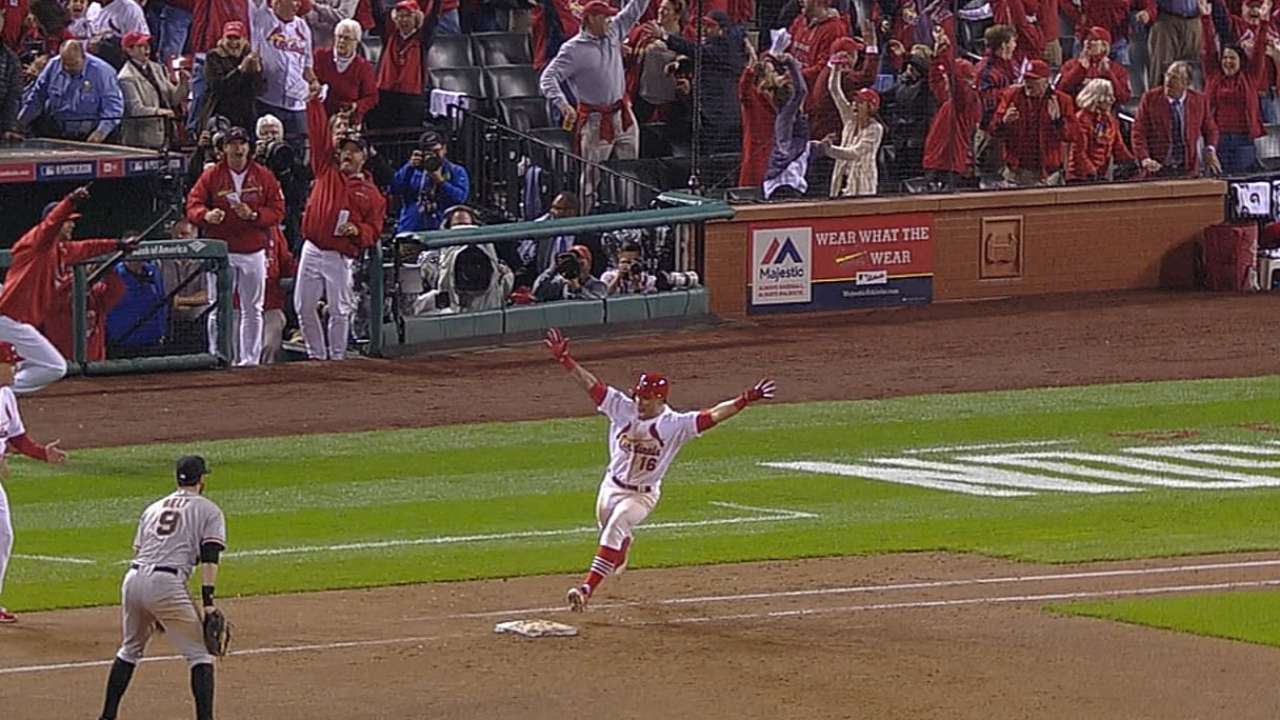 ST. LOUIS -- Before Kolten Wong left the on-deck circle in the bottom of the ninth inning on Sunday, A.J. Pierzynski ordered him to get on base. Wong did three bases better, finishing the Cardinals' four-home run night with a solo shot that ended Game 2 of the National League Championship Series. When he finally emerged from the celebration that followed a rollercoaster of a 5-4 win, Wong sought out Pierzynski.
"Is that good enough for you?" Wong said he asked Pierzynski. "He just grabbed me and hugged me and said, 'That's exactly what I wanted.'"
Matt Carpenter, Oscar Taveras and Matt Adams also homered, each in a critical spot of a back-and-forth ballgame, but Wong's was the historic hit. By connecting with a changeup from Giants right-hander Sergio Romo, Wong delivered only the Cardinals' fourth walk-off homer in their long postseason history, and the first since David Freese's blast in Game 6 of the 2011 World Series against the Rangers. Jim Edmonds also ended Game 6 of the 2004 NLCS against the Astros, and then there was Ozzie Smith's famous "Go crazy, folks" homer in Game 5 of the 1985 NLCS against the Dodgers.
It was still sinking in as Wong and the Cardinals prepared to board their charter flight to San Francisco. The same player who took heat for being victim to a game-ending pickoff during last year's World Series has now accounted for two go-ahead home runs in this postseason. His two-run homer in the seventh inning sent the Cardinals to a win in Game 3 of the NL Division Series against the Dodgers.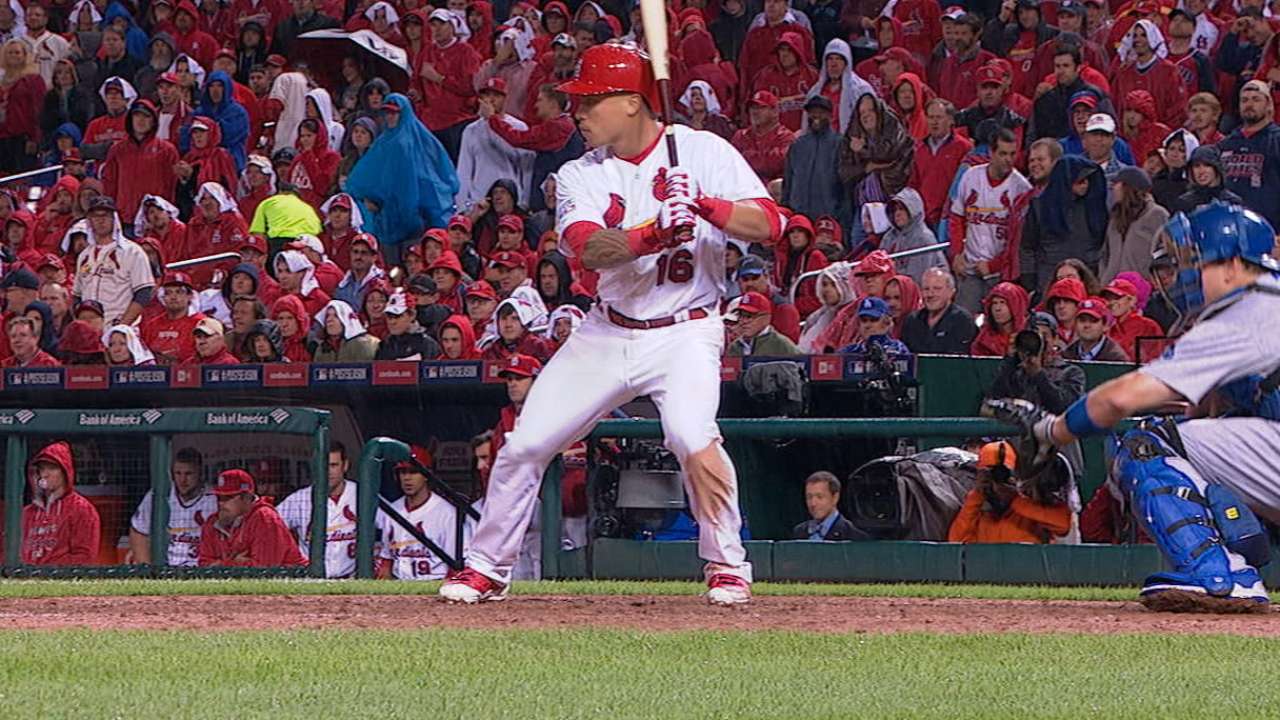 • Must C: Wong homers for the lead
There was no doubt, Wong said. Sunday's swing topped that.
"To do this at this stage, it's unbelievable," he said. "I've never dreamed of this. To be here and do something like that is incredible."
Gateway to the best
Cardinals' walk-off postseason homers
| Player | Game | Opp. | Score |
| --- | --- | --- | --- |
| K. Wong | 2014 NLCS 2 | S.F. | 5-4 |
| D. Freese | 2011 WS 6 | Tex. | 10-9 |
| J. Edmonds | 2004 NLCS 6 | Hou. | 6-4 |
| O. Smith | 1985 NLCS 5 | L.A. | 3-2 |
Speaking of incredible, the state of Missouri suddenly leads the Major Leagues in bat flips. The two teams that cleared the fewest fences during baseball's regular season have made October a home run derby, with the Cardinals up to 11 in this postseason in only six games. The Royals, the only team to hit fewer regular-season home runs than the Cardinals, are second of the postseason clubs with eight October blasts.
That works out to 1.83 home runs per game for the Cardinals, compared to .65 per game in the regular season, and 1.33 homers per postseason games for the Royals, compared to .59 in the regular season.
"The home runs haven't come easy for us all season long," Cardinals manager Mike Matheny said, "and we just continue to preach to the guys to stay with the right approach. … It's perfect timing for us to bust out some power."
"I don't know why all of a sudden it's coming in bunches," said Carpenter, whose third-inning homer accounted for the game's first run. "We got a little momentum in terms of hitting the long ball, and it's been a big play for us so far in this postseason."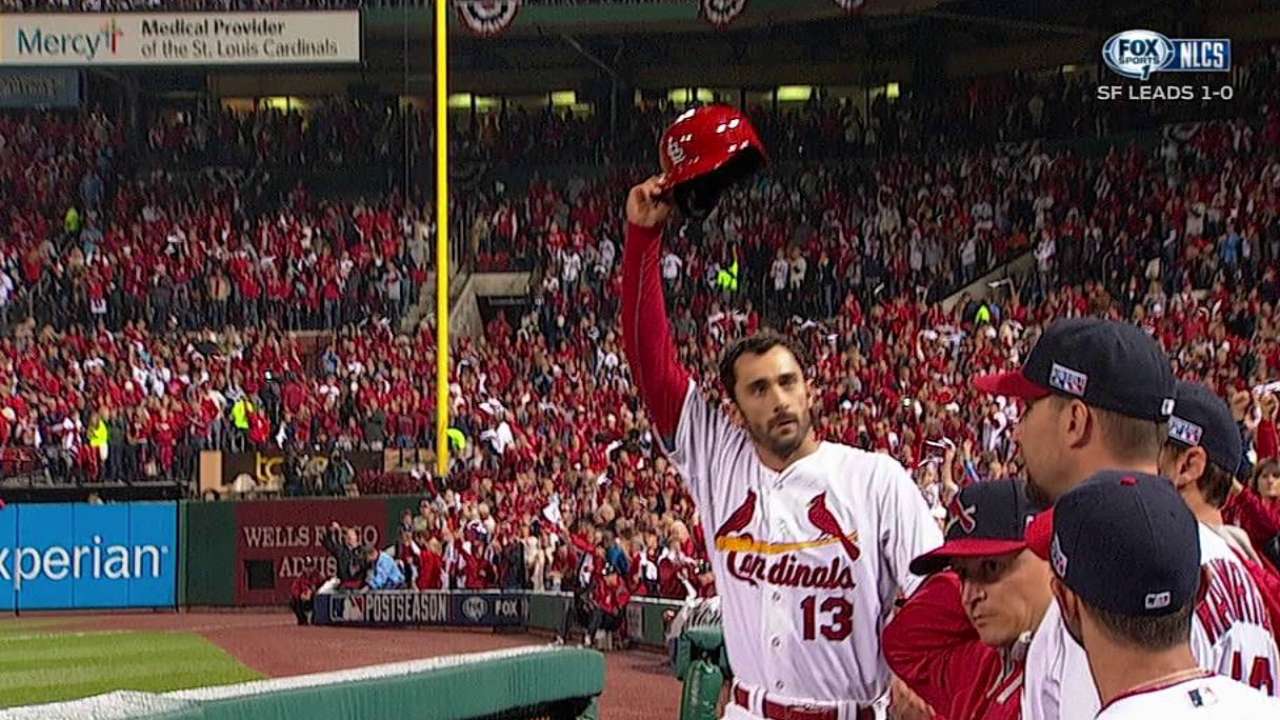 It's been a surprisingly big play:
• Seventeen of the Cardinals' 23 runs in this postseason have scored via home runs, including every run between Carpenter's three-run double in Game 1 of the NLDS against the Dodgers until Randal Grichuk's RBI single in the fourth inning on Sunday.
• The Cardinals only had one four four-homer game during the regular season (July 11 against the Brewers) and only two games with at least three home runs. They've already logged a pair of three-plus home run efforts in this postseason.
Crushin' Cards
Four-homer postseason games in franchise history
| Game | Opp. | Result |
| --- | --- | --- |
| 2014 NLCS 2 | S.F. | 5-4 W |
| 2012 NLDS 2 | Was. | 12-4 W |
| 2011 WS 3 | Tex. | 16-7 W |
| 2004 NLCS 2 | Hou. | 6-4 W |
| 2004 NLDS 1 | L.A. | 8-3 W |
• Sunday marked only the Cardinals' fifth four-homer postseason game in franchise history. The others were 2012 NLDS Game 2 vs. Nationals (W, 12-4), 2011 World Series Game 3 vs. Rangers (W, 16-7), 2004 NLCS Game 2 vs. Astros (W, 6-4) and 2004 NLDS Game 1 vs. Dodgers (W, 8-3).
• The Cardinals became the first team to homer in each of the seventh, eighth and ninth innings of a postseason game.
• Carpenter's came earlier, but he has been leading the way for St. Louis. After hitting eight home runs in 595 at-bats during the regular season, he has already belted four in 24 at-bats this postseason.
"Throughout the season, people were worried about our power," said Adams, who finished third on the team with 15 regular-season home runs. "But we knew inside the clubhouse that we didn't lose any power. So we just have to go up there and have good at-bats and we know the home runs will come."
"We've got some guys who have some power, even though in the season it didn't show up as much as you would probably like," Carpenter said. "We just have guys who are taking good at-bats, stepping up in big spots and doing some special things. I'm a big believer in momentum, and I feel like you kind of expect these things to happen. That's what's going on right now."
Adam McCalvy is a reporter for MLB.com. Read his blog, Brew Beat, and follow him on Twitter at @AdamMcCalvy. This story was not subject to the approval of Major League Baseball or its clubs.