Statcast: Duffy's dash home adds to LCS intrigue
New technology delivers one-of-a kind analysis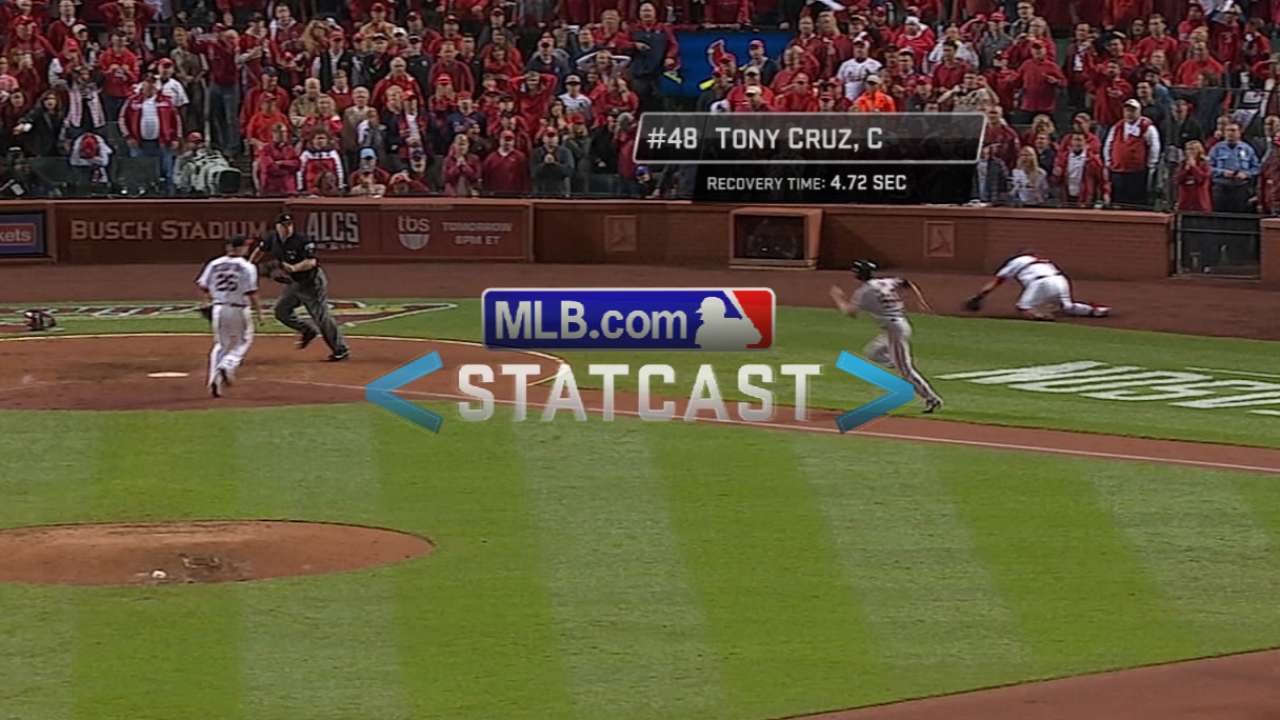 Statcast tracking technology has provided a whole new way of analyzing the postseason, and Game 2 of the National League Championship Series between the Giants and Cardinals on Sunday night gave us plenty of fodder. In one of the wilder plays of an already wild 2014 postseason, Giants pinch-runner Matt Duffy raced all the way home from second base on a wild pitch to tie the game in the top of the ninth inning.
With the Giants trailing by a run and down to their final out, Duffy represented the potential tying run at second base. Juan Perez was also at first base as Joe Panik awaited a 3-2 pitch from Cardinals closer Trevor Rosenthal.
The full count allowed Duffy, who Statcast shows extended his lead to a full 10 feet as Rosenthal went into his delivery, to break for third base on the pitch. Duffy accelerated to full speed in just 1.76 seconds, then rounded third and raced toward home, reaching a top speed of 20.3 mph as he barreled toward the plate.
The ground-breaking Statcast technology demonstrates how Duffy's sizable lead, quick acceleration, perfect baserunning angles and 20-plus mph speed over the last 90 feet allowed him to slide in just ahead of the throw, tying the game at 4. Kolten Wong's walk-off home run in the bottom of the ninth that gave St. Louis a 5-4 win could make Duffy's dash an eventual footnote, but it's not every day you see someone score from second on a wild pitch.
• Statcast: Duffy ties the game
LCS Statcast highlights
NLCS Game 2: Panda races home
Trailing by one in the top of the sixth, Hunter Pence stepped in with Pablo Sandoval representing the potential tying run at second base. Pence lined a pitch into right-center, allowing Sandoval to race home after getting a good jump at second. Statcast shows that Sandoval accelerated to top speed in 1.59 seconds, just slightly behind Pence's 2.11-second acceleration. Sandoval also reached a top speed of 18.4 mph just after rounding third base, only 1.1 mph slower than Pence's top speed of 19.5 mph on the play.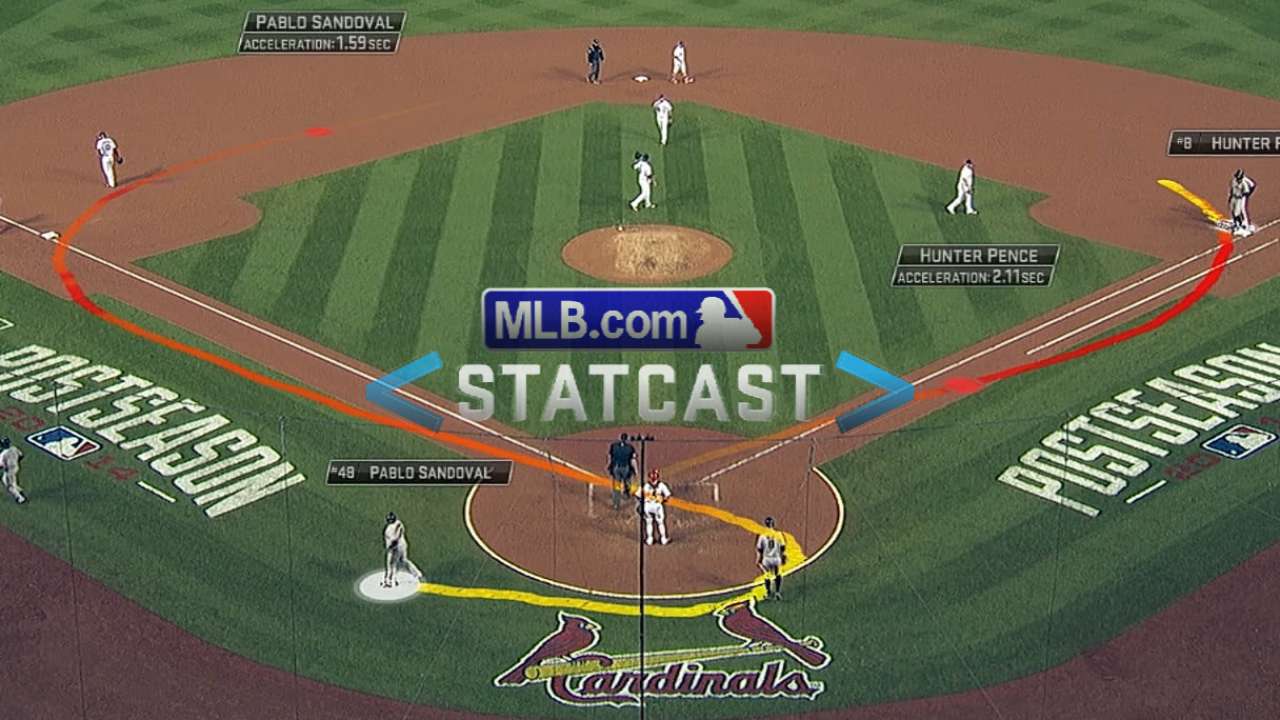 NLCS Game 2: Pence out by step
With two outs and nobody on in the top of the fourth, Cardinals third baseman Matt Carpenter made a smooth inning-ending defensive play with Pence racing down the line. Statcast shows that it took Pence just 1.45 seconds to accelerate to top speed, reaching 20.5 mph as he nearly legged out an infield single. Instead, it went as a groundout with Carpenter scooping and throwing to first base just in time to retire Pence, despite his furious dash down the line.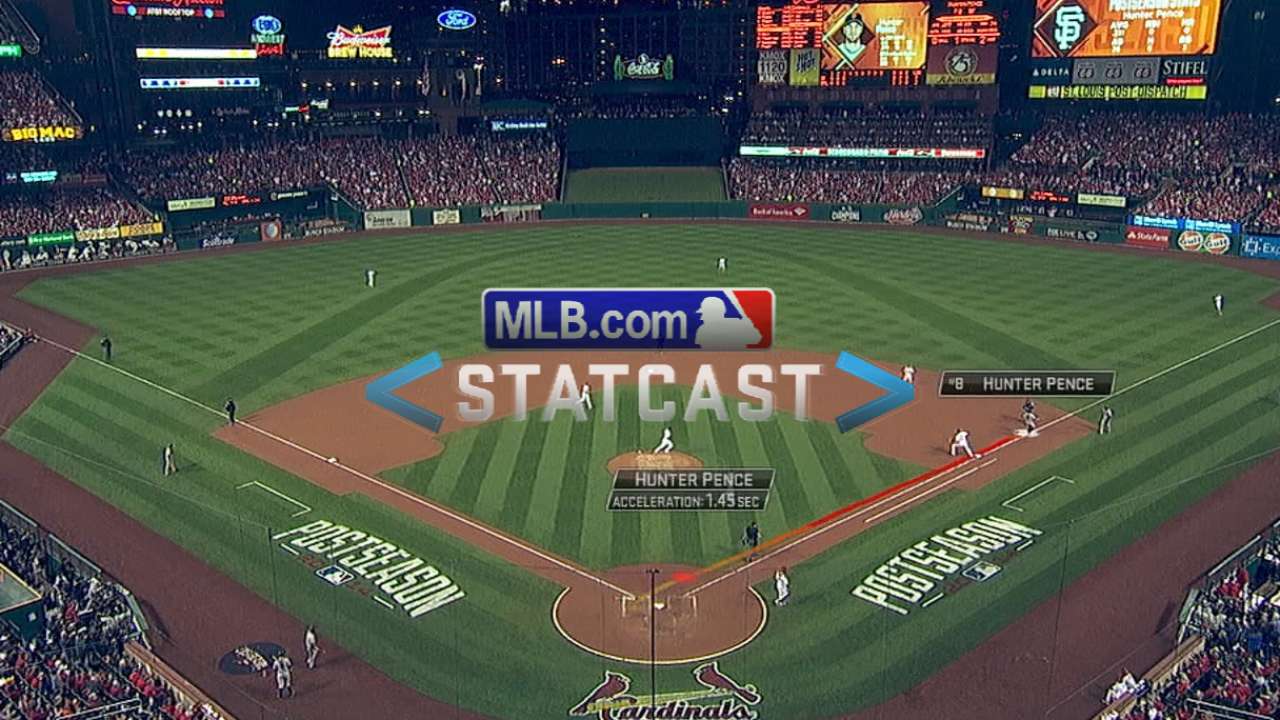 ALCS Game 1 and 2: Dyson gets caught … twice
Counting the postseason, Dyson entered this series 121-for-141 (85.8 percent) as a basestealer in his career, including 71-for-84 (84.5 percent) over the past two seasons. Yet he is now 0-for-2 against Baltimore, marking only the second time he's been caught in consecutive games. In Game 1, Dyson took his first step in 0.27 seconds and accelerated to a top speed of 20.1 mph in 2.2 seconds. He slid in ahead of a 70.1 mph throw from catcher Nick Hundley, but second baseman Jonathan Schoop kept his tag on Dyson's left leg as he appeared to push it off the base. Dyson was called out.
No such tactics were necessary in Game 2 with Caleb Joseph catching lefty Andrew Miller. This time, Dyson reached a higher top speed (22.3 mph), but the pitch was high, giving Joseph a good opportunity to throw. Joseph, who threw out 40 percent of attempted basestealers this year, threw a laser strike that hit shortstop J.J. Hardy perfectly, on the first-base side of the bag. Hardy put the tag down on Dyson's left shoulder just before he reached the base.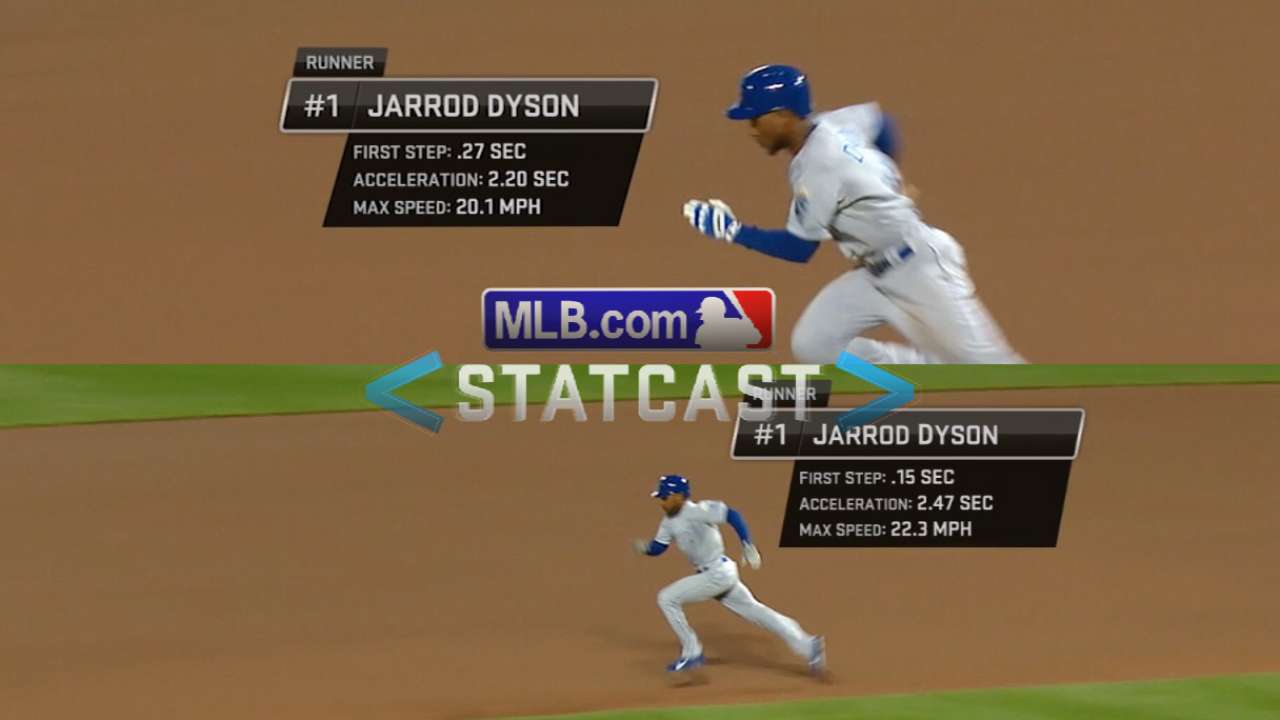 ALCS Game 2: Cain races home from second
With no score in the first inning, Nori Aoki stood at third and Lorenzo Cain at second with one out when Eric Hosmer hit a blooper that dropped over Hardy's head, into shallow left field. Statcast shows that Cain took a 19-foot lead off second, went about halfway, then shifted into high gear once he saw Hardy couldn't make the play. The fleet-footed outfielder accelerated to top speed in 1.92 seconds, reaching 20.5 mph as he flew the last 90 feet and slid home ahead of Joseph's tag.
ALCS Game 2: Cain takes another extra base
Cain was at it again in the third. After his two-out single, Hosmer lined another hit to left that short-hopped Alejandro De Aza and bounced away to his left. As De Aza went after the ball, Cain never hesitated. He easily flew around to third base, getting up to 19.7 mph in 1.51 seconds. He might have even scored on the play, but slammed on the breaks as he got the stop sign from his third-base coach.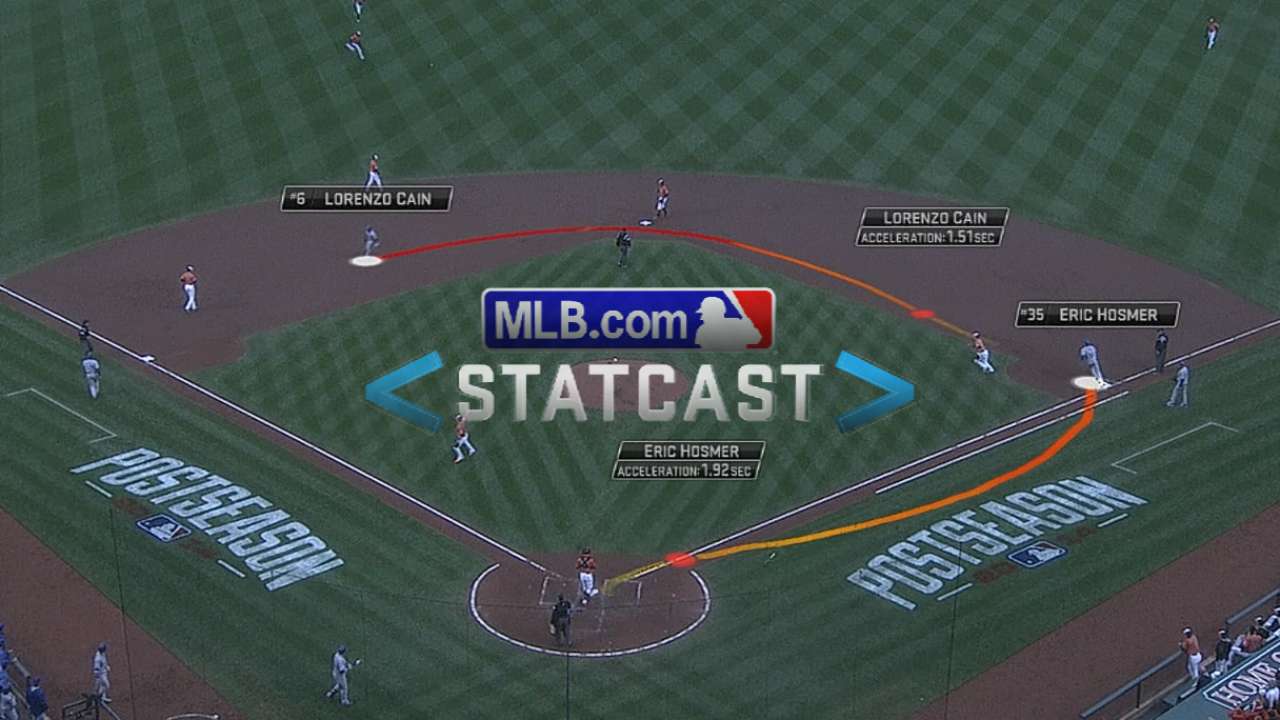 ALCS Game 2: Cain swipes a bag
After his third hit, in the fifth inning, Cain's legs carried him into scoring position again. Reliever Brad Brach, pitching out of the stretch, paid close attention to Cain with a pair of pickoff throws as Hosmer worked the count to 3-0. The Royals hadn't attempted a steal on that count all season, but this time Cain took a 12-foot lead and broke for second on a 94-mph fastball that went for strike one. Accelerating in 2.11 seconds, Cain reached 20.4 mph and slid in ahead of Joseph's throw, which bounced off Hardy's glove.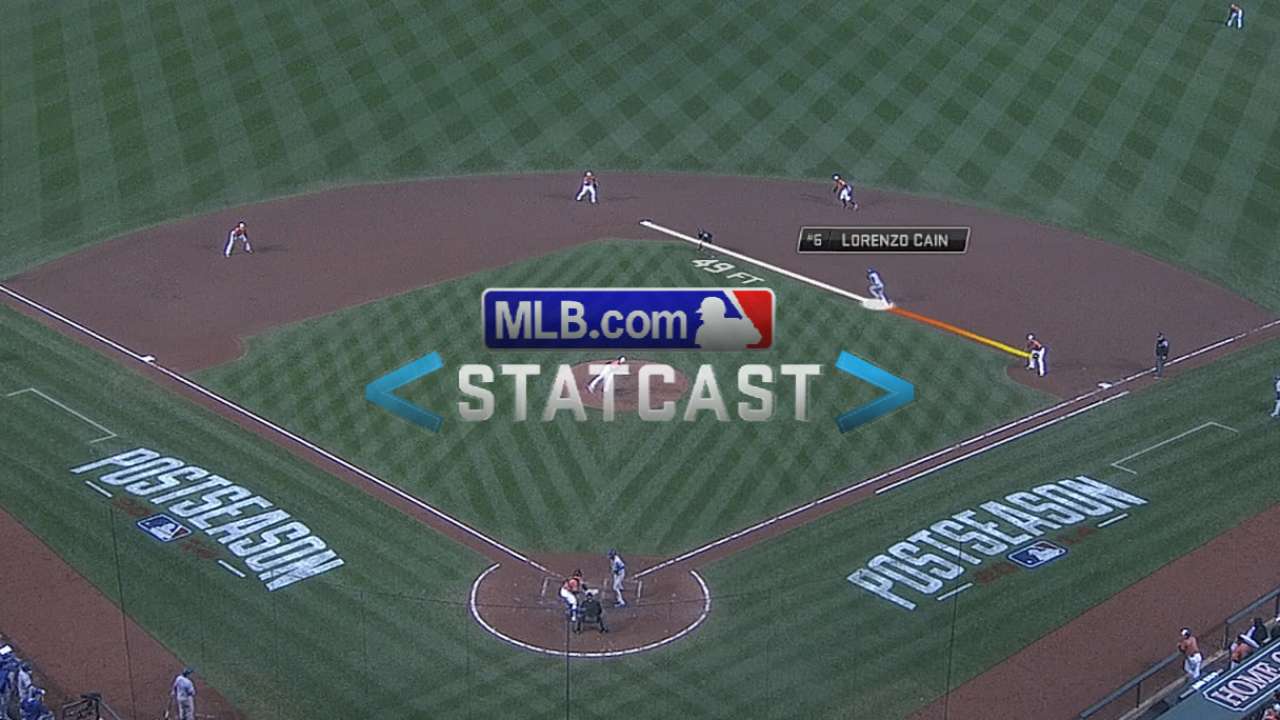 ALCS Game 2: De Aza shows off his wheels as he legs out a double
The Orioles needed a spark in the third inning on Saturday, trailing the Royals, 3-1, and De Aza provided it. He ripped a one-out double to right field off Royals right-hander Yordano Ventura, setting up Adam Jones' game-tying two-run homer. The left-handed hitter pulled a hard ground ball past diving first baseman Hosmer and down the line, accelerating to his top speed in 2.76 seconds as he approached first. De Aza moved as fast as 19.2 mph on the play.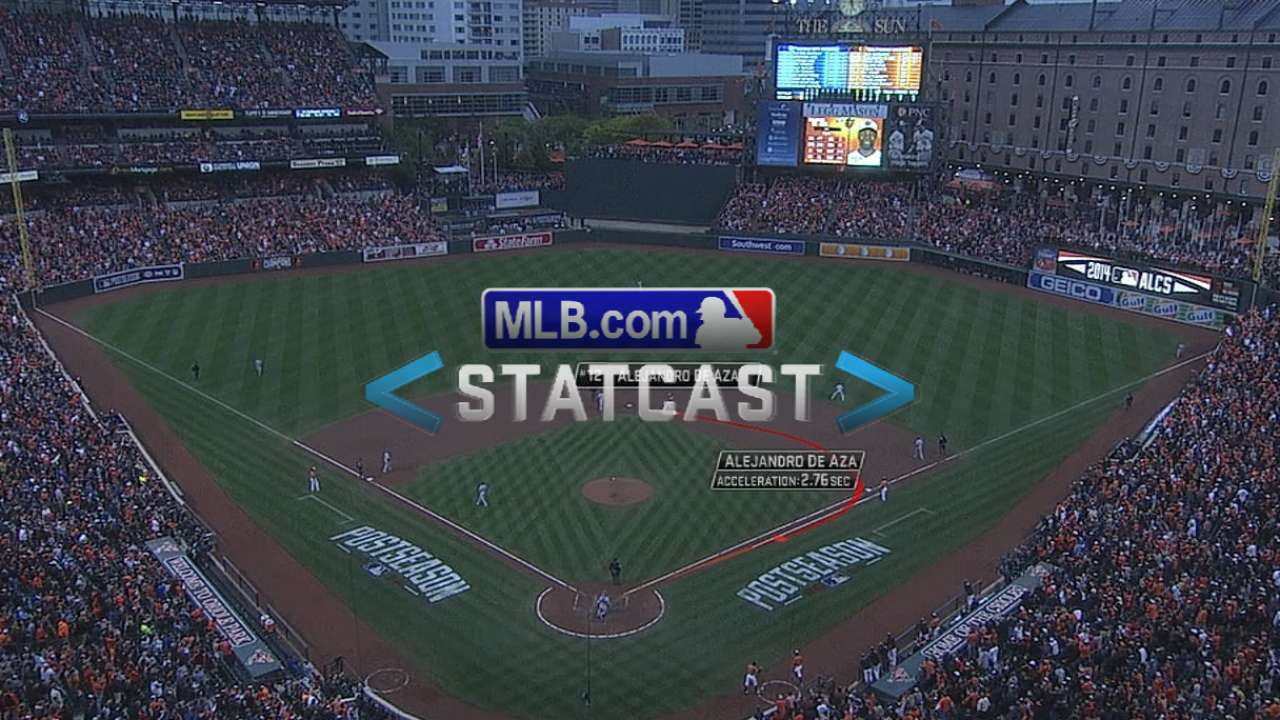 ALCS Game 2: Cain sprints, lays out to rob Hardy
Cain tormented the Orioles defensively as well. Hardy led off the sixth inning with a drive that traveled about 350 feet into the right-center-field gap off Ventura. It looked like an extra-base hit off the bat, but Cain had other ideas. From his position in center, he took his first step toward the ball in less than a quarter of a second, accelerating to a maximum speed of 21.2 mph in 3.74 seconds. But to make the play, Cain needed more than pure speed. Statcast measured his route efficiency at 99.7 percent, meaning he traversed a nearly optimal path from his original location to the spot where he dove to snag Hardy's shot. That allowed his long strides to cover 82 feet of outfield in only 3.65 seconds.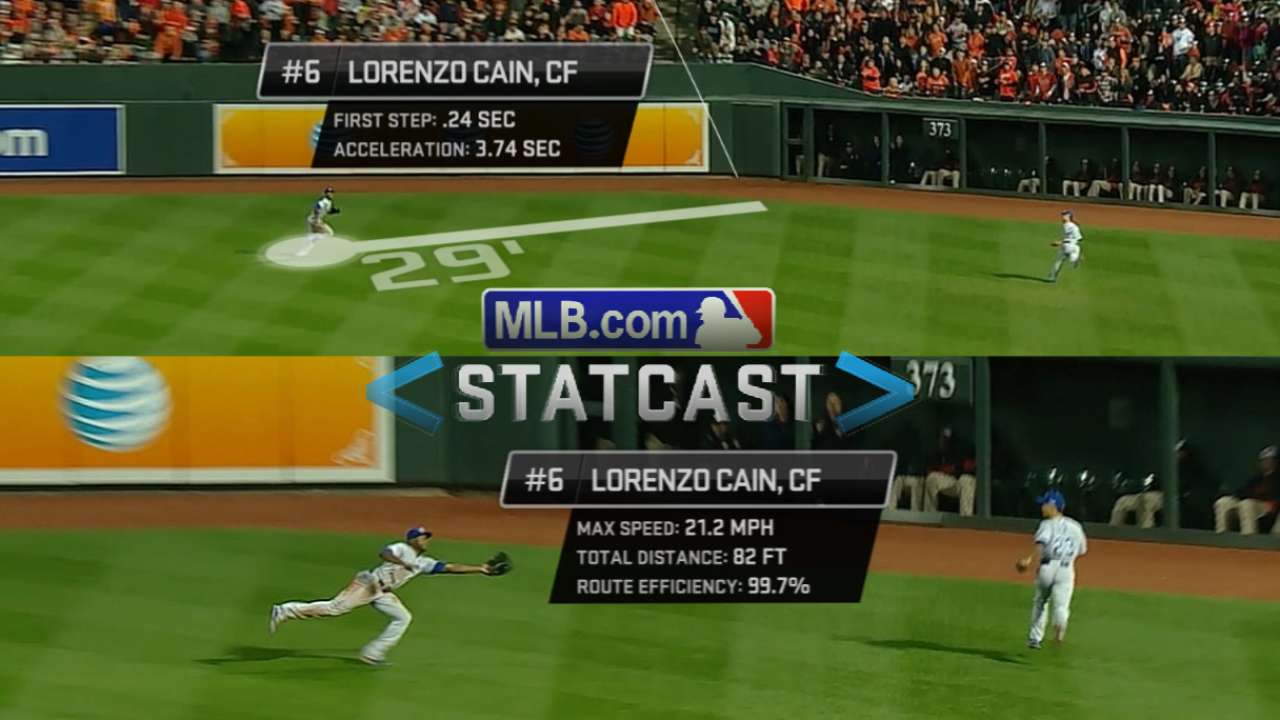 ALCS Game 2: Gore shows off his wheels
Terrance Gore was on second with one out in the ninth inning of a 4-4 game. And because so much speed represented the go-ahead run in such a crucial juncture, Orioles second baseman Schoop had to watch Gore closely at second, which meant first baseman Steve Pearce had to shade well off first base, which opened up a gaping hole down the right-field line for the right-handed-hitting Alcides Escobar, who doubled home Gore to put the Royals ahead for good.
NLCS Game 1: Panda plays station-to-station baseball
Sandoval has never been known for his speed, and he showed why in the second inning of Game 1 against the Cardinals, when he only advanced one base on this single by Brandon Belt after getting what appeared to be a bad read.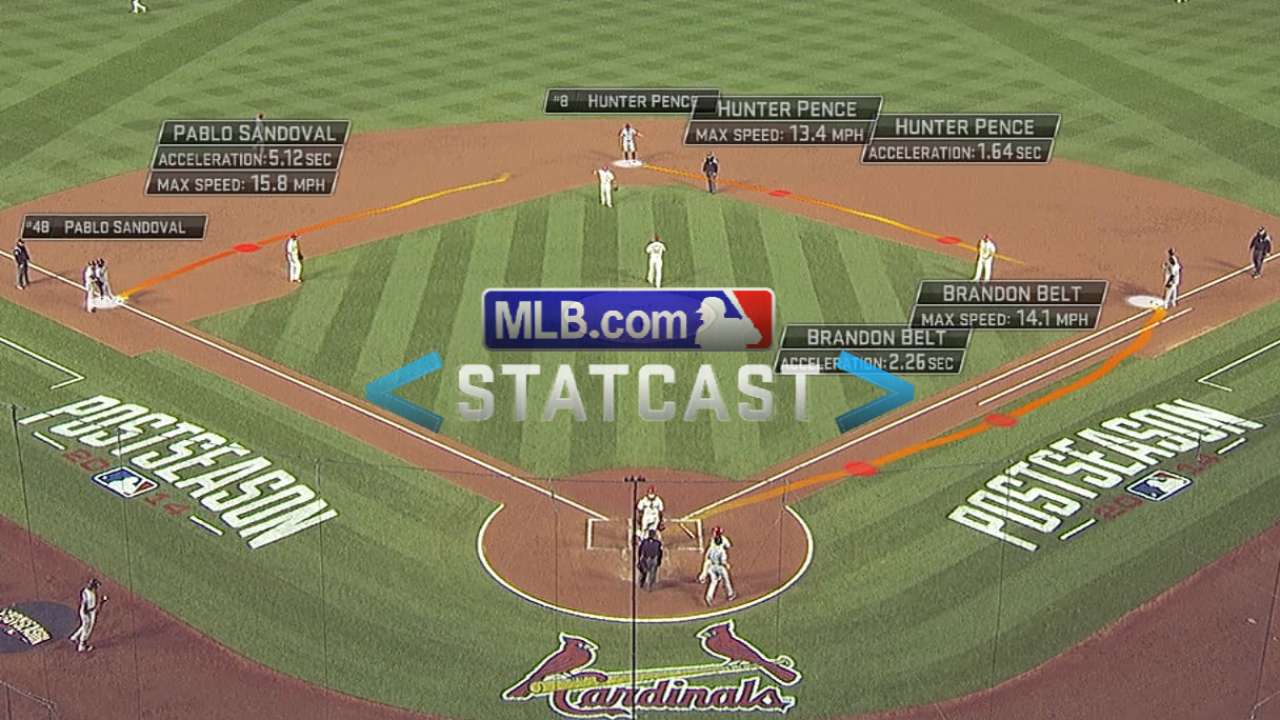 Paul Casella is a reporter for MLB.com. This story was not subject to the approval of Major League Baseball or its clubs.