MLB.com Columnist
Tracy Ringolsby
Bullpen blemish stuns Bochy, Giants
Usually reliable relievers give up the long ball in Game 2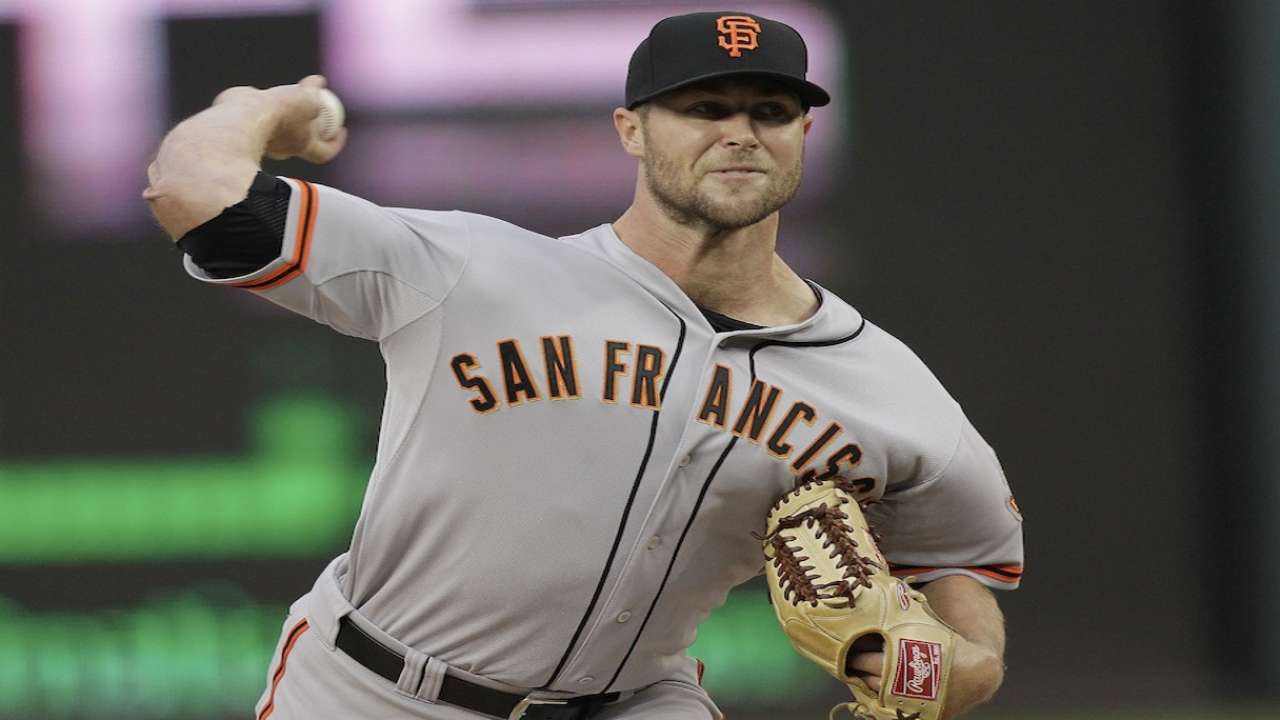 ST. LOUIS -- Giants manager Bruce Bochy sat in the deserted manager's office in the visitors' clubhouse at Busch Stadium on Sunday night, his feet on the desk, hands clasped behind his head, a bemused look on his face.
Hey, Joe Garagiola, you were right. Baseball is a funny game.
Bochy, however, wasn't laughing.
Not at this moment, not after Kolten Wong delivered the walk-off home run that allowed the Cardinals to pull out a 5-4 victory in the ninth inning of Game 2 of the National League Championship Series, salvaging a split of the first two games in the best-of-seven series that now moves to AT&T Park for the next three games.
There was no relief in sight for the Giants.
The sudden power burst by the Cards is a shocker -- a team that ranked last in the NL in regular-season home runs has hit 11 in six games this postseason, accounting for 16 of their 23 runs. And four of those home runs came Sunday night.
Starting pitcher Jake Peavy was gone after four innings. That equaled the sixth-shortest start for a Giants pitcher in the 169 games they have played since Opening Day, the fourth-shortest start outside of AT&T Park, including seven games this postseason.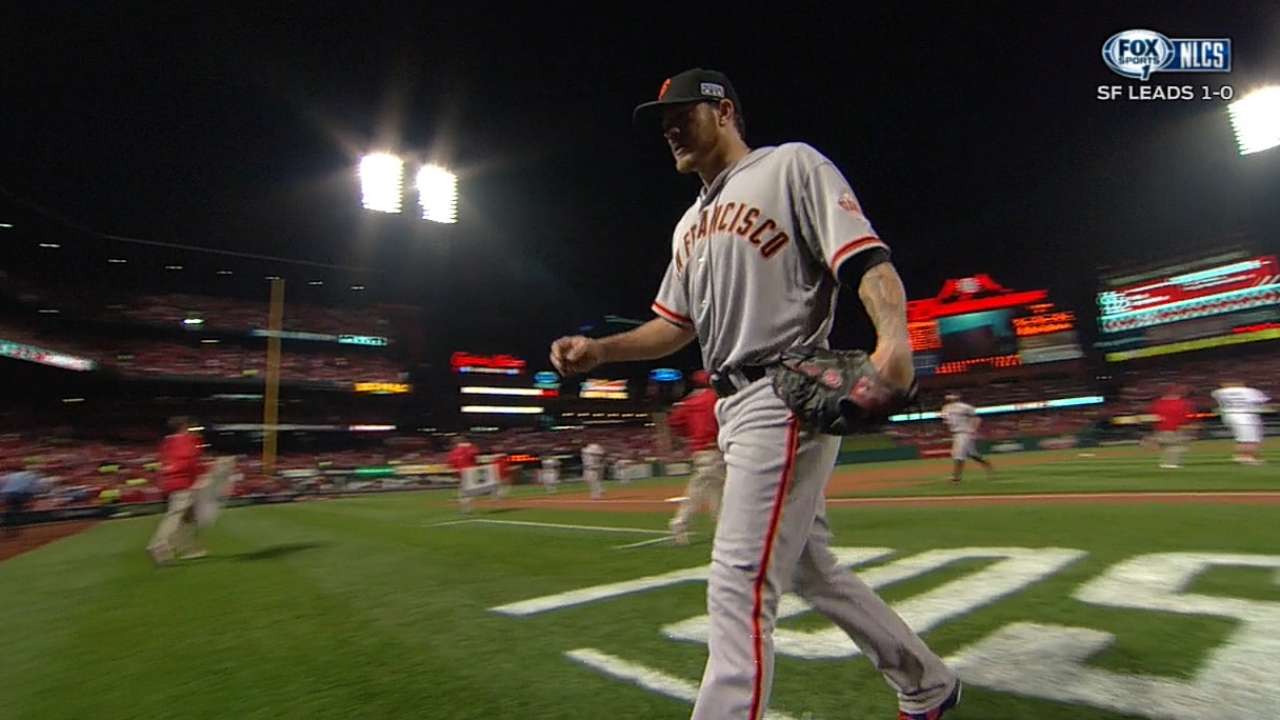 Video: Peavy holds Cards to two runs
But the betrayal by the Giants' bullpen was the real stunner.
There was Sergio Romo giving up that leadoff shot to Wong in the bottom of the ninth, after the Giants had tied the game in the top of that inning. And that came after Hunter Strickland gave up a go-ahead home run to Matt Adams in the eighth, following Jean Machi surrendering a game-tying home run to pinch-hitter Oscar Taveras in the seventh.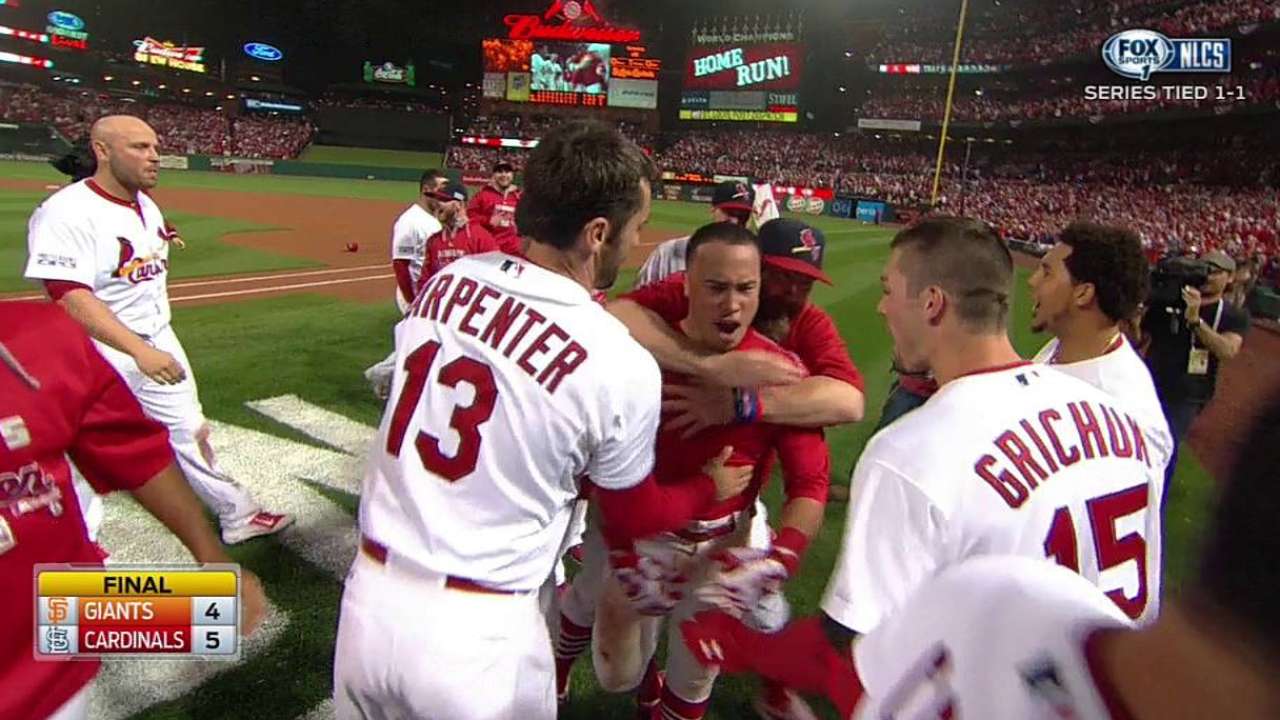 Who'd have thunk it?
Certainly not the Giants.
"When we tie the game up, with our bullpen," Peavy said, "you take that every time."
Hard to argue with that, in light of the bullpen's track record. Their combined 3.01 ERA in relief was the third lowest in the NL, and they averaged more than 13 1/3 innings per home run allowed in the regular season.
Now, the right-handed Strickland has had his challenges this postseason. He's given up four home runs in four innings, and three of those were hit by left-handed hitters, including Adams.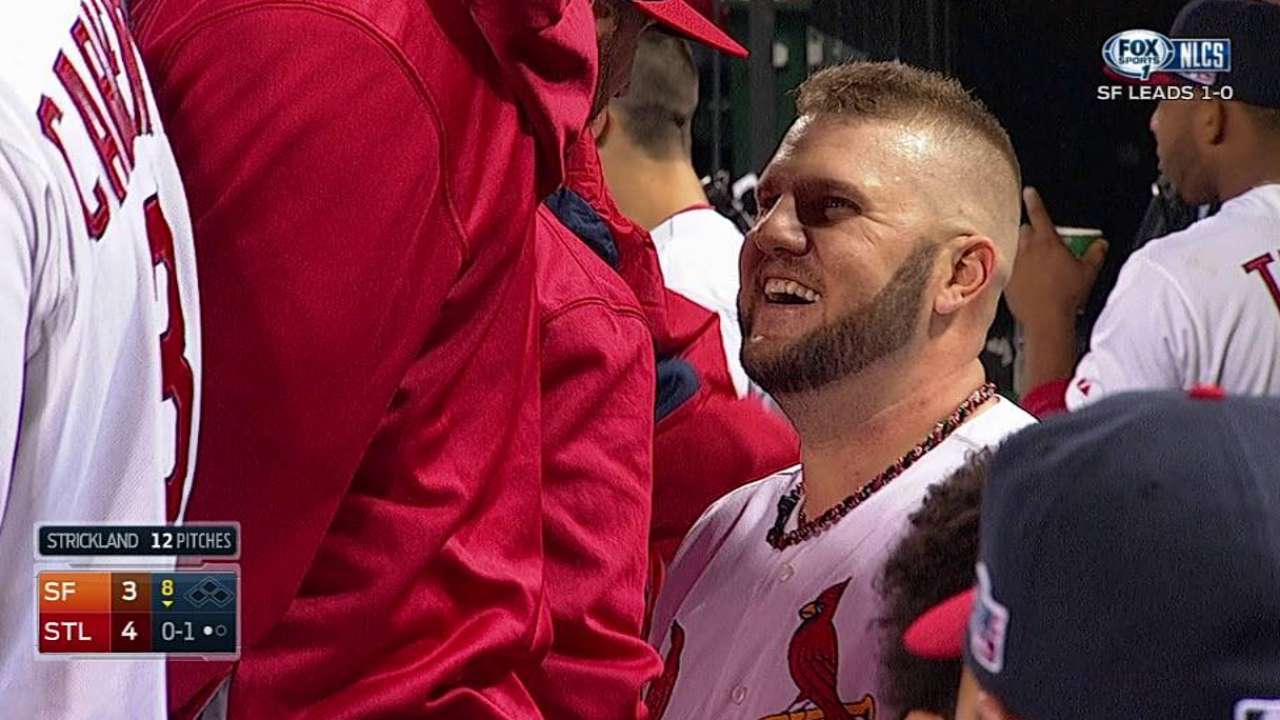 The rest of the relievers though? They had given up only one earned run and five hits, one of which was a home run, in 17 2/3 previous innings this postseason, including 10 shutout innings in a 2-1, 18-inning Game 2 of the NLDS victory against Washington.
Who'd have thunk it?
Certainly not Bochy.
"They are the reason we are in this situation," he said. "They have always done such a great job and we have all the confidence in all these guys."
San Francisco's bullpen, after all, hadn't suffered a loss this postseason. The relievers had blown only one save in the previous six postseason games. They suffered both the loss and a blown save in Game 2 of the NLCS.
There was that changeup Machi threw Taveras, the fastball Strickland didn't get by Adams, and another changeup that Wong turned into the game-winning blast off Romo.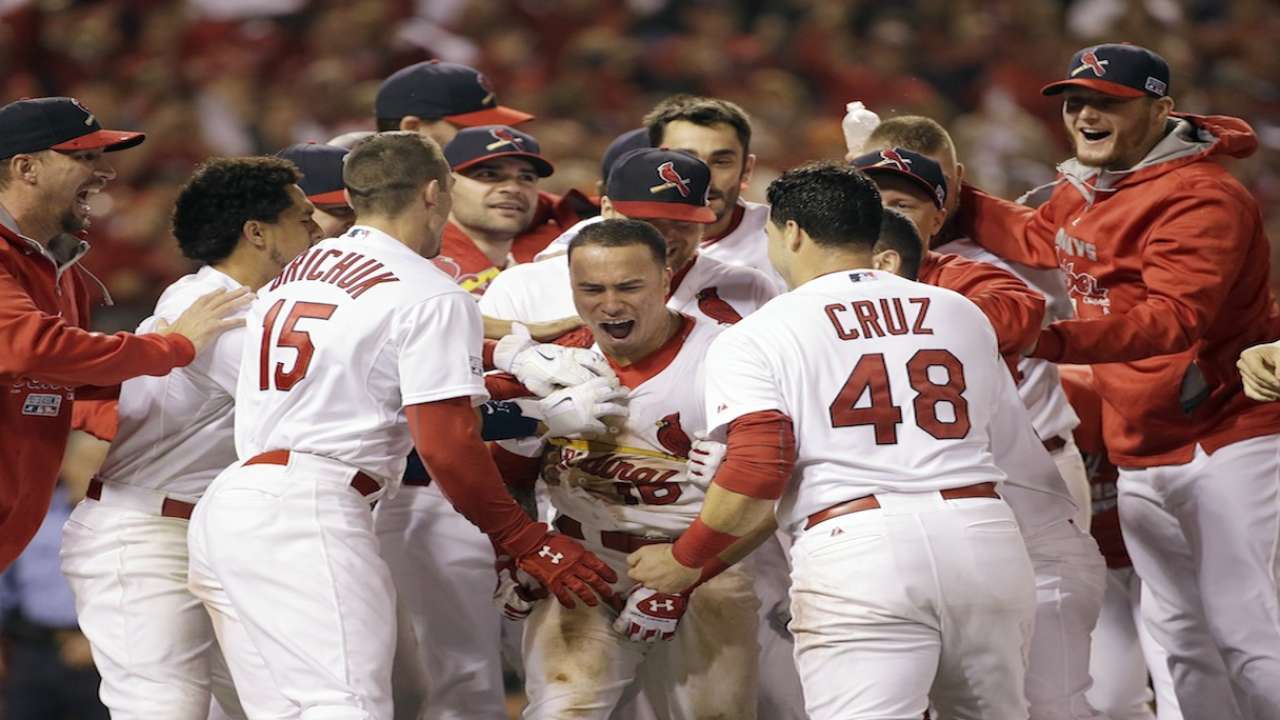 Video: Wong, Adams, Taveras on homers
"Things are going to happen in this game you don't expect," said catcher Buster Posey. "That's baseball. But we've all got confidence in our 'pen. They are all going to have another opportunity [in the NLCS] and we'll look forward to them getting out there."
Bochy, however, most likely will try to lessen the impact of situations in which he calls on Strickland for a game or two. The right-hander's resume includes only nine regular-season games in the big leagues, consisting of seven innings, in September, but he didn't give up a run and earned a spot on the postseason roster.
With his mid-90s-plus fastball, Bochy has shown a willingness to give Strickland a chance to face a left-handed hitter, particularly in a situation like Sunday when the Giants' two lefties had already worked -- Jeremy Affeldt pitching two shutout innings and Javier Lopez facing two batters in the seventh.
So far, not so good. Strickland, who allowed left-handed hitters two hits (a single and a double) in 10 regular-season at-bats, has given up four hits, all home runs, in seven at-bats this postseason, including two to Washington's Bryce Harper and another to Asdrubal Cabrera in the NL Division Series, and the one to Adams on Sunday.
"We'll see the situation we're in," said Bochy. "But these guys are the reason we're in this position."
The reason the Giants are in the postseason.
The reason they wound up with a split -- not a sweep -- of the first two games in the NLCS.
Tracy Ringolsby is a columnist for MLB.com. Read his blog, Write 'em Cowboy. This story was not subject to the approval of Major League Baseball or its clubs.