MLB.com Columnist
Mike Bauman
Cards show resolve without Molina, fight through adversity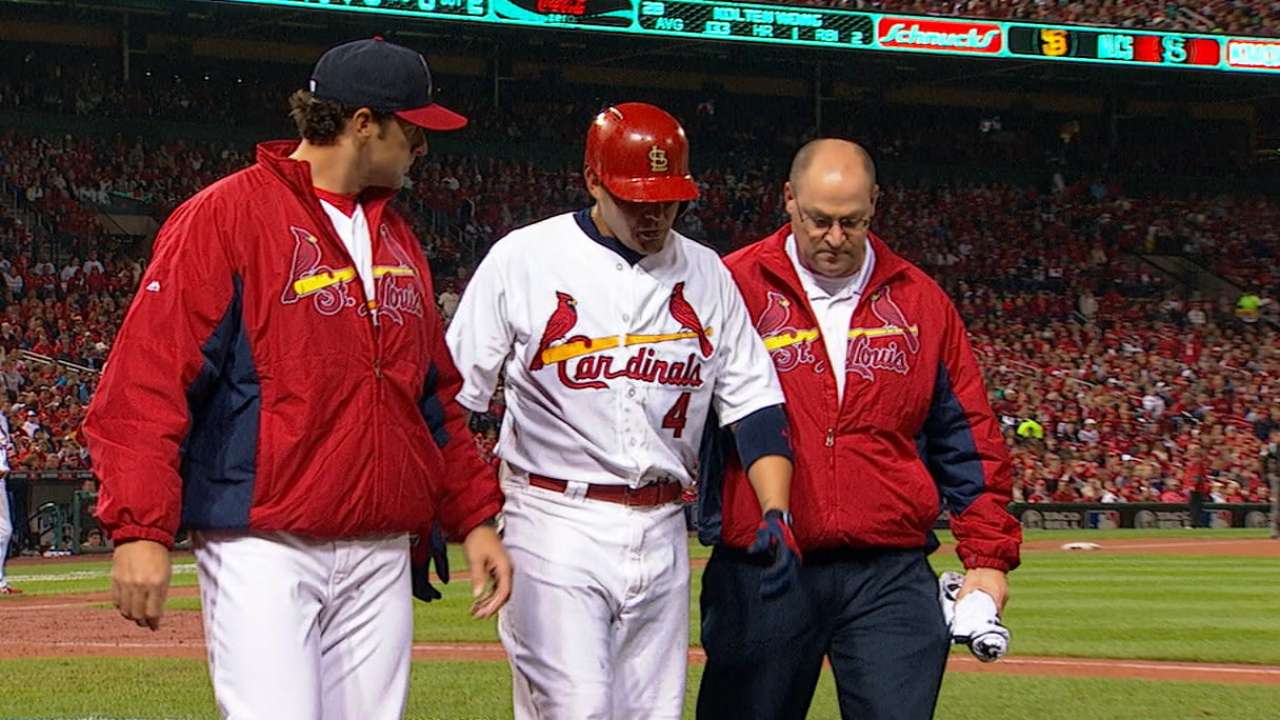 ST. LOUIS -- The most important player on the team is injured. And then the St. Louis Cardinals come from behind to win.
That sequence of events Sunday night in Game 2 of the National League Championship Series reminded you of something you already knew about the Cardinals. When adversity strikes, they don't look for the nearest exit.
The Cardinals, already trailing the San Francisco Giants in the series, lost catcher and team focal point Yadier Molina in the sixth inning when he went out with a strained left oblique. The game was tied at that point. The Cardinals fell behind, tied the game on an Oscar Taveras pinch-hit homer in the seventh, took the lead in the eighth on a Matt Adams homer, watched the Giants tie it in the top of the ninth and then won in the bottom of the inning on a Kolten Wong home run.
The Cardinals' 5-4 victory had the back-and-forth quality of a world-class ping pong match. The result tied the series, 1-1. Game 3 will be played Tuesday in San Francisco.
Apart from hitting a home run whenever it was absolutely necessary, the big deal here for the Redbirds was that they did not allow the injury to Molina to be a reason to lose. There is no overstating Molina's importance to this club -- as a handler of pitchers, as a receiver, as a catcher who can control the opposition's running game and as a productive hitter. But there is also no reason to doubt this club's will to win.
Before Molina was injured things were already difficult enough for Cardinals in this NLCS. Those are no longer the Dodgers in the other dugout. The Giants are postseason-tested, with a seven-series postseason winning streak. Their ace, Madison Bumgarner, had shut out the Cards in Game 1, and in Game 2, they weren't giving anything away, either.
What was the mood in the Cardinals' dugout after Molina left the field in obvious pain?
"It was a little quieter than I was hopeful for," Cardinals manager Mike Matheny said. "Whenever something like this happens, we talked about this earlier in the season when we had some trades made. These guys, they care about each other and that's part of why we see the resiliency that we see.
"They fight, they play for each other. You put some talented guys out there with that kind of mindset and then you take a hit like that and the guys all stop and pause for a minute and realize that one of their guys is in a bad spot.
"Fortunately, they didn't stay there long. They got right back into it, said next man up and we'll see what happens. Let the doctors do their things and let's not overthink it and let's win this game.
"And [backup catcher] Tony Cruz jumped in and did a nice job and the young hitters came up and figured out a way to get it done."
Or as Adams put it: "It was tough to see our backstop go down like that, but we have faith in Tony [Cruz] that he was going to come in and do a good job and he did a great job. We just kept grinding the rest of the game."
The Cardinals kept grinding at-bats well enough to hit home runs in each of the last three innings. The Cardinals were last in the NL in home runs during the regular season, but have hit 11 in six postseason games, driving in 70 percent of the runs with homers.
The availability of Molina is uncertain at best. "We'll know later. But it didn't look real good," Matheny said when first asked about the status of Molina's injury.
Matheny later injected a more hopeful note, saying: "I do have to say that we have one of the toughest human beings I have ever seen that we're talking about right now. And I am not going to jump to conclusions. It's just not fair.
"I do know that if there's any chance, if there is anybody that could play with an injury it would be Yadi."
The fallback position, as we saw Sunday night, is not desperation. "It's a tough loss, but with Cruz, he's like Yadi Jr.," said reliever Pat Neshek, who worked a spotless eighth. "It's going to be a loss, but I don't think we'll miss him as much because of Cruz."
Everybody got a long look at the Cardinals' resolve Sunday night. They suffered a serious loss, but they wouldn't allow themselves to take a second loss on the field. They're obviously a better team with Yadier Molina, but they don't turn hopeless without him.
Mike Bauman is a national columnist for MLB.com. This story was not subject to the approval of Major League Baseball or its clubs.