Duffy's dash from second born of 'instinct'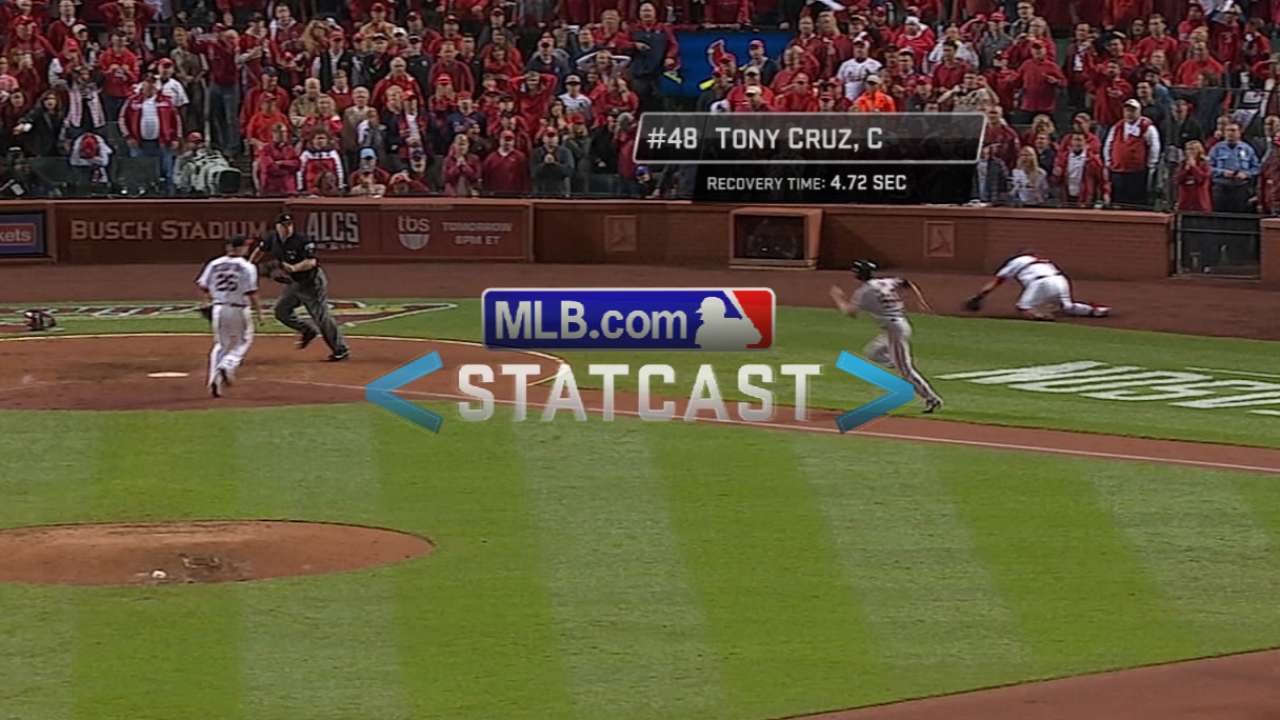 ST. LOUIS -- Keeping one eye trained on third-base coach Tim Flannery, Matt Duffy stole a glance home, where catcher Tony Cruz was desperately searching for the wild pitch that nearly cost St. Louis the game. Flannery started windmilling his arm. Duffy took a chance and bolted for the plate.
Had the Giants won Game 2 of the National League Championship Series on Sunday, Duffy's mad dash would have become the pinnacle of it all, a game-tying run born of pure aggression. As it was, the rookie's pinch-run appearance provided only false hope for the Giants, who dropped a 5-4 game on Kolten Wong's walk-off homer.
"I don't know how to describe this, but whenever we are in a situation like that -- coming into the ninth, losing by one, losing the game -- we always say, 'OK, we're not going to lose this game that easy,'" said outfielder
Gregor Blanco
, whose liner to shortstop earlier in the ninth almost plated Duffy in more traditional fashion. "We always try to find a way to pull out good at-bats and tie the game, or end up winning it."
Sunday's rally ranked among their most unorthodox. Trailing by a run heading into the ninth, things began normally enough when pinch-hitter Andrew Susac laced a single to center. As soon as Susac reached base, manager Bruce Bochy brought in Duffy as a pinch-runner, representing the tying run. The rookie moved into scoring position on Juan Perez's single.
After Blanco's sharp liner zoomed into Jhonny Peralta's glove for the inning's second out, Joe Panik fell into an 0-2 hole. But Panik subsequently battled the count full, walking on a Trevor Rosenthal wild pitch that skipped several feet short of home plate.
That's when Duffy began sprinting to third, rounding the bag as it became clear that Cruz had lost the ball. The owner of 55 stolen bases in 248 career Minor League games, Duffy wheeled toward home and slid under Rosenthal's tag with relative ease.
"The ball bounced pretty far out there," Cruz said. "I was trying to do whatever I could to keep it in front. I know I got a glove on it, and I was just trying to find it after that. I tried to keep it in front of me as best I could."
"I just saw the ball land in the dirt," Duffy said. "The catcher lost it, and my first instinct was to go."
Duffy's second instinct was that if he was going to sprint home, he had better make it safely, with Buster Posey due up next. Posey wound up walking, ending Rosenthal's night, before Pablo Sandoval grounded back to the pitcher's mound to end the inning.
"I haven't seen a guy score from second on a [wild pitch] all year, and go figure, it happens right there with two outs in the ninth," Cardinals reliever Pat Neshek said. "The main thing is we won the game. If we lose, that's pretty bad, but I think everybody in here will sleep a little better tonight."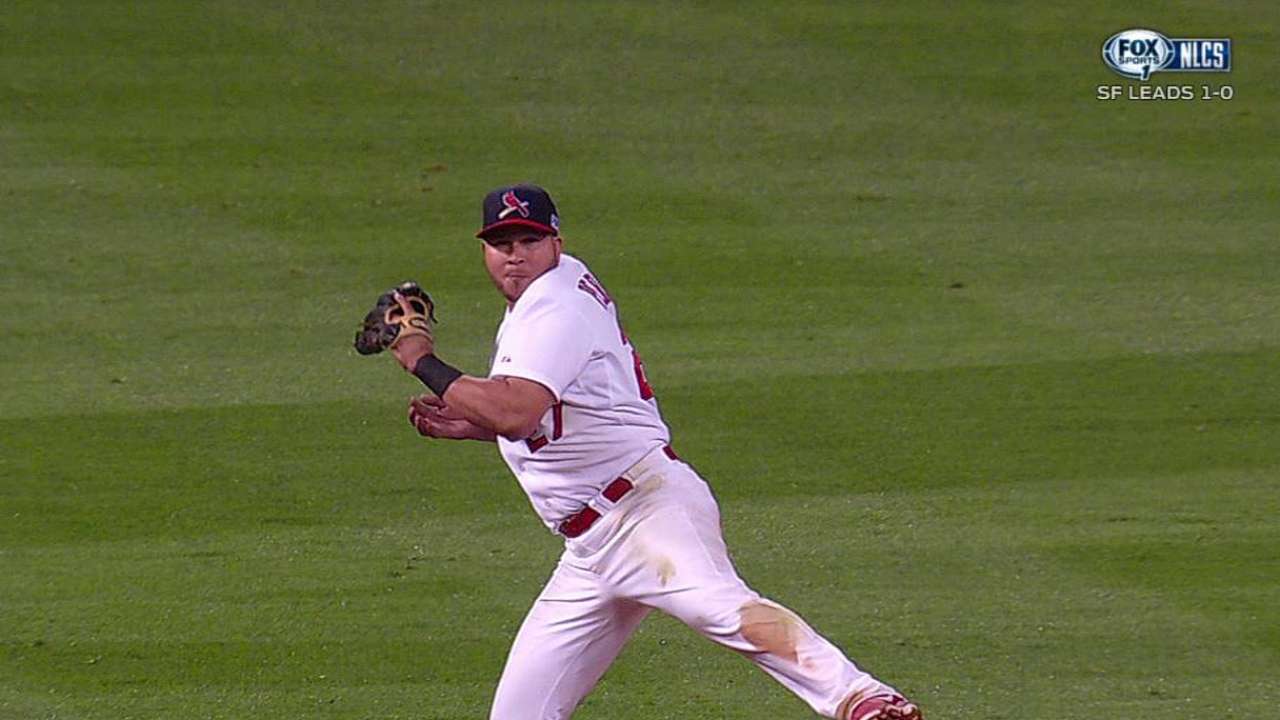 • Video: Blanco lines out to short
If the Giants had a regret during their ninth-inning rally, it was the line drive that Blanco hit directly to shortstop. Buried in a 2-for-27 funk heading into Game 2, Blanco mustered a go-ahead RBI single two innings earlier, busting out of his slump with a two-hit night. He nearly made it three hits in the ninth, instead lining Rosenthal's 98-mph fastball to precisely the wrong spot.
"I tried to win the game," Blanco said. "All I wanted to do was hit it the way I did, and have that at-bat. That's part of the game. I guess the luck wasn't on my side at that time."
Anthony DiComo is a reporter for MLB.com. Follow him on Twitter @AnthonyDicomo. This story was not subject to the approval of Major League Baseball or its clubs.