Morse returns to action in pinch-hitting role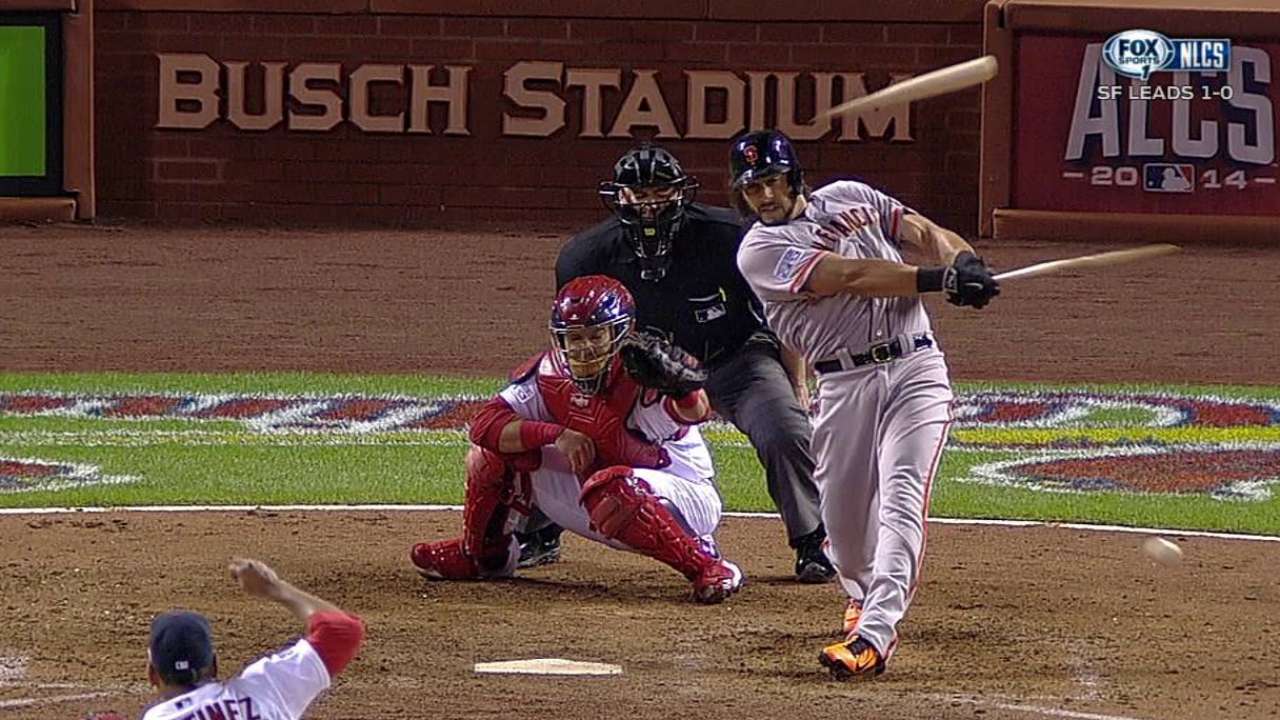 ST. LOUIS -- On a night when Cardinals All-Star catcher Yadier Molina had to leave the game at Busch Stadium because of a strained oblique on his left side, Giants outfielder Michael Morse returned from the same injury.
Morse had a key pinch-hit infield single Sunday as San Francisco tied the score in the seventh inning, only his third at-bat since Aug. 31. The Giants ultimately lost Game 2 of the National League Championship Series, 5-4, on Kolten Wong's walk-off homer in the ninth off reliever Sergio Romo.
Morse was just happy to play.
"It felt really good to be back in there," Morse said. "I just tried not to do too much, get a good pitch, and try to put the ball in play."
Molina hit into a double play in the sixth inning and bent over as he stepped out of the batter's box. He never ran to first base and immediately was taken out of the game, replaced by Tony Cruz. Cards manager Mike Matheny said afterward that Molina was sent out for further tests.
"But it didn't look good," Matheny said.
Morse knows the feeling.
"It's a fluke thing," Morse said. "It's something you don't feel coming. You feel bad for him. He's such a great player. I hope it's not as bad as it seemed. He's such a big part of the team, and you hope he gets back on the field."
Morse sustained the injury to his left oblique taking batting practice at Coors Field on Sept. 1. An MRI of the area revealed the nature of the injury the next day. San Francisco gave him a cortisone shot and hoped to have him back in the lineup sooner rather than later, even though the usual recovery time from such an injury can be as long as two months.
Morse tried to return, taking two at-bats late in a game against the Padres on Sept. 19, but he was shut down again, missing the NL Wild Card Game on Oct. 1 and his club's four-game victory over Washington in the NL Division Series. He was placed on the 25-man roster for the NLCS and didn't see any action in Game 1 on Saturday night, a 3-0 Giants win.
"I tried to come back after two and half weeks," said Morse. "It was way too early, and I wound up injuring it again. I just wasn't ready. It takes something like six to eight weeks. It didn't work. After that, the plan was no matter how I felt, just be ready for the playoffs."
Morse signed a one-year, $6 million contract as a free agent with San Francisco last December. He's set to be a free agent again once the postseason is over. Morse batted .279 with 16 homers and 61 RBIs in 131 games, and Giants manager Bruce Bochy had a habit of replacing Morse defensively in left field late in games. Bochy said his plan now is to use Morse as a pinch-hitter, with Travis Ishikawa starting in left field.
That's just fine with Morse.
"You know, we really haven't talked about what's going on," Morse said. "But I'll tell you what: I believe in him, and any situation he puts me in, I'll be ready for it."
Barry M. Bloom is a national reporter for MLB.com and writes an MLBlog, Boomskie on Baseball. This story was not subject to the approval of Major League Baseball or its clubs.