Peavy battles without best stuff in Game 2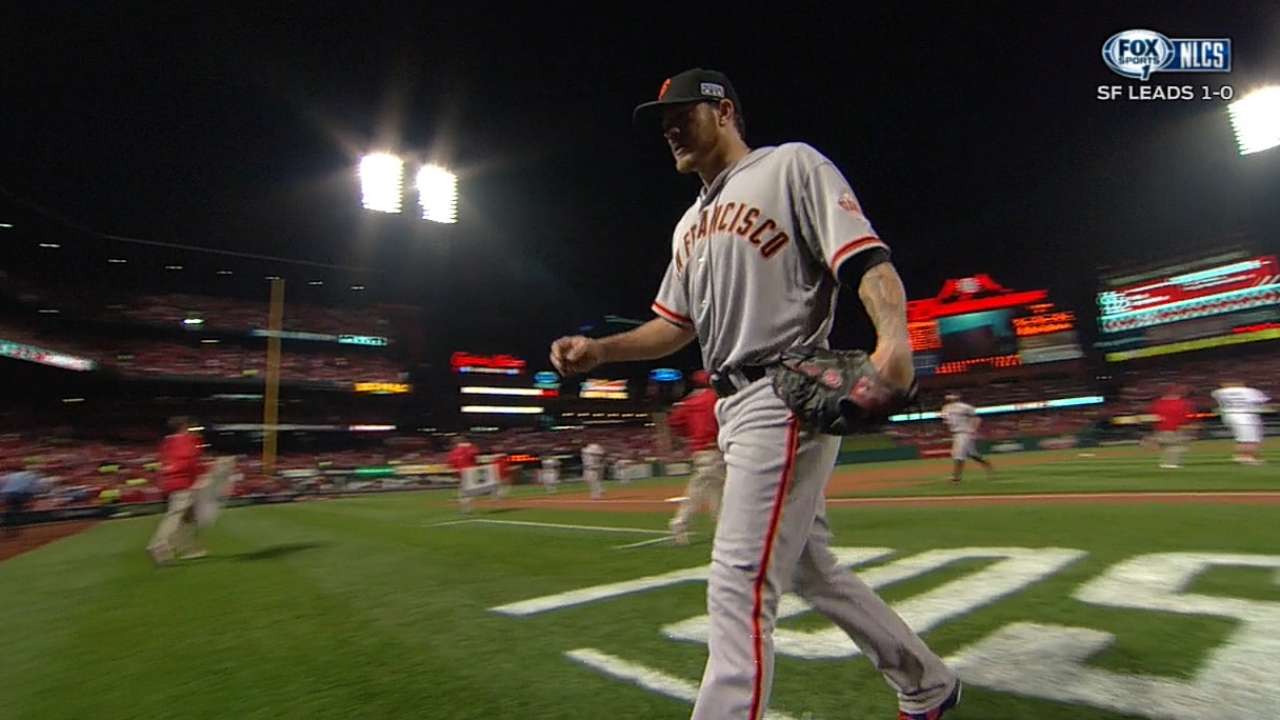 ST. LOUIS -- Jake Peavy thought he could have done a better job starting Sunday night's Game 2 of the National League Championship Series against the Cardinals at Busch Stadium. And if he gets another shot at starting a game later in the series, he vowed to be better.
"There's not a bad taste in my mouth," the veteran right-hander said after the Cards defeated the Giants, 5-4, on Kolten Wong's walk-off homer in the ninth off reliever Sergio Romo to even the best-of-seven series at one game apiece. "I wish I could have kept them off the board. It just comes down to executing. I've got to get ahead and dictate the count in my favor, and not throw the ball where they're going to take pretty good swings.
"Game 6 rolls around and my number's called, or even before that, I promise you I expect to go out there and win."
Giants manager Bruce Bochy agreed with Peavy's assessment of his performance. Despite Peavy allowing just two runs on four hits, with three walks and two strikeouts, Bochy pulled Peavy for a pinch-hitter in the top of the fifth, having thrown just 76 pitches.
"He was a little off tonight," Bochy said. "He didn't quite have his good command."
That put the Giants deep into the bullpen early, and by the time the game was over, Bochy had used six of eight relievers, and his entire bench, trying to take the series back to San Francisco with the Giants leading, 2-0. Now, San Francisco has to sweep the three games at AT&T Park -- beginning Tuesday (1 p.m. PT, FOX Sports 1) -- to avoid a return trip to St. Louis, where Peavy would be in line to get another start in Game 6 next Saturday night.
"I just could never find that good rhythm. I couldn't get ahead of batters," Peavy said. "When you fall behind, you've got to be fine, you've got to be tough. [In the fifth], you're behind [in the game], and [being removed for a pinch-hitter is] just a situation in the game when you have to come out. If it was the regular season, you could throw six, seven innings, let up two runs, and you'd call that a good night."
Peavy let up Matt Carpenter's fourth homer of the postseason with one out in the third, and basically avoided a great deal more damage as the Cardinals sent seven men to the plate in the fourth. Randal Grichuk singled home a run, giving the Cards a 2-0 lead. With the bases loaded and one out, Lance Lynn popped out to short right.
That put Bochy in this dilemma with the lefty-swinging Carpenter coming to the plate: Keep Peavy in there an inning after letting up the homer, or bring in one of his situational bullpen lefties, Jeremy Affeldt or Javier Lopez. Bochy chose to stay with Peavy, who has been a bulwark of the rotation since he was obtained in a trade with Boston on July 26.
"In that situation, he's done such a good job for us," said Bochy about the pitcher who won seven of his last 10 regular-season starts before winning Game 1 of the NL Division Series with 5 2/3 scoreless innings vs. Washington. "I had confidence that he'd get a big out for us, which he did."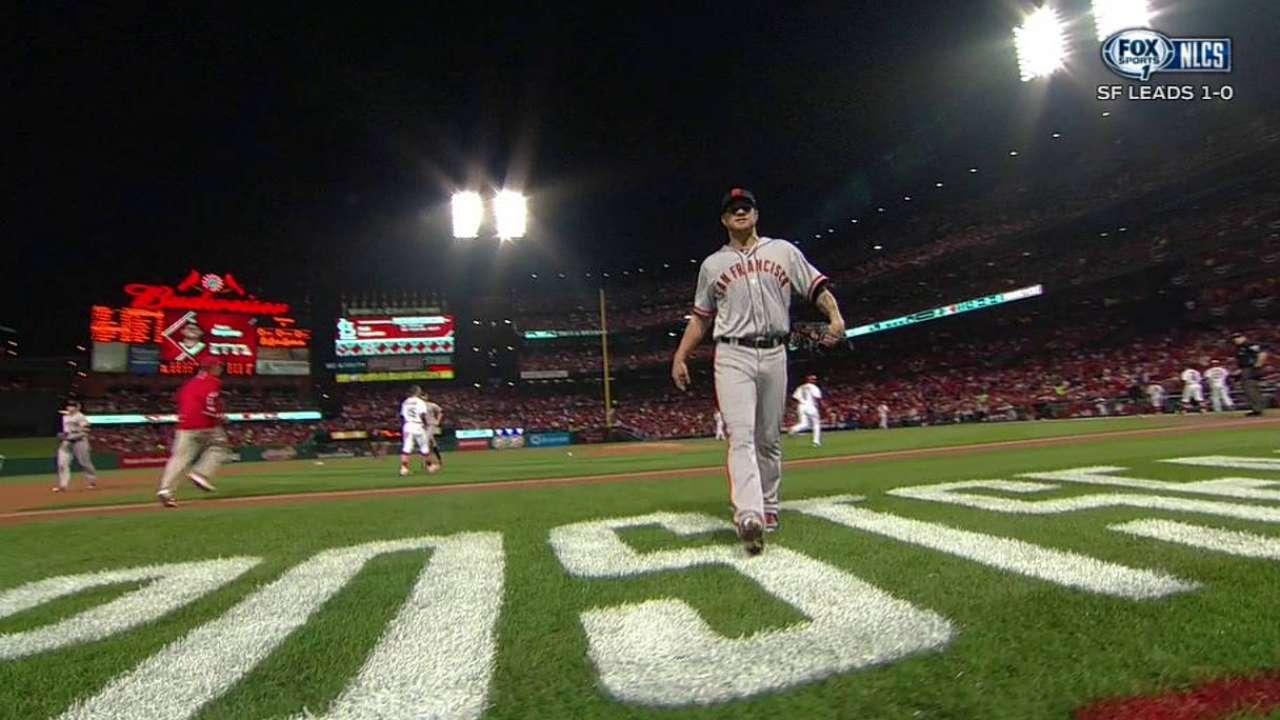 Carpenter popped out to center, and Peavy had limited the damage. But when his ninth spot in the batting order came around in the top of the fifth with runners on second and third and one out, Bochy went to the bench for Joaquin Arias to pinch-hit. Arias drove in the Giants' first run with a grounder to second.
"Well, we had runners on second and third and were trying to put some runs on the board," Bochy said. "I told Jake that if we got into that situation, I was gonna go for it, hit for him, and go to the bullpen. And we got in a run, and it was a big run."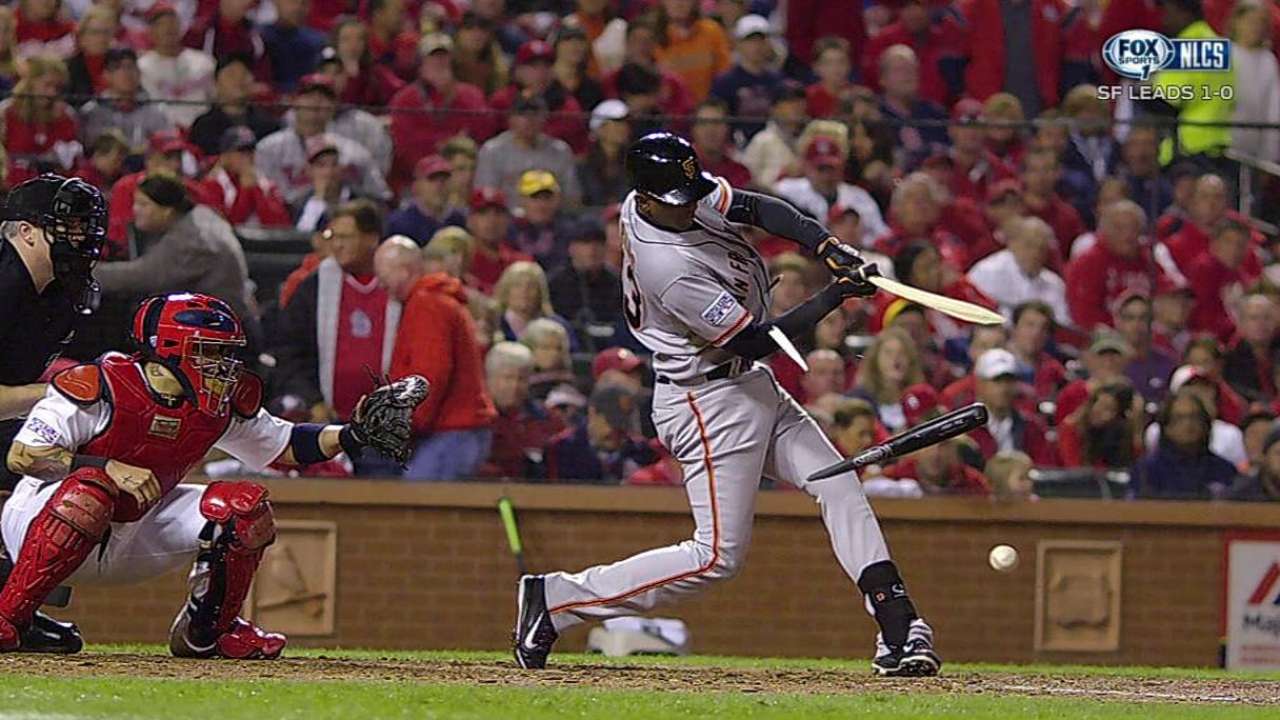 Peavy has been around long enough. He's well aware of the score. This was his seventh postseason start dating back to 2005, when both Bochy and Peavy were with the Padres. Four of Peavy's playoff starts have been against the Cardinals, including Game 3 of the World Series last fall when Peavy pitched for the Red Sox, and like Sunday night, he walked away without a decision. He doesn't have a postseason win against St. Louis, losing twice with the Padres, once each in 2005 and '06.
At 33, Peavy is more mature pitcher than he was back then. But the results are the results.
"For me, from what I saw, he just wasn't quite as sharp as he has been," said catcher Buster Posey. "Having said that, I thought he did a nice job of limiting them to two runs there, because it could have gotten out of hand."
Barry M. Bloom is a national reporter for MLB.com and writes an MLBlog, Boomskie on Baseball. This story was not subject to the approval of Major League Baseball or its clubs.