Romo, 'pen mates struggle with homers in Game 2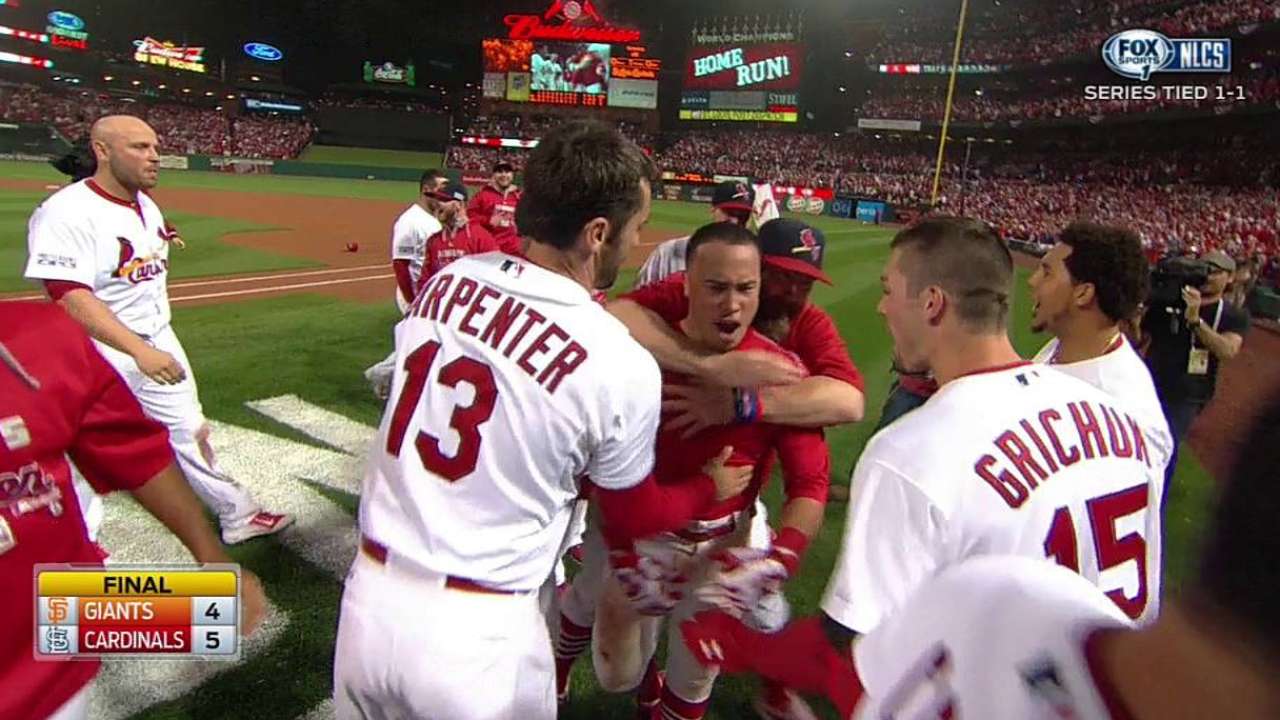 ST. LOUIS -- Sergio Romo knew he had unleashed a mistake from the second the changeup left his hand, through the moment it tumbled through the middle of the strike zone, to the instant Kolten Wong blasted it for a walk-off homer. But Romo needed to understand the details. So in the aftermath of the Giants' 5-4 loss to the Cardinals in Game 2 of the National League Championship Series, San Francisco's setup man flagged pitching coach Dave Righetti in the clubhouse to ask exactly where his changeup crossed home plate.
Righetti lifted his arm just above the waist. Thigh-high, middle-in. A left-handed hitter's dream.
It was simply a poorly executed pitch from Romo at precisely the wrong time, and in that sense, it was not particularly troubling. The Giants still escaped St. Louis with one win in two games, yanking home-field advantage away from the Cards. They still boast one of the game's best bullpens, a group that ranked fifth in baseball in ERA during the regular season.
But Wong's homer was one of three that San Francisco relievers allowed in the final three innings of Game 2, and that is something the bullpen must correct.
"Is it a shock?" Romo asked. "We tend to not give up home runs, I guess. It is what it is. But for them to come out swinging the way they did … I can only speak for myself. I've got to execute."
Through six postseason games, Giants relievers have done the opposite, allowing seven home runs over 24 2/3 innings -- roughly one for every 11 outs they have recorded. Compare that to the regular season, when San Francisco's bullpen gave up 35 homers in 472 innings, or one for every 40 outs.
It is a small but troubling sample for Romo and friends.
Before Game 2, the slider specialist -- increased changeup usage was a point of emphasis for Romo this summer -- had given up a total of one homer since mid-July. Rookie Hunter Strickland, who did not allow a home run in seven regular-season innings, has already given up four in the playoffs -- two to Bryce Harper and one to Asdrubal Cabrera in the NL Division Series vs. Washington, and the latest to Matt Adams in the eighth inning Sunday. Manager Bruce Bochy has continually asked Strickland to enter games in critical spots, but his trust in the rookie may be starting to waver.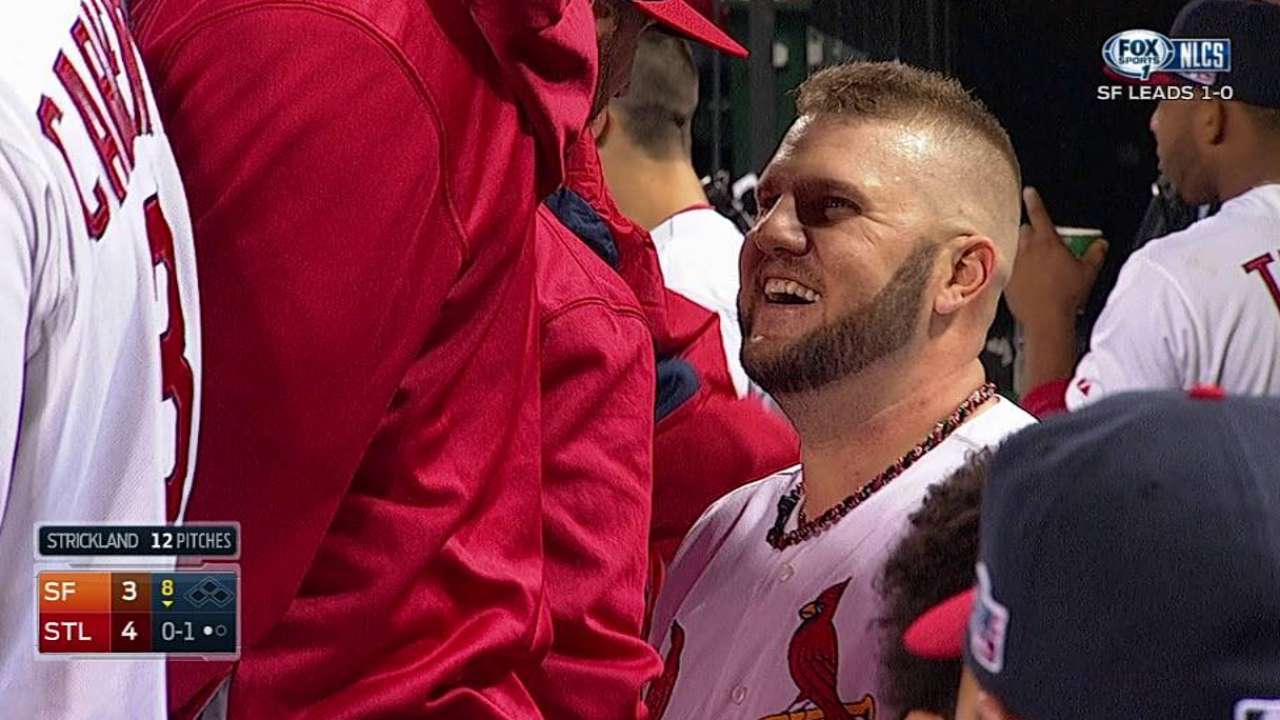 • Video: Strickland allows go-ahead HR
"We'll see the situation that we're in," Bochy said. "If you have another option, yeah, sure, you may rethink it. But these guys are the reason that we're in this position. Strickland came up and he's done a good job. I know he's given up some home runs, and I am sure he would like to have that pitch back, but we had a couple of other mistakes in that game, too."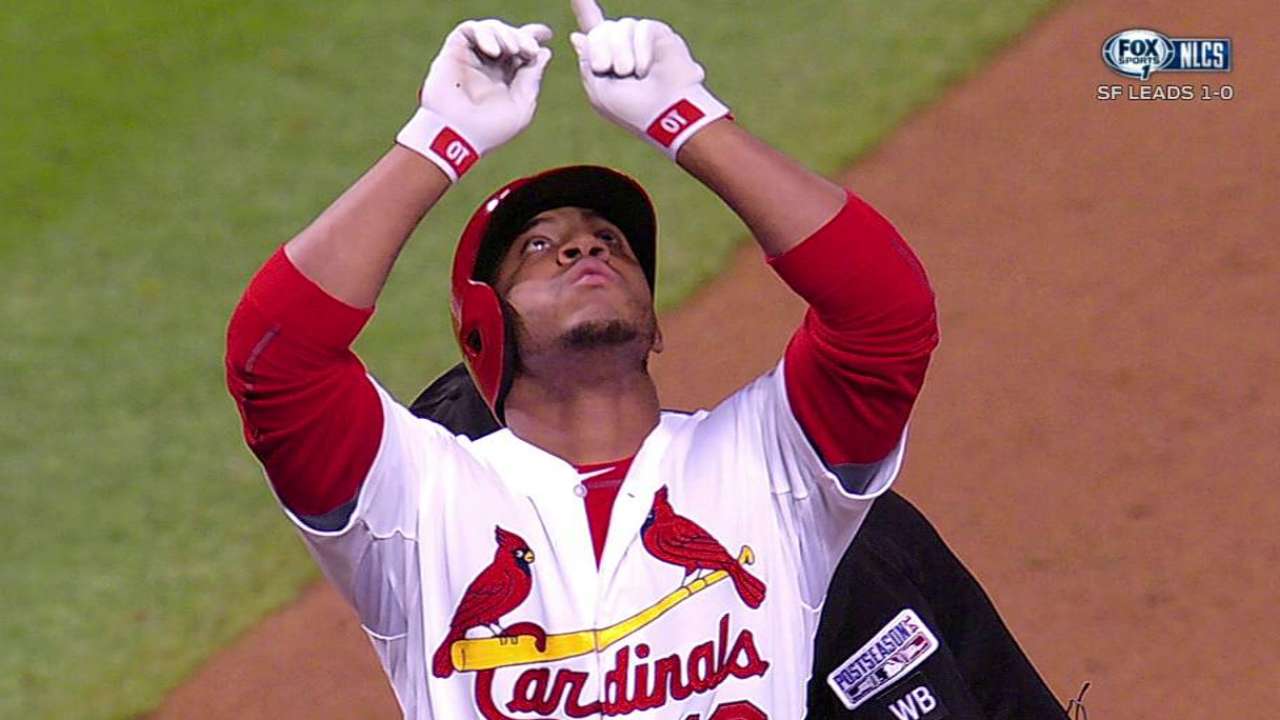 • Video: Machi allows game-tying HR
The problem was that several of those mistakes cleared Busch Stadium's outfield fence in critical spots. The homer that Jean Machi served up to Oscar Taveras in the seventh inning tied the game for St. Louis. The solo shot that Strickland allowed gave the Cardinals a temporary lead in the eighth. Romo's ninth-inning mistake became the game's final pitch.
"It was a pretty good pitch," Wong said. "I think it was a changeup he threw me. I just tried to stay through it and put a good swing on a pitch I knew I could hit."
Romo disagreed, criticizing his own execution -- thigh-high, middle-in. But he feels that he and his bullpen-mates will be better going forward, understanding their track record over the course of a long summer.
When asked how long it might take to recover from such a crushing loss, Romo simply shook his head.
"It's already past," he said.
Anthony DiComo is a reporter for MLB.com. Follow him on Twitter @AnthonyDicomo. This story was not subject to the approval of Major League Baseball or its clubs.