Five things we learned from Cardinals' series-tying win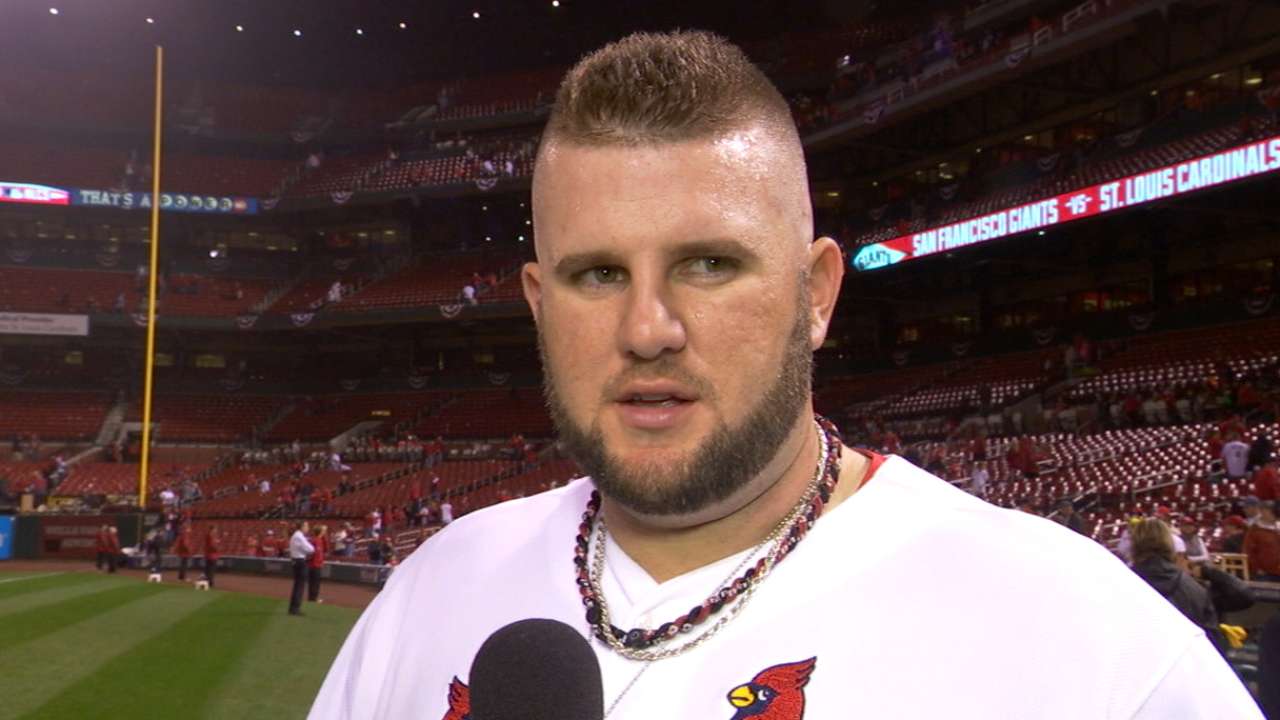 ST. LOUIS -- What in the name of Kolten Wong is going on here? The two least powerful teams in the Major Leagues this season in home runs produced -- Missouri's Cardinals and Royals -- are bashing their way through October.
Nobody saw this coming. The Cards, whose 105 homers exceeded only the Royals' 95 through 162 games, have gone deep 11 times in six games. Getting even with the Giants with a 5-4 win on Sunday night in Game 2 of the National League Championship Series, the Redbirds got lightning-bolt solo shots from Matt Carpenter, Oscar Taveras, Matt Adams and Wong. The walk-off blast by Wong in the ninth sent the home folks home happy.
Out-homered by 18 in the regular season, the Cardinals are plus-eight in October, having allowed just three homers to Dodgers and Giants hitters. The Royals have generated eight homers while yielding seven in winning all six postseason games, taking a 2-0 American League Championship Series lead home to Kansas City against the Orioles.
Here are five things we learned in the cool mist of Busch Stadium:
1. Treat Carpenter like Reggie Jackson in October
When he went deep against Jake Peavy in the third inning to hand Lance Lynn an early lead, Carpenter had four home runs in six postseason games and 24 at-bats. The wiry third baseman had eight homers all season, in 158 games and 595 at-bats. His slugging percentage in the postseason is .958, compared to .375 in the regular season.
One can only speculate that Carpenter's remarkable success against the great Clayton Kershaw in the NL Division Series has him feeling like a modern-day Stan "The Man" Musial. The Giants, in any event, are advised to be wary of St. Louis' leadoff man as the scene shifts to San Francisco. Carpenter is locked and loaded.
2. Filling Molina void could be Cardinals' biggest challenge
The Cards were 62-47 this season when Yadier Molina started, 26-27 when he didn't. A hush fell over Busch Stadium when Molina was unable to get out of the batter's box on a sharply struck double-play grounder in the sixth inning. The anxiety moved toward grave concern when he was unable to come out with the gear for the top of the seventh inning, word arriving that he had strained his left oblique.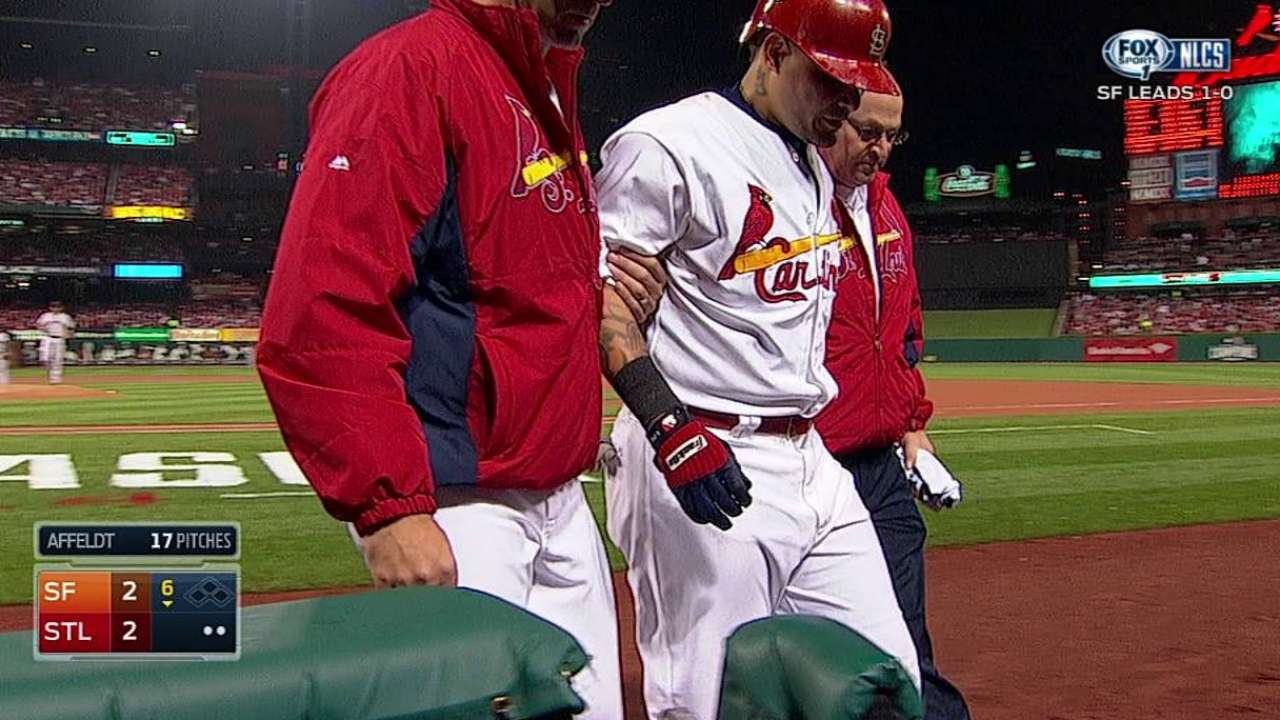 Video: Molina exits with injury
No player in baseball is more valuable to his team than the Cardinals' superlative catcher, who missed 40 games after tearing a ligament in his right thumb on July 10. Molina is the gold standard defensively, and he has turned himself into a tough out with a knack for delivering the big hit.
"It's an oblique on the left side," said manager Mike Matheny, a former Gold Glove Award-winning catcher. "We'll know more later, but it didn't look good. We'll have a better idea when we get the test results back."
Oblique strains can keep players idle for weeks. St. Louis will soldier on with Tony Cruz and A.J. Pierzynski if Molina can't play, but there's only one Yadi. He is the guy who makes an entire pitching staff feel comfortable.
3. Baserunning: the game's most overlooked skill
It didn't seem like a big deal when Matt Duffy came in to run at first base for Andrew Susac in the ninth inning with one out, the Giants' backup catcher having singled as a pinch-hitter against closer Trevor Rosenthal. As Juan Perez also singled, Duffy's presence at second base became a very big deal indeed.
When Gregor Blanco lined out to the backhand of shortstop Jhonny Peralta, who elevated to stab it, Duffy did not drift too far off second. Peralta chose not to force a throw. With the count full on Joe Panik, Rosenthal needing one strike to finish it, the big right-hander bounced a 99-mph fastball in front of the plate. Cruz tried to backhand it, but it got away, rolling off to his left. Here came Duffy, all the way from second to tie it at 4.
If Duffy had not been so alert on Blanco's liner, seemingly headed for left-center, a double play would have ended it. The Giants' attention to details and fundamental soundness never seems to leave them.
4. Cardinals' big winter deal paying dividends
Wong, whose potential convinced the Cards they could move David Freese to the Angels and transfer Carpenter to third base from second, has launched two homers in 17 postseason at-bats. Wong had 12 homers in 402 regular-season at-bats.
In exchange for Freese, their 2011 postseason star, and Fernando Salas, the Cardinals acquired outfielders Peter Bourjos and Randal Grichuk from the Angels. A center fielder with speed, superior defense and a proven bat, Bourjos was seen as the key to the deal. But Grichuk, a Texan taken one pick ahead of Mike Trout in the 2009 First-Year Player Draft by the Angels, has been a revelation.
Racing into the right-center gap with one on and one out in the first, Grichuk intercepted Buster Posey's drive at the wall with a superb play. In the fourth, Grichuk drove an RBI single to left off Peavy for a 2-0 lead.
"That was a big hit Randal got us," Matheny said.
5. Panda can be tamed
Pablo Sandoval, the Giants' 2012 World Series Most Valuable Player Award winner, carried a hot hand to the plate in the ninth inning with a chance to break it open against Seth Maness. "Panda" had doubled in the sixth, scoring on Hunter Pence's single, and he'd gone 3-for-4 with a walk in Game 1.
Maness fell behind 2-0 with the bases loaded, got the count to 2-2 and retired Sandoval on a ground ball back to the mound. Moments later, Wong made Maness the winning pitcher with his blast off Sergio Romo.
Lyle Spencer is a national reporter for MLB.com. This story was not subject to the approval of Major League Baseball or its clubs.