Day after Game 1 gem, Bumgarner admits to balk
Giants lefty tells broadcast that after further review, he did move front foot before stepping off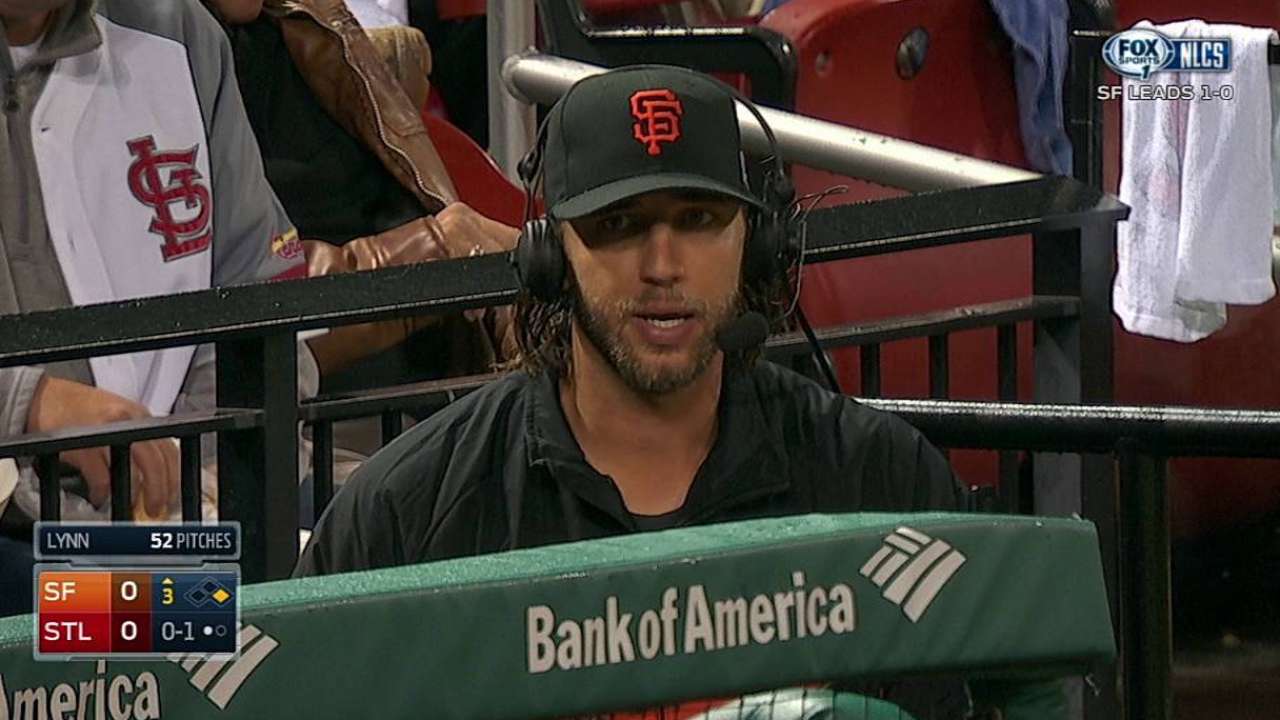 ST. LOUIS -- A day after getting away with what appeared to be a textbook balk in the seventh inning of the Giants' 3-0 win in Game 1 of the National League Championship Series, San Francisco left-hander Madison Bumgarner admitted on FOX Sports 1's broadcast that he did, indeed, move his front foot before stepping off the rubber. Immediately after Game 1, Bumgarner had said that he did not balk.
"At the time, I didn't really think I did," Bumgarner said on FOX Sports 1. "But I went back and [saw] it, and I sure enough did. That's tough to see, there's a lot going on."
The twitch in question occurred with men on second and third and two outs in Game 1, and Bumgarner's Giants clinging to a three-run lead. Facing pinch-hitter Tony Cruz, Bumgarner ever so slightly lifted his right foot and set it down again, before stepping off the back of the rubber with his left one. Had umpires called it a balk, the Cardinals would have scored their first run of the series. As it was, Bumgarner escaped the inning unscathed, striking out Cruz en route to extending his postseason-record road scoreless streak to 26 2/3 consecutive innings.
Anthony DiComo is a reporter for MLB.com. Follow him on Twitter @AnthonyDicomo. This story was not subject to the approval of Major League Baseball or its clubs.