Oct. 12 Mike Matheny postgame interview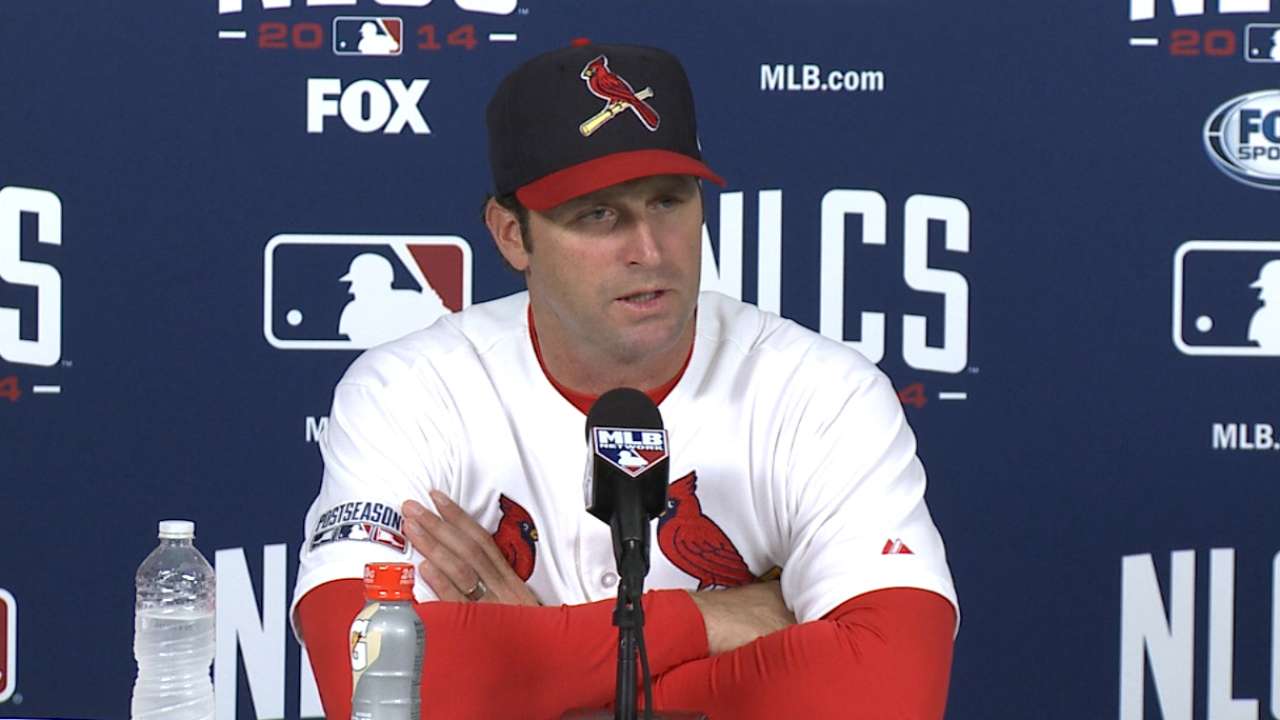 MODERATOR: OK. Questions for Mike Matheny.
Q. Mike, can you talk about a little bit about Kolten Wong's second big home run of the postseason and how throughout the series and you had the clutch moments in the bottom third of the game.
MIKE MATHENY: The home runs haven't come easy for us all season long. And we just continue to preach to the guys to stay with the right approach. And he put a good swing on the pitch and right things will happen. Kolten has great bat speed and so does Matt Adams, who just has the lofting power and ability to get you the time.
They stuck with the process and tried to put good at bats together and perfect timing. It's perfect timing for us to bust out some power. Once again, I think falling into the trap of trying to force that could end up being an issue you for that, but right now taking short strokes and the ball is pumping.
Q. What is the status of Yadi's injury?
MIKE MATHENY: It is an oblique on the left side. We don't know the we don't know much more about it right now. He's out getting some looks right now from the doctors. And we'll know later. But didn't look real good.
Q. Mike, that can become a dicey injury. How do you play it in terms of roster consideration? How soon you might be willing to play short if there is any question the rest of the series?
MIKE MATHENY: I think that's a fair statement. We'll have to see what the doctors are telling us and just kind of see the seriousness of this. And we will have a little better idea once he gets back and everybody gets a look at the test results.
But right now that's kind of what we're having in our mind. We'll wait and see. If we have to go short with an opportunity to have him back, we'd do that. But we will cross that bridge when we get to it.
Q. One other thing. There was some conversation before the game about Taveras. You played Grichuk tonight, he gets a big hit, a big catch. And Taveras comes off the bench and gets a big hit. Can you speak to the fact he has done well in that role for a younger player? It is not always an easy role for a 20 something player.
MIKE MATHENY: That's a very fair statement. We put him in some tough spots and he's gone quite a few games without getting an opportunity and see live pitching and puts together an at bat like today, laying off some tough pitches and getting a spice swing.
Oscar has always been a hitter. He always has been, I think he always will be. And I am glad you brought up Randal, a big hit for us, plus got the bases loaded and a nice job of tracking down the ball in right center. He had a good day. We have a couple of talented players we will try to find out how to use for the best of the club.
Q. A game that tests the resilience of the ball club. Can you characterize the mood in the dugout after Yadi's injury?
MIKE MATHENY: A little quieter than I was hopeful for. Whenever something likes this happens, once again we talked about this earlier in the season when we had some trades made. These guys, they care about each other and that's part of why we see the resiliency that we see. They fight, they play for each other. And it's you put some talented guys out there with a that kind of mindset, and then you get a hit like that and the guys all stop and pause for a minute and realize one of their guys is in a bad spot.
Fortunately they didn't stay there long. They got right back into it, said next man up and we'll see what happens. Let the doctors do their things and let's not overthink it and win this ballgame. And.
Tony Cruz jumped in and did a nice job and the young hitters came up and figured out a way to get it done.
Q. Mike, before the last swing that Molina took, he walked around looking like he was in some discomfort. When did the injury happen and it did it have with the decision to bunt before that?
MIKE MATHENY: He felt a little something on his first at bat and we kind of watched and kind of did some tests. He still felt good enough to go and knew that it would be something that we had to be careful with.
We take everything into consideration and get an opportunity to lay a bunt down or have a swing, so that was into the equation. And we were hopeful that the next at bat things would loosen up a little bit, but obviously that wasn't the case.
Q. Looking forward to Game 3, John Lackey, in your experience a couple of Championships going for you guys on the road, San Francisco, how do you look forward to Game 3?
MIKE MATHENY: I am still trying to get Game 2 through my head and figure out what all just happened. We like John, every time he was on the mound, he is one of those guys that is going to come into a big situation, into a hostile environment and we love what San Francisco brings. The excitement they bring and the city is fired up for the match up.
And John is a guy that has been there and has done well and is going to be a great opportunity for him to stand up and to continue help lead the club from the pitching staff perspective.
Q. Mike, to belabor the point with the oblique thing, I think you had to deal with that at one point during your career. Knowing what you know about it, where's your head right now? Are you I know you're hoping for the best, but realistically thinking, an injury like that, how likely do you think it is that you get your guy back?
MIKE MATHENY: I'm going to try and not be the odds maker here. I do have to say we have one of the toughest human beings I have ever seen that we're talking about right now. And I am not going to jump to conclusions. It's just not fair.
I do know that if there's any chance, if there is anybody that could play with any injury it would be Yadi. We'll wait and see and right now we'll just go ahead and keep celebrating a very tough, hard fought win. I am real proud at how these guys kept coming.
THE MODERATOR: All right. We'll let you go.