Intensity to accompany Lackey in Game 3
As veteran of postseason success, Cards starter championship-minded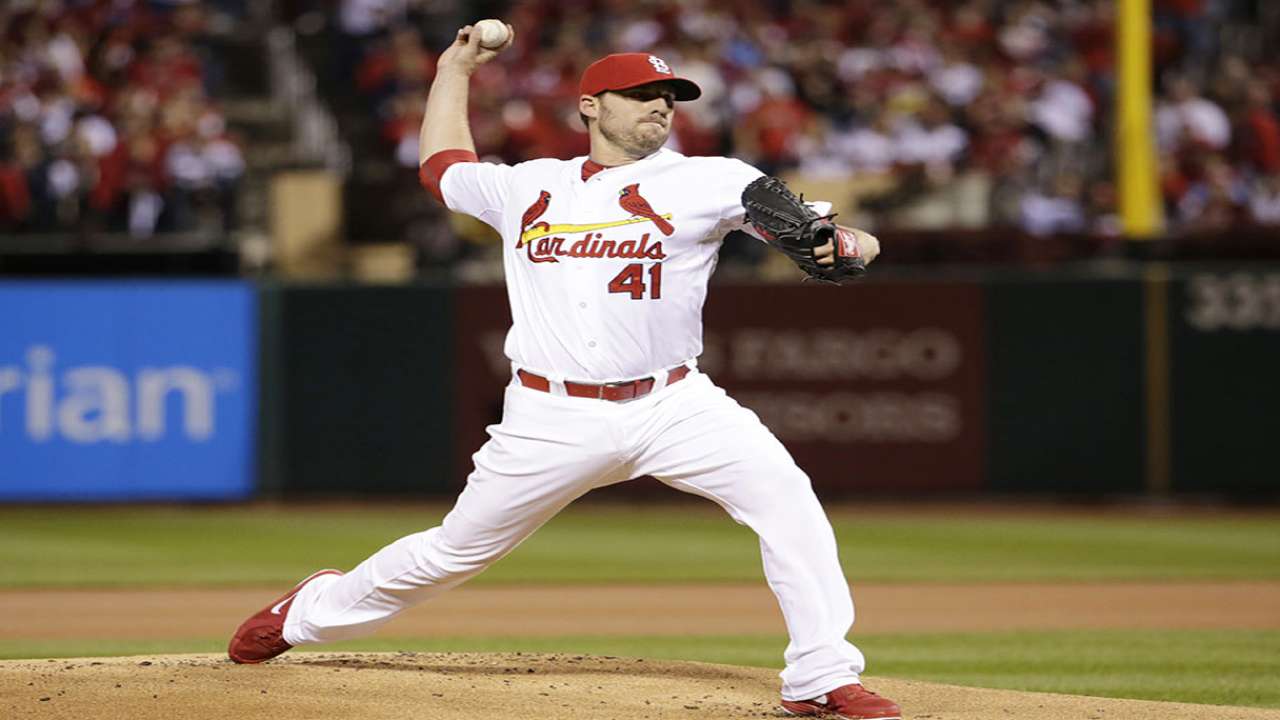 SAN FRANCISCO -- The reputation for postseason doggedness that led John Lackey to the Cardinals was forged against the same team he will face in Game 3 of the National League Championship Series. It was as an Angels rookie in 2002, four days after his 24th birthday, that Lackey pitched the first five innings of a World Series Game 7 triumph over the Giants, earning him a championship ring after all of 18 regular season Major League starts.
A dozen years later, having pitched another World Series clincher for the Red Sox last year, Lackey is seeking more hardware. He'll be on the mound for St. Louis when the all-square NLCS moves to San Francisco on Tuesday (3 p.m. CT on FOX Sports 1).
"Oh, I'm not even close to the same as I was then," Lackey said, referring to his '02 experience against the Giants. "I was pretty much a two-pitch pitcher back then."
He added with a smile: "But threw a little harder."
The biggest difference at 35 is that Lackey has evolved into baseball's most October-tested active pitcher. Including a seven-inning, one-run performance in Game 3 of the NL Division Series against the Dodgers, he owns a 2.92 ERA in 111 postseason innings -- more than any active Major Leaguer, and many in critical games. His opponent, Tim Hudson, is 10th on that innings list, but will be making his first-ever start in the LCS round.
The Cardinals know Lackey's postseason story well. He was on the mound for Boston in the sixth and final game of last year's World Series, allowing St. Louis only one run over 6 2/3 innings of a championship-clinching victory.
"I think the most important thing to think about this time of year is think about the glove, think about location, because you're going to have a little extra behind it," Lackey said "Don't force that, and just use it to your ability and try and throw through that thing."
Lackey's knack for October success was a driving force behind the surprising non-waiver Trade Deadline deal that brought him to St. Louis. In a move that caused a clubhouse stir, the Cardinals sent popular cleanup hitter Allen Craig and still-developing right-hander Joe Kelly to the Red Sox for Lackey and a Minor Leaguer.
Cardinals general manager John Mozeliak cited Lackey's "edge" in justifying the trade, and it paid an early dividend when Lackey beat the Brewers with seven solid innings in his NL debut before essentially pitching to his career norm in 10 regular-season starts for St. Louis, with a 4.30 ERA. True to form, he was better when the games mattered most. Lackey bounced back from a dead-arm phase to finish September with a pair of quality starts against the Reds and Cubs, a trend that continued into October against the Dodgers.
"We had nothing locked up by any means at the point [the Cardinals made the trade], but … we needed some more veteran leadership and we needed a guy when [injured right-hander Michael] Wacha was down to step in and hopefully provide some quality starts for us -- and [Lackey] did exactly as expected.
"He came in and actually was going through kind of a dead-arm phase when we got him, but was still able to keep himself in the game. We'd look up in the seventh inning and we are right there in it. He did a great job of kind of taking that leadership role, too, to assist an Adam Wainwright and just show how a veteran guy goes about his business. He's done a great job, and we got him a little rest here and there like we did before his start in the NLDS, and hopefully we just see the same stuff."
But Lackey will have a different catcher. Yadier Molina tested his strained left rib-cage muscle during throwing drills Monday at AT&T Park but did not swing a bat, and if he's available at all in Game 3, it would be off the bench.
Matheny was not ready to say whether Tony Cruz or A.J. Pierzynski would draw starting catcher duties. Pierzynski is a left-handed batter, and a former teammate of Lackey in Boston.
"I do a lot of my own work as far as video and that sort of thing, but when you lose a guy of [Molina's] caliber, there's always going to be a hole for sure," Lackey said. "He's probably the best in the game back there and a pleasure to throw to. We've still got to get out there and compete and give it a run."
Said Matheny: "We are not sticking our head in the sand and saying it's no big deal. He's a catcher and he's a big part of our club. But, with that being said, we have an opportunity with some very good guys to step in and hopefully figure out how to just keep the ball rolling.
Adam McCalvy is a reporter for MLB.com. Read his blog, Brew Beat, and follow him on Twitter at @AdamMcCalvy. This story was not subject to the approval of Major League Baseball or its clubs.