Orioles become imposition to Royals running game
KC has just one stolen base as Showalter employs first baseman off the bag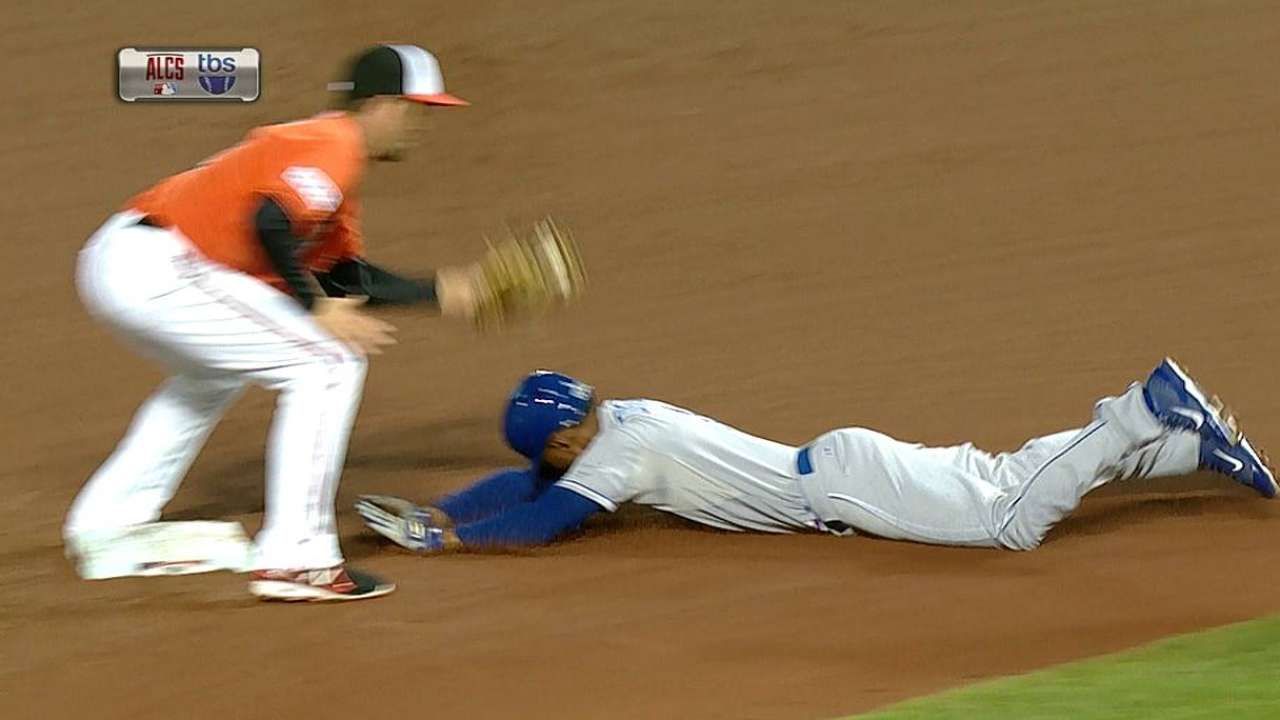 KANSAS CITY -- That the Royals have flipped the script against a homer-centric Orioles club in this American League Championship Series by unleashing a handful of their own home runs has buried the small-ball narrative that so distinctly defined their journey here.
Stolen bases fueled them to a Wild Card victory -- they tallied seven against the helpless A's, including four in one inning -- and sparked their continued success in the AL Division Series, after Kansas City led the Majors with 153 of them in the regular season. The Royals were 5-for-5 in their stolen-base attempts in the three-game sweep against the Angels.
Count 12 stolen bases in their first four postseason wins, but they have just one in three tries in two ALCS victories. Now, it hasn't so much mattered amid their long ball awakening, out-homering Baltimore, 4-1. But Buck Showalter's Orioles deserve credit for containing what others couldn't in the early goings of October.
"What's the thing -- that insanity is doing the same thing over and over again," said Showalter, "and expecting a different result."
So he's imposed a unique method to controlling the Royals' running game that's likely gone unnoticed by the casual observer.
Orioles first baseman Steve Pearce has been positioned well off the bag while holding Kansas City's fastest men on, notably Jarrod Dyson, Lorenzo Cain and Terrance Gore. He only retreats to the base when the pitcher throws over, a strategy that is more about gamesmanship than anything.
Showalter danced around the topic Sunday, wanting to withhold his tactics, but Pearce admitted, "We're just trying to find a way to contain their speed, give them a different look, something for them to think about and I think it's working.
"If you can just have them delay for a split second, that's all you need for a stolen base. That's why we're doing this, making them pay more attention to me than the pitcher. I see them having a slight twitch back toward first base, and with the game moving so fast, that half-split second is more than enough time."
That's all the time that was needed to nail Dyson in the seventh inning Saturday.
"Exactly," said Pearce.
"We actually just started doing it before the series started, something we talked about and tried. I think we're doing a great job of containing them. We know their running game is a big part of what they do, and we knew that coming into this."
"You look at their first movements there when they first kind of got in the game and you could tell there was a little hesitancy there," said Orioles catcher Caleb Joseph. "Anything helps right now. Our pitching has done such a good job all year giving us a chance to throw guys out. They're going to have to make an adjustment and we'll go back and make another adjustment. That's what this game is all about, especially at this time of year."
The primary purpose is to freeze the runner whenever the first baseman makes any kind of movement toward the bag. Gore said he's never seen such a maneuver but isn't letting it affect his game plan. Royals first baseman Eric Hosmer has been stationed off the bag before in such a way, he noted, "but not as far off the bag as they go."
"What they're probably trying to do is get a tag on the back," Hosmer said. "It really limits the distance right there, instead of going for the tag. They've been holding the running game down pretty good. It's not going to stop us. That's our game, that's our MO, we're just going to keep going."
Even so, the thinking is that they have to read more than the pitcher's move if they do. Should Pearce so much as flinch or lean toward first base when the pitcher motions to set, is he readying for a pickoff throw or simply deking?
Either way, he's hopefully created unknown in the runner's mind, much like a hitter often has to alter his approach when facing a shift.
Don't count Dyson among the concerned.
"Not at all," he said. "He's got to get back and worry about catching the ball, not me. All I've got to do is get back if they're throwing over, so it doesn't too much affect me. They're just trying to freeze us a little bit, that's about it."
"We knew exactly what they were going to do or had a pretty good idea what they were going to do," said Royals manager Ned Yost. "But it all revolves around the pitcher being quick to home plate. And if the pitcher is quick to home plate, 1.1 [seconds], 1.2, you're going to have a hard time stealing the base.
"Now, Dyson and Gore, that's going to be a contest at 1.1, 1.2. [But at] 1.3 or 1.4, we're going to win that every time. They control the running game. It doesn't mean we're not going to take our chances or opportunities to steal bases."
And it doesn't mean the Orioles are not going to take their chances to try to stop them.
"It's pretty obvious that the percentages are high in their favor," said Showalter. "Seems like with all their guys, but five or six of them. It doesn't preclude them from stealing a base. There are just some things you do a little differently when teams have a real strength."
Jane Lee is a reporter for MLB.com. Read her blog, Major Lee-ague, and follow her on Twitter @JaneMLB. This story was not subject to the approval of Major League Baseball or its clubs.