Hudson set for first League Championship Series start
Giants rallying around veteran, who will face Cardinals in Game 3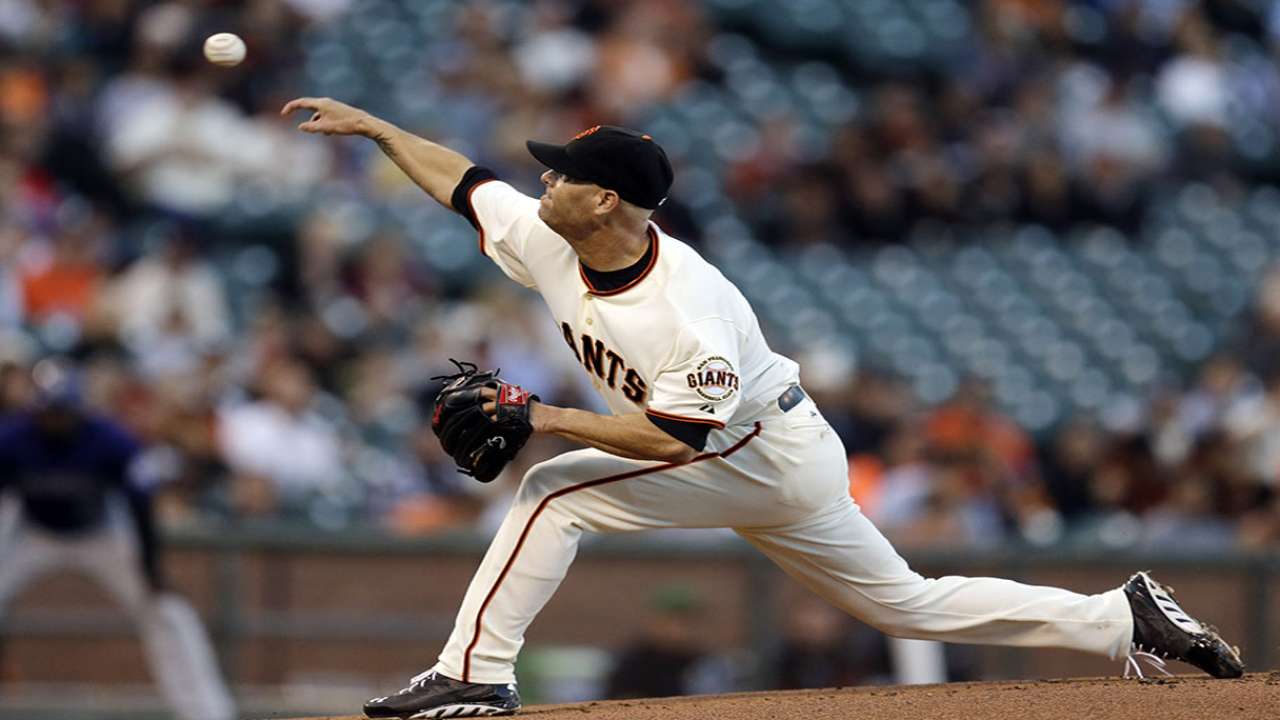 SAN FRANCISCO -- Back when he and the A's were annually waltzing into the American League Division Series, Tim Hudson figured postseason baseball would "be an every-year-type thing" for him. Hudson was in his mid-20s at the time, brash and successful with a 95-mph sinker. Success seemed an inevitability.
But the years came and went, the sinker slowed, Hudson moved on to Atlanta and San Francisco, and still a pennant never came. Now, at age 39, he will make his National League Championship Series debut Tuesday in Game 3 at AT&T Park (1 p.m. PT, FOX Sports 1).
"You realize it's not that easy," Hudson said. "It's exciting for me to finally be here. I know a lot of the guys in the locker room, my teammates, have tasted that champagne and had that success, and that's something I'm still looking for. I'm real eager for this series to get going, and for me to pitch and hopefully get on to that next step, which is that goal of winning a World Series."
On more than one occasion this month, teammates have approached Hudson to tell him how badly they want him to pitch in a World Series. Hudson, in turn, has cautioned his younger teammates not to take this opportunity for granted.
Though Hudson has made the playoffs six times previously, he has never before advanced beyond the LDS. The right-hander's exemplary career has included four All-Star seasons, one 20-win campaign and a career 3.45 ERA, as well as a mixed bag of October outings. Four years in a row, he lost in the ALDS with Oakland, before hooking on with the Braves and dropping first-round series in 2005 and '10. He was injured when the Braves also lost their NLDS matchup with the Dodgers last October.
"This is the furthest he's gone, and he's excited about it," Giants manager Bruce Bochy said of Hudson, who gave up one run over 7 1/3 innings in NLDS Game 2 against the Nationals. "[But] he's not going to be affected by the stage we're on."
That's because Hudson has faced plenty of pressure situations over 16 seasons, with more than 3,000 innings on his ledger. This year alone, his 3.57 ERA over 189 1/3 regular-season innings played a significant role in the Giants reaching October. His success against the Cardinals, whom he blanked for seven innings during their only meeting this summer, portends good things to come.
Postseason workhorses
Most playoff innings pitched among active Major Leaguers
"To be honest, I think when we signed Huddy, the thing was to get us here," Bochy said. "You've got to have that rotation that gives you a chance to win on a consistent basis, and we felt like we needed another starter to help us out. With our rotation, I just think with his experience, his knowledge would help the other pitchers, that he would help get us here."
Hudson has, and for the first time in a long time, he will not hold the experience edge when he climbs atop the mound for NLCS Game 3. His counterpart, Cardinals right-hander John Lackey, is the league's active leader with 111 postseason innings.
"Nothing but respect for Huddy for sure," Lackey said. "He's had an outstanding career. I remember facing him as a young pitcher in Oakland, going against him and always respecting the way he competed, and the way he just went about his business. He was always getting after it, threw a lot of strikes and never backed down."
If the Giants want to advance to their third World Series since 2010, Hudson's ability to feature those traits in Game 3 will be critical.
"I'm thrilled for the opportunity to come out here and give us a good chance to win," Hudson said. "It's what you work all year for, what you work so hard during the offseason for to get ready to pitch in the playoffs. I feel good where I am physically, and coming off a confidence-building start against the Nationals was something that I was really looking for. So I feel good where I am I feel like we have a really good game plan coming into this series, and it's all about going out and executing the pitches."
Anthony DiComo is a reporter for MLB.com. Follow him on Twitter @AnthonyDicomo. This story was not subject to the approval of Major League Baseball or its clubs.