Dependable Royals make sure to stay in contact
Speed utilized by putting ball in play; had fewest strikeouts in Majors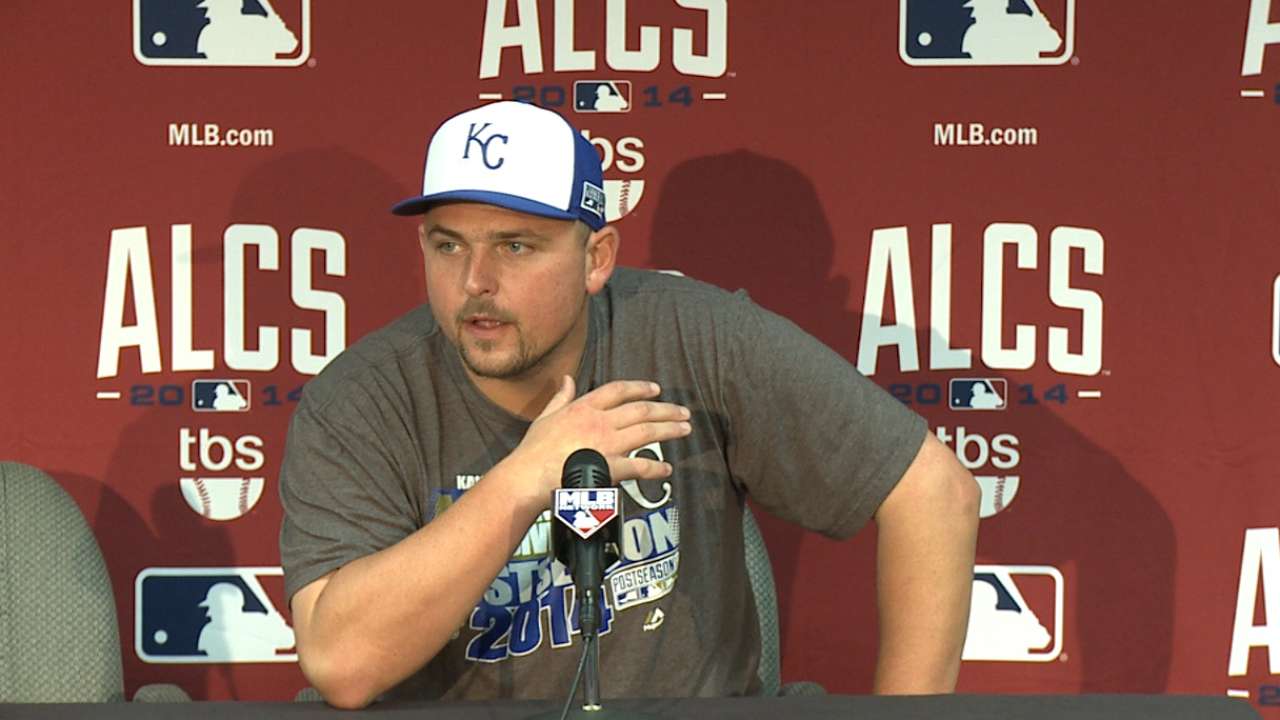 KANSAS CITY -- By now, you likely know about the Royals' lack of home runs and walks in the regular season. And their postseason resurgence in both departments, led by Mike Moustakas and Eric Hosmer, must be similarly evident.
But from Opening Day to Kansas City's thrilling, 6-4, victory in Game 2 of the American League Championship Series, one thing has stayed consistent: the Royals' skill at putting the ball in play.
Saturday's victory in Baltimore gave credence to the notion that contact and speed make for a lethal combination.
The Royals used a two-run ninth inning to break a 4-4 tie.
The key points of that frame unfolded like this:
• Omar Infante, down two strikes in the count, reaches on a swinging bunt to third.
• Alcides Escobar grounds a double just inside the first-base bag and down the right-field line, beating a slight Baltimore shift and scoring Terrance Gore.
• Lorenzo Cain sneaks an 0-2 offering past the Orioles' drawn-in defense to plate Escobar.
"I already had a plan in my mind," Royals manager Ned Yost said. "And I told [Escobar], I said, 'Stan, look, this is what's going to happen. Omar is going to get on base. I'm going to pinch-run Gore for Omar, they're going to bring in Britton. Moose is going to bunt him over and you're going to drive him in.' Esky got a smile on his face and he said, 'I like that plan.'"
It was the perfect blueprint for how Kansas City's offense survived the regular season and earned the Royals a postseason berth.
"It's amazing what we can do with our legs when we put the ball in play," outfielder Jarrod Dyson said. "We don't just have to hit gaps, we can put a chopper in the infield, beat it out, steal a bag and score on a base hit -- that's the great thing about this team, that we can play all-around baseball."
By almost all measures, the Royals put the ball in play moere frequently than any other Major League team this season.
They struck out 985 times, creating a 119-strikeout gap between themselves and the Athletics, who finished 29th in whiffs. They struck out in just 16.3 percent of their plate appearances, the lowest rate in baseball since 2011. And they made contact on 82.7 of swings, finishing a notch below the Yankees (83.3) for the Majors' lead.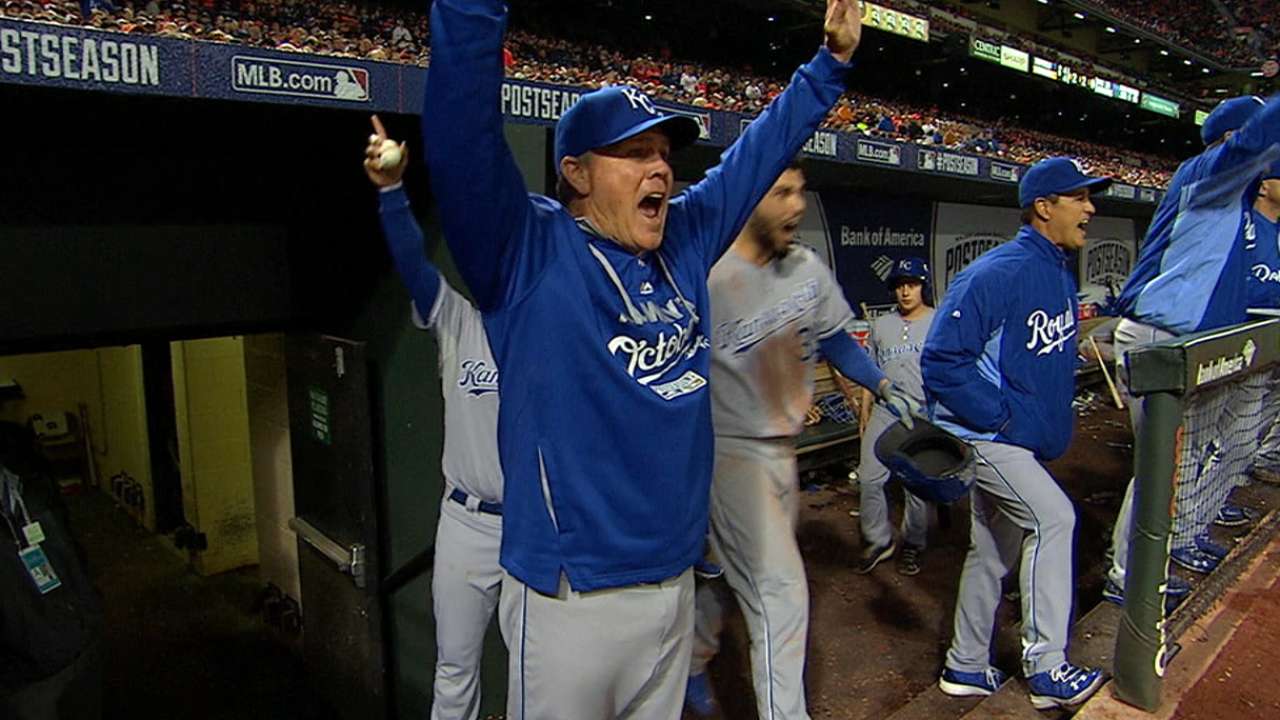 "We put the ball in play, we don't strike out a whole lot," Yost said. "That's our whole approach, is to try to get guys on and get them over and try to find ways to put the ball in play and make it happen."
"You put a lot of pressure on the defense when you do that," designated hitter Billy Butler said.
An increase in home runs and walks this postseason has, somewhat surprisingly, been coupled with a slight uptick in strikeouts.
Kansas City began Sunday leading postseason teams in strikeouts with 51. But that's deceiving considering that the Royals also lead postseason teams in plate appearances (261).
Their strikeout percentage sits at 19.5, not an alarming increase from the regular season (16.3) because of the small six-game sample size and the quality starting and relief pitching they have faced.
"You just got to credit everybody in [the clubhouse] for ramping up their focus and their approach at the plate, and they've taken it to a different level," Butler said.
Yost also sees a change in a team that swung at pitches outside of the strike zone at the sixth-highest rate in the regular season.
"They're in such a zone right now," Yost said. "There's been like one instance since these games have started where I would say, 'What are we doing swinging at that pitch?' Where before it was like six times a night before the playoffs started."
Jackson Alexander is an associate reporter for MLB.com. This story was not subject to the approval of Major League Baseball or its clubs.