Oct. 12 Travis Ishikawa Game 2 pregame interview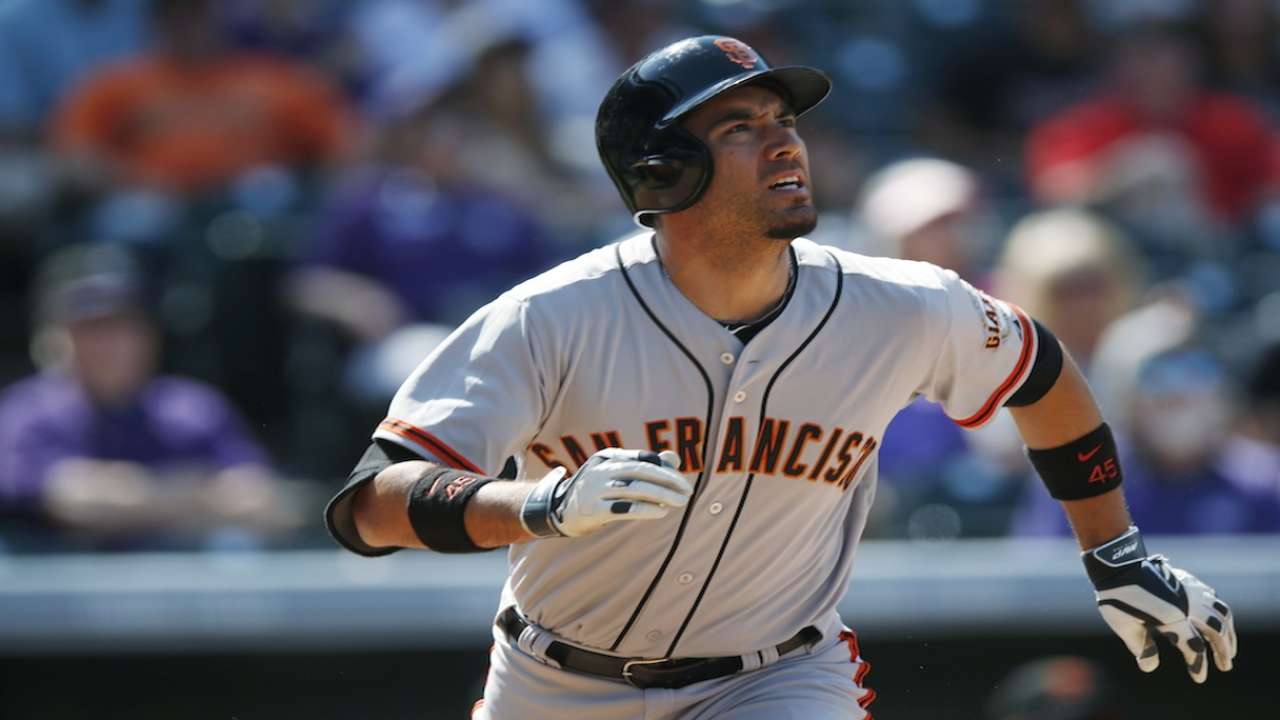 Q. Yesterday you said that one of the reasons it was possible to make this transition to left field was that you knew how much faith [manager Bruce] Bochy had in you and that he was confident in you. It wasn't even so much your confidence. Can you elaborate on that? Is that one of the most important traits for a manager to have?
TRAVIS ISHIKAWA: Yeah. I mean, I also have put the work in leading up to these last few weeks. Like I said, the last four years, I have been taking fly balls out there during batting practices. And in the Minor Leagues, I got a good 60 or 70 games.
Obviously, the platform at the big league level is a little bit different. Definitely, I was a little nervous when I had my first start. What I mean to say is, you know, defensively at first base, I feel really good. I feel very confident. I don't have as much confidence in the outfield as I do at first, for obvious reasons.
But like I was saying, for Boch to trust me enough to put me out there in the playoffs, it gives me an added level of confidence of going out there and playing.
Q. Travis, Madison [Bumgarner] had quite an impression of the Mike Trout cleats yesterday. Did they just show up in your locker? Do you have a big endorsement deal yourself? A personal friend? How do you compare your outfield game to his?
TRAVIS ISHIKAWA: Gosh, I showed up on Thursday for the workout, and there was just a box in my locker -- and the Nike rep was there. I have a sponsorship with Nike, and they said they were sending me the new Mike Trout model cleats. And I opened them up and Bum was right next to me in the locker, and I showed him the cleats and I said, "Am I cool enough to pull these off?"
And he said without hesitation, "No."
And I wanted to get some second and third opinions, and those guys were a little less straightforward. They had a little hesitation before they answered, "Yes," which I knew they were lying.
I wore them for the workout, and they felt comfortable. They're light weight and I just felt comfortable with them. I am nowhere near Mike Trout's caliber, defensively, offensively or anything like that. I definitely felt my saying was, if I look fast and feel fast, maybe I'll be fast, so...
Q. Travis, what's the difference between your first tour with the Giants and this one?
TRAVIS ISHIKAWA: Maturity. My first few years [the] first time through with the Giants, I was a younger kid, up and coming. I still felt like I had a lot to prove. I felt like, you know, I wanted to ... I was almost too serious, I think, all the time. Because if I was, you know, to mess up, I didn't want people to think that I was goofing off -- enjoying myself, not putting the work in.
If I was going to mess up and put an error on the field, I was going to go out 100 percent all out, serious demeanor. Having left here four years ago and been around the country, been with a lot of different teams, been in the Minors, a little bit with the big leagues. And being able to come back here, I've sensed it was, you know, when I came back up, it was more it just felt comfortable because I had some experience here.
And being an older guy and just being truly appreciative of being able to be back in the big leagues -- especially with the team that drafted me a number of years ago and brought me up and gave me my first opportunity.
So I have been able to enjoy myself a lot more, not taking anything for granted. You know, just being able to not relax, but being able to enjoy my situation a lot more this time around.
Q. Travis, I mean, you probably remember back in 2010, there were a lot of odd little things that happened during the postseason run. And each of the Giants' postseason runs, there has been -- and that has led some people to say that the Giants have been more lucky than perhaps talented. I am just wondering what your take is on that. Even last night, certain things kind of went your way -- in terms of the Cardinals making an error or something. What's your take on whether you guys are lucky or good?
TRAVIS ISHIKAWA: I mean, you know, you can say what you want. The Giants have won two World Series here in the last four years. You know, hopefully, we're three wins away from making another appearance.
You can call us lucky all you want, but in the end, these guys have the rings to show. I don't think you can be lucky all year and luck your way into the playoffs. These guys have played well all year. And, you know, I just think that in the postseason, our pitching staff always seems to do really well. And if you look at all of the World Series teams in the past, they always rely on pitching.
So, you know, I don't think luck has anything to do with it. I think it is just a testament to all of these guys being well prepared.
Q. You talked about Bruce Bochy giving you a shot of confidence. As you said, you've been around and played for a lot of managers for the last [few] years. What is it about Bochy, is he the guy that gives that kind of confidence?
TRAVIS ISHIKAWA: I think so. Obviously, I have more experience with Boch than any other manager I've ever played for. In '09 and '10, I was sitting on the bench a lot, coming off the bench, pinch-hitting -- and I had the opportunity to actually kind of watch him throughout the game. And as the season went on, I was starting to learn what situations I could possibly be used here -- what situations I could see him going other ways.
I came to appreciate and learn, you know, how very baseball savvy he is; how much intelligence he has managing a baseball game. I think just it always just seems that my situation in 2010, pinch-hitting, I had a lot of success pinch-hitting here, and I think a lot of it has to do not only with me preparing for the pinch-hit -- getting in the right mindset -- but I think it has a lot to do with him getting me in the right situation, the right matchup.
So, you know, just even having left and coming back -- and coming back and doing the same thing -- he's finding the right spots for me to pinch-hit here, get a start here. And, you know, so he's just proven to me personally that my trust and confidence in him just continues to grow each day.
Q. Travis, they say pinch-hitting is the toughest thing to do in baseball, at least one of the very toughest. How do you simplify it?
TRAVIS ISHIKAWA: I think it's more of a mindset than anything. You know, I've always heard that pinch-hitting is tough, and when I first started doing it, I was not very good. I think I hit a homer [for] my first pinch-hit in 2010, and I don't think I got ... I didn't get another hit for another month.
I think it was more of a mindset thing. Instead of ... I don't think you have the luxury of seeing pitches, taking pitches. You have to be aggressive and look for the first ball that you think you can put the barrel on and try to hit it as hard as you can.
I think, from the mental standpoint, being OK with making outs, going back to the dugout and having hit a ball hard, but out, you know, it is kind of like a closer. You blow a save, you have to have the short-term memory but be satisfied with the path that I took -- the results just didn't fall my way.
But just being aggressive, I think. Obviously, you don't want to expand too much, but you don't have the luxury of looking for the one certain pitch.
Q. Travis, you seem to have a nice cushion with your center fielder there. Have you figured out his range yet? And how much security does that give you to know that that guy's there?
TRAVIS ISHIKAWA: Oh, it's huge. You know, I've seen him here the last couple of weeks since I've been out there, he's running everything down -- which is pretty much gap to gap, which obviously makes it a lot easier for me. I don't have as much ground I have to worry about covering.
Gregor [Blanco] does a great job. It is not even balls in the gap, it is pre-pitch. He'll call me over and he'll move me. He knows these guys better than I do out there, and him and [coach] Roberto [Kelly] moving me from pitch to pitch. Two strikes, putting me in a different spot.
And, you know, I have been fortunate that the balls that have been hit my way are a result of Gregor and Roberto kind of putting me in the right spot.