Five things we learned from Giants' NLCS-opening win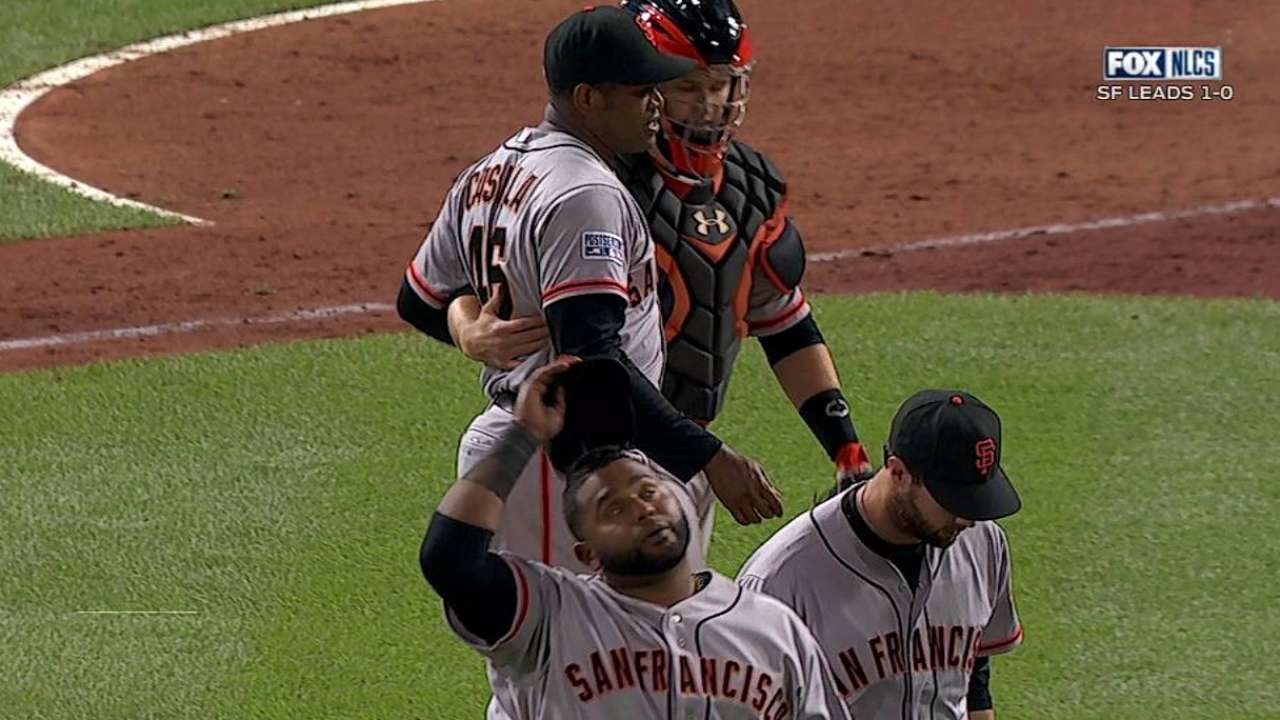 ST. LOUIS -- Revenge is for contact sports. Baseball is about finesse and execution, not raw emotion. The Cardinals, erased by the Giants in Games 5, 6 and 7 in the 2012 National League Championship Series, were flattened in Game 1 of the same event on Saturday night by the same forces and weapons.
The Giants pitched, hit and fielded better than the opposition. That's the closest thing to a guaranteed formula for success.
Here are five things we learned from the Giants' 3-0 victory behind
Madison Bumgarner
at
Adam Wainwright
's expense in an uncommonly quiet Busch Stadium.
1. Bumgarner loves the bright lights of October
None of the magic that propelled the Cardinals past Clayton Kershaw and the Dodgers in the NL Division Series materialized at the expense of Bumgarner, the Giants' 25-year-old southpaw. Bumgarner did everything that was expected of Kershaw, clamping the vice tightly on the Redbirds for 7 2/3 innings.
The seventh, Kershaw's undoing in Games 1 and 4 of the NLDS, was just another inning to take care of business for Bumgarner. He yielded a pair of singles before a groundout and a strikeout quelled the disturbance.
Bumgarner has yielded two earned runs across 23 2/3 innings in this postseason, starting with his shutout of the Pirates in the NL Wild Card Game. He has allowed 17 baserunners while striking out 23.
In 2010, having turned 21 two months earlier, Bumgarner gave a preview of coming attractions in the World Series. He shut out the Rangers across eight innings on three hits in Texas in Game 4, setting up the clincher the following night by Tim Lincecum.
In 10 appearances and nine postseason starts, Bumgarner is 5-3 with a 2.58 ERA. Any discussion of elite pitchers in the game today has to include the gentleman from North Carolina.
2. Wainwright isn't quite right
A 36-pitch second inning was the undoing of Wainwright, the Cards' ace. Pablo Sandoval started it with a six-pitch at-bat that ended with a drive to right field that Randal Grichuk was unable to hold and convert into a spectacular out after banging his glove against the wall.
Sandoval's double was followed by Hunter Pence's seven-pitch walk and Brandon Belt's five-pitch single. Travis Ishikawa stroked a first-pitch RBI single before Matt Carpenter's error at third on Gregor Blanco's grounder gave Bumgarner a two-run cushion, deflating the big crowd.
"Wainwright is one of the best pitchers in the National League," Sandoval said. "You have to get patient at home plate. That's what worked for us tonight. Everybody made good at-bats."
The condition of Wainwright's right elbow will remain a matter of concern for Cardinals Nation until he cuts loose with one of his standard efforts.
3. Panda knows what time it is
Nothing likely can surpass his three-homer eruption in Game 1 of the 2012 World Series against the Tigers in San Francisco, but Sandoval continues to do a nice Reggie Jackson impersonation in October. His leadoff double off Wainwright in the second set in motion the two-run inning that gave Bumgarner all the support he needed.
Sandoval had a pair of singles and a walk to go with the double, and he is batting .330 with a .569 slugging percentage in 28 postseason games. "The Panda" should be handled with extreme care this time of year.
4. Giants make themselves at home on the road
Home-field disadvantage is not something manager Bruce Bochy and his Wild Card Giants seem to worry much about -- and why would they? Their seven-game postseason road winning streak is the longest in franchise history.
Since 2010, when this ride began, the Giants have won 15 of the past 19 games in unfriendly environs. They have lost only twice in the past 13 postseason road tests. Wainwright authored the Giants' most recent road loss in Game 4 of the 2012 NLCS.
5. 'Rags' to riches tale continues
In New York in the 1980s, Dave Righetti was known as "Rags," serving the Yankees as a prime-time starter and a dominant closer. Taking and imparting the knowledge he absorbed as a young man, Righetti has become a pitching coach with few, if any, equals.
It is no accident the Giants continue to rise to the challenges of October with a dazzling arms display. The names keep changing -- Santiago Casilla is their third closer in three postseasons and ex-ace Lincecum is working out of the bullpen -- but the one constant is consistently superb work from innings one through nine.
Jake Peavy, who has turned back the clock since joining the Giants, gives Righetti credit for "tweaking" a few things in his delivery based on his observations of a young Peavy in his Padres days.
The best of pitchers never stop searching for answers, and Righetti clearly has them.
Lyle Spencer is a national reporter for MLB.com. This story was not subject to the approval of Major League Baseball or its clubs.