Oct. 11 Madison Bumgarner, Pablo Sandoval interview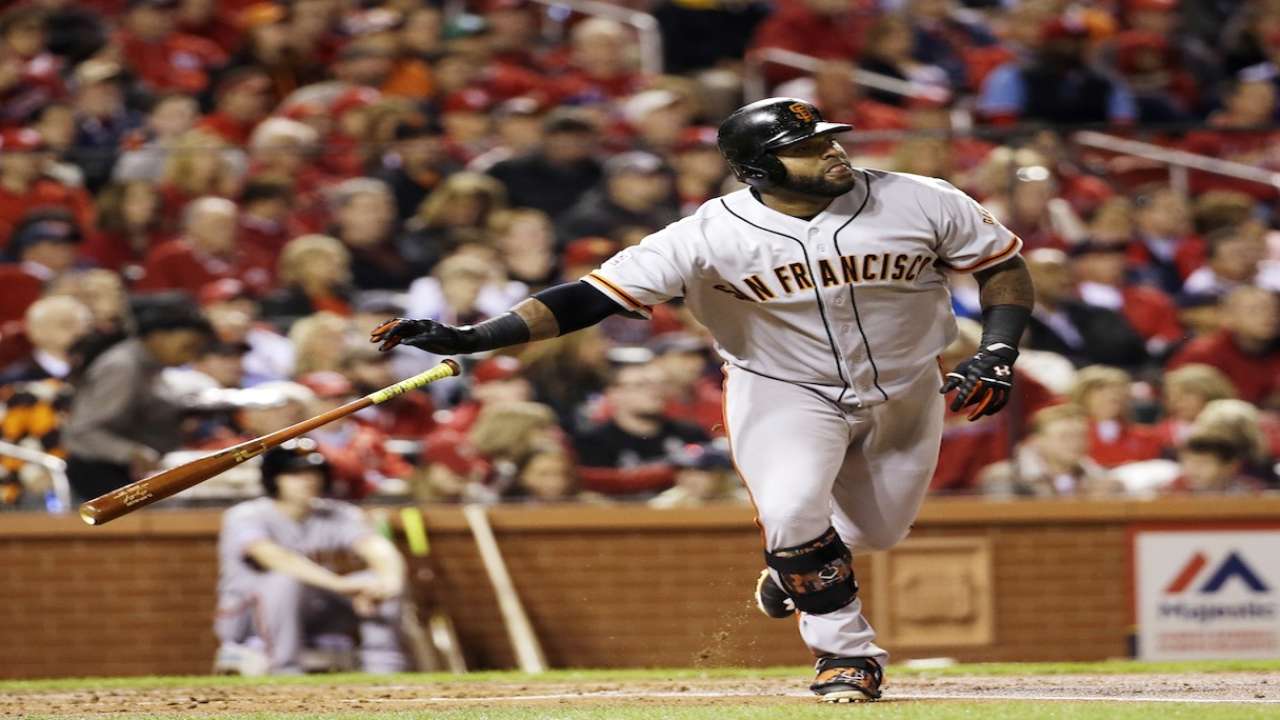 Q. Madison, can you talk to us a little bit about the game you had today, exceptional, 7 and 2/3rd shutout innings. Talk to us about what's going through your mind inning by inning?
MADISON BUMGARNER: You know, just making pitches. Especially this time of year, you're going to have to make pitches against anybody. Especially a team like the Cardinals, you can't make mistake against them. They will show you time and again what happens if you do. So you got to make pitches and try not to give 'em nothing to hit.
Q. Hey, Pablo, this seems to be your time of year. You had a great postseason in 2012. You had a great game tonight. What is it about that and how much does it mean to be here with the Giants at this time of year? And how long did you want to be here? Is it your choice? Would you stay with the Giants?
PABLO SANDOVAL: I don't know. We got more games to play. I think it's one of those things when you get to the postseason, you don't try to do to much. Especially against this guy. Wainwright make a good pitch, one of the best pitchers in the National League.
Like Bum, you have to make adjustment, get a good pitch to hit, take advantage of all the mistakes. So that's what I try to do today.
Q. Madison, it looked like you were going to throw to second on a come‑backer. Did you recall the last game ‑‑
MADISON BUMGARNER: No, no. If somebody's got time to think about all that as they're trying to make a play ‑‑ you know, obviously I didn't want to throw that ball away, but I'm comfortable throwing to bases. I always want to get any extra out we can get.
But, you know, with Wong running, he's fast, so it was going to be close anyway. I figured just get the safe out. Try to get through that inning.
Q. Madison, two questions. Were you aware that you set a Major League record for shutout scoreless innings? What do you think about that? Also, did you understand what Mike Matheny was arguing about after you made that play at first?
MADISON BUMGARNER: I found out about the record after the game. You know, that's pretty cool, obviously to have any kind of record, but there are stats for everything nowadays. So, you know, this just happened to work out that way for whatever reason, happen to have a little bit of extra good luck on the road.
I wasn't sure what they were talking about reviewing the play. I just knew I had a better shot at taggin' them than beatin' him to the base. I don't know what they were reviewing, but glad it worked out in our favor.
Q. Pablo, what do you think about Wainwright tonight? Did he look like his usual self or that he was struggling a little bit?
PABLO SANDOVAL: He try to win the other game, so I think we take advantage of all the mistakes, you know. Everything out there, be patient at home plate, we work for this. Especially in the inning that Travis Ishikawa hit. I think getting the momentum going for us, especially in that situation. Bum on the mound, you want to make a play and score runs for Bum.
Especially those guys take a good at‑bat everything in general. So Bel t hit sac, so everything is going our way. Try to get a good pitch out there, to get a patient at home plate and try to take advantage of a special situation, whatever it was.
Q. Madison, this is usually the time of year when ace pitchers can rise to the occasion and lead their teams to victory. Yet when you look around, Lester, Kershaw, some of the guys you saw in the first round, you are the only guy that's been able to win. Do you have any idea why that may be?
MADISON BUMGARNER: It's a crazy game, anything can happen, and there is no reason to try to ‑‑ you see the analysts picking the teams to win, and that's why we play the game.
There is no way to tell what's going to happen. Two teams going out there competing, and, you know, like I said it's a crazy game and anything can happen.
Q. Madison, Mike Matheny was mentioning he was looking for a momentum shift. Do you think you got away with a balk there?
MADISON BUMGARNER: You know, I don't think I did. I don't think I balked. I was about to deliver the pitch and I thought I may be getting ready to cross Buster up and obviously you don't want to do that. So I stepped off. But it was right before I was getting ready to deliver.
It was close, no doubt about it. I can see why they may have a problem with it, but in my mind, I don't think that I balked.
Q. Just to piggyback off that question, the Cardinals have done a lot of damage late in games this season, in the seventh inning. What was your mindset getting through that when they were threatening there?
MADISON BUMGARNER: You know what? We've seen ‑‑ at least I've watched all the games and I knew that was a big inning for us. I had to go out there and make some pitches and made some pitches. Still gave up some hits right there, so I had to bear down and keep trying to do it, keep making pitches.
Like I said earlier, you can't afford to make any mistakes against this team.
Q. Pablo, you put in a lot of work during the off‑season to get into better shape, conditioning work. Are you feeling it's payoff now? Are you feeling better after a long season?
PABLO SANDOVAL: Yeah, man, it's a great time, you know, especially when you see all your workout that you're doing in the off‑season pay off. Especially this is the year that I play more games straight. Especially right now, I don't feel tired. I will keep swinging the same bat that I started swinging early in the season, so I think this is all the work that you put together in the off‑season is going to get paid off in the end of the season.
Q. For both guys, what do you think about the contribution that Travis Ishikawa has made and made tonight with that catch and getting on base a couple times?
MADISON BUMGARNER: You know what? You know, he's not played left field much, but he's worked hard at getting ready for it. And you know what, tonight, I seen he had a new pair of cleats on, he had the Mike Trout cleats, so he decided he was going to play like Mike Trout out there I guess.
PABLO SANDOVAL: I think when Bum is on the mound, you want to make a play for him, to save games, win games, try to get that momentum going. So I think the way he played left field, it's exciting for him because he is first base. He don't play too much on left field. He do a great job and he made that play in that situation.
Q. Pablo, how much fun do you have playing this time of year and how important is it for you to be on a team that gets here every year?
PABLO SANDOVAL: Man, exciting to be in October, you know. Last year, I was home watching the game on TV. So now it's exciting to try to get effort, and you win or you go home.
That's what we try to do every single day this time. Don't get too excited in situations. You want to win games. You got the right situation to drive the game, just come down to yourself being in the situation that you want to be.
So I think this is one of those things I got on my mind right now, get a good pitch on the home plate, have fun no matter what the situation, what's the score, what's the game, the type of game you play. So just have fun out there.