Giants-Cardinals, Game 1: Did you know?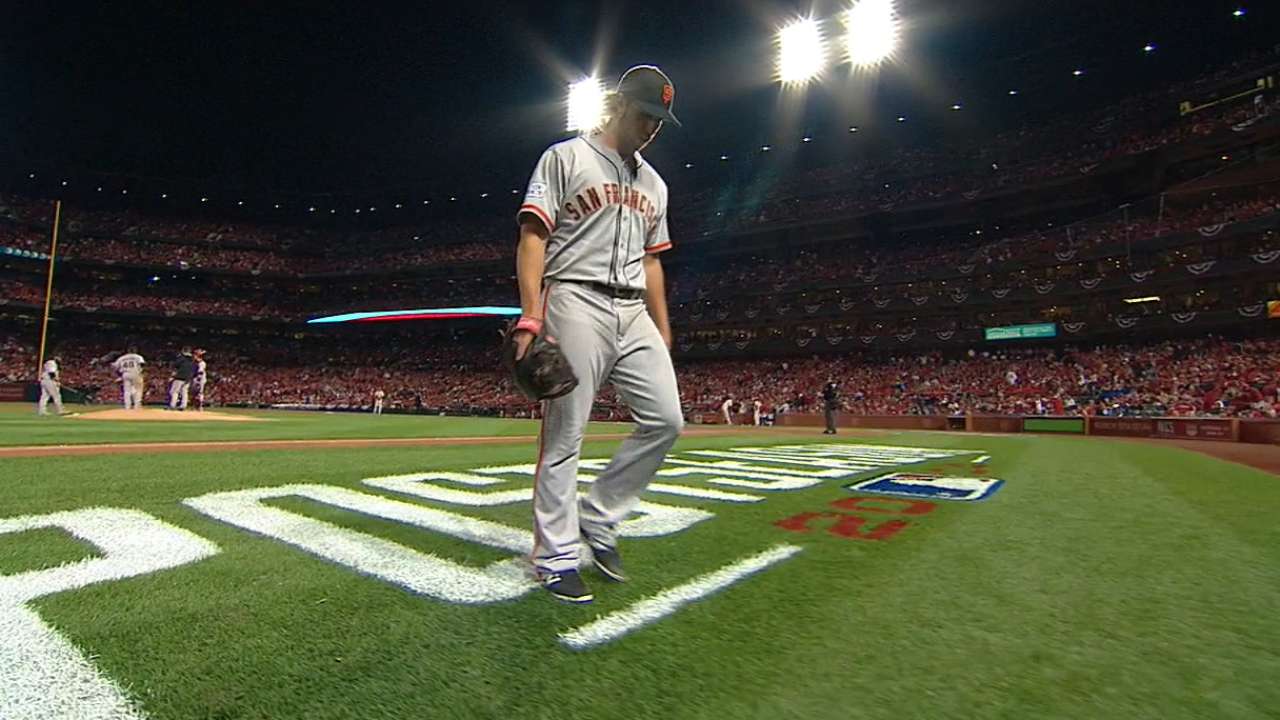 Madison Bumgarner dazzled in the postseason yet again and the Giants scraped across three early-inning runs off Adam Wainwright en route to defeating the Cardinals in Game 1 of the National League Championship Series, 3-0, on Saturday night at Busch Stadium.
Here's what you should know from Game 1:
• Bumgarner tossed 7 2/3 scoreless frames, giving him 26 2/3 consecutive scoreless innings on the road in the postseason. That's a Major League record, topping Art Nehf's previous record of 23 innings.
• Bumgarner also became the first pitcher in Major League history to turn in three straight scoreless postseason starts on the road. Along with his 7 2/3 shutout frames Saturday night, he tossed a shutout in the NL Wild Card Game at Pittsburgh on Oct. 1, and he hurled eight scoreless innings in Game 4 of the 2010 World Series in Arlington, his last postseason start on the road prior to this year.
• Bumgarner has gaudy numbers in three starts this postseason: 23 2/3 innings, 3 runs (two earned), 0.76 ERA, 14 hits, three walks and 23 strikeouts.
• For his playoff career, Bumgarner has also been unstoppable: 59 2/3 innings, 18 runs, (17 earned), 2.56 ERA, 49 hits, 12 walks and 55 strikeouts.
• Over the last 10 postseasons, Bumgarner is one of eight pitchers with at least five starts of seven-plus innings allowing two earned runs or fewer. The others? Cliff Lee (seven), Justin Verlander (six), Chris Carpenter, Cole Hamels, Jon Lester, CC Sabathia and Wainwright.
• Four of Bumgarner's nine postseason starts have resulted in shutout victories for the Giants.
• The Giants' seven-game postseason road win streak is tied for the fourth longest in postseason history and is the longest in the NL.
• Including the postseason, the Giants are 69-18 when they score first.
• Giants catcher Buster Posey, who went 1-for-5 with a run scored, boasts a seven-game postseason hitting streak.
• Prior to his second-inning double, Giants third baseman Pablo Sandoval had not recorded an extra-base hit in 23 previous plate appearances against Wainwright. The only pitchers Sandoval had faced more times without at least one extra-base hit were Aaron Harang (27 plate appearances) and Homer Bailey (24).
• Wainwright was pulled after 4 2/3 innings, and he has now exited in the fifth in both postseason starts this year. That's despite completing fewer than five innings just twice in 32 regular-season starts.
• Wainwright has needed 200 pitches to get through nine playoff innings so far, allowing 17 hits and nine runs (eight earned) with four walks and seven strikeouts.
• In their last four postseason games against the Giants, the Cardinals have scored a total of one run.
• After hitting just eight home runs against lefties all season, the Cardinals hit five home runs off lefties in the NL Division Series. Their success was curbed by Bumgarner, though. Bumgarner hasn't allowed a home run to a lefty since the Rockies' Carlos Gonzalez took him deep April 11.
• St. Louis' last shutout loss in the playoffs was Oct. 14, 2013, in Game 3 of the NLCS against the Dodgers.
• Yadier Molina's seventh-inning single marked his 88th career postseason hit, tying him with Albert Pujols for the most in Cardinals' history.
• Jon Jay continued his career-long success against Bumgarner, going 2-for-2 and getting hit by a pitch. Jay is now 8-for-16 lifetime against Bumgarner, with three doubles.
Ryan Hood is an associate reporter for MLB.com. Follow him on Twitter @ryanhood19. Aaron Leibowitz is an associate reporter for MLB.com. Follow him on Twitter @aaron_leib. This story was not subject to the approval of Major League Baseball or its clubs.