MLB.com Columnist
Mike Bauman
Cards get decked by Giants' ace MadBum
Matheny confident that his resilient club can rebound in Game 2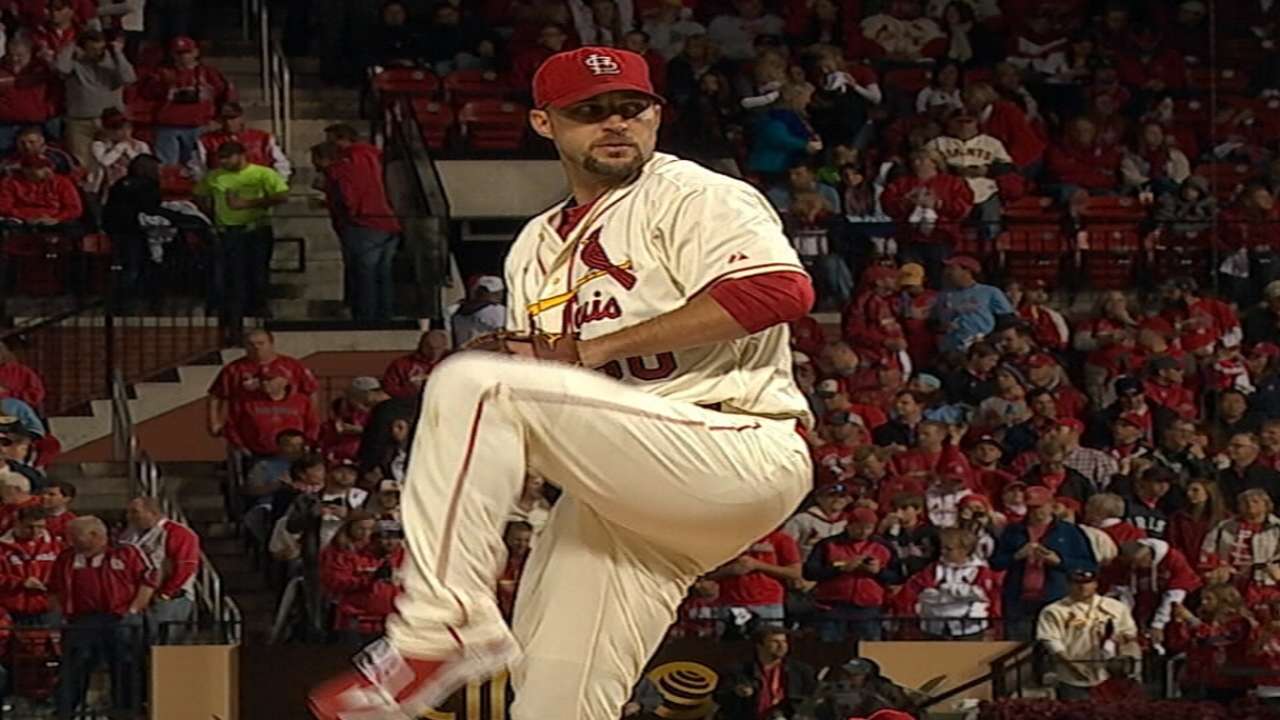 ST. LOUIS -- Not every ace the St. Louis Cardinals face during the 2014 postseason will turn out to be Clayton Kershaw.
On Saturday night, in Game 1 of the National League Championship Series, the Cardinals had no answers for Madison Bumgarner, ace of the San Francisco Giants' staff. The result was a 3-0 loss at Busch Stadium.
The Cardinals had roughed up Bumgarner in a 2012 NLCS start, but that was then and this is October 2014. On Saturday night, he pitched 7 2/3 innings, giving up no runs on four hits, allowing one walk and striking out seven. In three postseason starts this October, including a four-hit shutout of the Pirates in the all-or-nothing Wild Card Game, Bumgarner owns a 0.77 ERA.
Kershaw, meanwhile, put up another sensational regular season (21-3, 1.77 ERA), and is widely and sensibly believed to be a certain winner of his third NL Cy Young Award in the last four seasons.
But when the Dodgers' ace reaches the postseason against the Cards, Kershaw's invincibility vanishes. Kershaw compiled a 7.82 ERA in two starts against St. Louis in the Division Series. This followed a 6.30 ERA that Kershaw put up in two losses against St. Louis in the 2013 NLCS. For these four postseason starts against the Cardinals, Kershaw is 0-4 with a 7.15 ERA.
This may have created the notion in some quarters that the often indomitable Cards could rise to any postseason occasions and hit anybody, at any time. This is, after all, the only team in baseball that has reached a Championship Series in each of the last four Octobers.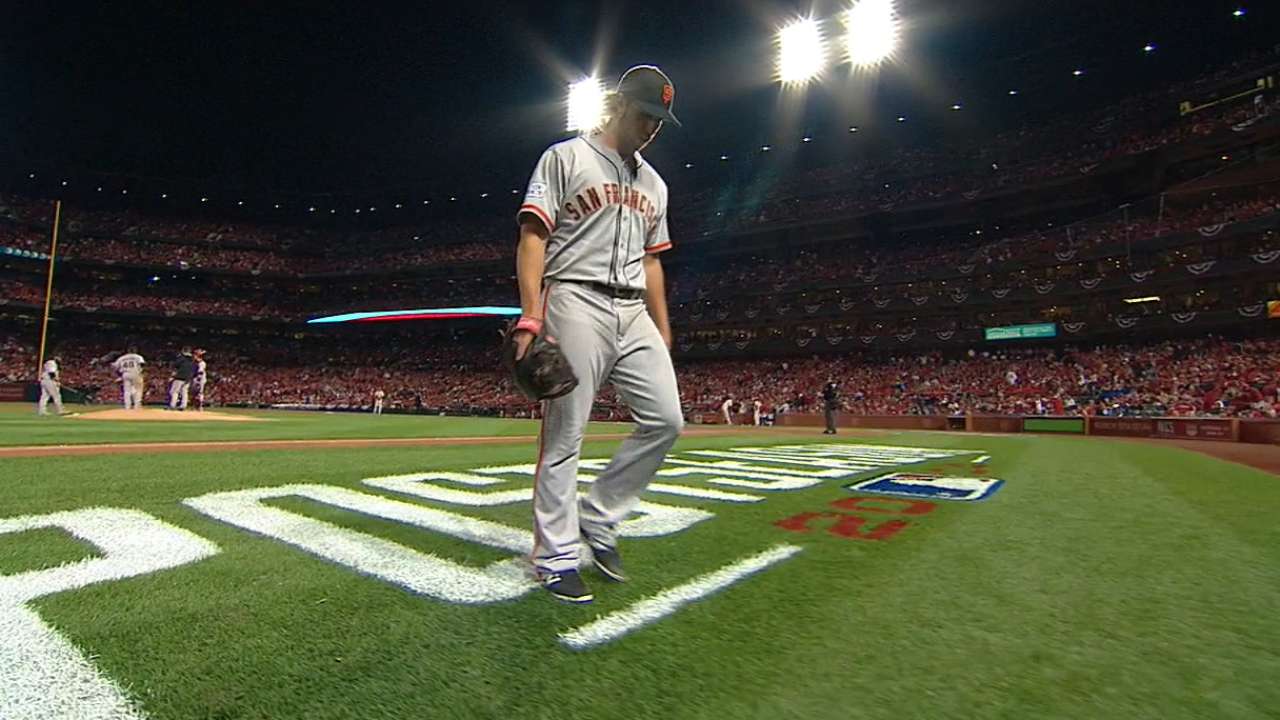 Bumgarner put a stop to that sort of thinking in the NLCS opener by pitching exactly like an ace. The Cardinals never put two men on base against him until the seventh, but even then two one-out singles yielded nothing of value. He was, in the case of the postseason game, the anti-Kershaw.
"He was commanding everything, kept us off-balance," Cardinals third baseman Matt Carpenter said of Bumgarner. "He's got some deception. His 92-94 [mph] plays a little harder from hiding the ball and doing all that sort of stuff. He's got good command and he's competitive. He makes quality pitches in big spots.
"He's their ace for a reason. And he was on tonight."
That's what an ace is, and what an ace is supposed to do. On the flip side, there was the Cardinals' ace, Adam Wainwright, who had been bothered by an elbow injury during his start against Los Angeles in the Division Series. Here, Wainwright did not have his typical command or stuff, but he typically battled.
And afterward, Wainwright insisted on making two points: that the elbow was not a debilitating factor, and that he would be better in his next start.
"It's not 100 percent," Wainwright said, "but it's 100 percent better than the last time I pitched, so I expect to be better. I know I can be a lot sharper."
Wainwright was lifted in the fifth inning, but he gave up only two earned runs so it wasn't as though he was mercilessly shelled. The St. Louis defense wasn't as sharp as usual. But the big issue here was the offense, or lack thereof.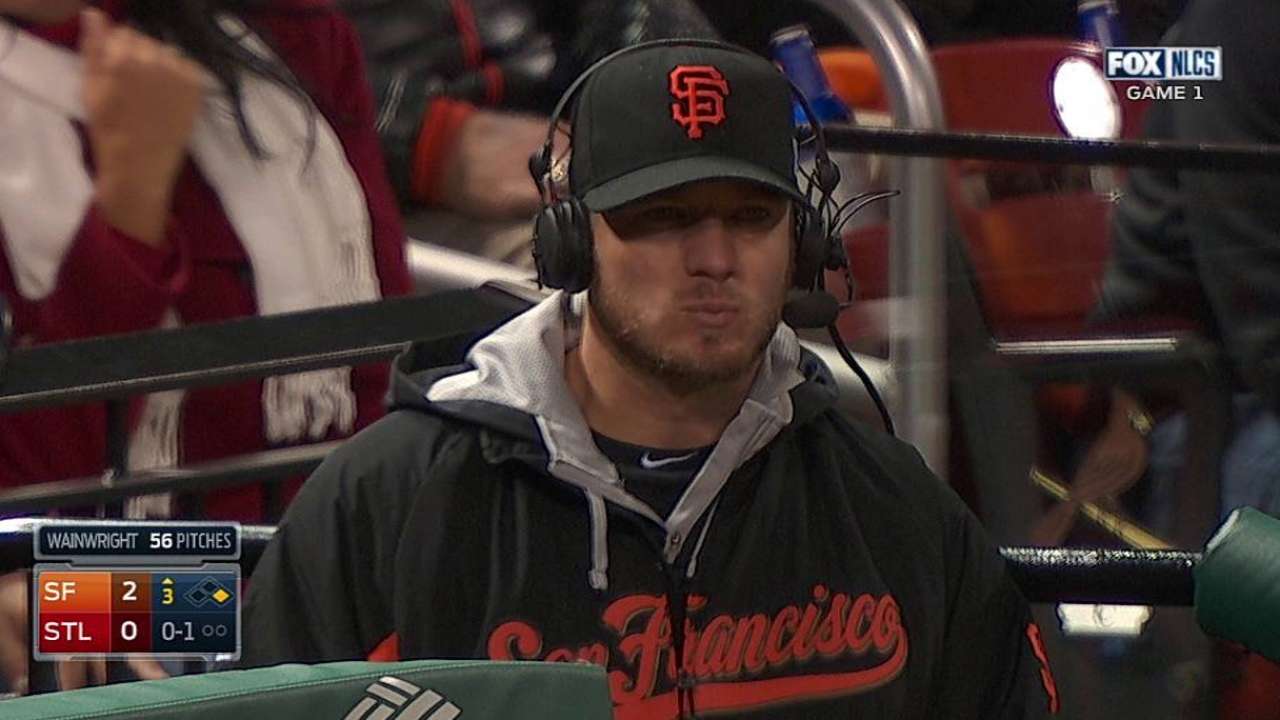 This is the challenge the Cardinals face and it is a substantial one. It is true that Bumgarner is San Francisco's ace. But the other three starters -- Jake Peavy, Tim Hudson, and Ryan Vogelsong -- are all coming off splendid starts in the Division Series victory over the Nationals. That was the club that had the NL's best record and then was held to nine runs in 45 innings by the Giants' pitching.
The Cardinals have plenty of their own pitching, although that aspect of their game would look better if Wainwright looked more like himself. The challenge before them is twofold: Specifically, they have to put together some offensive flow. Generally, they have to demonstrate the kind of resilience that has been one of the best characteristics of their club in recent seasons. It is one of the reasons that the Cardinals find themselves in the NLCS for the fourth straight October.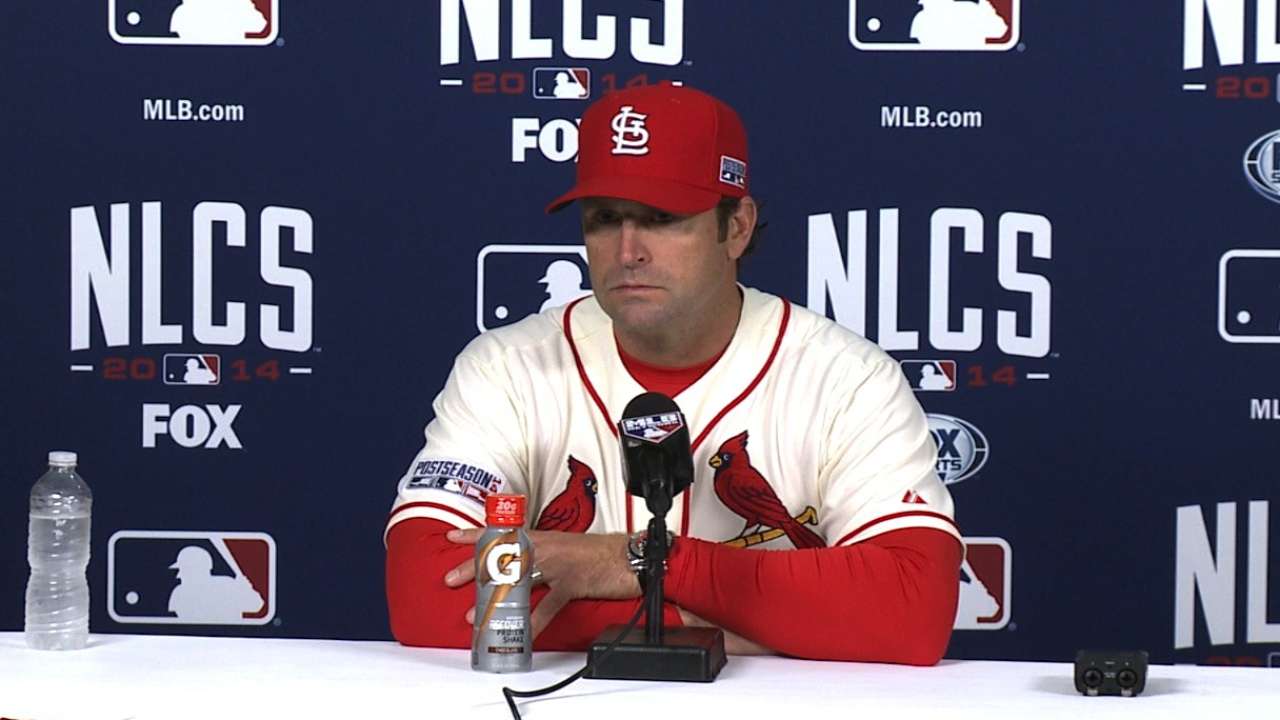 Cardinals manager Mike Matheny is confident that his crew will find that same direction again, starting in Game 2 on Sunday night.
"At this point, we played so many games, the guys have had some heartbreakers," Matheny said. "They have had some great wins, some tough losses. They have been very resilient about coming back the next day and getting back to business, and taking care of what they can take care of and not trying to win two games tomorrow.
"We've got an opportunity to come back and play a better baseball game, and I'm certain that's what we'll do."
That's a coherent approach. And the Cardinals can take heart from the fact that, no matter what else happens in Game 2, they won't be facing Madison Bumgarner.
Mike Bauman is a national columnist for MLB.com. This story was not subject to the approval of Major League Baseball or its clubs.