Oct. 11 Bruce Bochy postgame interview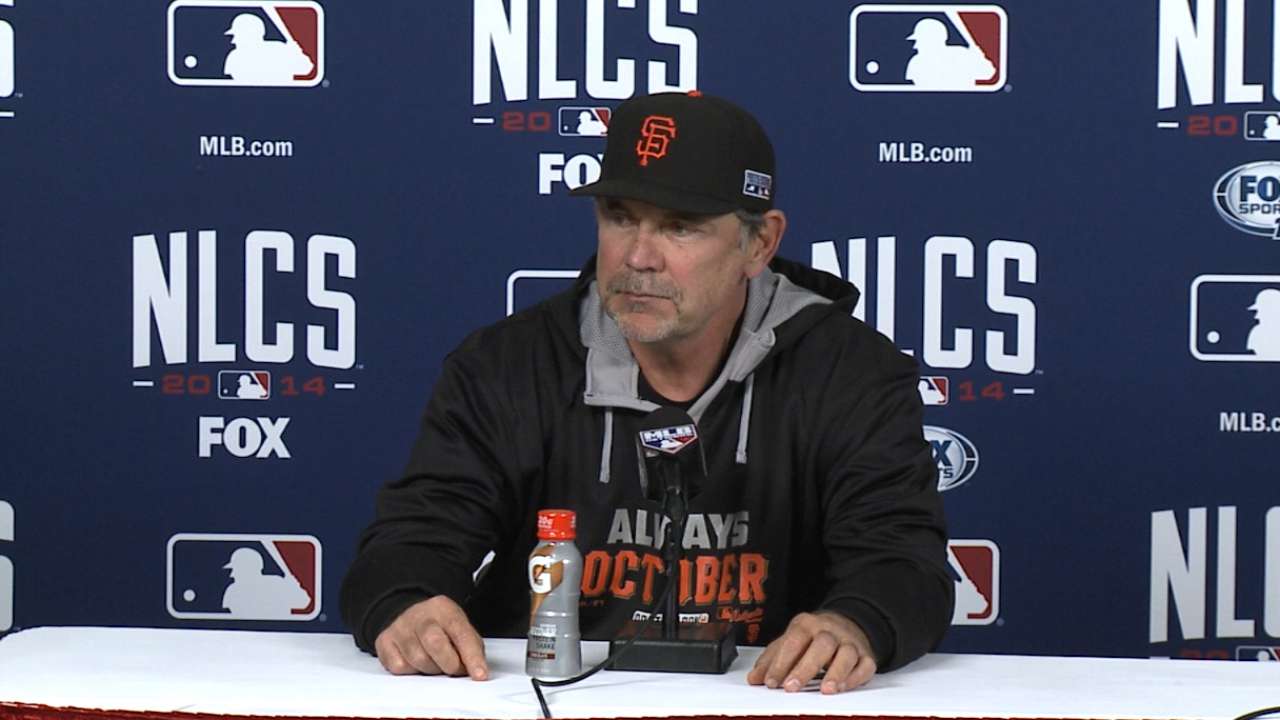 Q. Bruce, just how good did you feel Madison Bumgarner stuff and command was tonight?
BRUCE BOCHY: It was real good. He was on top of his game. Really was hitting spots, using all his pitches.
You know, he's so good, you know, at what he does. I mean, this kid, since he's come up here, he's just gotten better, too.
And he executed all night against a tough lineup. He's a guy that you want out there to start things and he gave us all we were asking. And that's, you know, deep in the eighth inning there, what a great job he did.
This guy is one of the best left‑handers in the game, and he pitched that great game in Pittsburgh, and he got us off to a great start tonight with his effort.
Q. Over the course of the season, you've lost some pretty significant parts to injures. Is the transition from each of those, has it been pretty smooth or just the next guy steps in?
BRUCE BOCHY: It really has been. These guys don't dwell on what happened or what happens when you have to deal with adversity, losing a guy or, you know, two or three players. They focus forward, and that's all you can do.
They've done a great job of that, not just this year, but in the past. We're not full strength, but guys have stepped in and done a great job. Blanco, since Pagan has gone down, Ishy has not played a lot of left field. He goes out there and makes a great catch, a big hit. Panik. That's what it takes, when somebody else steps up and fills that hole, and these guys have done that for us.
Q. How important is Pablo to you this time of year? I know 2010, he didn't play much in the postseason. Two years ago he was great, and this year now he comes up with a big game offensively for you tonight.
BRUCE BOCHY: Right. Well, those guys that hit in the heart of your order, they're critical to your success. Pablo, he's a great player. He's done a great job at third base, and he's a guy that we lean on to give us some offense.
He's a gifted player and a gifted hitter, and he had a nice night tonight. Hit some tough pitches. But he has that ability to expand the zone and still get the good part of the bat on it, and he did that tonight.
Anytime you're looking at Buster Posey, Pablo Sandoval, Pence, those are the guys you're hoping can come through for you.
Q. You said before the game that you didn't want to throw Morse out in left field without having played there in a while. When you did that with Travis Ishikawa, he hadn't played the outfield until a few weeks ago. Was that just because you didn't have much else?
BRUCE BOCHY: That's part of it. But he played some left field in Fresno, and he's been working out in the outfield. He's a pretty good athlete, and he showed that tonight.
He wants to be out there. He wants to play, and that's part of it. There is no fear in him going out there.
We felt like we needed a little bit more offense, and he was our best option. So we worked him pretty hard out in the outfield before we put him there, and once he went out there, he started taking great routes. He looked comfortable and, in fact, he's probably going to talk to me tomorrow why he came out of that game after that catch.
But, still, Perez is, he's a pretty special defender, too, so that's probably the way it's going to go.
Q. Once again, Romo, Santiago Casilla, you get to those guys and they shut it down. What is it about them, they're interchangeable, and you've gone one way or the other with them? And now you have success with Romo setting up and Santiago Casilla closing.
BRUCE BOCHY: They have a lot of experience at doing their job, and in the postseason, too. They really give me a sense of comfort, knowing I can lighten the load on Bumgarner tonight, because he had a pretty stressful inning the inning before. He was going to start that inning, but I knew Romo would come in at some point.
And it's nice to have that, where you can maybe give the starter a little break. Because Bum, he gave us all we needed there, and it's nice to have two guys who are comfortable pitching late in the ballgame and in a tight ballgame.
We're fortunate to have these guys, along with Jeremy Affeldt and Lopez. Anytime you have those guys who ‑‑ they thrive on being out there in a tight game, in a late situation. They certainly help me make my decisions a lot easier.
Q. Bruce, did you think there might be a possibility for a reversal on the collision with Bumgarner and Wong? And, did you guys catch a break when there was no balk called on Madison Bumgarner with Cruz batting?
BRUCE BOCHY: On both, no, I didn't think that would be overturned. We tagged the runner and then ran into him. That's what it looked like from the dugout and that's what you want your pitcher to do.
So if it's a close play, he may not get to the bag. As far as the balk, it looked like he stepped back. I know it looked funny there, but it's a quick step back, and you're allowed to do that.