Giants capitalize when Cards leave opening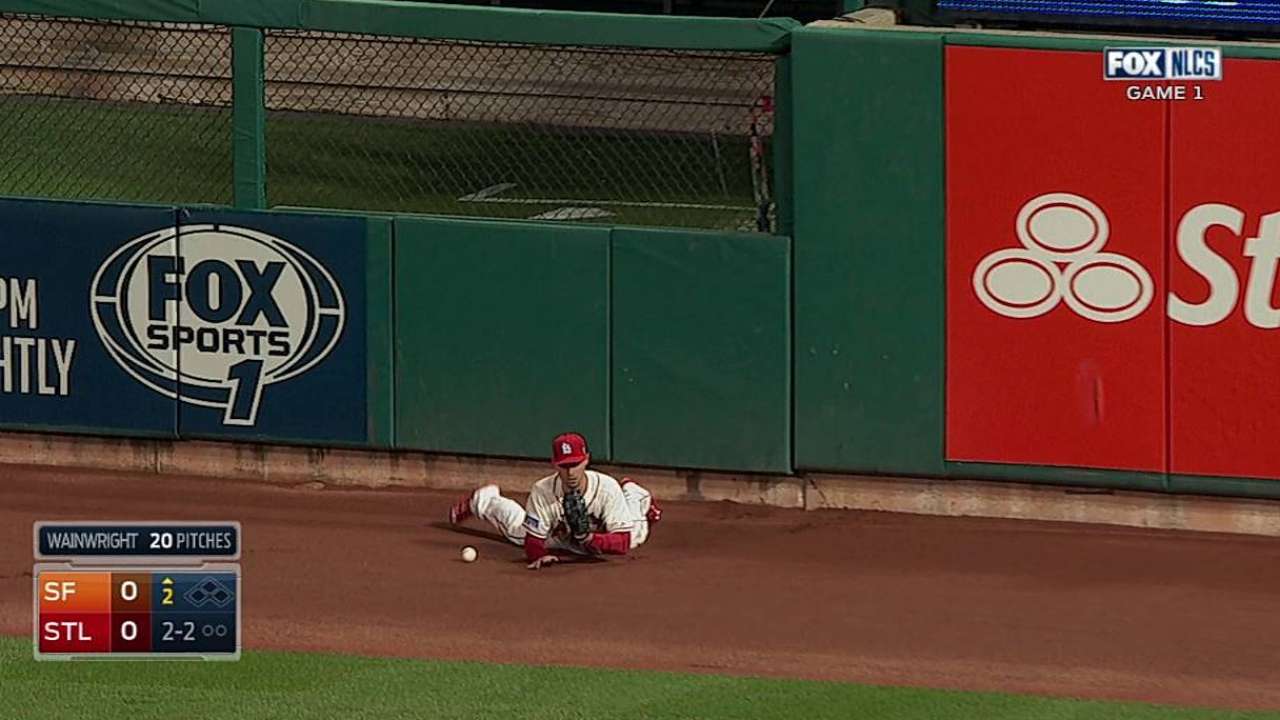 ST. LOUIS -- While romping through the National League playoffs so often over the past decade, the Cardinals built a reputation of sound play with few mistakes. But they did make a few miscues in Game 1 of the NL Championship Series on Saturday, and the Giants -- no strangers to fundamental baseball themselves -- punished them in a 3-0 victory.
"Our defense has been so good all season, and errors are going to happen, mistakes are going to happen," Cardinals manager Mike Matheny said. "It's just a matter of how much we can pick each other up."
For the Giants, it was more about how thoroughly they could take advantage. San Francisco's first break came in the top of the second, when
Pablo Sandoval
sent a deep fly ball to the warning track in right-center. Had right fielder
Randal Grichuk
managed to glove it, his catch would have made highlight reels up and down I-70. Instead, the ball popped out of his glove as he crashed against the wall, allowing Sandoval to reach with a double.
Following a walk, a single and a strikeout from Cardinals starter Adam Wainwright, the Giants' second break came when Travis Ishikawa dumped a bloop single into shallow left field, plating Sandoval with the first run of the NLCS.
"I was just trying to be aggressive, not let a first-pitch strike go by," Ishikawa said of the inside cutter that he fisted other way. "He actually made a great pitch, and I'm pretty sure he did what he wanted to do -- he jammed me. But it was able to go my way tonight, just good enough to get it over [third baseman Matt] Carpenter's head."
The Giants' third break came with two outs, when Gregor Blanco smoked a ground ball off Carpenter's glove, plating Hunter Pence for a 2-0 lead.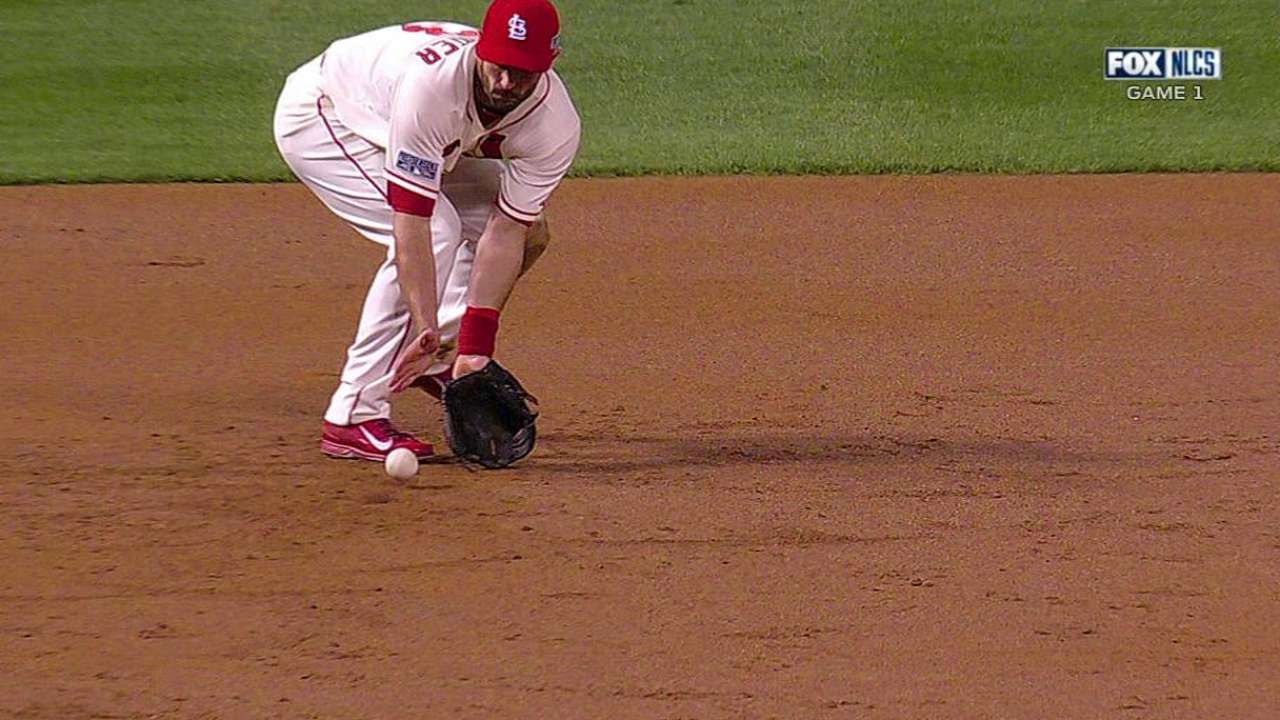 • Video: Pence scores on error
Their fourth break came an inning later, when Pence's grounder ricocheted off Wainwright and second baseman Kolten Wong before landing in shortstop Jhonny Peralta's glove, preventing the Cardinals from turning a double play. That allowed the Giants to sustain their rally long enough for Brandon Belt to hit a sacrifice fly.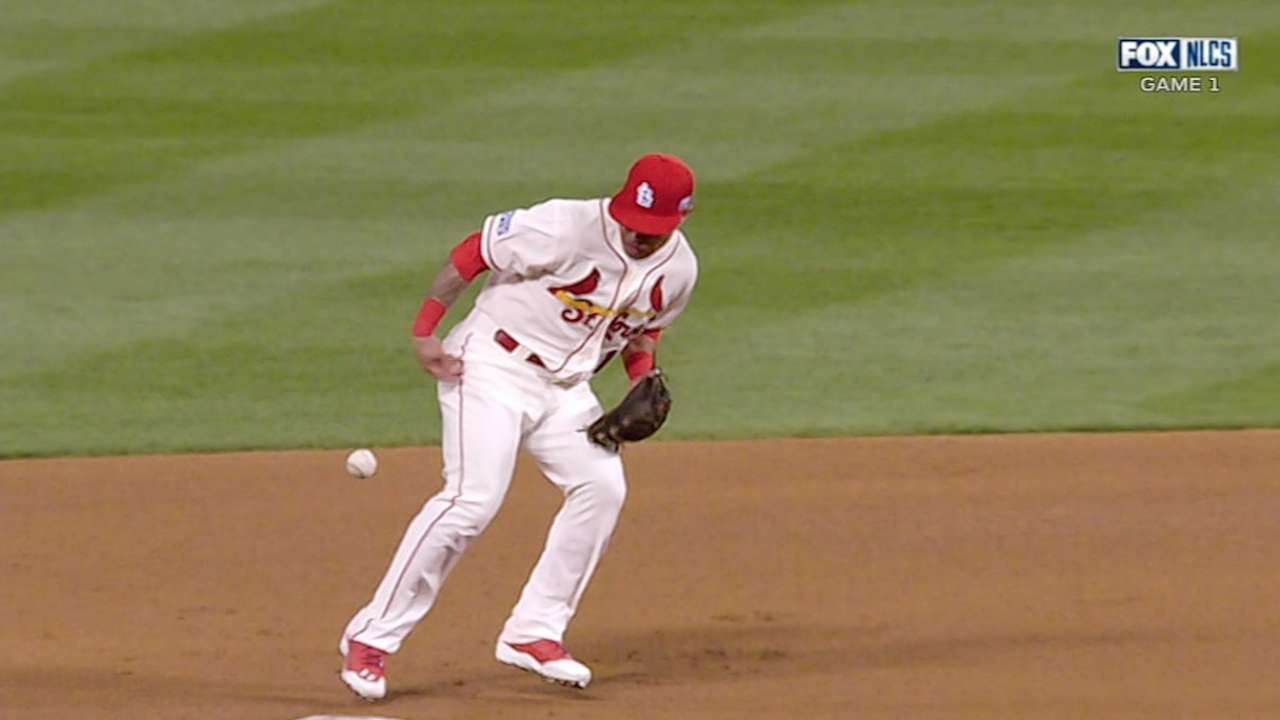 • Video: Cards miss chance at double play
So it went all night at Busch Stadium. An inch here, a bounce there, and everything might have been different.
"You think about what happened," Carpenter said. "I missed a ball, just made an error. The ball in right field, [Grichuk] made a great play and it just dropped out of his glove. Then the double play that could have been turned was a ball that ricocheted off the pitcher and had some funny spin. You can't really assume that's going to be a double play, even though we had a chance for it."
Outside of Carpenter's error, they were not mistakes so much as runs of bad luck. In that sense, it was less about what the Cardinals did, and more about how the Giants took advantage.
"If you've got guys on base and there happens to be an error, usually you can capitalize on it," Giants catcher Buster Posey said. "Hopefully you can capitalize on them."
Anthony DiComo is a reporter for MLB.com. Follow him on Twitter @AnthonyDicomo. This story was not subject to the approval of Major League Baseball or its clubs.