Joseph offers bright spot for Orioles in Game 2 loss
Catcher throws out runner, drives in run and snaps hitless streak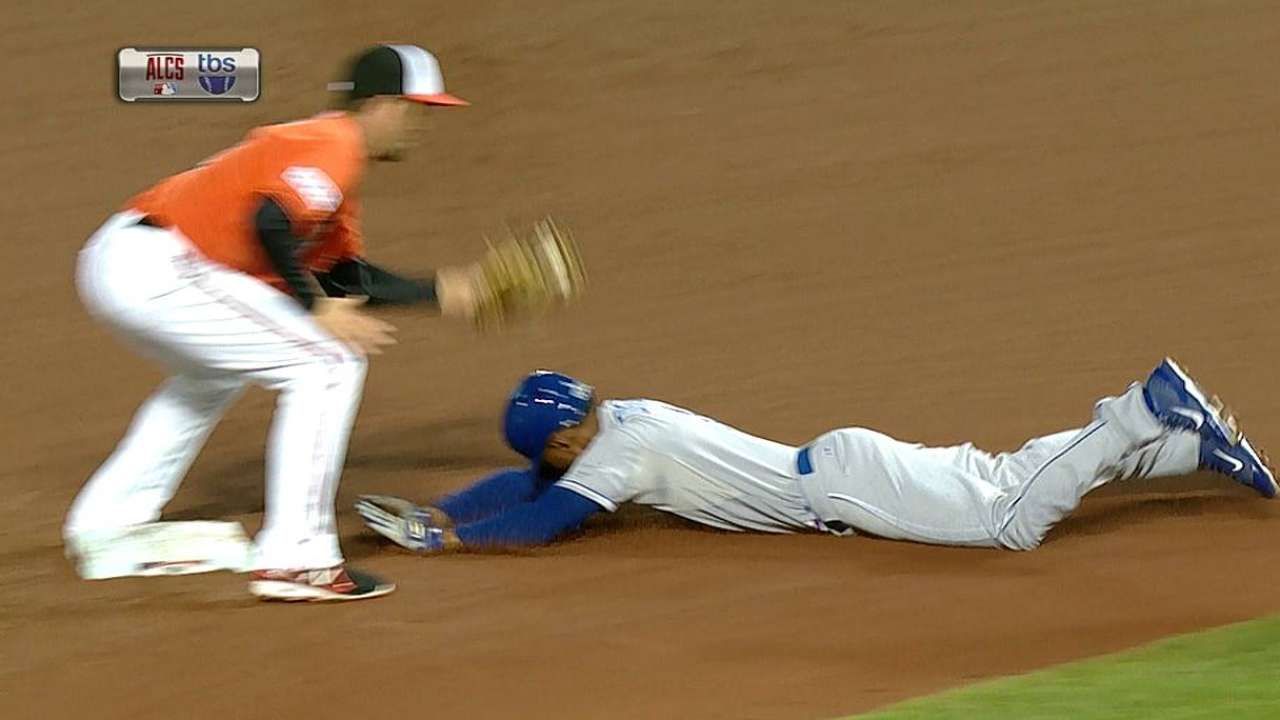 BALTIMORE -- Rookie catcher Caleb Joseph was a bright spot for the Orioles in Saturday's 6-4 loss to the Royals at Camden Yards in Game 2 of the American League Championship Series.
In his second career postseason start, Joseph made an impact from behind the plate and in the batter's box. He collected two hits, drove in the Orioles' first run and had an important caught stealing with the game tied, 4-4, in the seventh inning.
"I was proud of Caleb," said Orioles manager Buck Showalter. "I thought he had as good of at-bats as anybody tonight. Caught real well, obviously threw well. ... I really wanted to get him into the flow of the series tonight, and he responded."
Joseph stepped up early and often. His sacrifice fly in the second inning cut the Royals' lead in half, 2-1.
"Felt good driving that ball to center field," Joseph said. "That was most probably the most exciting at-bat just given the magnitude of the situation and being able to chip away. That was good. I'm working really hard and hopefully the results are beginning to come."
The hard work did pay off with some positive results on Saturday. His single in the fourth inning was his first hit in October, snapping an 0-for-33 skid dating back to Sept. 10. Joseph added another single in his next at-bat in the sixth.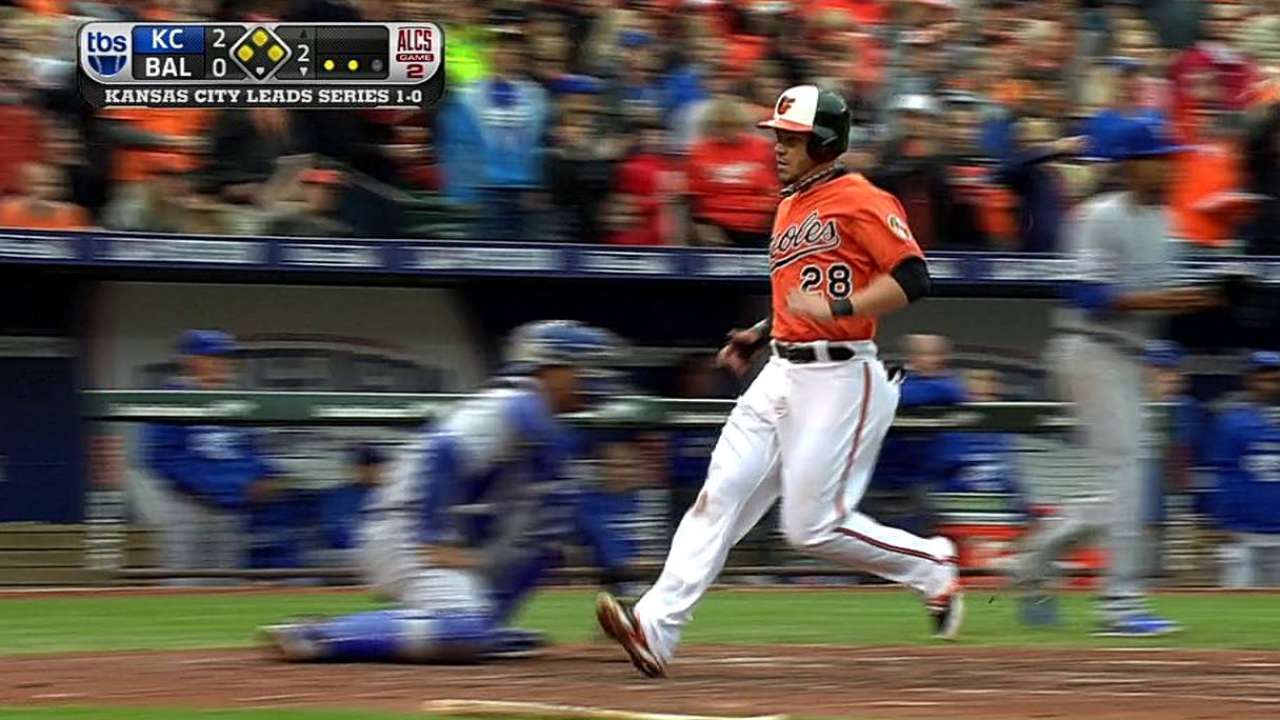 Catchers are often measured as much by their defense as by their offense, and Joseph showed off a strong arm with a great throw to second base to nab Royals speedster Jarrod Dyson in the seventh inning to prevent a Kansas City rally.
Joseph's strong Game 2 could make for an interesting decision for Showalter in Game 3 on Monday, when the ALCS shifts to Kauffman Stadium in Kansas City.
Veteran Nick Hundley started behind the plate in Game 1, and has started three of the Orioles' five postseason games this year. But Joseph is the better of the two in terms of throwing out basestealers, and the Royals like to play small ball at home.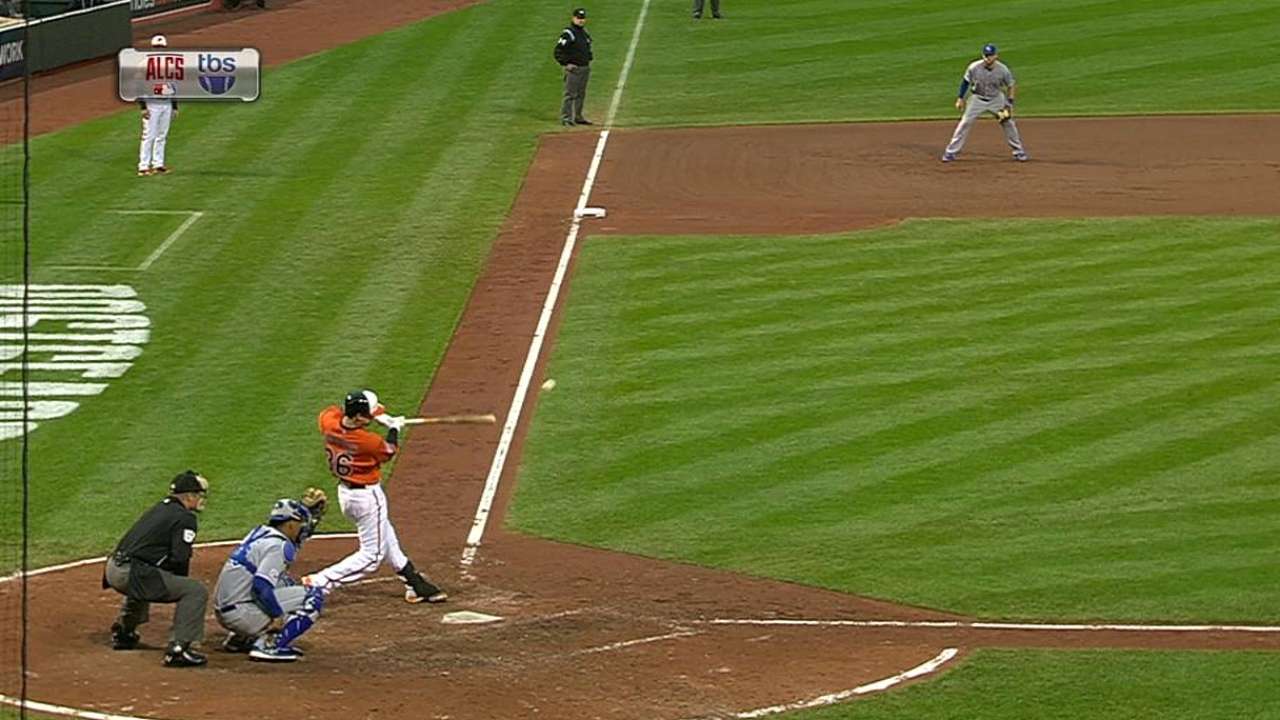 Joseph tied for 12th in the Majors with 21 caught runners in the regular season. That's more impressive considering he appeared in 78 games as a catcher. He caught 38 percent of attempted basestealers (21-of-55), which would have ranked as the second best in the big leagues, but he fell three games shy of qualifying.
If Showalter sticks with Joseph in Game 3, his performance on Saturday might be the deciding factor. It's just another storyline to monitor in this exciting ALCS.
Austin Laymance is a reporter for MLB.com. Follow him on Twitter at @jalaymance. This story was not subject to the approval of Major League Baseball or its clubs.