Waino having mechanical, not medical issues
Cardinals' ace up to 200 pitches in just nine October innings after struggling vs. Giants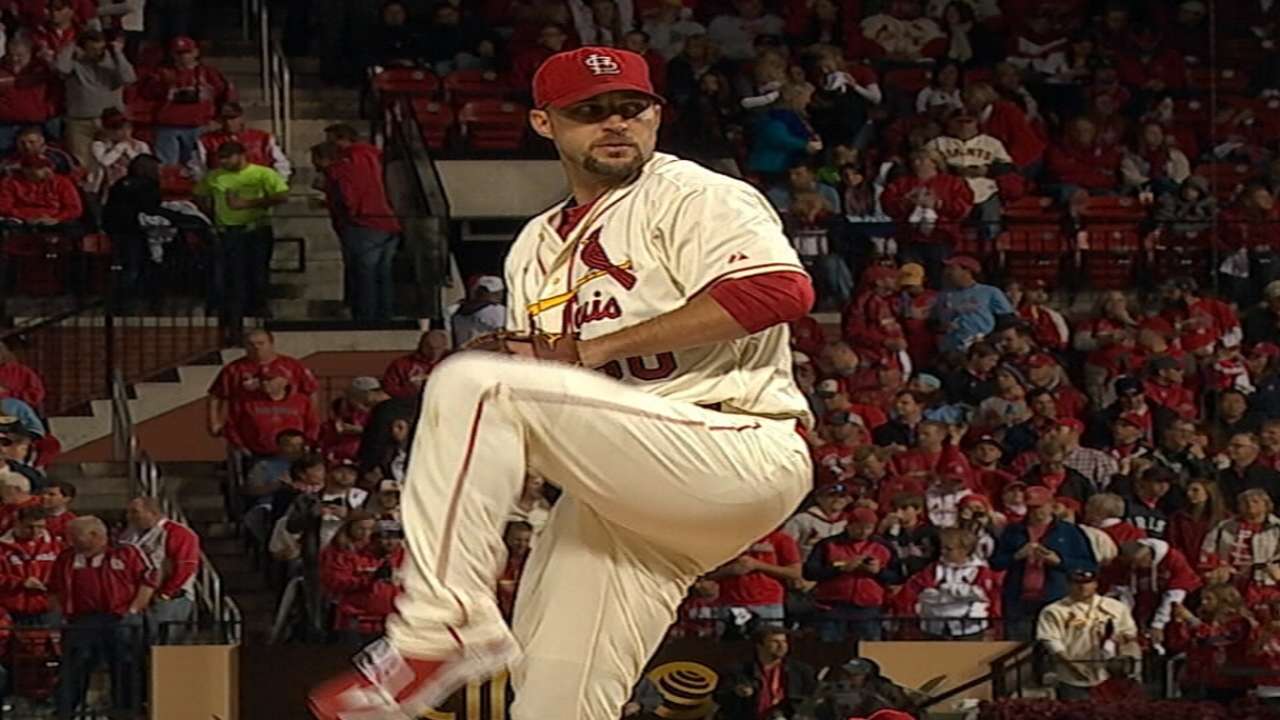 ST. LOUIS -- Adam Wainwright did little on the mound on Saturday night to redirect the nagging narrative about his right elbow, but he emerged in the aftermath with fresh answers for his recent results. It was faulty mechanics, and not medical woe, Wainwright said, that spoiled his start in Game 1 of the National League Championship Series.
Unable to clear the fifth inning for the second time in eight days, Wainwright was knocked out after surrendering three Giants runs (two earned) on six hits in 4 2/3 innings of what became a 3-0 loss at Busch Stadium. He surrendered more walks (three) than strikeouts (two). He was burned by a bloop hit in the second inning and miscues by his defenders in the second and third, but with 98 more pitches, Wainwright has already thrown 200 pitches in a 2014 postseason starts spanning just nine innings.
Wainwright has required more than 22 pitches per inning in his past two starts, a significant jump from a per-inning average of 14.4 during the regular season. Among qualifying Major League starters, only the Dodgers' Clayton Kershaw (13.7 pitches per inning), the Marlins' Henderson Alvarez (14) and the Mariners' Hisashi Iwakuma (14.2) were more efficient.
"It's not 100 percent," Wainwright said of the Midwest's most analyzed elbow, "but I think it was 100 percent better than the last time I pitched, I'll tell you that. So the next time I pitched, I expect it to be better. ...
"My arm, it doesn't feel great. But it should certainly be a lot better, results-wise, than that. I should be able to complete my pitches and deliver a lot better than I am. Those things will continue to get better. I know some things I have to work on now, and that's why we play a seven-game series now. We have to win four games; they have to win four games. We've got some tough games ahead, but we'll be ready."
In his Division Series start against the Dodgers, Wainwright felt discomfort at the back of his right elbow, but he said on Saturday that the joint did not pain him "at all." So with the game still ongoing, Cardinals backup catcher A.J. Pierzynski invited Wainwright to the video room to analyze what went wrong.
They found answers, according to Wainwright, in several areas. He was "dramatically late" in removing the baseball from his glove, and at the same time was striding "about a foot shorter" than it should have toward home plate. The result, Wainwright said, was that his arm never reached the proper release point.
Against the Dodgers, the elbow pain actually affected his pitch selection. That was never the case on Saturday, Wainwright said.
"Where I was at a loss was that the ball wasn't coming out like it should have, and that was because it was probably a foot behind where I normally throw," he said. "I'm normally about a foot closer to the plate when I release the ball, which makes it harder to hit, obviously, but also gives me better finish on all those balls.
"I'm going to do a million mirror drills the next couple of days and throw a good bullpen. Some of this is probably because I didn't throw a bullpen the whole month of September. I don't know if you all know that. I didn't step on the bullpen mound one time in September because I was trying to save everything for my starts. Now my arm is in a position where I feel I can and should go throw a bullpen [before] this next start, and I'll be ready."
Asked whether anything would preclude him from starting again in this series, Wainwright said, "I would hope not. No. After tonight, I feel dramatically better than after my last start. So, I would hope that's not an issue."
Cardinals fielders contributed to Wainwright's woes in two of the early innings. In the second, an error charged to third baseman Matt Carpenter led to an unearned run. In the third, Kolten Wong's bobble of a would-be double-play grounder extended the inning for a two-out sacrifice fly.
"I thought he did a nice job of fighting without his best stuff again, and that's very consistent with what we've seen if him for many years now," Cardinals manager Mike Matheny said. "He goes out there and finds a way to get it done."
"You have to give [the Giants] credit,' catcher Yadier Molina said. "They took some good at-bats against him, made him work. We didn't have the best location, but at the same time, they put the ball in play and found some holes."
Wainwright's next start would be in a Game 5 at San Francisco on Thursday.
"Hopefully the next time I pitch, we have a chance to close the series out," he said. "You never know. We're playing a very tough team, and they're going to show up ready to play [Sunday]. We will too."
Adam McCalvy is a reporter for MLB.com. Read his blog, Brew Beat, and follow him on Twitter at @AdamMcCalvy. This story was not subject to the approval of Major League Baseball or its clubs.