Royals-Orioles ALCS Game 2: Did you know?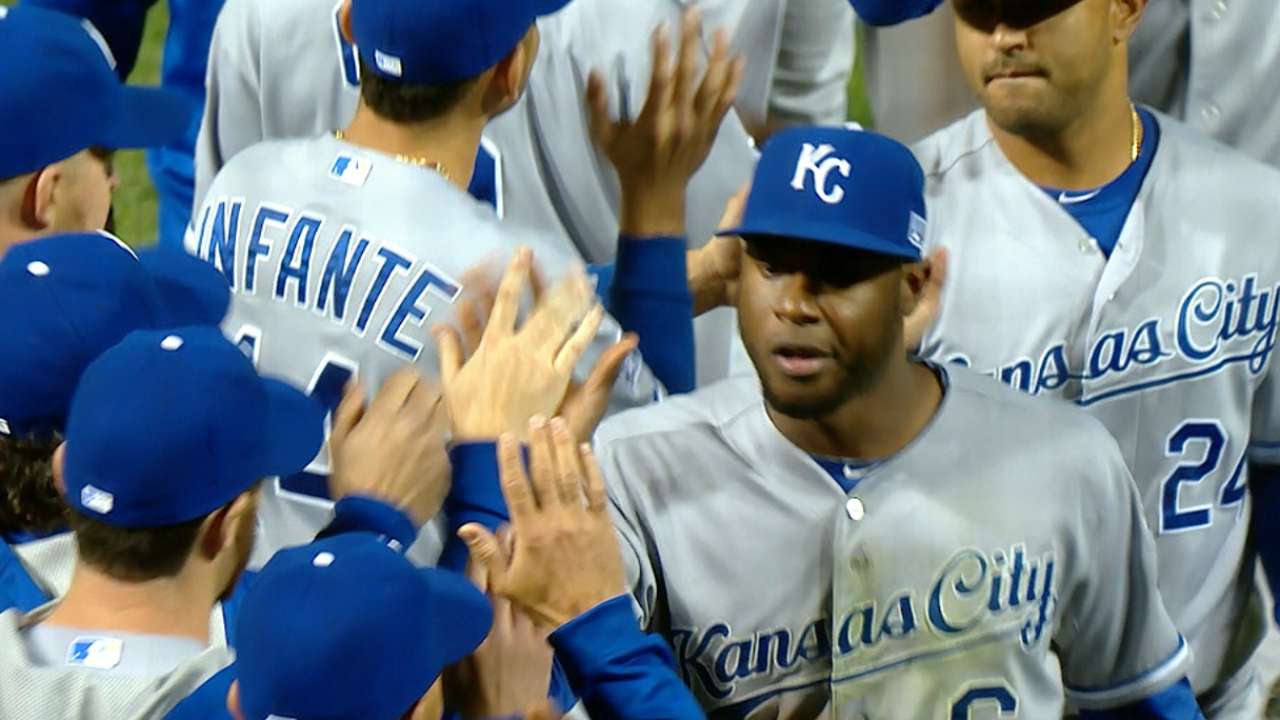 The Royals managed to avoid extra innings -- but not late-game drama -- on Saturday night as they pulled out a 6-4 victory over the Orioles in Game 2 of the American League Championship Series.
From Mike Moustakas' fourth postseason home run this year to Adam Jones' first of his career to yet another go-ahead hit by the Royals in the ninth inning or later, Game 2 featured plenty of interesting stats and numbers.
Here are some of the more intriguing tidbits to come from Saturday's game:
• The Royals are only the fourth team to win six straight games to start a single postseason, joining the 2007 Rockies, 1976 Reds and 1970 Orioles. The Rockies and Reds went on to extend their streaks to a record seven games, while the Orioles came up short in their attempt to do the same.
• Speaking of winning streaks, the Royals' Game 2 victory extended their overall postseason winning streak to nine games, dating back to 1985. That mark is good for the longest active streak in the Majors and is tied for the sixth-longest all-time.
• Moustakas tied a Royals record with his fourth home run of the postseason, a fourth-inning solo shot. The third baseman and Willie Mays Aikens are the only Royals with four homers in a single postseason.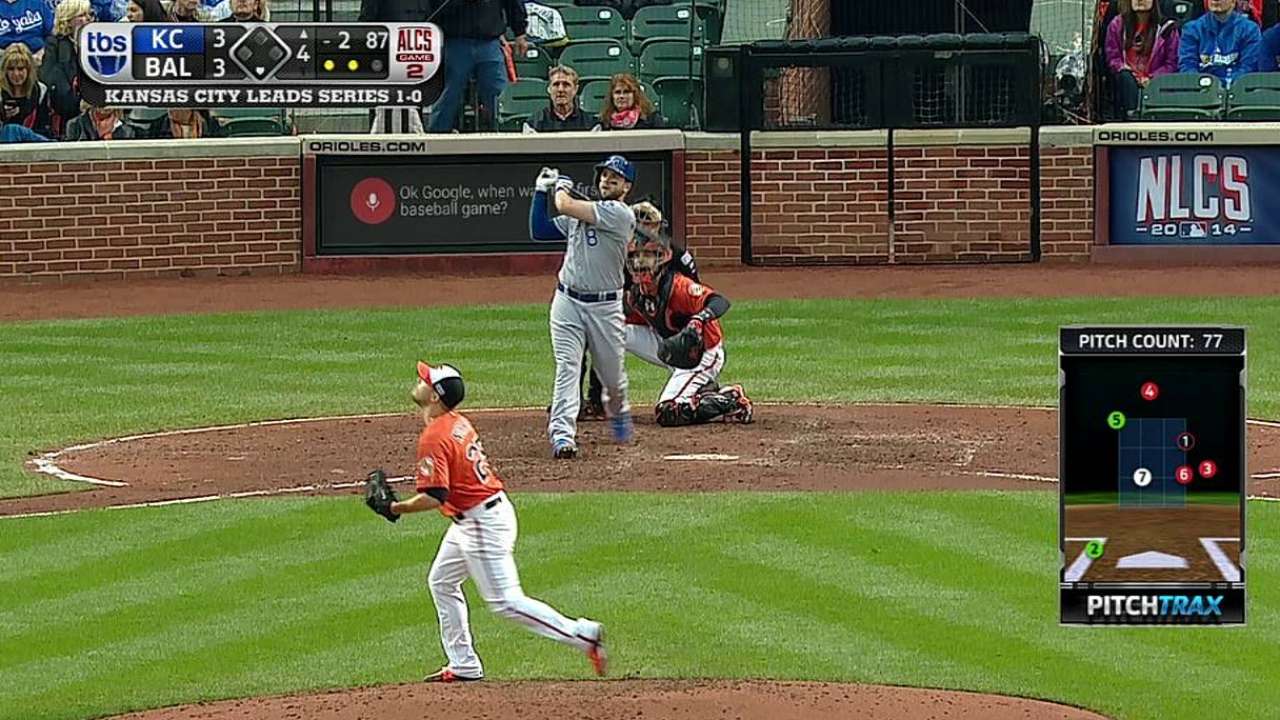 • Moustakas also became the first No. 9 hitter to homer in four games during a single postseason. In fact, only one other player, Jason Varitek, has ever homered out of the No. 9 spot in four postseason games over the course of an entire career. Varitek homered in three games during the 2003 postseason and during another postseason game in '08.
• Jones, a four-time All-Star outfielder, finally had his postseason breakthrough, recording a number of firsts. The Orioles slugger went 2-for-5, marking his first multihit game in 11 career postseason contests. Jones' two-run homer in the third inning was not only his first postseason home run, but his first postseason extra-base hit. He entered Saturday 5-for-42 (.119) with five singles and 11 strikeouts in his postseason career. The only player in franchise history who went longer to start his postseason career without an extra-base hit was Andy Etchebarren, who needed 18 games. • The top of the eighth inning marked the first time this series in which the Royals went down in order. Kansas City put at least one runner on base in each of the first 17 innings of the ALCS, the longest streak in history to start a postseason series, according to the Elias Sports Bureau. The previous record was held by the 2002 Athletics, who had at least one baserunner in 15 straight innings to start their AL Division Series matchup with the Twins.
• Orioles catcher Caleb Joseph entered Game 2 in an 0-for-33 rut, but collected a pair of hits on Saturday. After hitting a sacrifice fly in his first plate appearance, he then recorded hits in back-to-back at-bats. Joseph had not recorded a hit since Sept. 10.
• For the second straight night, Royals speedster Jarrod Dyson entered the game as a pinch-runner, only to be thrown out trying to steal second base. Dyson is only the fourth player in postseason history to enter as a pinch-runner and get caught stealing in back-to-back games. The others were Brett Gardner (2009), Herb Washington (1974) and Allan Lewis (1972).
• Alcides Escobar's go-ahead RBI double in the top of the ninth inning marked the Royals' fifth go-ahead hit in the ninth inning or later this postseason. There were only four such hits, by all teams combined, in the entire 2013 postseason.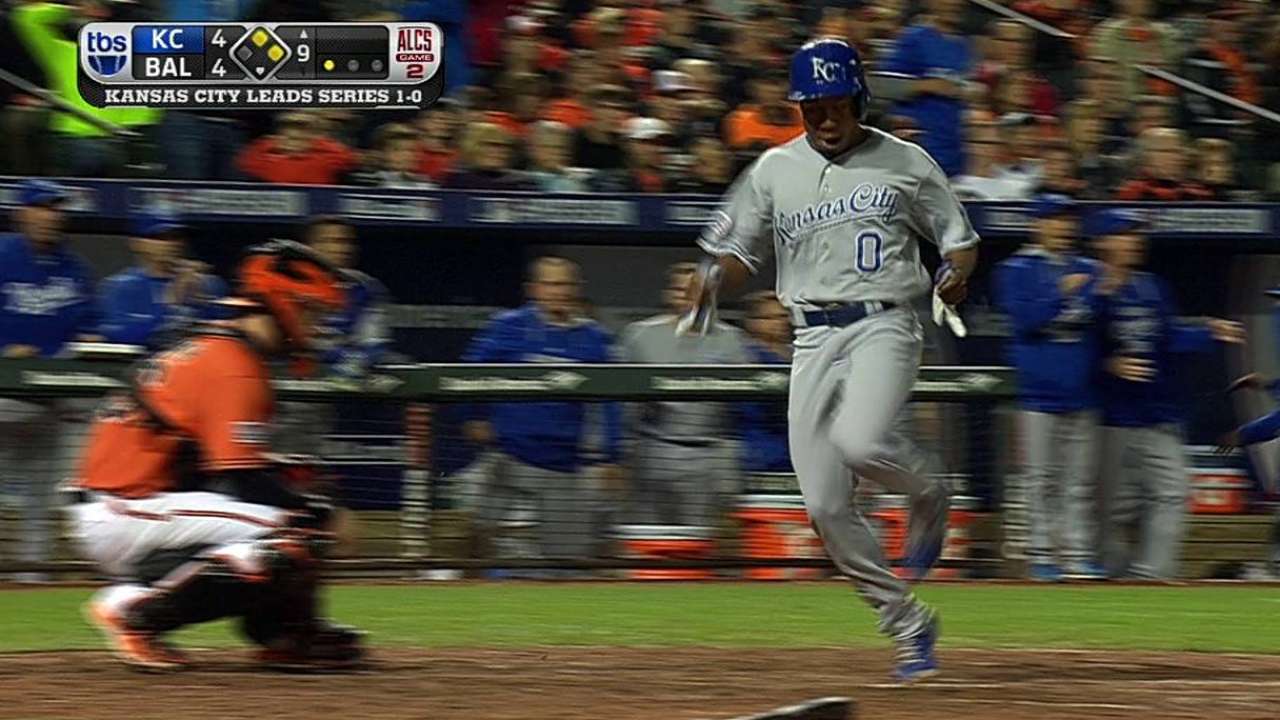 • Video: Escobar's go-ahead double
• Lorenzo Cain tacked on an insurance run two batters later with an RBI single, his fourth hit of the night. Cain, who also swiped a base earlier in the game and scored twice, became the first player since Carl Crawford in Game 4 of the 2008 ALCS to record at least four hits, two runs scored and a stolen base in the same postseason game.
• With both Yordano Ventura and Bud Norris settling for no-decisions on Saturday, the total number of starter no-decisions in this year's postseason reached 21. That number matches the total from all of last year's postseason. The record for a single postseason is 31, set in 2004.
• Prior to Games 1 and 2 of the ALCS, the Orioles had not lost back-to-back home games since June 28-29 against the Rays.
Paul Casella is a reporter for MLB.com. Follow him on Twitter @paul_casella. This story was not subject to the approval of Major League Baseball or its clubs.