Make no mistake, Jones notches first career postseason homer
But Orioles outfielder strikes out at key moment late in game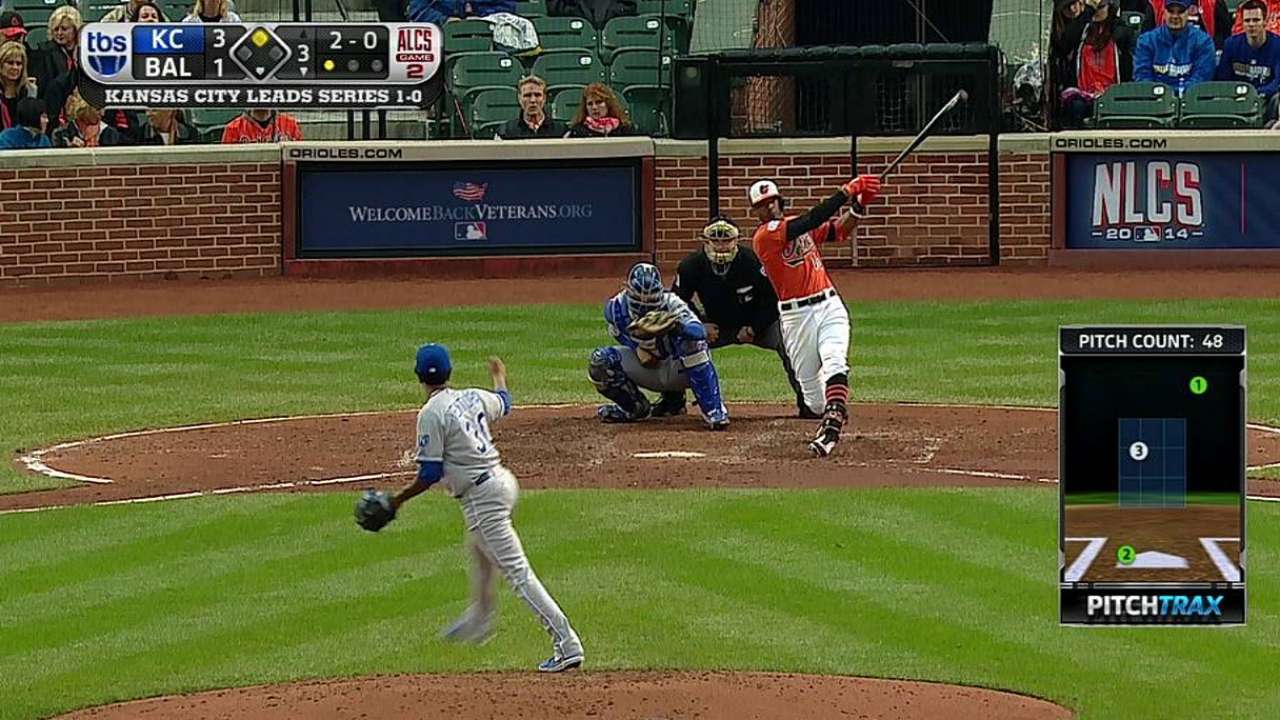 BALTIMORE -- Adam Jones understands the issues that have prevented him from being the same sort of player in the postseason that he's been in the regular season. He's a free swinger -- a mistake hitter -- and that hasn't paid off for him in October.
Before Saturday, when the outfielder blasted a Yordano Ventura fastball into the left-field seats in the Orioles' 6-4 loss to the Royals, Jones had never even collected an extra-base hit in 46 postseason plate appearances. He went deep in the third inning of Game 2 of the American League Championship Series.
The two-run homer tied the game after an early deficit, but wasn't enough to stave off another defeat for the O's.
"It got us going," Jones said. "But ultimately we lost. So let's get back on the saddle like I said, and go to KC and do it there."
In the seventh inning, Jones found himself with an opportunity where the approach he was searching for could have been critical. An error and a walk gave Baltimore runners on first and second with no outs against flame-throwing relief pitcher Kelvin Herrera.
Jones hacked at the first pitch, a 98-mph fastball at the bottom of the zone. He swung and missed a changeup for strike two. Herrera's next pitch was a 99-mph heater at Jones' ankles. Jones tried to hold up, but couldn't help himself from striking out swinging.
He slammed his bat and shouted at the dirt. He had slipped back into an overly aggressive approach and cost the Orioles their first out during an ill-fated potential rally.
"There ain't no off-balanced in that. It's just overpowering," Jones said. "Their bullpen is good."
Nelson Cruz loaded the bases with a single before Steve Pearce and J.J. Hardy both flied out to squander a bases-loaded, one-out opportunity. The Orioles didn't score again.
"There's so many momentum changes in games like this," manager Buck Showalter said.
Until the strikeout in the seventh, Jones was piecing together the best playoff game of his career. His third-inning homer extended his postseason hitting streak to four games and a single in the fifth gave him his first multi-hit postseason game.
His career batting average in the playoffs jumped to .149 from .119 entering the day. After his first October, in 2012, that number was an even worse .077. It's progress.
"I feel better at the plate," Jones said. "I think that's the key thing, is to be comfortable at the plate."
David Wilson is an associate reporter for MLB.com. This story was not subject to the approval of Major League Baseball or its clubs.